Welcome To An Era Where All Your Visual Content Is Advertising

6

min read
Reading Time:
5
minutes
Visuals, visuals, everywhere; and not a pixel being monetized!
Every year, over a billion videos are uploaded online; a number that's only expected to grow. User generated video content on the rise, and video is projected to account for 80% of all internet traffic. But to understand what that means for you, let's try and put things in perspective. Have you ever wondered what kind of opportunities would exist if even a fraction or a tenth of those videos were interactive?
"Stop thinking of 'video marketing' as this separate entity that is optional for your business.  Video is an effective form of communication that needs to be integrated into each and every aspect of your existing marketing efforts."

– James Wedmore
Yep, you got that right. Interactive videos, and more specifically, shoppable videos provide an enormous opportunity in terms of ROI. An interactive video containing clickable or "shoppable" products can not only create an emotional link between the viewer and the object they click on, but also create a completely new channel of revenue. That emotional link that we speak of can result in significantly higher engagement than a bunch of affiliate links in the video description, or at the bottom of the video frame.
So in an industry constantly looking for innovative ways to market products, brands who are able to create interactive, shoppable video experiences have everything to gain, with a lot to lose – for example, the risk of playing "catch-up" with their peers who might capitalize on this opportunity before them.
Visual Experience – A Key Business Driver
This is where you need to step back and ask yourself if there's something that you can do to get your audience's attention and make sure they continue to stay loyal. The new order of business requires you to rid yourself of functional silos, and look at marketing, merchandising, product management, and visual design holistically. This is where it comes together as a key business driver, and brings your visual experience marketers to the forefront.
Getting Your Audience's Attention – In 10 Seconds Or Less!
Shopping is a visceral experience, and there's enough research out that just drives home the point. With consumers developing increasingly short attention spans, and the sheer volume of information that's thrown at them constantly – 10 seconds (at best) is all you get in order to get their attention. And if you want to make an impact – one that lasts or gets them to perform any action, then you've got a whole new challenge on your hands. The first step, however, is to drown out the noise and get noticed by this impatient shopper before you build a relationship that is long lasting, and yields high returns on every marketing dollar spent.
Take A Right Brain Approach, Tug At Your Audience's Heartstrings
Today's shoppers are looking for much more than just their favorite brands, or a specific go-to style. They're much more adventurous and are constantly on the lookout for something that connects with them, emotionally. This is a generation of risk takers, who are intuitive and will probably approach a shopping spree in a less linear fashion. The right side of the brain is known to be the part of the brain that deals with emotions, aesthetics, feeling, and creativity. This is the side that you need to focus on when you want to build an emotional connection with your audiences. And that's where the visual experience plays a critical role in helping you up your game!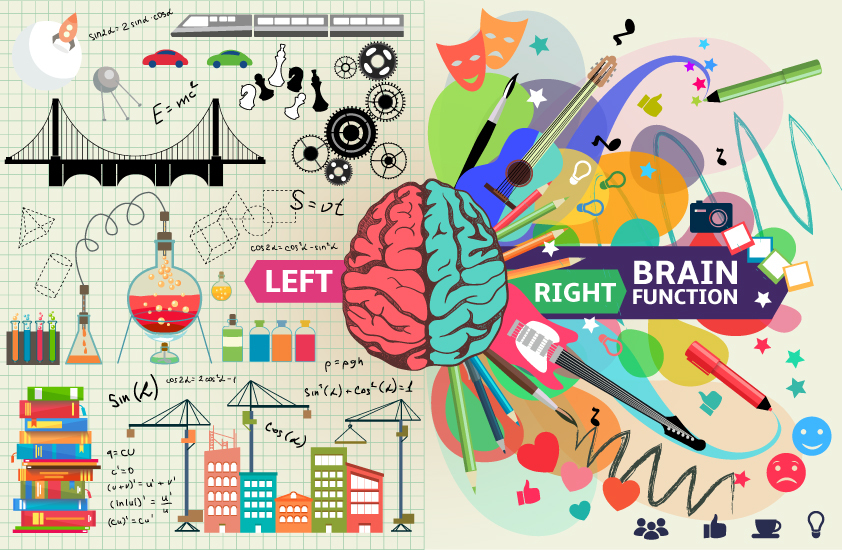 And if you don't believe me, maybe this finding by Visually will change your mind:
"Videos on landing pages can increase conversions by 80% or more!"
Time To Give Your Marketers The Visual Experience Edge
In an age where traditional hierarchies don't work, jobs aren't restricted by functions or departments anymore. Whether it's UI/UX design, on-site and in-app engagement, digital marketing, online visual merchandising, or your outreach programs – a visual experience marketer is your in-house "growth hacker"/jack of all trades (and master of visual wizardry) who curates visual experiences that allow you to drive growth, while maintaining customer loyalty.
"Want to make your visual content more engaging to your consumers? Focus on being useful."

Jessica Gioglio
Head of the Creative Lab @ Sprinklr
A majority of this decade had been dedicated to optimizing the online visual merchandising,  making it critical for the retail industry. However, with advances in image and video recognition technology, we're ushering a new era of visual marketing which isn't just about the creation and placement of your visual assets, but also ensuring they are useful and get you the best return on your visual investment. Visual marketing today is also about enriching customer experience with powerful, inspirational and enticing visual content. Visual content that is the focal point of your marketing mix – prompting audiences to engage, convert and form a preference for your brand or store.
So What Exactly Can I Do With My Visual Content?
Create a new channel for your business, and add to your top-line growth:

We live in an era where it's impossible not to find video content for any product or brand. Whether it's in-house content or user generated content, it's all out there – across Facebook, YouTube, Instagram, and so many more social media platforms that it's hard to keep track! And there's so much video, that

over a billion hours of footage is being watched by people every day

. Imagine taking this billion hours of video, and turning it into a constant stream of directly purchasable advertising.





Visual content, more specifically shoppable video and imagery isn't just a potential game-changer for retailers, but media companies and publishers as well. Imagine making ads actionable and shoppable with just a couple of clicks, they stand a chance of competing with Facebook or Google again – showing a compelling RoI to brands looking to spend their marketing dollars.

Follow your shoppers where they are:

Shoppable visual content can turn pretty much every medium into a potential revenue stream – from that Vogue cover story to that episode of Suits where you really wanted to buy that tie Harvey Specter was wearing. With the growing adoption of streaming services like Netflix, Hulu, Prime Video, and many more – it's now possible to follow your shoppers to their favorite channels, influence them by using their favorite celebrities, with minimal spend. 

Create an unmatched omnichannel experience: Visual content can make for a seamless omnichannel experience – one that can help you leverage assets like video and photo shoots for your in-store display cases that are interactive, and shoppable. And you don't need to restrict yourself to the products within the visuals – showcase variety with complementary, or related products!
Conclusion
Visual content means far more than video or display ads, putting a "Buy Now" button on your Pinterest pins, or placing a link to a product page in your YouTube video description. With the advances in Artificial Intelligence, images and videos can be direct conduits for a shopping session, or for helping shoppers connect with products they might potentially love. This spells a huge opportunity for retailers and publishers alike – so stay ahead of the curve, get cracking, and make the most of what is still a nascent market.