7 Fresh Off The Runway Beauty Trends You Need To Know

7

min read
Reading Time:
6
minutes
The beauty industry thrives on the new. A few years ago, beauty brands were limited either by regional appeal or by origin country. Over time, Asian beauty trends started gaining significance, mainly because Asian makeup continues to advocate for fresh and healthy skin.
Today, everyone from an Instagram beauty influencer to a startup have launched their own beauty label. With this flurry of products entering the market, some critics have also wondered if this spelled the demise of runway beauty trends- after all, if fashion and beauty came to the streets, would it still matter what the runway said?
Come 2019, and we can confidently say that the runway still rules the roost when it comes to being a beauty trendsetter for the retail industry at large. Several makeup looks are almost directly picked up from the runway and interpreted on celebrities and models alike.
If we need proof, we only need to look at the NYFW Spring 2020 shows that are happening as we speak. Amid the glitz and the glamor, the Vue team cannot help but notice just how much excitement some of the makeup has generated. Let's dive into some basic, some interesting and some dramatic beauty looks that started on the runway and are all but ready to rule the street.
Drama In The Eyes
All discussion on beauty trends begins with the eyes. We are talking neon cat eyes. Taking the dominant trend from two years ago by storm, several new designers at NYFW choose to give the cat eye a neon upgrade, and the results are stunning, to say the least.
Add in some glittery lids like Vfiles did, and it is the perfect recipe for millennial fashion choices.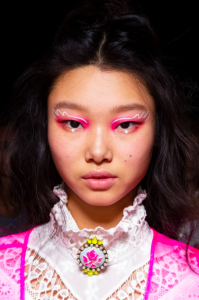 This year, Chromat celebrated ten years of design with dramatic eyes that are decorated from the inside-out, quite literally. MAC artists used contrasting colors on the outer and inner contours of the eyes to create a dramatic new effect. This look gets a brownie point for innovation, and we're very certain that it will soon become everyone's favorite new eye look.
The history of dramatic eyes goes rather far back and one of the viral trends in recent memory is the smoky eye. So popular is this trend that several designers in their NYFW shows are continuing to interpret this trend in colors other than the trademark blacks and greys.
Hair Highlights
When it comes to the hair, some trends have always been more popular than the others. A few years ago, the bedhead look was popularized by Givenchy in the late fifties. It was, however, only in the new millennium that supermodel Gisele Bundchen admitted to not owning a hairbrush and then the beauty world followed suit.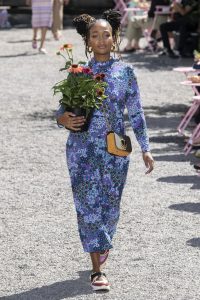 But wild, wild things can be done with the hair if this year's shows are anything to go by. Taking the bedhead look to the next level was Christopher John Rogers' show. Ever since the debut show, the eponymous label has always channeled its inner Alice In Wonderland and this NYFW show was no exception, creating towering hairstyles quite literally. Due credit goes to stylist Naeemah LaFond.
But not everything is tall and whimsical in the world of hair, with Rebecca Minkoff going for an upgrade on the classic messy bun, and Kate Spade channeling the look of stepping out over the weekend to buy flowers. We have seen some of these styles before on the red carpet, and we're always up for reinterpretation!
Red Lips Make A Comeback, Again
'Iconic' is the only word that can ever fully describe the classic red lip. Like Christian Louboutin's famous footwear soles, there's something about minimal makeup and the red lip that just refuses to die down. Did you know that the first time anyone painted their lips a dramatic red was at Mesopotamia in 3,500 B.C? There's some serious history!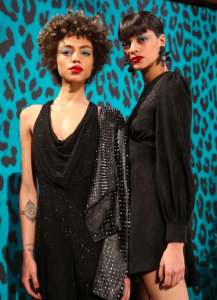 In Shakespeare's times, the red lipstick represented the falling of morality, but soon gained ground with the chic Parisian. More recently, the red lip was worn by women in World War Two. Interestingly, Elizabeth Arden's shade of red lipstick became part of the official uniform of the Allied Forces in response to Adolf Hitler's particular hatred of the very cosmetic item. It is safe to say that the red lipstick is one of the most powerful political symbols in the world.
No-Makeup Makeup
How do you achieve the dewy look of cool European mornings or the unmistakable allure of summer afternoons spent on a picnic? With makeup, of course!
For decades now, the dewy look has been popular both on and off the runway. The rise of Asian fashion and beauty has only added to the trend. In general, Asians are perceived as having skin that is flawless and never ages. It really is no surprise that people have tried to achieve the same look with makeup instead.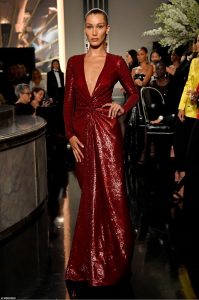 At NYFW this year, this look was visible more on guests than on the runway, having had its spotlight moment in the early 2010 period. The one exception was Ralph Lauren who is always known for the use of minimal makeup, as seen on sisters and supermodels Gigi and Bella Hadid. 
Another designer who stayed close to the minimal was Tory Burch in whose looks, the influence of Princess Diana was clearly visible. Nearly two decades after her untimely demise, her fashion choices continue to inspire, and her choice of low-key beauty looks is no exception.
Smokey Eyes With A Difference
We discussed a bit earlier that the smokey eye trend is alive and well, albeit in a different form. Guest at NYFW Vanessa Hudgens brought home the classic smokey eye. Designers too used extensive, colorful highlights on their runway models.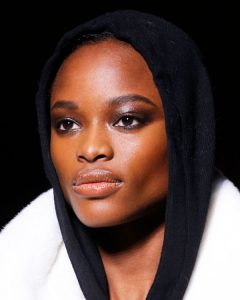 A good case in point- Tom Ford's own eye shadows used for an illuminating, powerful look. The influence of the smokey eye is clearly visible here. Smokey wings have been on full display at Elie Saab Couture for some time now, but the real highlights come from Valentino and Rodarte who have both used glitter in generous proportions to create their own versions of the smokey eye.
If you're feeling a tad bit more adventurous, the watercolor eye trend is also worth a try. Eckhaus Latta is taking the lead on the runway with this dramatic yet subtle look perfect for all bohemians on an off the runway.
Sparkle, Sparkle Everywhere!
This year's NYFW show has thrown subtlety out the window. Luckily for us, it has done so in style, which then allows us to experiment with many more looks (and products) than ever before. Some fashion observers have pointed out just how much of an influence the young adult TV series Euphoria seems to be having on the beauty scene.
Collina Strada's Low Carbon Diet feature has already given us all the eye makeup goals we need. Every inch of makeup in the show has a vibrant quality to it that is unmissable, to say the least.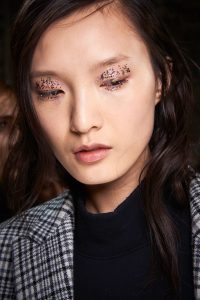 Models at Ashish were seen with glitter everywhere, including the eyes and lips and complemented ably by funky hairstyles. Giving new meaning to low-key sparkle is Dries Van Noten- the looks here clearly tend towards the fresh and the aquatic.
Of course, no discussion on sparkle can even begin without discussing nail charms and face ornaments, both of which have made a huge comeback this year as a throwback to the eighties. Earlier this year, we say everything from gold chains on nails to a more metaphorical sparkle in the form of $100 bills attached to the nails- talk about easy payments!
Both On And Off The Runway
Today, with social media ruling the roost on what does or does not become a beauty trend, many fashion houses are going the extra mile to democratize their shows. No longer are the looks, or a commentary on them, limited to the editorials and a select guest list. Instead, designers and event organizers go out of their way to give more people access to these looks and how to achieve them.
A flurry of makeup tutorials then follow suit and allow people in all corners of the world to explore these looks for themselves. In turn, they also give rise to a beauty economy that is centered around buying the products recommended by these beauty bloggers.
It is only a matter of time, then, before we see the watercolor eyes and the sparkly lips off the ramp too.