Wellness Trends in Fashion: A New Turn In Retail Experiences

7

min read
Reading Time:
6
minutes
In a time where cataloging every aspect of life on social media has become the norm, more consumers seek to enjoy and flaunt the new luxuries of looking great, feeling good, and sleeping well.
However, wellness is undoubtedly more than just a trend today. The wellness industry is valued at a whopping $4.2 trillion, representing as much as 5.3% of the global economic output. People want to eat healthily, exercise regularly, and monitor their health – making it safe to say that wellness has become a way of life now. And although this behavior seems evident across age groups, millennials are clearly the ones driving the wellness trend. For this consumer group, wellness is a daily, active pursuit – one they are willing to spend on. This is justified by the fact that as many as 72% of millennials prefer to spend on experiences rather than on physical things.
So, many brands have been working toward capitalizing on this potential for increased wellness spending through immersive retail experiences that are about fitness and more.
Here are a few fashion labels that have gone above and beyond with their retail experience using wellness as a hook.
Bandier
In an era where the survival of brick-and-mortar stores is dependent on how innovative their retail concepts are, upscale activewear fashion label Bandier is killing it with its unparalleled retail experience!
When it comes to apparel, its stores offer the best of the best – right from curated selections by emerging labels the world over to exclusive, limited-edition products from established brands like Nike, Reebok, Adidas, and Under Armour. And if that isn't enough, Bandier is also a hot favorite among celebs like Kim Kardashian and Liv Tyler, making it evidently a much sought-after brand.
One of the main highlights of its retail experience is its three-story, 10,000-square-foot store on 5th Avenue. With only the ground floor of this store housing apparel and sneakers, the rest of it is all about creating a complete wellness experience for shoppers. The mezzanine is a lounge of sorts where shoppers can hang out, listen to music, and attend events or concerts. And after passing a flight of stairs with graffiti all around, consumers get to a fitness studio on the third floor, which is where all the action is really at.
The fitness studio, known as Studio B, is where Bandier offers a host of expertly curated classes from the best fitness instructors in the city – like Nicole Winhoffer and Akin Ainman – for yoga, cardio, and high-intensity training. However, Studio B is about more than just fitness according to the brand's website – "It's about building a forum where the Bandier community can really come together, sweat it out, shake it off, rock out, and enjoy overwhelmingly good vibes. We like to say that Studio B is the place where Fashion, Fitness & Music go to play."
Bandier has also ventured into beauty recently with its SoHo flagship store featuring a sizeable display of bath salts, face masks, hair care products, and an exhaustive skincare range.
Additionally, skincare brand NuFace decided to collaborate with Bandier recently to provide consumers a pop-up spa experience with "fitness for the face" through its signature microcurrent treatments.
The brand has also taken its wellness experience a step further at its recently opened 27500-square-foot Noho flagship store, which doesn't just feature a fitness studio but also a health-focused café and sneaker shop.
Alo Yoga
Since its inception, Alo Yoga has been about fueling a movement to inspire more people to do yoga with its technologically advanced clothing. And that is evident from its website, which says, "We live yoga and we love yoga."
While it started off in 2007 with clothing to enhance every yogi's practice, the brand's offerings have also become a favorite among celebrities and the fashion-forward (think Hadid sisters & Taylor Swift) because they are comfortable, contemporary, and not just for the mat. That said, Alo Yoga's wellness experience at each of its stores is about more than just clothing – it's also about community.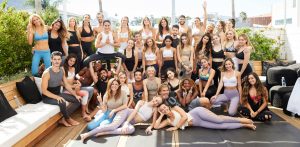 Take its Flagship store in Soho for instance. The two-story wellness sanctuary offers shoppers a host of reasons to keep coming back – a wonderfully sunny yoga studio, a community space, the best Alo collections, and tons of Yogi art on the walls. With yoga at the center of Alo's brand values, it's no surprise that the brand hosts classes by the who's who of yoga in its studio every day in addition to exciting workshops and events to engage its Alo community. Add to this an organic café, which has an entire menu of healthy drinks and snacks – including matcha lattes, Stumptown cappuccinos, Kombucha on tap – and shoppers are flocking to the store to enjoy a complete wellness experience.
Fab Fit Fun
A brand with a unique take on the wellness experience, FabFitFun has managed to carve a niche for itself in the incredibly crowded and competitive subscription box market with its aggressive content plan. With what started close to a decade ago as a lifestyle newsletter and blog, the brand has transformed into a massive wellness subscription-based program with over 1 million subscribers currently.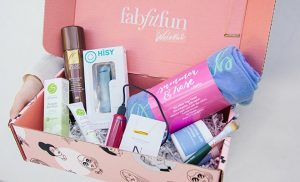 Its flagship product, the FabFitFun Box, offers a curated collection of full-size products (not tiny samples) across beauty, fashion, fitness, home, and technology every quarter. Users can customize the box to suit their needs at prices as low as $50. Every box provides a copy of a lifestyle magazine as well as access to FabFitFunTV (a video streaming service with on-demand wellness videos), daily lifestyle content, an online community, and exclusive sales and shopping experiences throughout the year.
Additionally, the brand's recently launched daily Facebook show offers beauty tips and product suggestions aplenty, while its YouTube channel is an excellent source of useful wellness content with a treasure trove of videos featuring influencers and the brand's partners.
FabFitFun also takes to pop-ups every now and then to complete the wellness experience for its users. Shoppers can curate their own FabFitFun boxes on the spot by choosing from a selection of established and emerging brands while engaging in wellness experiences offered by the brand's partners.
Saks Fifth Avenue
With luxury fashion retail brands on the constant lookout for new ways to engage today's consumers, it makes perfect sense that one like Saks would find a way to make wellness a part of its in-store experience.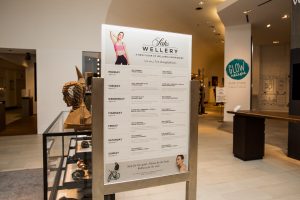 Saks revamped its Fifth Avenue store a while ago to become home to a retail space dedicated to health, fitness, and beauty. The wellness sanctuary, known as the Wellery, was created temporarily on the second floor of the store and featured a curated edit of the best products and services in New York City. The move was in line with promoting a healthier and balanced life that today's consumers seek.
The space offered a host of fitness classes and equipment for sale alongside beauty treatments to experience and products for purchase. The fitness classes offered were by fitness experts from Bari Studio and Uma Gaia among others as well as brands like ConBody, which provided a prison-style boot camp using only one's body weight. And for those who sought a unique beauty experience, the Wellery's Blink Brow Bar – which offered services like threading, tinting, lash extensions, and perming – as well as the Sundays Nail Studio – which specialized in nontoxic services like vegan manicures, massages, and guided meditation – were the places to be.
The most interesting wellness experience, however, was the Breathe salt rooms, which offered dry salt therapy to aid in anything from clearing up allergies and skin conditions to improving sleep.
The Wellery also had clothing geared toward fitness and wellness including offerings by golf- and activewear clothing brand Greyson Clothiers as well as home gym equipment by brands like Peloton and Technogym. It even had unique setups such as Parsons Xtreme Golf's golf simulator that allowed visitors to demo the brand's custom-fitted luxury clubs.
Although Saks dismantled the space a few months later, it works to incorporate certain elements of the pop-up in their flagship store.
Well Received Shift in Traditional Retail
With consumers gradually moving toward splurging on wellness as a luxury, fashion brands are responding by transforming their offerings across traditional brick-and-mortar stores to incorporate wellness. Regular shopping sprees are no longer a form of retail therapy. Instead, experiential retail is replacing the traditional formats, and those fashion brands that are evolving with changing consumer demands are the ones most likely to see success. However, with more fashion brands entering the competitive wellness space, the fashion-wellness category is one that will only see more growth with time.