Vue Retail Experiences: Fashion Brands Giving Experiential Retail A Whole New Meaning

8

min read
Reading Time:
6
minutes
The current economy is all about customer experience. So naturally, the old approach of "product is king" doesn't work anymore. Customers are at the heart of any activity and objective, making it safe to say that customer is king with retail stores being branded his or her castle. This has led to the very idea of what a store is being revolutionized – with the need to transform stores from just a shopping destination to a space where consumers are engaged in wholesome experiences that delight them at every step of the way.
PSFK's Future of Retail 2018 Report even reveals that more retailers today are focused on investing in experiential marketing. Of the 400 retailers surveyed, as many as 55% said they would spend a considerable part of their marketing budget on in-store experiences by 2020.
But with on-demand economy ruling all of retail, getting the in-store experience right to increase customer loyalty is becoming harder by the day – especially in a highly cut-throat industry like fashion. An increasing number of fashion brands, however, are realizing that it's becoming crucial to move from a product-centric to a consumer-centric model.
So, here are some fashion brands that have been successful at nailing this down to the last detail and unfailingly continuing to please shoppers.
STORY
STORY is perhaps the most story-intensive fashion retailer there is. Located in Manhattan's 10th Avenue retail corridor, its 2000-square foot store stands for the brand's retail concept that has "the point of view of a magazine, changes like a gallery, and sells things like a store." So, every 4 – 8 weeks, the store reboots to bring in an entirely new range of merchandise that tells an entirely new story – with each story bringing to light a new theme, trend, or issue.
What's unique about STORY is that the story drives the assortment rather than letting the assortment drive the story. So far, the brand has come up with as many as 41 different concepts like Color, Love, and Made in America while working with partners like American Express, Intel, and Target.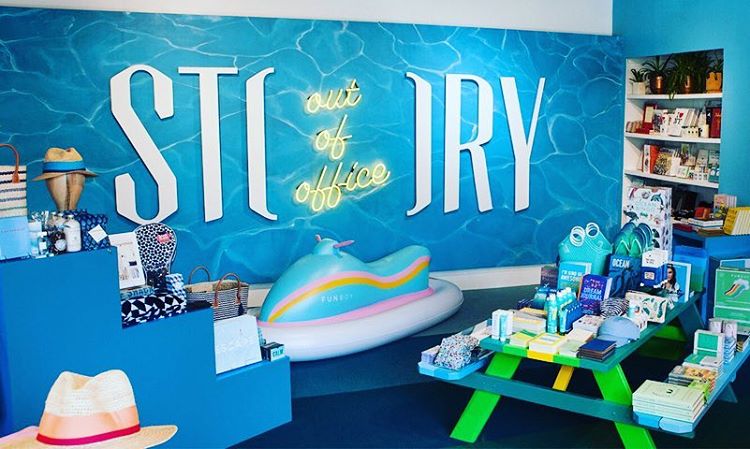 The brand's Out of Office story in 2018 was extremely well executed, laying out everything a shopper would possibly need to kick back and enjoy the summer. Right from the store design that contributed to a poolside vibe with a mural by artist Georgia Elrod to swimwear by Solid and Striped, Chubbies, and Onia, the store had it all. Add Dirty Lemon refreshing beverages, Charcoal lemonade, and artisan salt water taffy Salty Road Taffy to the mix and shoppers had all the summer food and beverages they needed to beat the heat too!
Another story that worked quite well for the brand and was done more than once with a different spin to it each time is its LOVE story. This assortment offered products by female-owned brands and start-ups that showcase innumerable ways to express love or indulge in well-deserved love. In 2018, the LOVE story had offerings that included a host of products – like fresh floral bouquet service It's BY U's DIY arrangements and LOLI beauty's customizable skincare products made of food-grade, responsibly-sourced ingredients. The LED infinity mirror with the signature neon STORY sign made for a fantastic Instagram studio too. It's certainly hard not to love STORY's LOVE story!
What's constant about this store's ever-changing model is that its idea of retail goes beyond just transactions and a permanent retail space to show that experience is everything in retail today.
The Phluid Project
Although the New York Fashion Week now has a nonbinary category and most brands advertise that they welcome any customer, brick and mortar stores still tend to be organized by gender.  While fashion certainly isn't unfamiliar to the concept of gender-free, the industry hadn't seen brands permanently establishing themselves with gender-nonconforming or nonbinary offerings until the Phluid Project – the world's first gender-free store – came along.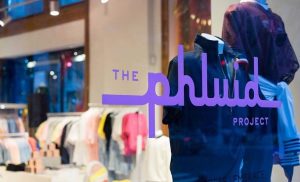 Opened in New York City's NoHo neighborhood, the store offers an array of products from clothes and shoes to miscellaneous items like photo books and custom candles. While the brand does have its own namesake label with offerings like t-shirts, tank tops, hoodies, and hats (which feature slogans like "Stronger Together" and "One World"), its most notable products are those from Gypsy Sport and latex-heavy label Meat. Additionally, there are brands like Fila and Champion whose products are available in sizes from both men's and women's lines that work for all body types, sizes, and shapes. Add to this the fact that everything in the store is relatively affordable with prices ranging from $25 to $300 and it's every young gender-nonconforming shopper's paradise.
"We are not just a store, we are a movement committed to challenging the ethos of the traditions of the past that inhibit freedom and self-expression," the company said. With this vision, the Phluid Project works to redefine the way consumers think about gender by creating an immersive shopping experience as well as a community hub for gender-nonconforming people. This is clear from the fact that the store doubles as a juice and coffee shop where shoppers can relax and socialize. This space is also where the brand holds talks about identity and activism.
SK-II
Technology is fast making its way into fashion and beauty and there's certainly no stopping it! Its much-welcomed intervention, however, has enabled brands to get detailed insights into consumer preferences and take immersive shopping experiences to a whole new level.
It's impossible to talk about beauty and technology in one breath and not mention SK-II. The beauty brand has, for a while, been known to leverage the best technology to give every shopper a unique experience.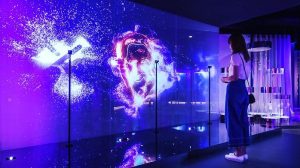 Its experiential concept store launched in Shanghai last year, the Future X Smart Store is a perfect example of this. The store incorporated facial recognition, computer vision, and AI and was augmented by the brand's skin science and diagnostics.
The entrance of the store was flanked by a large digital wall that changed according to the facial expressions and body movements of shoppers who stood in front of it. After making their way inside, shoppers could explore the Miracle Water lab, which offered a demo of how SK-II facial treatment essence works on the skin. They could also walk into skin scanning booths for a detailed skin analysis followed by a display of the analysis on an interactive skincare wall with result-based recommendations. Using a specially-designed bracelet, consumers could buy the recommended products by just waving their wrists on a scanner. Truly an end-to-end skincare experience!
The brand also recently launched a first-of-its-kind Augmented Reality pop-up store called SK-II Wonderland powered by Google's AR Core technology. One thing's for sure – this brand surely knows its way around tech and is taking retail into the future with it!
Missguided
Representing a massive $200 billion of spending power in the US alone, millennial shoppers are, without a doubt, a powerful consumer group. They are a "see now, buy now" generation that is constantly on the lookout for brands that cater to this need.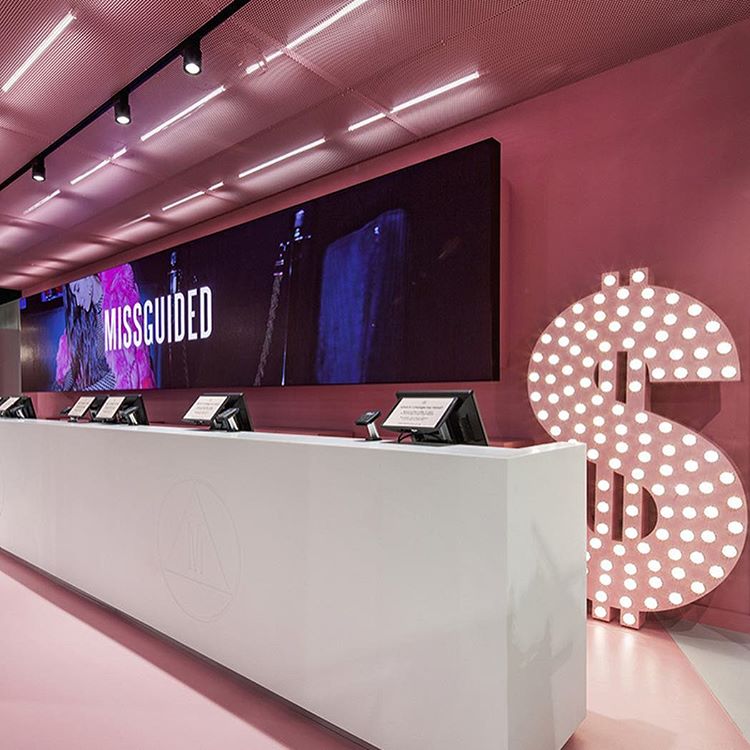 Missguided hits the mark right with millennials when it comes to this, courtesy of its highly immersive retail store experience. Designed to mimic a television studio, Missguided's store represents an "on air" concept that gives its young consumer base a feeling of shopping "live" as opposed to online. The brand connects with its shoppers using slang and pop culture references everywhere in the store that is indicative of its playful and recognizable tone of voice. Add to this its countless screens and dramatic lighting and it's bound to catch every teenage to 20-something girl's attention. Even its mannequins are "missguided," striking poses and taking selfies around the giant pink monster truck at the store's entrance.
The brand's shopping app too gives its target shoppers an experience that resonates with them. Much like the Tinder experience, the Swipe to Hype feature allows consumers to scroll through innumerable looks and choose the outfits they like by swiping right and reject the ones they dislike by swiping left. Missguided also very cleverly fuses its online and offline experience by prompting shoppers to download the app and follow it on social media using its brightly colored, neon signage. Undeniably a brand that knows its shoppers quite well!
With fashion brands constantly competing to stay on top by providing flawless customer experience, consumer demand for unparalleled in-store experience will only rise in the future. Consumers will walk into stores expecting to have their minds blown away. So, fashion brands would do well to offer a retail experience that is intuitive, immersive, and personalized to get shoppers to keep coming back to them.
Check out
our Instagram page
and follow us to stay up to date with more fashion and beauty brands giving experience in retail experience a new meaning.