Valentino Embraces Inclusivity In Its Latest Collection

5

min read
Reading Time:
4
minutes
When models walked out wearing glitter-embedded gowns, makeup, headgears and facial jewellery at the Valentino Spring 2020 haute couture 'DayDream' show, there was a collective gasp from the audience. Be it the red voluminous silk dresses or the silver siren dress bathed in sequins, the array of floral gowns or the shower of bows, each design was breathtaking. Staged at the luxurious Aman Summer Palace in Beijing, China in early November 2019, Valentino married the Italian spirit of the Renaissance with Chinese opulence.
"It takes inspiration from what I like: the Italian Renaissance. But I like to build a connection between that and imperial China. It's the same period, same moment, but different worlds…. For me that means inclusivity: to work together and create new worlds made by different cultures that meet," explained the Creative Director of Valentino – Pierpaolo Piccioli – while speaking about the DayDream collection.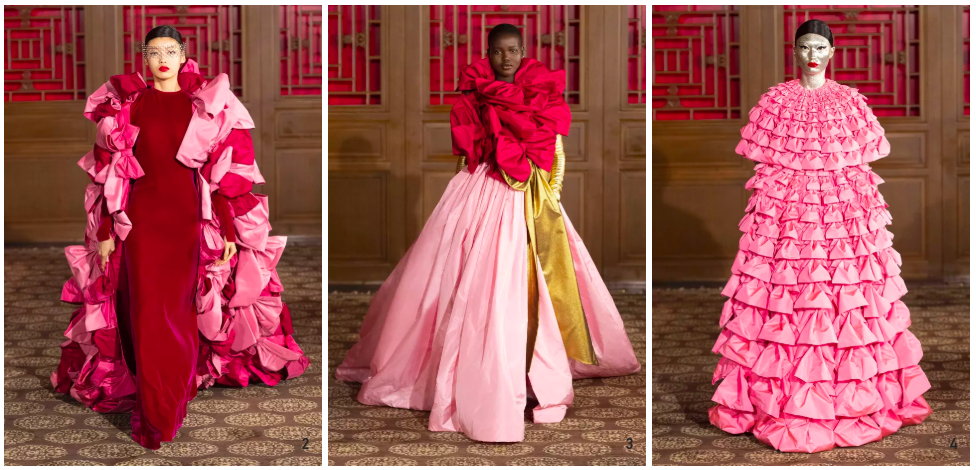 Piccioli's earnest interpretation of inclusivity, culture, and fashion made the Beijing show an important moment in fashion history. It showed the world how to treat a global market respectfully without losing the brand essence and identity.
The love for bows, textures, sparkle and the colour red is signature Valentino; so is its global appeal. And it all started in the 1960s when the founder of the brand, Valentino Garavani started his own fashion label in Rome.
The Master Of Italian Couture
The reins of Valentino were handed over to Maria Grazia Chiuri and Pierpaolo Piccioli in 2008 after Garavani retired in 2007, post ruling the fashion world for 45 years. "I have decided that this is the perfect moment to say adieu to the fashion world. As the English say, I would like to leave the party when it is full," Garavani said in a statement.
"The codes of the Valentino Maison are part of our memory and creative language. Our aim is to create a different story, using the same words, in a more contemporary way," the duo said after their appointment.
Between 2013 and 2018, Valentino was the fastest-growing brand in the luxury fashion industry. The Italian fashion house grew by 134% during that period and its sales increased from $590 million to $1.4 billion.
The duo washed off any stray thoughts on anyone's mind regarding the relevance of couture in present times.
The next wave of change came in July 2016 when Chiuri left Valentino after completing a glorious stint of 17 years. With this latest development, Piccioli became the Italian luxury brand's sole creative director.
Pierpaolo Piccioli's Valentino
After Chiuri left the label, Piccioli's approach at work changed. He revamped his design team by hiring young talents. It is his new team that inspired the designer to experiment with the new Valentino 'VLTN' logo that now one can spot on shoes, bags, hoodies and yoga mats.
"When you work together, you don't compromise if you respect one another, but you do discuss everything, and so the process becomes more rational. Being alone, I learned to allow myself to be more intuitive, more free," shared Piccioli when asked about how his approach has changed post Chiuri's departure.
While his young team is working on ways to connect with Gen Y and Z, Piccioli's own instincts are earning him standing ovations after every show. The Beijing couture show exemplifies the unparalleled genius of Piccioli. He not only understands what modern consumers want but also knows how to walk on the tricky path of culture & fashion without cultural appropriation and losing brand identity. A decade ago it would have been impossible to imagine couture and streetwear on the same platform, but he is showing the world how it can be done.
Yesterday evening in Los Angeles, @billieeilish wore a full Valentino look while performing "Bad Guy" at the @spotify Best New Artist Party. pic.twitter.com/fdfbDAffY4

— Valentino (@MaisonValentino) January 25, 2020
"Today, Valentino — especially for young customers like in China — is daywear and streetwear. That's great to get the brand alive and to face reality, but I also like the idea of the extravagance and boldness and uniqueness of the couture. Today, Valentino is streetwear and couture, and the two work together to create a new way of being. All treated with the same sensibility, the same kind of daring and fantasy," asserted Piccioli.
His thoughts on handling and embracing cultural influences show deep maturity and respect. He explained how for the Beijing show he travelled with his collection which featured a few influences inspired by Opera Beijing but it largely represented the Italian roots of the brand. Instead of trying to interpret a different culture based on a few elements, he chose to work with what he knew – to maintain authenticity.
The creative director is also experimenting with the brand's retail experience by investing in technology, real estate, and new brand representatives.
When asked about his vision for the fashion house, Piccioli answered firmly, "Valentino was the brand himself. Now everything is about communities—about sharing values, not surfaces—and I want Valentino to be a couture house that is relevant for today for young people. I never wanted to substitute the lifestyle of Valentino for my own. If you're not in an ivory tower, I think you can dream more."
Garavani and Piccioli's approach to work might differ because the realities of the fashion world of the 1960s are starkly different from the realities of 2019. But the fashion codes and the impact of their fashion shows are remarkably similar. The guests were wiping away their tears at the Beijing DayDream show, so did the guests at Valentino Garavani's couture shows. Like Piccioli-Chiuri said, different words, same story.
Read Related Articles:
How did Depop get a Cult Following of 15 Million Users?
How Brands Adapt To Holidays And Win The Shopping Season
How Instagram And Social Media Have Transformed Store Design