The Theory of Sustainable Zero Waste Beauty

9

min read
Reading Time:
7
minutes
It was a lipstick unboxing experience that left Melodie Reynolds in tears and planted the seed of Elate Cosmetics in her mind.
Years before starting the toxin-free sustainable makeup brand, Reynolds, the founder of Elate, worked as a makeup artist. Her love for the planet had already inspired her to live an organic zero-waste lifestyle, be it the food choices, diet or clothing. But it took the experience of unpacking an expensive lipstick and looking at the amount of waste it generated that pushed her to develop an alternate sustainable makeup brand.
"I looked down into my bathroom sink where I had been feverishly unwrapping this lipstick… I started to cry because I realized that in my journey… to live a toxin free life…, I had forgotten all about packaging and garbage. That moment, I hold that very dear in my heart… When I was designing the products, I knew very clearly that I wanted it to be a very simple packaging and as sustainable as it could possibly be," Reynolds recounted.
Calling it a pivotal moment that helped her to recognize the impact of the beauty industry's waste, Reynolds zeroed down on bamboo as a packaging material for her range of vegan makeup products.
The Canada-based brand is joined by many other global labels – niche and giants that are taking concrete measures to build a zero waste beauty industry. From recycling to upcycling, from offering refills to getting creative with product packaging, brands are working towards real solutions rather than tokenism, with a great sense of urgency.
One of the most widely discussed environmental problems is the beauty industry's contribution to the world's plastic pollution and landfills. The global cosmetics industry produces 120 billion units of packaging every year, according to a report by Zero Waste Week. A considerable chunk of this packaging waste is non-recyclable.
No holds barred discussions on environmental sustainability compelled fashion retailers to adopt sustainable business practices and look for alternatives. We are witnessing the same waves of change in the beauty industry, which is one of the top environmental offenders.
Travelling Back In Time
The cosmetics industry can see the perils of plastic pollution and landfills in the form of global warming.
As the personal care industry grew, so did the industry's reliance on plastic as a cheap, convenient and versatile packaging material. It allowed brands to experiment with the formulation of the products and present them in an attractive manner. Out of 448 million tons of plastic produced in 2015, 161 million was consumed for packaging (not limited to the beauty industry). For an invention that only became popular in the 1950s, the production size of plastic has swelled up in size very rapidly.
Niche beauty brands, as well as established brands, are trying to undo this damage by going back to vintage and innovative makeup and beauty packaging practices.
Elate, for instance, follows the 'cradle to cradle' design philosophy. The company uses bamboo as a packaging material for its crème revealers, foundations, lipsticks, mascara, primer, and other products. It is not only the fastest growing plant but also easy to process. They use water processing instead of chemical processing so that it can be added into the compost pile.
Ever since its inception, the company's founder focussed on one aim, one goal.
"Our goal is to be the world's first waste-free cosmetics company, and we're about 75 per cent right now. Our mission is to change the beauty industry and if we do this then other companies have to do it too," Reynolds shared.
Besides compostable & recyclable bamboo and recyclable glass, Elate uses paper labels with eco friendly glue and vegetable ink, which are compostable and recyclable as well. To reduce waste, the beauty retailer also offers sample sizes of all their face products so that customers can try before ordering the full-size products.
Reynolds, who started her entrepreneurial journey in November 2014, was very clear about not using outer packaging material that serves no practical purpose, other than marketing and convenience to stack & store. This was done to ensure that no unnecessary garbage gets added to the landfills.
"I don't want the box. Because, if you have only purchased the products because of the box, then that's not the customer that we are looking for either… The lipstick that I sell, I don't have to put anything extra on it," she asserted.
Therefore, their refillable pressed powder eye shadows come in aluminium pans, which can be easily recycled. These refills fit in their bamboo cases and are delivered in seed paper envelopes, which can be planted to grow herbs and wildflowers.
While Elate is a niche brand, big brands like Body Shop too have pledged to stay away from virgin plastic and recycle the existing waste.
Shred The Beauty Waste Or Upcycle
Founded by environmental campaigner Anita Roddick, the British cosmetics brand 'The Body Shop' is globally known as a 100% cruelty free brand. Roddick followed the simple packaging and anti-waste concept right from the 1970s. Customers were given the option to return their bottles and refill it.
In March 2006, L'Oreal took over the business and continued to own it till 2017. After being acquired by the ethical Brazilian cosmetics firm Natura in 2017, Roddick's company is going back to their roots. In Breaking Beauty's Zero Waste Beauty podcast episode it was revealed that "In all of their packaging, one thing they (Body Shop) are committing to is no more virgin plastic being used in any of their products by 2020."  
The company stated that by the end of 2019, they will produce 3 million hair-care bottles by repurposing 250 tonnes of Community Trade recycled plastic from Bengaluru, India.
British-Dutch consumer goods company Unilever and French personal care company L'Oréal have also vowed to use 100% recyclable, reusable, and compostable plastic by the year 2025.
US-based recycling company TerraCycle has been assisting MNCs in their sustainable initiatives. Be it spearheading Body Shop's Return Recycle Repeat program or repurposing every part of L'Oréal's incubated niche brand Seed Phytonutrients, the innovative company is helping the beauty industry to reduce waste.
Brands like Aveda are investing in bio plastic derived from sugarcane. The company's executive director of package development, Edmond Irizarry believes, "Bioplastics very soon will provide viable alternatives to virgin-petro-based plastics… In the very near future, we will be able to utilise agricultural waste to make new forms of plastic that today are not commonly recycled."
Under its recycling program, Lilah Beauty sends prepaid return shipping label and rewards customers that agree to recycle beauty products. & Other Stories, MAC and The Body Shop too reward its customers for recycling.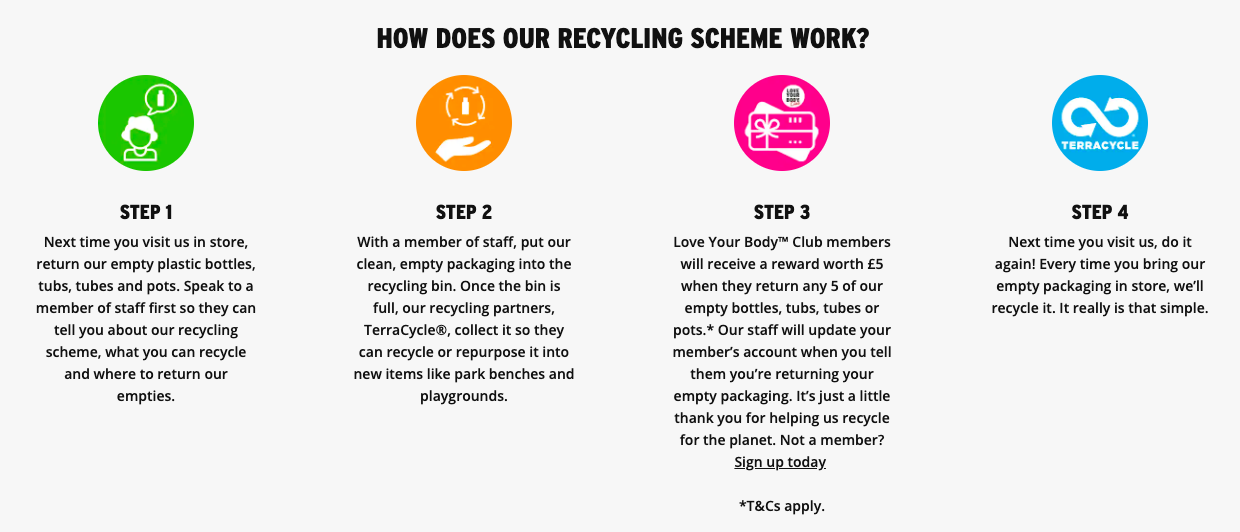 Big brands are trying to work around plastic because it still is the most practical option compared to glass and metal when it comes to production, storage, logistics, and supply chain. On the other hand, niche brands like Elate, Besame, Ilia, and Kjaer Weis rely on aluminium, stainless steel, glass, and bamboo because it is easy to recycle/reuse and consumes less energy.
But recycling existing waste is like a drop in the ocean in realizing the vision of a zero waste beauty industry. Brands need to focus on eliminating waste because even the tiniest granule and the most harmless beauty product can reach the deepest end of the ocean and the highest peak of the landfills mountain.
Of Micro Beads, Wipes and Naked Beauty
No one would have predicted that micro-beads or micro-plastics present in personal care products could damage the environment. But soon they reached the Arctic, bottom of the sea and the white sand beaches, which prompted many countries to ban micro-beads.
Cotton facial rounds that are typically used to wipe off makeup appear to be a harmless product when compared to millions of bottles of nail polishes. But 7.6 billion pounds of wipes are thrown into landfills every year! That's nearly 20 million pounds of single-use facial pads every day.
Even if the facial pads are made from biodegradable materials, once chemical-based makeup like mascara, eye-liner or concealer touches it, it turns from a compostable piece of material into garbage.
The only solution to this problem is using reusable/washable facial wipes and fortunately, there are a lot of options available to the consumers.
Makeup Eraser, for example, is a face cloth that requires only water and takes off all the makeup. There's also Face Halo made from HaloTech fiber strands that can last up to 200 wash cycles. The award-winning Japanese Konjac sponge, which is made from vegetable fibre, is also a sustainable alternative to single-use wipes.
Even materials that can be recycled like glass and cardboard come with its own set of challenges. Take, for instance, glass has to be sorted by colour before recycling it. Mirror glass, window panes, multi-coloured broken glass, and ceramic can't be recycled with glass bottles. If the bottles and jars have stickers glued onto them, then it has to be completely removed.
Therefore, customers are keen on reusing or refilling beauty products that come in glass containers, but not necessarily recycle because of the work involved.
This is when initiatives like Loop come to the rescue.
TerraCycle's revolutionary Loop project is going one step further in making sustainability accessible for customers and brands. This initiative is trying to stop single-use packaging material from entering the garbage bin by delivering products in reusable packaging. Their aim is to eliminate the idea of waste, which is what the environment needs right now.
Loop has tied up with big companies like Danone, Procter & Gamble, Pepsi, Unilever, Mondelez International, Nestlé, Ren Clean Skincare, and UPS to deliver, pick-up, clean and refill product packages.
While many small brands offer refills like Elate's tins of eye shadow or Kjaer Weis's mascara, a project like Loop that caters to the users of big consumer brands would help to achieve the zero waste beauty goal faster.  
The growing naked beauty and skincare trend also helps in eliminating waste by changing the nature of the product. Case in point: UK-based cosmetics retailer Lush. The company's bath bombs, shampoo bars, bathing soaps, and solid perfumes & deodorants have effectively replaced bottles of perfumes, shower gels, bubble bath solutions, and shampoo bottles. They also have cold creams, facial oils, and cleansing balms that are sold in tins in solid forms.
Zero Waste Mindset
The success of the theory largely depends on consumers because packaging accounts for a large percentage of the waste generated by the beauty industry. And shifting to zero-waste packaging would require consumers to change their mindset.
"You just know from the branding perspective most retailers and most high-end retailers will want brands that really sort of jump off the shelf in terms of packaging. So that's a big challenge for brands as well because they have to change mindsets amongst consumers, who then have to change have to mindsets amongst retailers," asserted Formula Botanica Director, Lorraine Dallmeier.
Once global consumers internalize that a less glamorous packaging or zero packaging does not negatively affect user experience, innovation, and product performance, more brands would embrace sustainability.