2018 Wrap-Up – The Year So Far In Fashion Retail

9

min read
Reading Time:
7
minutes
Earlier this year, the National Retail Federation had predicted that retail sales in 2018 would increase at least by 3.8–4.4% over last year's figures.
However, it recently announced that growth is likely to be significantly more and retail sales could show a whopping 4.5% increase! This is a clear sign that retailers have been hitting the mark with keeping consumers happy across industries – fashion included – in 2018.
According to McKinsey and Company's State of Fashion report, fashion sales this year have been higher and more sustainable than 2017 too. By the end of the year, growth in fashion alone could be about 3.5–4.5%, which could lead to a total sales volume of $2500 billion.
2018 also marked the beginning of a new era – where over half of apparel and footwear sales were predicted to occur in emerging markets like the Asia Pacific and Latin America, instead of Europe and North America. Technology has also been increasingly making its way into the industry, and innovation is what continues to drive sales for winners in fashion this year.
How Fashion Consumers Have Been Behaving Across Touchpoints
Although brick-and-mortar stores have been decreasing swiftly in numbers, physical retail surely isn't dead. And believe it or not,

90%

of retail sales around the world still happen in physical stores. The ones who are getting it right have been changing the way consumers spend time at stores. They are working towards making shopping offline an immersive experience.


Source: Echo Chamber

Nike's latest store in New York is on point when it comes to this. A five-story building, this store has an indoor basketball court, a treadmill, a location simulator for runs, and a shoe bar for personalized shoe shopping. Sounds like a real paradise for shoe lovers, doesn't it?
E-commerce, of course, continues to shine. The boom in mobile commerce sales has been largely responsible for this with its convenience factor leading to high conversion rates.
Companies like Tommy Hilfiger and Farfetch are taking complete advantage of this with their immersive mobile shopping experiences. They have gone a step further with digital wardrobes, linking to social media accounts, and pay-by-app provisions.
That said, it's no longer about online vs. offline. Fashion consumers today keep moving between online and offline touchpoints throughout the purchase path. However, it is important to note that digital interactions have been playing a huge role in how much shoppers spend at offline stores.
Deloitte reports that digital interactions influence 56 cents of every dollar spent at an offline store. So, seamless shopping experience is what fashion retailers absolutely need to provide to shoppers – no matter what the touchpoint.
In fact, combining touchpoints with services like click and collect or buy online, pick up in store (BOPIS) are resonating with today's fashionistas all the more.
What Today's Consumers Want
In 2018, innovation is what has helped fashion brands keep up with consumers' ever-changing expectations.
With smart algorithms powered by artificial intelligence increasingly making their way into fashion, a personalized experience is not hard to provide any more. Brands can now use search and buying history and AI-powered technology like visual search to provide personalized product recommendations based on shoppers' real-time preferences.
A Boston Consulting Group report revealed that brands across industries (fashion included) can expect a 6–10% increase in revenue annually from personalization alone.
Luxury retailer Rebecca Minkoff has managed to perfect personalization and a unique customer experience with smart virtual dressing room. These are fitted with digital mirrors that allow customers to not only view and request items but also modify lighting in the virtual dressing room. Store staff also assist shoppers with advice based on customer purchase history and preferences updated in real-time on their devices, thus offering customers a highly personalized shopping experience.
Contactless shopping is also increasingly becoming the norm, making checkout (which is a huge pain point for customers offline and online) a breeze. Take Rebecca Minkoff's New York store for instance. It provides contactless shopping, which allows shoppers to buy anything from $200 handbags to $1500 jackets without any assistance.
Online shopping too needs to be a breeze for today's impatient shoppers. This includes easy navigation on product pages, smooth transition between product and checkout pages, and simplified checkout. Adopting features like autotagging to simplify product search for customers can go a long way in improving the user experience.
Automation – A Game Changer In Fashion Retail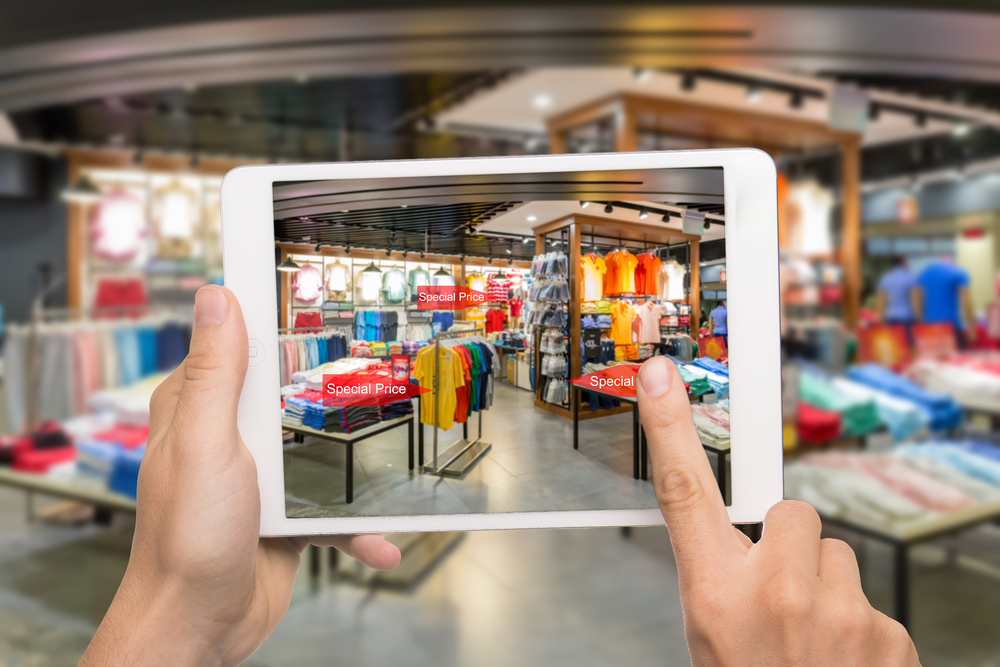 The retail automation market is expected to expand at a yearly growth rate of over 10%, reaching an $18.99 billion net worth by 2023. Retailers have already started making the most of automation and pushing their businesses forward.
Scaling automation in the supply chain is the first important factor that brands have started taking into consideration.
Nike has installed over 1200 automated machines at its Asian supplier factories for processes like handle cutting, cementing, shoe assembly, and making soles. H&M, being a fast fashion brand, has been working on overhauling its entire supply chain. The company is looking to invest heavily in automated warehouses, advanced analytics including artificial intelligence, and 3D technology through this year and the next.
An increase in the use of sewbots across brands is also drastically reducing the need for human garment workers – leading to reduced costs while ensuring efficiency. It is also bridging the gap between demand and supply by allowing brands to produce faster.
Using RFID tags for digital cataloging in physical stores has been reducing manual intervention significantly too.
Zara for one has been making the most of this and speeding up fast fashion further. Every time a garment is sold off its shelves, the brand's system prompts the stockroom to replace the sold item with a replacement on the floor. This aspect even goes so far as to give shoppers real-time visibility of whether a product is in stock or not before they can buy it.
Automation is also becoming a must to transform the retail experience for customers.
Brands of the likes of Alibaba and Zalando use AI to give shoppers accurate results for product searches down to the last detail. Not just that, they also use it for virtual storefronts that cater to every shopper's unique preferences.
Many fashion and beauty brands have also been taking to augmented reality of late. They have started realizing that it isn't just a novelty but can actually be used to solve problems in fashion. Take L'Oréal's AR-focused app for instance. It allows shoppers to try out countless combinations of the brand's beauty products on their phones. This pretty much eliminates the need for a customer to have to go to a store to try out the brand's products – a huge convenience for those who want to pick out makeup from home.
Some brands are also replacing human sales assistants with AI-powered bots to personalize the shopping experience and to seek out the best prices for shoppers online.
Evidently, the way forward in fashion retail is about more and more automation. A brand that wants to get ahead of its competition absolutely needs to say yes to automation to produce higher quality products with more variation and lower costs.
Having A Vendor On Board
Outsourcing some or all aspects of fashion retail functions to vendors, or suppliers could work out quite well in the long run. It allows retailers to leave the smaller elements of running their fashion retail business to vendors and gives them time to focus on the bigger aspects of brand building.
Here are some factors that retailers should keep an eye out for while picking vendors:
Quality material at competitive prices
 Products made with poor material don't go down well with consumers and end up reflecting poorly on a brand. So, it's important to ensure that the vendors you choose provide good material at equally good prices. Requesting product samples is the way to go when checking for a new vendor's product quality. Additionally, asking for price points for the different products you sell will give you a relatively clear picture of the vendor's pricing.
Knowledgeable
Good vendors have a thorough understanding of the latest trends and products, allowing them to provide fashion retailers with useful insights that will better their brands. They can be quite helpful in evaluating new products, tracking competitors, and identifying new opportunities. In the long run, they may also end up becoming partners and aid in cutting costs, enhancing product designs, as well as funding marketing efforts. Asking for a tentative plan of action following partnership could be a good way to assess this trait of a vendor.
Unique products
 Good vendors offer unique items that keep up with ever-changing fashion trends. Such vendors show commitment to innovation and are worth partnering with. Product sampling is again a great way to figure out what vendors have to offer in terms of design and style.
Reliability
 Established vendors are usually a good choice for most brands as they're more likely to send quality products across on time, leaving lesser scope for stocking issues. They're also likely to have trustworthy reviews online that you can check out before partnering with them.
Small vendors could work out well for large brands too as they are bound to provide better service and reliability. Choosing two small vendors is advisable for retailers with a large business as it provides backup in the event of mishaps.
Choosing a good vendor can be quite beneficial when it comes to managing the nitty gritty of a fashion retail business, thus easing retailers' burden significantly.
Finding The Right Tech Partner
It's no doubt exciting to get products out there as a retailer. But there is a crucial factor that is just as important for fashion brands – building a great customer experience – on the backend. And this is where having a good technology partner can go a long way.
Seamless customer experience is more than just an industry-favorite term- it's also a revenue-impacting imperative. So, depending on your business needs, seek out a good tech partner who will analyze and understand:
Your business

The problems you're looking to solve

The specific needs of your customers
Such a partner will put in the effort to change the way your business functions in unique ways that you probably couldn't.
So, with 2019 just around the corner, fashion retailers should look at providing an unparalleled, seamless experience for consumers across all touchpoints, maximizing automation across processes and to improve user experience, as well as taking on vendors and a technology partner to improve brand value and presence. As is always the case with retail, it is all about being the first one to do things differently.