The Evolution Of The Lingerie Industry And The Trends That Govern It Today

7

min read
Reading Time:
6
minutes
Invisible yet indispensable, the lingerie industry has grown to be a prominent segment in the Apparel industry. The global lingerie market is expected to record a CAGR of 2.2% during the forecast period of 2018 – 2023 and reach a valuation of US $59.15 billion by 2024. Reports reveal that the market has matured in North America and Europe with global lingerie brands working to expand their presence in countries like China, India, Brazil, and Argentina for higher market revenues.
Inclusivity Is Driving The Lingerie Industry Today
Women have worn almost everything as intimate wear. Starting from a whalebone contraption with pulleys to near-nothing light and silky clothing, lingerie has evolved a great deal much like any other type of clothing to reach its current state.
The push-up bra, which has been a tool for sexual attraction and a dominating trend in the lingerie industry for a few decades now, seems to have fallen down the hit list and is finding itself being replaced by sports bras and bralettes.
With consumers seeking more options in line with comfort and functionality, this isn't surprising. Lingerie brands are noticing that flirty silhouettes are no longer a strong selling point.
Instead, a new breed of women's lingerie – a lot of which are spearheaded by fellow women – is taking the place of once-iconic styles. While these up-and-coming brands have distinguishing aspects of their own, they are all moving in the direction of lingerie that marries comfort with new or traditional lingerie styles at relatively affordable prices across inclusive size ranges.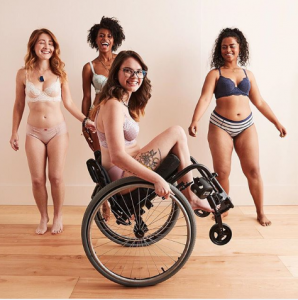 With its affordable lingerie, lounge, and activewear, American Eagle's Aerie is now a hot favorite among 15- to 25-year-old female consumers. It grew to popularity as an inclusive brand with its body-positive #aerieREAL no-airbrushing campaign in 2016. Since then, the brand has featured models of varying body types and ethnicities – including women with visible disabilities and illness – and won the hearts of millions.
Aerie has sizes going all the way up to XXL with styles for everyone ranging from wireless lightly lined bras to plunging push-up bras. Aerie also offers athleisure wear that is exclusively designed with movement and comfort in mind.
Even retail behemoth Target didn't stay too far behind while keeping up with inclusivity. This is clear from the brand's recently launched lingerie and sleepwear labels that have offerings for everyone.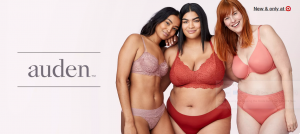 Its lingerie brand Auden offers a collection of 40 unique styles of bras with sizes ranging from 32AA all the way up to 46G and as many as 50 unique panty styles going from sizes XS to 4X. The best part is that they're all as affordable as ever with prices at less than $22!
Target's sleepwear brand Stars Above is inclusive in a different sense – it has collections for women of all ages. With its pieces costing no more than $29.99 and over 125 different styles to choose from, women who want to buy Stars Above offerings are unlikely to stop at just one.
The brand's third label Colsie, caters to those looking for trendy in the sleepwear and loungewear categories. With anything from sports bras in pastel colors to of-the-moment bike shorts, Colsie has every loungewear trend women are likely to want for $21.99 or less for sizes XS to 3x.
With its venture into lingerie, sleepwear, and loungewear, one thing is clear – that Target is looking to provide women with a truly complete shopping experience today.
Sustainability In Lingerie: The Need Of The Hour
Brands aren't oblivious to the fact that consumers care about where their clothing is coming from more now than ever before. From demanding sustainable practices to seeing that brands publicly announce their commitment to treading on an eco-friendly path, they expect it all. And with clothes being held at such high social and economic standards, it would make sense that they would want the same from what's underneath. However, retail analytics company Edited reports that sustainable lingerie makes up as low as 2.4% of all sustainable apparel. But some lingerie brands are consciously putting in the effort to change this.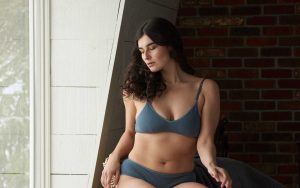 Brook There is one among such lingerie brands that are on point with their sustainability efforts. The label uses organic cotton for most of its lingerie in addition to real silk trims. It also keeps in line with high labor standards by manufacturing entirely in the United States – which means no sweatshops and no child labor – using low-impact production techniques. Even their packaging material is all eco – small orders are packed in recycled poly bags and recycled tissue paper, while large ones are shipped in a cardboard box.
Known for sustainability through and through, Reformation too recently launched lingerie that stands true to its brand values. The collection featured a limited-edition line-up of two bras, one bralette, and two styles of briefs – all of which was made sustainably with recycled lace, eco-mesh, and Tencel (a wood cellulose-based fabric made by Lenzing Fibers Inc). The prices for the individual items vary from an affordable price point of $12 all the way up to $45.
Personalization: The Game Changer For Lingerie Brands
The fact that the consumer is king – or queen – is a known fact in all of retail today. So, brands across domains are in the constant pursuit of providing an end-to-end seamless shopping experience to consumers. With the biggest pain point in lingerie shopping being finding the right size, lingerie brands too understand the need for such an experience and are working to provide personalized experiences to each consumer.
True&Co happens to be one such lingerie brand going the extra mile to give every shopper her perfect bra. The brand has been using its Fit Quiz to gather data from over 5 million women to make bras that actually fit and provide a "pain-free" shopping experience.
While the quiz is straightforward, it is also informative and in-depth. It has every woman who takes it answer questions about the fit of her current bras, her shape, and how she wants her new bra to fit. In addition, it delves into issues with her current bras and provides 3 ideal bra suggestions with size recommendations.
Lingerie brands like Adore Me and Brayola are also taking advantage of advancements in technology to provide unparalleled shopping experiences. These brands have taken to artificial intelligence to get deeper insights on consumer behavior and provide personalized experiences to shoppers.
The Impact Of Instagram On The Lingerie Industry
The effects of Instagram on countless aspects of consumers' lives are evident. Lingerie brands have been fast to notice how the platform has successfully flipped the lingerie industry on its head by changing the way people see themselves as well as perceive and define beauty. From modifying what "sexy" looks like to creating a channel of communication between consumers and the brands they love, it's safe to say that Instagram has transformed the world of lingerie.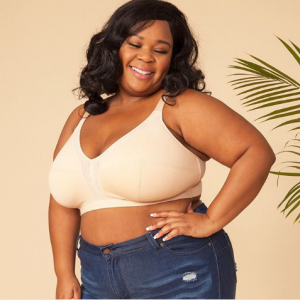 It has also become a space for lingerie brands like LIVELY to succeed. Besides making itself known as a brand, LIVELY has taken to Instagram to build a community for women with the goal of inspiring them to be passionate, purposeful, and confident. In all of 3 years, it has gained a massive following of 160,000 followers while inspiring 11,608 posts with the hashtag "#livingLIVELY."
The brand has carved a niche for itself in the lingerie industry by establishing a completely new category of lingerie it likes to call Leisurée, which blurs the aesthetic lines of lingerie, activewear, and swimwear. And by offering all its bras for $35 irrespective of their size, LIVELY is working toward being more inclusive than it is currently.
Digitally native entrants like The Nude Label, LIVELY, and Lonely are winning big with their offerings focused on comfort while building online communities centering around body positivity. So, while bracing themselves for the stiff competition, the future of existing lingerie brands and those looking to make their way into the industry will be determined by how actively they pay attention to the needs of consumers – who are increasingly demanding greater inclusivity and diversity and a reassessment of the traditionally sexualized imagery of the industry.