The Best Places To Shop For Luxury In London

6

min read
Reading Time:
5
minutes
Of all the places in the world, we'd love to be at during Christmas, London would top the list. If you're among the lucky ones getting a chance to do just that, it's time to relax and go on some therapy of the retail variety. After all, London is home to some of the most iconic luxury stores and labels.
There's a saying that a Londoner is woken up from sleep will still know exactly how to dress for work, an evening soiree or lunch.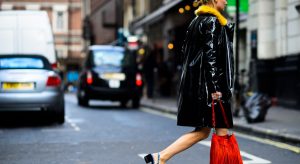 So, get going, get those tickets for the London Underground and visit one of these iconic luxury stores and streets. We have a list of places you should not miss!
1. Harrods
 A store that is as iconic as Harrod's deserves the limelight and a spot at the top of any must-visit places in London!

From a small department store in 1849, to the iconic landmark today, Harrod's has come a long way. It celebrates 170 years this year! With sections for every item imaginable, including Andy Warhol's paintings and cutlery from Hermes. Did you know that the Harrods Shoe Heaven features separate sections for every shoe designer you've ever wanted to buy from!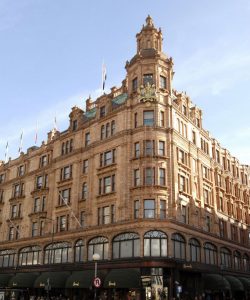 Harrods also has a Latin motto that roughly translates to 'all things for all people, everywhere.' With a motto like that, there's no question that Harrods should be the first pit stop for anyone beginning to explore the luxury scene in London.
2. Selfridges
Another iconic name from the streets of London is Selfridges, another department store-turned-luxury destination. The Oxford Street store is the second-largest retail location anywhere in the United Kingdom!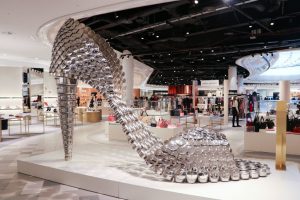 Today, we talk of stores as experience centers, but Selfridges pioneered this concept in the early 1900s, bringing the most innovative exhibits of the time into the stores and adding in a generous helping of food, entertainment, and leisure with the shopping.

Even today, expect to be greeted at Selfridges with a unique pop-up or two and look out for their events that feature upcoming designers everyone will be buying from in the future. 
3. Fortnum & Mason 
The streets of Piccadilly are some of the most charming streets ever created for a good stroll, complete with street performances if you're lucky. Enter, Fortnum & Mason, the official grocers for Her Majesty The Queen herself.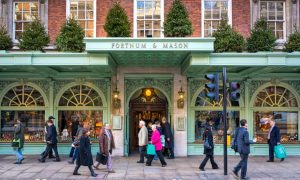 If you've ever wanted to experience the origins of luxury goods such as the finest dried fruit anywhere in the world, or the tea blends that the Queen herself probably consumes, look no further. As you shop for luxury fashion, take a break at the Diamond Jubilee Tea Salon.
4. The Alleys Of St. James
While you're in the Piccadilly area, you simply cannot miss crisscrossing through the alleys of St. James for a generous helping of designer fashion. Fashion usually centers around the ladies, but on Jermyn street, there are a ton of great shops for men to get that perfectly-fitted suit.

It is safe to say that St. James is where the locals shop for the finest that luxury has to offer. Apart from hosting some of the best shirtmakers, this area is also famous for being home to London's oldest cheesemongers.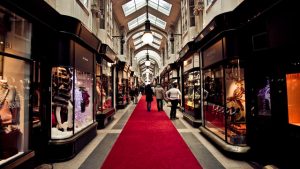 But you're ready to move on to the clothes, you say? How about some fine jewelry, first? Bentley & Skinner has been making the most bespoke of pieces since 1880. 

From Cath Kidston to Charles Tyrwhitt, there's something on St. James for everyone. 
5. Liberty 
Liberty in London is proof that the best places to buy luxury in London are often also the ones steeped in rich heritage. Paul Smith, Issey Miyake, and Eskandar are just some of the many, many brands that call Liberty home.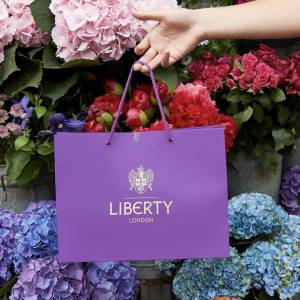 Oscar Wilde himself is credited with being a patron and even going so far as to say that for the artistic shopper, there's no place to be that's better than Liberty of London. So iconic are Liberty's wares that some of the rugs were purchased for the official collection at the Victoria and Albert Museum. To call it a privilege to shop at a place like this would be a bit of an understatement. When here, be sure to ask the very knowledgeable staff about lesser-known local designers who are on the path to international fame.
6. Savile Row
When shopping for men's fashion, head to Savile Row. Tailors in Savile Row have been making clothes for the most elite men of the time since the early 1800s. It is believed that the term 'bespoke' was born here to refer to men's clothes that were made to measure, and completely by hand. In other words, no suit can be as bespoke as one from Savile Row!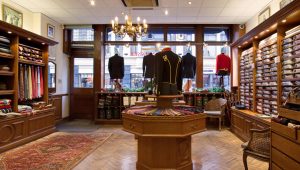 The area counts in its celebrity shopper ranks everyone from Winston Churchill to Jude Law. The adjacent Conduit Street is home to Anthony Sinclair who tailors for James Bond films. For anyone looking for the best suit of their lives, this is the place to be.

In the streets adjacent to Savile Row, gentlemen can shop for handmade leather shoes and custom hats to complete the look of a Londoner.
7. Westfield London

For those done with the street-hopping, how about resting those feet at what is essentially a mall for those inclined towards luxury? With 1.6 million square feet in retail space, you'll probably need to plan your trip around this one.

The Village area inside the shopping development is home to classic luxury brands like Burberry, Gucci, Miu Miu, and Versace, apart from a very impressive Tiffany & Co. outing that is an experience in itself. Plus, there are over forty other luxury brands to choose from.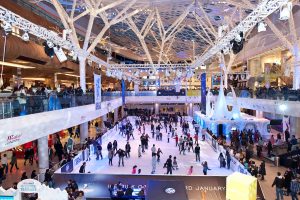 The sweeping staircases of The Village section deserve special mention, and anyone walking through these halls is sure to feel like royalty. With a concierge service, you can also enjoy informed advice and handsfree shopping.
But That's Not All, Folks!
When in London, do not miss out on luxury brands with international repute like Chanel, Cartier, Jimmy Choo, Dolce and Gabbana, and Louis Vuitton. They all have a significant presence on Bond Street. Likewise, Sloane Square is home to Hugo Boss. But if you're in the mood for exploration, head to one of the many boutiques off Sloane Square that are well worth the effort. You can then enjoy a well-deserved meal at The Botanist and know that your trip to explore London has come to a luxurious end.