Resale Fashion Market is the Next Big Thing

9

min read
Reading Time:
7
minutes
The sustainable fashion movement might have found an antidote for fast fashion and a strong ally in retail business in the shape of the fashion resale market.
According to online assignment and thrift store thredUP's 2019 Annual Resale Report, the market for pre-owned, aka second-hand fashion goods is exploding. Prepared in partnership with retail analytics firm GlobalData, the study revealed that the second-hand apparel market will witness more than two-fold increase in the next five years. It is expected to swell up from $24 billion (in 2018) to $51 billion by 2023!
That's a huge jump, considering that there was a time, not so long ago, it was not a part of the mainstream retail industry – online or offline.
A separate ecosystem of fashion resale market always existed in the offline world as thrift stores, vintage boutiques, and donation outlets, albeit largely in an unorganized manner.
Baby boomers and Gen X account for 31% and 20% of second-hand apparel shoppers respectively and helped this parallel industry thrive on its own.
But it's the rapid expansion of the organized online ecosystem of this sector via resale platforms like thredUP, Poshmark, Vinted, and The RealReal that has caught everyone's attention. Picture a thrift store with an inventory size that can fill up a football field or six. This is what modern online thrift stores look like.
This growth is being fuelled by Millennials and Gen Z, who were not only the early adopters but are also the ones that are helping sustain the growth and shape the future of this industry.
The Consumer Evolution
The general acceptance of the resale industry was made possible by the evolving needs of the new-age consumers.
The love for vintage fashion and thrill of grabbing great second-hand deals cuts across all age groups. But the current resale trend is driven by millennials and Gen Zs who come with identity tags that are complex and layered.
They have different saving and spending patterns compared to the generation that came before them because the economy has changed and so has the earning capacity, value of money, and the source of income.
Let's talk about the young thrifters who are frugal and practical. They largely rely on online resale websites to find affordable fashion in order to minimize the impact of living in a tough economy.
"They've seen so much uncertainty that it's their normal, and [it] has made them much more realistic and practical about spending and saving. So they created their own version of what spending should be according to the circumstances that existed when their spending habits were formed," explained Jason Dorsey, Gen Z, and Millennial Keynote Speaker and Global Researcher.
This consumer profile is closely followed by the environmentally-conscious millennials and Gen Zs who don't shy away from embracing pre-loved clothes. For them, sustainability ranks above everything and they would loosen their purse strings only for brands that are willing to take a stand.
The last layer of complexity is added by consumers who shop to sell. As per the thredUP report, 40% of consumers check the resale value of an item before buying it.
They belong to the world of Instagram and YouTube, where influencers have become stakeholders, fashion hauls are a norm and repeating clothes more than twice is a crime.  As a result, these shoppers fuel their desire to flaunt new pieces of clothing without breaking the bank via online thrift stores.
McKinsey and Business of Fashion's The State of Fashion 2019 report had predicted this consumer shift by calling it the 'end of ownership'.
"In fashion, the shift to new ownership models is driven by growing consumer desire for variety, sustainability and affordability and sources suggest that the resale market, for instance, could be bigger than fast fashion within ten years. This trend is partly driven by the young generation's hunger for newness while embracing sustainability," the report stated.
First movers that entered the resale industry were companies that had the foresight to recognize what the McKinsey-BoF report tried to convey in 2018. They understood at a very early stage that the new breed of consumers cares about access, rather than ownership.
Resale Industry Players Aren't Plain Like Vanilla
It's only now that the world is waking up to the news about how the second-hand clothing industry will outpace fast fashion by 2028. But James Reinhart, co-founder, and CEO of thredUP knew this day would come since 2009 when he founded the company.
"…everyone seems to be talking about the future of resale. Part of me says, "It's about time!" but the other part says, "Everybody slow your roll!" Like all major movements and category disruptions, mainstream adoption happens over time, and this category is just getting started," Reinhart wrote.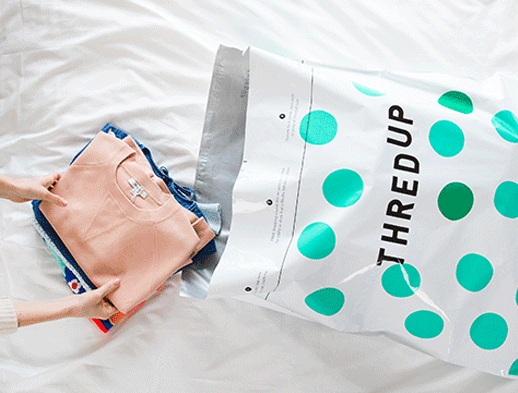 He added, "The last few years of growth in the resale market have been driven by the early adopters…, but now the skeptics are starting to come around. At thredUP, we're seeing first-time thrifters coming to platforms like ours in droves."
Back in 2009, Reinhart started thredUP as a men's shirt swapping company. But it has now gradually evolved into a full-service company where people can buy and sell clothes and fashion accessories, be it high-end, fast fashion, accessible designer, mid-price specialty stores, sustainable, or DTC. The company inspects the pre-owned fashion goods, assigns a resale value, photographs it and then lists it.
Poshmark leads the way for peer-to-peer online marketplaces. The California-based company, which was founded in 2011, has the highest brand awareness at 50%. It is a community-driven platform with 40 million community members and 5 million sellers. The company ranks high on the consumer engagement chart as well.
"Since 2011, Poshmark has grown to 40 million community members and now powers a sale nearly every second for sellers located in over 80% of U.S. zip codes across the country. Our community spends an average of 23-27 minutes every day on the app, moving seamlessly between buying, selling, and socializing," shared Founder and CEO, Manish Chandra.
Kidizen is another player that works on a peer-to-peer model, but in a different vertical – kidswear. It also banks on the appeal of an online community, akin to a niche social network of like-minded shoppers. And it works for the company because kidswear is not only a lucrative industry but today's mothers lean on other mothers for advice.
"We see 70 percent organic user acquisition monthly. Most come with a need: buy or sell, and they stay because of the community engagement," disclosed Kidizen's co-founder Dug Nichols.
The peer-to-peer resale model is a great platform to buy and sell low-priced items. Companies like Poshmark, Kidizen, Depop, and Vinted have empowered millions of users to open their mini-thrift stores and have turned them into entrepreneurs. A Poshmark seller Laura shared how she has designed a dedicated schedule to share her listings, participates in real-time virtual shopping events, and made her account stand-out through detailed product descriptions, creative cover images & right pricing. It goes to show that reselling on community marketplaces entails a lot of hard work.
But for high-priced items, a full-service model works best because it allows marketplaces to keep a close watch on the inventory, listing and supply chain.
Fortunately, the resale industry players are as diverse, layered and unique as the second-hand shoppers.
Take, for instance, The RealReal. This California-based company only sells genuine preowned luxury fashion and home goods. Factors like the high price point, fear of fake goods and the herculean task of preserving the 'luxury' element makes it a difficult resale category to crack. But RealReal managed to do it.
Established by Julie Wainwright, the company is expected to join the Unicorn Club with a $1.06 billion valuation, which would make it one of the few women-led companies with a $1 billion valuation like Rent The Runway. The company has a team of more than 100 authenticators, gemologists, art curators and horologists that minutely inspect each of their products before it is listed on the website.
The newest entrant in the luxury resale industry is London-based retailer Farfetch. The company recently launched its resale platform 'Second Life', which allows people to sell their designer bags in exchange for store credit.
As of now, they are accepting less than 30 luxury brands, including Louis Vuitton, Alexander McQueen, Prada, Dior, and Hermes.
Resale marketplaces are extra selective about what gets listed on their platforms.
Resale Inventory, A Treasure Hunt
Contrary to popular belief, not everything sells in the second-hand market and resale marketplaces are not a free-for-all.
The pre-owned fashion industry is as price and trend-driven as the traditional fashion industry. The value of the brand, the freshness of the trend, and the condition of the product, determine if the pre-owned item would get listed on curated platforms like thredUP or would sell well on community marketplaces like Vinted.
According to Poshmark's 2018 trend report, off-white sneakers were the top purchased and listed item. The most purchased items were acrylic earrings, Chelsea boots, puffer jackets, teddy coats, and Air Force 1 sneakers.
thredUP says that Frye, Kate Spade, Tory Burch, Burberry, and UGG are among the top ten brands with the best resale value.
Celebrity influencers like the Kardashians, Beyonce and Rihanna have the same power in the resale industry when it comes to kick-starting trends. The sales of Fashion Nova, for example, increased on Poshmark by 210% in 2018 after it partnered with rapper Cardi B. Meghan Markle's sartorial choices increased the sales of pin-striped blouses and Givenchy clutches.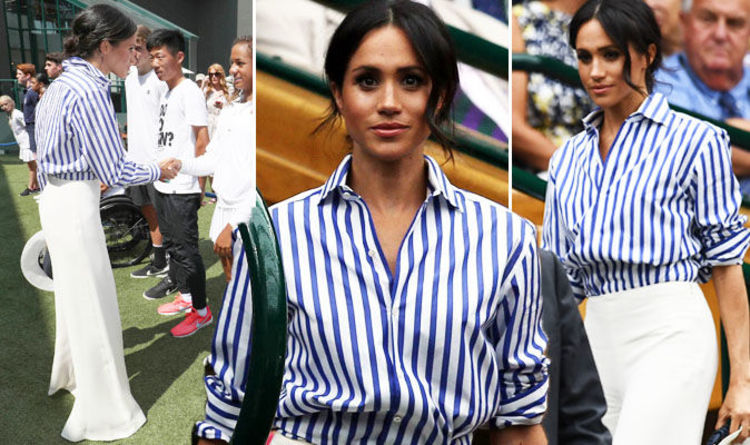 Clothing and accessories in the colour purple flew off the shelves after Pantone declared Ultra Violet as 2018's Colour of the Year.
It looks like 2019 could be the year of coral, white tuxedo dress, and nude Manolo Blahnik heels.
Since the inventory of resale marketplaces resembles a treasure hunt map, cataloguing and product listing could have been a huge challenge, if not for technology. Unlike traditional marketplaces that deal with bulk inventory, companies that sell pre-owned goods have to sort through millions of unique items.
thredUP accepts that the resale revolution wouldn't have been possible without innovation and technology. Right from streamlining the supply chain to assigning a resale value using algorithms, from improving scalability through automation to personalizing the shopping experience, technology has been a great enabler for this industry. And it will remain a key enabler for years to come because this category is just getting started as Reinhart said.
While the US resale market has already found a few of its key players, the China resale market is taking baby steps. Looking at China's consumer market size, the growing popularity of resale marketplaces like Retykle and Guiltless is a huge step into the future of the global resale industry.
As the pressure grows on brands, retailers, and influencers to promote sustainable fashion, the pre-owned fashion industry will find wider acceptance in the future.