Redefining Beauty And Inclusivity With Sugar Cosmetics

9

min read
Reading Time:
7
minutes
7 years, 700% revenue growth, and 700+ retail outlets. These numbers belong to Sugar Cosmetics, a company that has grown at an impressive rate in a very short span of time.
With a stable 700% revenue growth that is accelerating and over 770 retail touch points spread across 92 cities, Sugar Cosmetics has emerged as one of the most valuable and relevant colour cosmetics brands in India. While 45% of the revenue is generated online, another 45% comes from the retail outlets and the remaining 10% from the international market.
Founded in 2012 by Vineeta Singh and Kaushik Mukherjee, the cruelty-free makeup brand's products entered the Indian market only four years back. But the company has managed to stand apart in a competitive landscape that the beauty industry is. In the fiscal year 2019, it registered Rs. 60 crore in revenue. Singh is confident that they would cross the Rs. 100 crore mark in the next financial year.
"SUGAR Cosmetics has grown 5 times in the last 12 months and is on track to cross revenues of 100 Crores in the next fiscal year… SUGAR shipped 5+ million products in the last year and scaled its online website sales 2.5 times in the same duration making the website the most-selling brand-owned channel in the country. SUGAR currently reaches 10+ million beauty enthusiasts in the country and has generated 500+ jobs in the industry till date – a number which is expected to double in the coming year," shared Singh.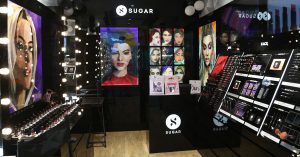 For those keeping track, the company's retail expansion alone is a great indicator of its growth rate. Sugar's initial store count was 87 stores. By February 2019, the number had reached to 400+. The company's retail touchpoints increased to 770+ in September 2019. And they are planning to touch 1000+ retail outlets by the end of 2019. To say the company scaled up fast would be a major understatement. 
Trading Comfort For Passion
The Mumbai-based makeup brand gained wide acceptance among millennials (that fuelled the aggressive expansion) because of the brains behind the business. 
The co-founders, Singh and Mukherjee, are both alumni of the prestigious Indian Institute of Management, Ahmedabad. The triathlete couple decided to ditch the comfortable life of high-paying jobs and follow their passion by pursuing their entrepreneurial dreams. 
At the age of 26, Mukherjee rejected an investment banking job in New York and started an ecommerce portal, BigSlick Infotech/AKVenture Info. The business went through a host of transformations, changing from an ecommerce portal to a bargaining portal to a bargaining algorithm and then an insurance price recommendation platform. He briefly went back into the corporate world as an associate at McKinsey. But his quest for chasing terrifying goals didn't keep him away from the world of business for long. 
Singh too had a similar story to share. "I was only 23 when I passed out of IIM with a campus placement offer of INR 1Cr but I knew that it was the right time to take a big risk like starting up! If I had taken up a high paying job that time, it would have been hard for me to quit as I grow older," she affirmed. In 2007, she co-founded a B2B background verification services company, Quetzal. 
The duo's entrepreneurial dreams came true in 2012 when they started the beauty discovery platform, Fab Bag.  They found success in the curated subscription industry with this profitable company. The insights gained through the subscription business laid the foundation for Sugar Cosmetics. In fact, the customer database of the discovery portal came in handy when the company opened its first makeup outlet in Hyderabad. These customers were invited to the store to try out the products, which turned out to be a huge success.
Becoming The Challenger
At the R-Vue Mumbai event when Singh was asked how the idea for Sugar Cosmetics was born, she recalled, "We'd pass feedback from our [Fab Bag] customers to the brands we worked with, but they just wouldn't incorporate it! As a result we started losing customers. That was when we decided we had to take things into our hands."
Right since its inception, Sugar was recognized as a challenger brand and found a sweet spot between the drugstore cheap brands and high-end international brands. It opened up a new market by introducing good quality products with excellent formulations, deeply pigmented colours, inclusive shades, and premium packaging at affordable price points. 
Sugar's entry into the market coincided with the growing popularity of colour cosmetics and social media makeup artists like James Charles, Jeffree Star and Kandee Johnson. India is one of the fastest growing cosmetics markets in the world and is expected to be worth $20 billion by 2025. With a CAGR of 25%, Sugar couldn't have picked a better time. 
Mukherjee averred, "We realised there was a gap in the range of prices offered by the brands. Lipsticks were priced at either Rs 150 or Rs 1400. We introduced SUGAR lipsticks with a mid-range of Rs 500 to Rs 600."
The colour cosmetics brand is known for its ultra-pigmented formula makeup for lips, eyes, face and nails. Its jet black matte eye liner and Ace Of Face Foundation Stick are two of its bestselling products. Manufactured in Germany, India, Italy, USA, Korea, and China, Sugar products are specially crafted to complement the Indian skin tone.
When asked about the consumption trends, Singh answered, "Lips will continue to dominate as a category… Eye and Face continue to be popular and we're seeing a distinct shift in preference for matte eyeliners… Among colour cosmetics for the face, we expect and hope to see more brands launch wider shade ranges that actually cater to all the many shades of the Indian skin tone."
As a brand that believes in the walking the talk, its Ace of Face foundation is available in 22 shades. Reviewers have put all the claims of the Ace range to test like long-wearing formula, waterproof and unusually high pigmentation. And they were more than impressed with the formulation.  
"When we launched our foundation range, our line had 22 shades which is unheard of for an Indian brand…. Beauty brands have to fight years of cultural stigma – in this case, that darker women shouldn't be highlighting their natural skin tone and that dark isn't beautiful! And even if it might not make economic sense right now, we're not going to stop fighting," asserted Singh. 
She added, "The foundation stick we created was totally based on customer feedback and what they wanted. Our customers wanted foundation that was easy to travel with and we realized that most of them don't have brushes, so we included a brush in the other end of the tube."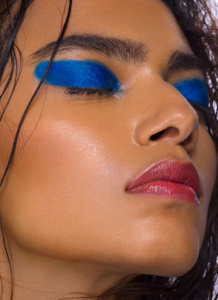 Besides matching the standards of expensive cosmetics brands in its formulations, Sugar is also winning consumers' attention with its packaging. Be it putting a blending brush at the opposite end of the foundation stick or providing a mirror and cushion in the loose powder tub, the brand has paid attention to the little details that has helped to create an exceptional product experience. 
The company also worked hard on its outer packaging to create a distinct visual identity with the help of chic illustrations. Right from the names of the products, to the branding, the Sugar team prioritized luxurious experience. 
Beard Design, a Mumbai-based brand strategy studio that Sugar collaborated with for its packaging disclosed, "We worked with Fab Bag to create the sugar brand to be chic yet approachable… a brand that would stand on its own in a market dominated by larger global brands…. Some research on current products in the market revealed a certain "sameness" in the packaging of most brands in the premium segment. We created a distinct look for Sugar using the triangulated illustration style. It unified all the products and created a memorable visual identity for the products."
With so much emphasis on what goes inside and outside its products, it comes as no surprise that seven of its products, including the Ace foundation stick, were the India Beauty Awards 2019.
Delivering Value
The company's mantra for success is focussing on delivering value and investing in business areas that enable them to offer value. Singh stated how the company spends a considerable amount of time fine-tuning the value of every product.
International brands, for instance, have glamorous celebrities as their global brand ambassadors. But Sugar doesn't believe in promoting the concept of 'ideal beauty' by roping in ambassadors. Instead, the brand works on campaigns that incorporate the inputs shared by end consumers. This is not only an economical marketing strategy but also an ethical and authentic one. 
For their digital campaign #MySkinMyChoice that was launched in March 2019, the company hosted focus group discussions with women. The experiences shared by these women were turned into a campaign that addressed the criticism people face due to the colour of the skin and the unfairness of it all. 
"After listing these real-life instances, we highlighted the ones which were the most commonly faced, through a vote. Based on this we established 6 judgements and 6 strong redemptions from women defying these pressures in a conclusion that builds up to our key message for this Women's Day – that all of us love and own our skin tones and nobody can take that away from us," asserted the company's marketing head Amrita Shinde. 
The Mettle lipstick campaign too followed a similar script of facing failures and rejections with confidence. 
Sugar Cosmetics also consciously chooses to pour funds into product development and retail presence, which has worked in their favour. 
After raising Rs. 70 crore from A91 partners in January this year, the company opened its first brand outlet in North India in September 2019. As stated earlier, Sugar is looking to open 200+ more stores by the end of this year, which would bring the total to 1000. Opening outlets in other countries is also on their radar. The cosmetics brand also dipped its feet into the skincare industry in August 2019 with its sheet masks. 
The beauty industry has evolved and how! Elitism and exclusivity are no longer fashionable and inclusivity has become the hottest selling point because millennials value authenticity. For this very reason, the future looks bright for Sugar Cosmetics that is banking on inclusivity, variety and quality. 
R-Vue Mumbai gave us some extraordinary insights into the rapidly transforming Indian fashion and beauty sector. Download the full report to read what leaders in the Indian retail, fashion and beauty industry spoke about.