Nykaa: The Making Of An Indian Beauty Industry Disruptor

9

min read
Reading Time:
7
minutes
In April 2019, online beauty retailer Nykaa raised Rs. 100 crore ($14.4 million) in Series E funding round led by private equity firm TPG Growth Capital. This pushed the company's valuation to reach $724 million, making it one of the only two women-led start-ups (the other being Zilingo) that are close to breaking into the Indian unicorn club.
When asked to share how they plan to invest it, the company's founder and CEO Falguni Nayar said, "We don't really need the money. We raised the funds more as a hedge against uncertainty, keeping in mind the political environment."
It is a bold statement coming from a start-up, which has been in the business only for seven years. Bold enough for people to sit up and take notice, especially in times like these when other niche ecommerce start-ups are on an uphill journey to raise funds.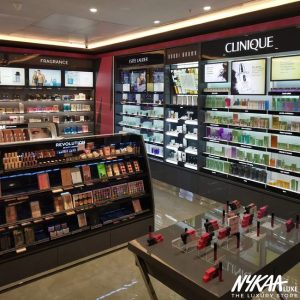 Nayar, who is a former investment banker, backed her statement with hard facts. One look at the company's enviable financial health report and it is easy to spot the source of confidence & security. She revealed that Nykaa is close to EBITDA breakeven. And the company's net revenue has more than doubled, from Rs. 578 crore in FY 2017-18 to Rs. 1,299 crore in FY 2018-19.
How did Nykaa, a multi-brand retailer disrupt the online beauty industry in such a short span of time? How did the start-up and its team crack the complex code of this category that calls for a 'try and buy' shopping experience and encouraged millions of users to shop online?
Poetic Beauty
It was Egyptiot Greek poet Constantine Peter Cavafy's poem 'Ithaka' that inspired Nayar to start Nykaa in 2012. For Nayar, the lines "hope your road is a long one, full of adventure, full of discovery" translated as "enjoy every part of the business and cherish the journey". These words represented the underlying work ethic, be it working till late in the night scanning all the order slips or experimenting with new products & designs.
With decades of experience in international business, equities business, and investment banking, Nayar decided to launch Nykaa, in spite of people assuming that a switch from the banking industry to beauty industry hints at a 'midlife crisis.'
The assumption stemmed from the fact that Nayar had no experience in beauty, retail, and technology – the major three elements that are a part of brand Nykaa's identity. But her investment banking stint enabled Nayar to realize her entrepreneurial dream.
When asked if Nykaa was a dream that she had for herself after working at Kotak for twenty years, Nayar shared, "I met a lot of entrepreneurs while I was doing my investment banking work at Kotak. And I was very impressed with, you know, early stage creation and how they build their companies. So my starting point was entrepreneurship and I really wanted to experience it."
She added, "Everyone was a naysayer… They thought that because I had such a successful career in a company that was already growing well. So there was no reason for disappointment with what I was doing. And as a result, most people didn't believe."
With no fear of failure, Nayar tuned out the naysayers including her family and put her financial expertise to work to build a sustainable and profitable brand.
At the very beginning when Nayar identified technology as one of the challenges, she diligently worked towards building a strong tech team. She tracked every order in the initial few years. She also expanded the brand portfolio and offline store presence one day at a time, without compromising the company's vision and positioning.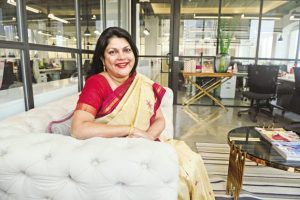 The multi-brand beauty company now attracts more than 1 million visits every day, with 35 physical stores and 150 brands. They brought down their customer acquisition cost from Rs. 650-1000 in 2012 to Rs. 200 in 2017. The same year, Nykaa's average cart value was Rs. 1,250-1,500 with 3.5-4 items in cart, compared to Rs. 350-650 ticket size of other online beauty portals.
One Stop Beauty Destination
Nykaa entered the fairly disorganized Indian beauty industry with an inventory-led model that isn't discount-driven. Back in 2012, when the Indian ecommerce industry was at a nascent stage, Nayar was convinced that beauty and ecommerce would turn out to be a win-win combination in the future.
"For someone who doesn't use much of beauty products, every time I walked into Sephora, I always bought a lot. Because everything was available. And there was also a lot of education on what can be good for you and that I thought I could bring into India. Also, in the US, I saw how all my friends were buying online," Nayar stated.
Nykaa disrupted the Indian beauty industry, which is expected to touch $20 billion by 2025, by making rare international makeup and beauty brands available to buyers minus the hefty shipping cost. One can find cruelty free vegan brand Ciaté London, South Korean Innisfree, Huda Kattan's Huda Beauty, luxury hair care brand Rene Furterer and many such brands.
Besides stocking luxury and affordable brands, Nykaa has also built a knowledge bank through its online community where users can read & share advice, get news & updates and ask experts about their specific beauty concerns.
All kinds of brands co-exist on Nykaa's online platform, be it global brands like Huda, and Innisfree or local brands like Sugar Cosmetics and Lotus Herbals. However, the etailer has created two separate identities in the offline world. Nykaa retails all the bestselling products through its Nykaa On Trend stores. The premium brands are displayed in Nykaa Luxe stores.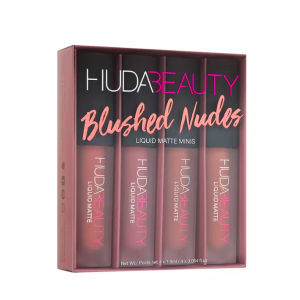 As of now, the contribution of its physical stores to its revenue is in single digit. But the multi-brand retailer plans to change that by increasing its offline presence.
"We started our offline presence 18 months ago. We have 41 outlets across 18 cities in the country. We plan to expand the network to 180 outlets in five years. Each offline store requires a capital expenditure of Rs 60-80 lakh. There are no immediate plans to raise funds to support growth plans. We have achieved break-even. We can fund our growth plans by ourselves," revealed Anchit Nayar, CEO of Nykaa Retail.
The offline outlets served as a touch-point for customers to try the products and then make an informed purchasing decision. And the social digital world helped the company to reach buyers in the online space.
The way popular direct-to-consumer and niche brands use influencers and their clout, Nykaa also relied on beauty bloggers and vloggers to increase brand awareness. This marketing technique came in handy when they launched their own private label in 2015.
They started out by introducing three variants of Nykaa Nail Enamel Collection – shimmer, pop, and pastel, reasonably priced at Rs. 149. After witnessing instant success with nail enamels, they launched a host of products like bath & skin care, fragrances, eyeliners, lipsticks, highlighters, sponges & applicators, primer, concealer, and other makeup products. Their private label further disrupted the industry by designing products that were trendy, affordable, great quality and practical packaging.
The company collaborated with many Indian beauty influencers to generate a bank of reviews. Nykaa's intention was to make swatches and tutorials available to the buyers and assist them during the shopping process. Besides review sites and YouTube, Nykaa has dedicated platforms like the Beauty Book and Nykaa TV to educate the customers about the various aspects of beauty.
Listening To Buyers
Nykaa's is committed to improving customer experience and eradicating pain-points. It can be seen in the strategic way they are expanding their beauty category with performance-based products.
For instance, the company launched its latest range of cream foundations – Nykaa Skinshield Anti-Pollution Foundation in April this year. Formulated in Italy, the foundation palette consists of 15 shades formulated for 5 skin tone brackets. Many in the beauty community lauded Nykaa's effort in promoting inclusive beauty or at least taking a big step in that direction.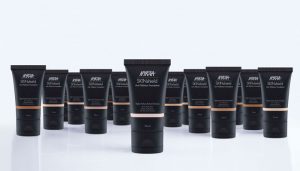 Big national and international brands, barring a few like Fenty and Tarte, have failed or consciously ignored the collective voices of women of colour who have been asking for perfect foundation colour match. Therefore, Nykaa's Skinshield with pink, neutral and yellow undertones in 15 shades are rare, but a much need beauty product. The company listened to its customers' feedback and reworked on their SkinGenius 5 shades foundation.
Beauty content creators and inclusivity advocates like Jovita George and Shreya Jain called the Skinshield range a right step towards inclusivity.
"It's a step in the right direction and I'm beyond excited that they have a range that's 15 shades compared to the 5 shades from their previous launches," wrote George.
Nykaa Brands' CEO Reena Chhabra asserted, "After extensive research, we launched 15 shades to start off with. We live in a diverse country and make-up should be accessible to everyone. Our motive behind inclusivity is to banish the clichéd single standard of beauty, embracing colour, and empowering our customers with products that address real issues."
Besides beauty, the company is also focussing on horizontal expansion by building separate businesses.
Earlier this year, the company forayed into the premium fashion & jewellery market with the launch of Nykaa Fashion. After acquiring 20Dresses in March this year, Nykaa is looking to introducing its private label in the fashion category.
"The vision is to have quite a few private brands in the space of apparel, lingerie, ath-leisure, accessories and more. The 20Dresses team will help us achieve that. In fashion, as in beauty, the aim is to have a strong, multi-brand ecommerce platform first, before branching out into physical stores," revealed Adwaita Nayar, Founding Team & CEO of Retail at Nykaa.
Next in the line is Nykaa Man, which is all set to be launched.
It will be interesting to see if Nykaa is able to disrupt the fashion industry, as it positively changed the power dynamics in the beauty industry. The beauty community is also rooting for Nykaa to spearhead the inclusive beauty wave in India through brand innovation.