Are You Mobile Ready For The Holiday Season?

9

min read
Reading Time:
7
minutes
After wrapping up the busy back-to-school season, retailers are now realigning and redesigning their aisles to suit the long holiday season, which is just around the corner. Halloween marks the beginning of the peak festive shopping period, followed by Thanksgiving, Cyber Week, Christmas and then New Year's Day.
According to Deloitte's holiday sales for the year 2018, the percentage of retail sales is likely to climb up by 5 to 5.6%, compared to 2017's holiday sales. The total sales figure is expected to surpass $1.10 trillion, between the months of November 2018 and January 2019. Ecommerce sales' share is expected to be around $128 to $134 billion and the overall online retail industry would grow by 17-22%.
'Mobile' will be one of the biggest drivers of the upcoming holiday season's retail sales, as per experts. The way 2017 was the year of ecommerce, 2018 is set to be the year of m-commerce. Salesforce predicts that 68% of the traffic and 46% of the orders during this period would originate from mobile devices. Needless to say, retailers and brands that devise an efficient mobile strategy would be the biggest winners of the holiday sales.
Let's take a look at how and why 'mobile' is leading the way this festive shopping season. And what really contributes to the 'mobile strategy'.
Why Mobile is Important
From being an add-on to a brand's marketing strategy over a decade ago to becoming a disruptive marketing trend, mobile has come a long way. The growing popularity of smartphones along with internet penetration at a global level has made this transition possible. Shopping is swiftly becoming a mobile-first industry.
Nearly 55% of the world population has access to internet. As far as number of smartphone users is concerned, it sits at 237 million in the United States. Everyone is glued to their phones, be it in the UK, Asia or other parts of the world. Nearly 76% of the global smartphone users spend more than 3 hours of their day on their phones. And 64% use it to browse the internet.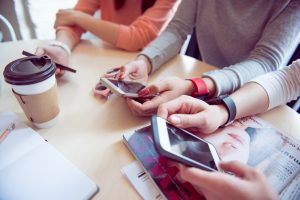 Traditional watches, alarm clock, television, calendars, all have been replaced by the mobile phone. It was only practical that shopping too would move to the mobile platform, as more and more people rely on their handheld devices to look for things they desire.
PwC's Holiday Outlook report states that 24% of the general consumers would pay for their purchases via smartphone. On the other hand, 16% would do it via wearable devices. The percentage for the same action in case of high-earning millennials is 50% and 41%, respectively.
The findings of PwC's report clearly indicates that millennials (aged 23-36) and Gen-Z (aged 17-22) would shop via smartphones this holiday season and prefer mobile over desktop. The footfalls at retail stores and desktop sites still accounts for the majority of the traffic. But YoY increase in mobile commerce supports the fact that this platform has become an integral part of retailers' and brands' omni-channel strategy.
Therefore, most of the retail brands have a mobile site and a shopping app, besides the desktop site. But is it enough?
Mobile Strategy Is More than Apps
Google says that '46% of people would not purchase from a brand again if they had an interruptive mobile experience'. 46% is a very powerful figure; a number which can't be ignored.
Mobile sites and apps are two of the strongest factors that contribute to a good or bad 'mobile experience'. However, in today's world other elements too have joined in, which can make or break a brand's mobile strategy.
Social media sites like Twitter, Pinterest, Instagram, and Snapchat influence the shopping experience of millennials and Gen-Zs. In fact, Instagram is turning out to be the biggest disruptor and influencer. For fashion retail, there is no bigger social media platform than this photo sharing site. The meteoric rise of Instagram compelled its makers to develop a shopping platform within the social media ecosystem.
Instagram has about 25 million business profiles registered on its platform, besides, 2 million advertisers and 1 billion active users, as of June 2018. The company rolled out new shopping features with a buy button, product tags in images and stories, promoted content and business accounts. Business account holders of Instagram have access to analytics that allow them to compares notes about which of their posts is doing well and how any visitors viewed their uploads.
Twitter, Pinterest and Instagram have desktop versions as well. But it's their mobile version that is driving the retail economy.
In the next two years, wearable technology and voice search would also enter the mobile mix of retail in a big way. There are smart watches, fitness bracelets, glasses and healthcare monitors that are paired with mobile devices. PwC reported how high-earning millennials (41%), Gen Zs (25%) and other consumers (16%) use wearable devices to pay for their purchases, with a steady YoY increase of 8%. Voice search tools such as Amazon Alexa and Google Assistant are on the rise as well. Case in point – online fashion retailer ASOS that recently joined hands with Google Assistant.
Infusing Mobile Technology into Traditional Retail
As a standalone commerce channel, mobile is performing exceedingly well. But the technology has seeped into traditional retail as well through innovations. It is a great asset for brands that are looking to fine-tune their omni-channel strategy and interact with customers across multiple touch-points throughout the shopping journey.
Promotional SMSs during the holiday season, location-based ads, and Bluetooth-powered beacons that send push notifications on mobile phones are just a few of the many examples about how mobile technology is changing the face of the retail industry. Many retail outlets like Macy's, Target and Walmart have enabled self bar-code scanning, price-checking, mobile check-outs through their mobile apps in their stores.
Mobile messaging technology is also being used to enhance the changing room experience in stores that has led to better sales conversion rates. Fashion brand Rebecca Minkoff is one such great example. Customers that walk into Minkoff stores are asked to share their mobile number, which the team uses to interact with customers while they are shopping. From accepting their drink orders to asking their fitting room experience, the brand has managed to increase its sales with the help of mobile technology.  Sydney-based Seafolly too introduced a similar technology in their store.
Brands That Are Doing It Right
Presence on all mobile platforms doesn't guarantee success. A customized mobile strategy, which is shaped after studying past consumer behaviour, shopping patterns, product niche, touch-points and consumer preferences, definitely fuels a positive growth trajectory. Some retailers use mobile technology to make checkouts easier, while some brands use it to connect with their buyers on social media.
Take for instance, Gatorade. The energy drink brand focuses on storytelling and delivers it with the help of AI, augmented reality and social media. In 2016, Gatorade had launched a video game featuring Serena Williams in association with Snapchat before the US Open. The multi-level video game that appeared in form of Snapchat ad was innovative and interactive. The brand's VR project, which allowed users to experience virtual reality through their mobile phones, was received well too. In February this year, the sports beverage brand partnered with Volt to create a training platform for athletes.
Bed Bath & Beyond has also incorporated augmented reality technology in its app in order to provide a 360-degree view of their products to its customers. As far as the Instagram game is concerned, Nike is winning at it as each post, story and campaign is carefully curated to inspire its 81+ million followers.
Mobile Ready Checklist for Holiday Season
While omni-channel is the demand of the day, mobile quite clearly sits at the top of the retail marketing mix. Even customers who like face-to-face in-store experience prefer to do the preliminary research on their smartphones before visiting the stores.
Retailers and brands that are mobile ready:
Take Advantage of Analytics – Brands polish their foresightedness with the help of data. Consumer data is gold when it comes to gaining insights into the volatile holiday shopping behaviour.  For example, according to

Adobe's holiday predictions

, desktop's share of revenue would be $72.3 billion between the months of November and December 2018, whereas mobile's share of revenue is predicted to be $25 billion. The traffic/conversion percentage around Thanksgiving Day is expected to be 62% (traffic)/46% (purchases).  Around Christmas Day it is expected to be 68% (traffic)/50% (purchases).

Personalize – The brands mentioned above like Nike, Gatorade, Seafolly and others perfectly illustrate how mobile strategy isn't one-size-fits-all. Out of all the mobile technologies available, which ones are best suited for your product portfolio is dictated by the target market – Gen X, Gen Y, Gen Z, Millennials, High-earning Millennials. For instance, a brand that caters to high-earning millennials would invest in being relevant and active on social media as

62% of their target market

follows specific brands online instead of multi-brand handles.

Include Holiday Aesthetics – Retailers and brands swear by the appeal of visual merchandizing in retail during the holiday season. Play with the colour themes of your app and mobile site, put up holiday-specific banners and effects. Even a subtle change that gives out the holiday vibes makes a huge difference to the traffic.
Prioritize Security – Consumers would place their trust only on brands that believe in strengthening their payment security and keep their personal data safe. A safety and security drill right before the holiday season would help in diffusing the pressure.
Value Speed – As

Google

mentioned, an interruptive mobile experience is the biggest dampener for festive shopping. Run a quick front-end checklist to ensure that your mobile site and app is ready to absorb the holiday surge. The performance of mobile site can be improved by customizing the page size, page layout, image size and loading speed as per the device type, processor, geographical location and internet connectivity. Apps' performance can be enhanced by understanding the specific roadblocks that consumers face in Android and Apple iOS devices, instead of clubbing the two set of users into one.
Every study, survey and report highlights that customers want brands to understand them and know how and where to reach them. As long as retailers succeed in effectively communicating that to their buyers, the upcoming festive season would bring holiday cheer for brands.