Instagram: The Window Display for Next Gen Shoppers

11

min read
Reading Time:
8
minutes
"Fashion is the third-most followed category by young people globally on Instagram, behind music and entertainment," said Sandeep Bhushan, Director at Facebook (India and South Asia) in a recent panel discussion.
Launched in 2010, Instagram today is a global community of over one billion users, and 25 million businesses. It's changing the way we consume style, the way we shop and interact with brands, and even the way we live.

Think about this scenario for a moment. The perfect cocktail dress: you've bought it at some time or another. Stylish, glamorous – the kind you wear to your friend's wedding reception until you have the urge to buy another one. So, what do you do? You begin your search, and soon enough a similar dress appears, as a sponsored post, on your Instagram feed. You'll likely end up seeing these dresses countless times. The may belong to a brand that may not have a brick-and-mortar store – but a strong Instagram presence. Gradually, you start looking at all the other items the brand has to offer: from shoes and sling bags to sandals and sunglasses.
Instagram is changing the fashion industry. By paving the way for new careers in fashion, and placing young designer labels on the map, it is revolutionising the way we shop. A new wave of 'Instagram brands' use the platform as their primary launch pad. Today, a presence on the social media platform is a must for any fashion brand that craves success. In fact, influencer marketing has become one of the most effective ways to drive sales online and build awareness.
This is not surprising considering brands have access to an audience that's ready to scroll and shop. The platform's ability to take users behind the scenes at runway shows and create evocative content is infusing the fashion industry with a fresh dynamism. One can discover the next big thing on their Instagram feed.
"Spotting something on Insta is the modern equivalent of a great recommendation from a friend," said Laura Antonia Jordan, Grazia's fashion news and features editor. "It's accessible. Aspirational but attainable – that's the magic combination!"
Instagram: An Incubator For Emerging Talent
What do LA-based brands Cult Gaia, Pia Arrobio, Tomo Koizumi and Copenhagen's Ganni have in common? They all found fame—and fortune—on the social platform. While consumers are discovering products through Instagram, fashion's most influential trailblazers are using the app to find new talent.
"I got my job from Instagram," said Pia Arrobio, founder of LPA, a thriving, affordable, Los Angeles-based, direct-to-consumer women's clothing line. When Japanese designer Tomo Koizumi posted one of his New York Fashion Week creations on Instagram, he caught the attention of stylist Katie Grand who wanted to do a show with him. Since then, his following on Instagram has grown by 1,000%—and fashion buyers and editors are vying for his attention.
Celebrity stylist Danielle Nachmani said: "[Instagram] gives you access to brands you would usually spend so much more time searching, or going to a million appointments to find." She said she simply follows the accounts she likes. "I saw a skirt in an editorial … I just became obsessed with their feed; I loved their campaign imagery," she said. "You want to support [new brands] because you know how much an impact an actress wearing their clothes can have."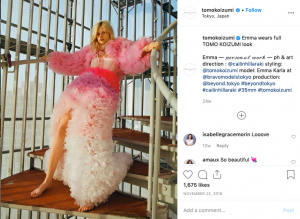 Ultimately, it's the creations themselves that do the talking. People tend to follow celebrities and brands with whom we can closely relate. Instagram is a curated feed of not only our friends' lives but also our own. We want to look at these images on our commute, during our coffee break and before going to bed. The social media platform has certainly opened the doors for designers and for fashion influencers who want to make it big. The influencer market is at its peak: from attending international fashion shows to creating sponsored content for brands—influencers are helping brands reach a large audience.
For the debut of its Living Zara Instagram account, the Spanish retailer enlisted the help of three influencers who boast a combined following of over half a million to serve up inspiration to Zara customers.
The Pioneers At The Forefront Of Insta-Fashion
Many brands today are on the platform. India-based designer Sabyasachi Mukherjee has been an Instagram pioneer since 2015. His brand has seven Instagram accounts, including a main account (started in 2015 with 2.6 million followers), city-specific accounts and one devoted to "Brides of Sabyasachi." 
A growing number of fashion outlets are taking their business specifically to Instagram. These brands are said to be the pioneers of "Insta-fashion." The appeal of being recognizable only "from social media" lies somewhere between being at the forefront of fashion, supporting emerging talent, and discovering hidden gems.
Dear Frances is one such brand that may have become a regular feature on your feed. It's one of the many brands to specialize in showcasing its products "in the wild", or within a stylized set-up that aligns with their potential customers' aspirations.
"Instagram is more about sharing a mood or an inspiration," said Dear Frances's designer Jane Frances. "It's a natural place to attract those who share your aesthetic or those who are inspired by the lifestyle of your brand."
During New York Fashion Week Fall/Winter 2016, trending hashtags for the Tommy Hilfiger show, #TommyFall16 and #TommyHilfiger, reached more than 137 million people on Instagram.
"I started the Instagram account before I even launched the website," said Lisa Bühler, founder of fashion brand aggregator Lisa Says Gah (currently 195,000 followers). "I began with inspiration posts, like charming interiors and retro films, just to get an idea of the look I was going for. Once we started bringing in products we also posted those, but not in a traditional retail way – not in a studio, just on the street in front of the office and on employees and designers. It had always had an authentic behind-the-scenes feel."
Eco-friendly brand Veja hit the No. 1 spot in Lyst's ranking of "the cult Insta brands we all wanted to wear" in 2018. The brand witnessed sales go up 113% year on year – and shoes were sold out in white after Meghan, Duchess of Sussex, wore a pair on her royal tour in Australia.
The platform has evolved tremendously over the years with brands documenting everything from fabric sourcing and fashion shows to behind-the-scenes occurrences. It's encouraged brands to connect personally with their customers, providing them with an immediate call to action. Instagram brands are truly acquiring a cult following in fashion; it's not at all surprising given the fact that more and more people are looking to the platform as a source of sartorial inspiration. It's a destination where aspirations and trends take flight.
The Democratization Of Fashion And Beauty
"It empowers small businesses and democratizes opportunity, giving individuals, creators and emerging brands the ability to reach a global audience," Eva Chen, director of fashion partnerships at Instagram, once said in an interview with Vogue.
So, has Instagram truly leveled the playing field for small, unknown brands?
"Definitely," said Ditte Reffstrup, creative director at Ganni. "Instagram has really democratized fashion. If you have a strong visual, creative eye that can capture what you stand for, it's such an incredible platform."
However, here's something to consider: Despite the democratic nature of the platform, it's unlikely for someone to go from total obscurity to overnight stardom. Many Insta-fashion founders said they already had strong personal followings and/or connections with large followings. Success on the platform depends not only on the product being photogenic and unique but also on whether it appeals to a type of shopper who is compelled to post pictures, in general.
"Instagram lets us see how an outfit goes together rather than seeing separate items on a rail," said fashion psychologist Carolyn Mair. "For some people, this is very helpful, even if the outfit looks very different on them. But the beauty of Instagram is that the images we see are not all professional photo shoots. Many of the influencers are 'ordinary' people. This means the fashion imagery is far more representative than we have seen in traditional fashion imagery."
Kylie Jenner recently launched a new Instagram filter to help users see what they look like in some of her brand's popular lip colors before buying them.
Instagram And Personalized Shopping 
"When I see designers putting models whether they're curvier or differently-abled, or using 'unconventional' beauties, I think the amazing thing about Instagram is that the community of 800 million strong says, 'Why should there be a definition of conventional?' Unconventional in one market can and should be conventional in another," Chen continued. "I think that global sense of beauty is very much attributed to Instagram."
No social media platform has played a more significant role in giving the world access to the global fashion industry than Instagram. Recently, French luxury goods company Dior created an augmented reality (AR) filter for Instagram. As part of the experience, users could try on virtual versions of the brand's J'Adore Dior double headbands or DiorSoLight sunglasses. This filter debuted during the Dior Fall 2019 show in Paris. It generated over 2.6 million impressions in the following week with more than 2.2 million Instagram users noticing the filter in Dior's Instagram Stories or in the accounts of influencers. With the rising popularity of Stories, consumption of fashion week has moved away from blurry runway photos to videos of the catwalk, enabling the platform to drive traffic to new heights.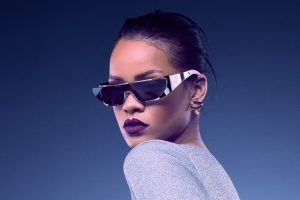 A year ago, Instagram also  made it possible for us to "shop" posts directly in our feed. Consider a brand like Zara; you might see a post showcasing a new dress—part sponsored content, part advertisement—with a tag that shows the product name and pricing. The social media platform also created a dedicated space for shopping via Explore.
Navigate to the Explore tab and you'll find, in addition to personalized interests like food, art or travel, a section for shopping. It's filled with shoppable posts from brands or accounts you follow, plus ones the platform thinks you'll like based on your browsing behavior. Tap on a post and you'll find more details about the product for sale—a sling bag, or a pair of jeans—with pricing and a shopping link.
According to the company, more than 130 million people tap on these tags every month, browsing through posts from brands that are little-known and famous.
Recently, Instagram has taken a big step in making it easier to shop by adding a new feature that enables in-app checkout for its shoppable posts. This helps you avoid the extra effort of switching apps, uploading your payment information, and clicking back to Instagram to keep scrolling. With this new feature, you can click on that dress you love in a brand's posted image and buy it right there.
In other words: By streamlining the process of purchasing products within its app, the social media platform has become your own personalized digital mall. Major fashion houses like Dior, Prada and Burberry and brands like Nike, Uniqlo, Warby Parker and Outdoor Voices are testing this shopping feature.
"Instead of having to go through this clunky mobile web flow and checking out, you can now check out directly on Instagram," said Ashley Yuki, the product management lead for this new feature. According to a company spokesperson, this checkout feature is about making the shopping experience as seamless and frictionless as possible.
"We're excited to take it one step further and say, what would happen for our community who comes to Instagram and just wants to be shopping?" Yuki adds. "It's personalized for you, based on brands you follow and that you might never have discovered in another way, and you can shop them all in one place. That's pretty interesting for us at Instagram."
It may be too early to comment on what kind of impact this feature might have on the evolving e-commerce and retail experience, but it will definitely influence other social media apps and websites trying to make their customer experiences user-friendly. The fact is that Instagram has truly changed our perspective of fashion and shopping—it's a lot more than just scrolling through celebrity profiles and posting your own #OOTD. We can't wait to see what's next for fashion enthusiasts.