How Ritu Kumar Crafted The Revival Story of Indian Textiles

8

min read
Reading Time:
7
minutes
Ritu Kumar started investing in sustainable fashion in the 60s, decades before it became fashionable. She was one of the first designers who recognized that sustainability is intricately woven into India's consumption patterns; it only needed to be polished and restored. The story of the fashion designer and Padma Shri awardee's brand is as much about her extraordinary journey from a historian to a pioneer in India's fashion industry, as it is about the rise and recognition of India's heritage handicrafts
After the sustainable fashion show at the Copenhagen UN Climate Change Conference 2009, Kumar wrote, "India, perhaps, is one of the few countries where fashion does not turn red, when like the rest of the world, it [green] is announced as the colour of the season in Paris. We still have an indigenous and traditional understanding of nature and wear more society, regional and climatic specific fashions."
Armed with a degree in Art History and deep knowledge about the psyche of consumers from across the world, Kumar built a fashion empire that is now home to four labels. Under its umbrella, the fashion house led by Kumar owns premium bridal wear brand 'Ri', traditional semi-formal designer wear brand 'Ritu Kumar', contemporary pret brand 'Label' and home & living brand 'Ritu Kumar Home'.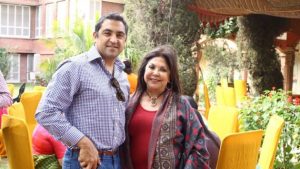 From starting the boutique culture in India to reinventing Indian textiles over and over again, her designs are regarded as wearable art by her contemporaries like celebrated designer Sabyasachi Mukherjee. She is revered for her unparalleled contribution to the Indian textile revival movement and became one of the prominent faces of post-Independence India's fashion world through her ethical and sustainable creations.
From Museology to Hand-blocking
However, the road to revival was anything but easy. 
For Ritu Kumar, a designer by accident, it all started with a museology course, an archaeological site in the remote corners of Calcutta and a group of hand-block printers. 
After completing an art history course in the USA where she studied European art, Kumar decided to enrol into a museology course in Calcutta, India. The course required her to visit archaeological sites and study the settlements around it along with the physical structures. During one such visit, she discovered a group of hand-block printers who were rendered jobless in the post colonial era. She handed them her designs to be printed on sarees and opened up a small store, which was attached to a grocery store. 
"The last thing I had in my mind in the early '60s when I started my work was anything remotely close to where [my business has] gone today. We must understand that India at that point of time did not have a retail infrastructure at all—zero. There were no shops. One really cannot quite perceive when you see India today what it was like at that time. [That was] postcolonial times; India just got its independence through the first generation that grew up at that point of time. There was almost a freeze for 150 years, I would say, on all crafts including the textile crafts in India because most of the designs by that time were taken to Lancashire [UK], reproduced there, and brought back to the Indian subcontinent to sell to India," Kumar shared in Harvard's Creating Emerging Markets interview. 
While meeting the hand-block artisans laid the foundation, the next momentous moment was securing a loan of Rs. 5000 from an industrialist and golfer. Kumar met the industrialist at the Tollygunge Club Golf Course in Calcutta while marking his card. That initial investment helped the designer to source good quality silk fabric in bulk, which proved to be a game changer. These luxurious hand-block printed silk sarees caught the attention of Trade Action, an Australia-based NGO that placed an order for 1000 scarves.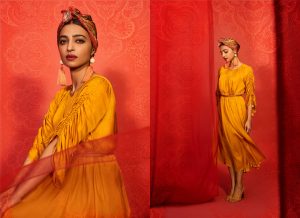 One thing led to another, and Ritu Kumar designs made its way to London, Paris and New York. By the 70s, it had reached the windows of Monsoon, Roshafi, Seventh Avenue, Bergdorf Goodman, and Saks Fifth Avenue. Due to the ever-increasing global demand for Kumar's creations, the company had to start a small cottage industry to fulfil the orders. 
Promoting Sustainability Through Old Indian Textiles
The designer's global expansion was fuelled by the textile revolution, which was taking place in India in the 1970s.
In the post-Independence India, the government had rolled out a host of initiatives and programs to revive Indian textiles and reinstate its glory at a national and international level. Ritu Kumar was one of the front-runners of the movement then and continues to be one of the strongest voices even now. 
Take, for instance, the designer's premium bridal line Ri. 
In the Harvard interview, Kumar explained Ri is a revival story and how a strong sense of responsibility to create an opportunity for embroiders of a village named Ranihati compelled Kumar to lauch Ri. 
"They had no work for a very long time. They used to use pure gold to do the embroidery of these outfits and that had been replaced by some plastic thread. So they did not have a market, nobody wanted them, and it just needed some sort of intervention and, again, a catalytic kind of [effort] from our design studio to get back an old aesthetic of the technique and the embroideries. And that has really exploded," Kumar disclosed. 
The catalyst turned out to be Ritu Kumar. She not only identified the need in the bridal wear market for intricate gold embroidery work, but also found resources & artisans who had the skills, and built the retail infrastructure from scratch. Besides overcoming the inherent challenges of the retail industry of that time, Kumar also had to fight the rigid mindset of consumers who were enamoured by chiffons from France. The risk paid off and the Indian bridal industry exploded. By the late 80s and 90s, Ritu Kumar became the most sought-after premium brand in its home country and abroad.  
Today, the skilled embroidering community are busy with work and the designers who entered into the industry after Kumar uses her journey as a guide to understanding the ropes of setting up a traditional fashion business.
The Label Life
After ruling the 80s and 90s, the parent brand reinvented itself as the world entered the new millennium. 
Kumar's son Amrish Kumar launched 'Label' the modern ready-to-wear line of the traditional brand in the early 2000s. This contemporary line combines the charm of international silhouette and Indian textiles. 
While speaking about the idea behind launching Label, Kumar stated, "Even though Amrish understood the merit of what we were doing, he didn't think it was meant for the next generation… Label is inspired by shapes and designs from Paris, but their textiles are basically still very grounded in what is our strength."
"The pret line is far more challenging…you have to make the aesthetic viable at a price that is more affordable. I never think that only a few should be able to afford good design," she added. 
With Label, Kumar and her team were able to democratize luxury and reach the young consumers who appreciate the richness of traditional textiles but want to introduce it in their wardrobe with a modern twist. By experimenting with cuts, fabrics, and textures, Kumar made her designs more accessible. 
Out of the 90 Ritu Kumar stores, 30 are Label stores. This includes franchise stores as well, a model which was adopted by the company in 2016. As the company gets ready to raise $20 million, they are looking to expand their retail presence across the world. By being available in malls and other retail spaces, as opposed to restricting itself to exclusive standalone experience stores, Label was able to deliver a customer experience that many luxury fashion houses are not offering to potential buyers.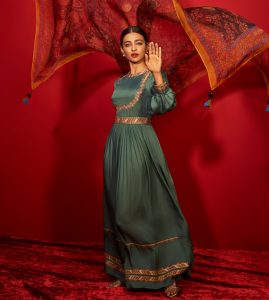 Investing in product development and retail expansion paid off, as the company generated Rs. 200 crore as annual revenue in 2017, according to The Telegraph. It is also one of the top players of the Rs 70,000 crore worth Indian ethnic industry. 
Home and living in another category that the company wants to focus on in the coming years. Kumar wants to transform her knowledge of textiles into home furnishing line, which seems like an organic diversification strategy. 
"My work and research on old Indian textiles started close to 45 years ago. And textiles, whether printed, woven or embroidered, lend themselves naturally to home furnishing," asserted Kumar. 
Besides opening Label retail outlets and launching furnishing line, the brand would never stop reviving traditional weaving techniques, and natural textiles. Ritu Kumar is a rare designer who was able to participate in a revolution and uplift a community, while effectively solving the design and expansion challenges. Her association with the handloom community isn't a CSR activity that ended in the 70s. It is a lifelong commitment to Indian textiles and art. 
"There is a very rich handloom industry in India still existent, and I don't know what the last count was, but it has to go into lakhs of weavers who have no other livelihood, and this is really not something that you do as a philanthropist only. They have in their hands skills which can actually produce textiles which the world has forgotten about. This so beautiful and so highly sophisticated… So as a designer, this is something that I am taking on very seriously. I have already started working [with] five or six areas to put up looms and redesign or design in a way the fabrics that they are making, which can go into our stores initially and then perhaps start a revival of some sort," averred Kumar. 
As Ritu Kumar, the designer continues to write the revival stories of long-forgotten Indian textiles with each passing year, Ritu Kumar, the brand would continue to stay relevant for decades to come.