Female Fashion Designers Who Have Changed The Industry

8

min read
Reading Time:
6
minutes
Fashion designers have the ability to translate their vision into appealing designs and silhouettes- something that can seem uncanny to the untrained eye. Designers have captivated the world of fashion through history. Many women in the industry have transformed the way we perceive fashion and carried the art through the years.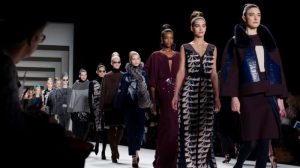 Pioneering Power Women amongst Fashion Designers
The earliest fashion designs were knock-offs from styles worn by courtiers and royalty. In the late 1700s, Marie-Jeanne Rose Bertin, couturière to one of the most controversial Queens of France, Marie Antoinette, is regarded as one among the foremost female designers whose creations influenced Parisian styles.
Madam Jeanne Paquin, one of the earliest known female couturiers, established the house of Paquin in 1891 in Paris. The firsts to her name consist of her being the first label to go international with branches in London, Buenos Aires, and Madrid. Not only did she become the first woman president as early as 1917 of the Chambre Syndicale, but the first female designer to be honored with the Legion d'Honneur.  Her vivid colors, crocheted lace, oriental motifs, and trademark furs were a hit with fashionistas. She made black a fashionable color and created the early origins of fashion parades and modeling of clothes using mannequins at high-society events.
In the early 1900s, Jeanne Lanvin rose to fame from being a milliner to a full-blown fashion designer through her stylish and beautifully crafted dresses at Lanvin Fashions.  Her trademark style was the use of trimmings, embellishments, beadwork, and prints that were stylistic and appealing. She diversified from just women's fashion to men's fashion and perfumes.
Madeline Chéruit (born Louise Lemaire) may well be called the First Lady amongst female fashion designers.  Chéruit mastered the craft of dressmaking in the late 1880s at the couture house of Raudnitz & Cie. In 1906, the Raudnitz label became simply Chéruit, thus establishing her as the foremost woman to head a couture house. She is credited with presenting the pannier gown to the world of fashion, walking suits and streetwear such as afternoon dresses. Her influence held sway over a generation of women and she was an unstoppable force even through World War I.
In 1935, the house of Chéruit was taken over by Elsa Schiaparelli – another pioneer fashion designer of her time. She discarded the corseted gowns and lent a playfulness to her creations through surrealistic designs and prints. Schiaparelli reinvented knitwear like never before, broadening her range to linen dresses, swimwear, ski-wear and evening wear. She is credited with creating the famed divided skirt, wrap dresses and even the interior bra within women's bathing suits. Her trademark embellishment in later years was to use zippers and unusually shaped buttons as embellishments.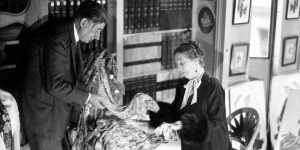 Coco Chanel also established her label in the same year is Chéruit – in 1906, in her mid-twenties when she decided to open a hat shop in Paris. Buoyed by its success in the years that followed, Chanel went on to design knit-wear, costume jewelry, and perfumes. Coco's eye for fine aesthetic, the futuristic designs, and business sense have ensured that Chanel evolves with time as a brand to be reckoned with. Her Little Black Dress is every woman's wardrobe staple the world over even now. Her perfume, Chanel No.5 is still a world leader, with over 2 million women users as of 2017. Even after her passing in 1971, Chanel is considered a legend amongst couturiers to date.
Madeline Vionnet is another pioneer whose unique architecting of dresses using the bias cut introduced spectacular creations that were softer and body-skimming. They were all the rage in the 1930s. Vionnet has inspired countless designers to adopt this cut to create their designs over the years.  
This isn't to say that fashion design was strictly European!
Claire McCardell reigned supreme in the 1930s and is considered the queen of American fashion. She jettisoned the existing paradigm of high-end couture that was elitist and made chic styles available to all with her ready-to-wear clothing line. Her iconic monastic dress from 1938 has left an indelible influence on fashion design.
In the 1960s came Mary Quant with her mini skirt and tights in youthful, vibrant colors that are evocative of an era that saw social revolution by youth wanting to break away from conservatism to create a counterculture. During this bohemian era, Quant's footprint on fashion was undeniable as her creations gave women individuality, freedom of expression and a move to define feminism in a new way.
This list would not be complete without mentioning the crown jewel of modern design- Dame Vivienne Westwood, who successfully brought style to punk and gave the world punk fashion in the '70s. Westwood gave a certain legitimacy to punk fashion and brought it to the mainstream like never before.
These are just a few significant stalwarts that have left a timeless influence on fashion and have inspired a multitude of other designers to take the leap into the fashion world.
Today's Divas of Fashion Design
From launching eponymous brands to exploring new frontiers in fashion design, today's women fashion designers are an unstoppable force to reckon with. Some like Vivienne Westwood and Coco Chanel are timeless female fashion designers whose label still makes fashion statements and sets trends.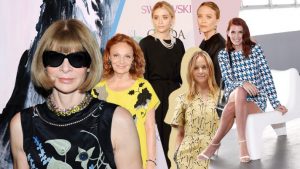 Miuccia Prada is the billionaire design head at Prada. Inheriting the family business has not made Miu Miu (nickname) complacent over the years.  Miuccia successfully launched Miu Miu as a more affordable, daily wear collection for women, a men's fashion line and has established the house of Prada as a successful conglomerate.
Ashley and Mary-Kate Olsen, the twin sisters, are fashion designers whose clothing line offers girls aged 4-14 a boho-chic option. Their designs are the go-to label for young girls across America as it is designed keeping their everyday style in mind. The Olsen brand The Row, influences fashion not only amongst young Americans but also in Canada, Mexico, Australia, New Zealand, Britain, and France.
Aerin Lauder, daughter of the venerable Estee Lauder label, after successfully rebranding the family brand, has gone on to launch her namesake lifestyle luxury brand Aerin which brings elegance and refinement to beauty, fashion and living through modern curated collections.  
Rei Kawabuko, the Japanese designer, is a provocateur who challenges the dominant view of what fashion should be. Avant-garde in approach, Kawabuko continually challenges the status quo with her forward fashion sense through her creations for women, men, and her perfume and makeup. Often presenting creations way ahead of the times, she has influenced others to soon follow suit.
Vera Wang's bridal collection has become highly renowned through high profile brides such as Alicia Keys, Chelsea Clinton, Victoria Beckham, Ivanka Trump, and others. Wang today designs costumes for Olympic figure skaters and is a designer of choice for evening wear for celebrities. Wang continues to deliver comfort and elegance and remains an icon who continues to influence fashion.
Rihanna is a colossal pop icon and a top-selling music artist. From 2011 onward, Rihanna has launched super successful perfumes for men and women. In 2017, Fenty Beauty was launched and her inclusive beauty products received critical acclaim. Rihanna's collaboration with Puma to launch high-end athleisure since 2014 has constantly received high praise from the industry. Her personal influence on social media is powerful enough to trigger a massive uptick in the sale of anything she sells or endorses with a single tweet or Instagram post.
Breaking The Wheel
While women fashion designers carved out a niche of their own, what's helping to break through the glass runway is the sweep towards diversity and inclusion in fashion, customers wanting affordable brands and the rising need for women to express their personalities through fashion. A rising number of women fashion icons have given hope to young women dreamers to successfully convert their designs into popular and trendy fashion.
Anna Wintour as the editor-in-chief of Vogue, Cristina Ortiz becoming the design director at Prada, Vuitton hiring a woman creative head, and celebrities with a high fashion sense entering the industry are contributing to a change in how fashion is created, portrayed and received by customers.  
Women in today's fashion industry have painstakingly built support communities and presence on social media to connect with customers to shape fashion and have taken advantage of technology and sustainable practices to grow their business. Katrina Lake of StitchFix and Deena Varshavskaya of Wanelo are two outstanding examples of women who have gone to great lengths to build networks to engage with customers as a sure-fire way to meet their fashion demands by factoring in customer feedback and user-generated fashion recommendations in producing wearable fashion.  
With more women influencers gaining prominence, it heralds a new era in shaping fashion. One can expect a breathtaking array of new styles, cuts, fits, colors and more in the coming years.