Brand Insight: Farfetch – Luxury Fashion's Next Frontier

12

min read
Reading Time:
9
minutes
Farfetch is more than just a luxury fashion marketplace. It's on its way to becoming a luxury-retail-as-a-service company powered by technology, data and innovation. Its IPO announcement comes at a time when the definition of luxury is being reshaped by the disruptive impact of technology and rapidly changing consumer mindsets. For a company that's never turned a profit, its valuation of more than $8 billion is a big price tag. After making its promising debut on the New York Stock Exchange on September 21, Farfetch has, undoubtedly, gone from start-up darling to being luxury fashion's next frontier.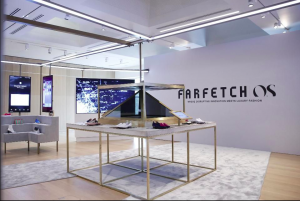 "I'm not the best in the world at fashion, and I'm not the best in the world at technology—but, realistically, it's very rare to find people who understand both of those worlds,"

says

Farfetch CEO and founder Jose Neves.
Neves' aspirations have shaped Farfetch's journey from being a startup to being a technology powerhouse that's disrupting the luxury fashion industry. Farfetch's ambitious IPO announcement holds promise because in its own words "it's redefining how fashion is bought and sold through technology, data and innovation." The company in the past decade has made significant investments in technology, infrastructure, people and relationships, to become a trusted partner to luxury brands and retailers alike.
Though it started off as a luxury fashion platform, it has its eyes now set on building retail experiences of the future. Today, it's successfully created a community of 2.3 million customers, 614 retailers and 375 luxury brands in 190 countries because of its founder's singular goal: to create something that could change the world.
Early Days, And How Farfetch Created A 21St Century Business Model
Born in Porto, Portugal, Jose Neves aspired to be an astronaut. But a lonely childhood drove him to explore the unfashionable world of computer programming at the age of 8. Technology fascinated him to no end, and somewhere deep down he knew that it was going to change the world.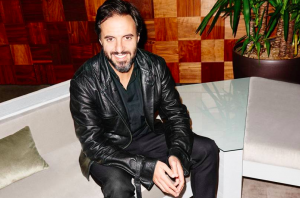 "If you don't love what you do, you'll probably fail. When I started programming, my first customers were fashion businesses. I thought, 'This is a very cool, creative, interesting, international industry.' I fell in love," says Neves,
who only decided to launch a men's shoe brand Swear in 1996 because his grandfather had owned a shoe factory back in Portugal. His brand sold to other shops. And sometime after the recession in 2008, Neves realized that the only boutiques that were successful were the ones that were selling online. And that's when the idea for Farfetch was born.
Unlike its online luxury fashion rivals that it's often compared to—Yoox Net-a-Porter and Matches Fashion—Farfetch's business model is such that it's completely dependent on old-fashioned brick-and-mortar retailers for its inventory. Farfetch's appeal lies in the fact that it doesn't own the inventory it sells on its website. Instead, it helps luxury fashion brands like Gucci, Dolce & Gabbana, Alexander McQueen and Tiffany sell their stock. The benefits? Farfetch is spared from the complexities of inventory management, which includes tackling unsold merchandise and overhead. Farfetch's revenues only come once an exchange is made.
"I was a shopkeeper, I saw how magical physical retailing can be when you have the interior decoration right, the products, the staff, the level of service, the music – it all creates an experience that cannot be repeated online," Neves said.
Touted as a trailblazer in the field of building an e-commerce marketplace for the luxury fashion and luxury goods industries, Farfetch said in its SEC filing it has
"real-time inventory data, global behavioral and transactional data and pricing data for over 335,000 SKUs (unique units) from more than 3,200 different brands"
on its marketplace at the end of June 2018. The company's network includes 700 handpicked fashion boutiques located in 40 countries, including Mexico, Finland, and Japan. Shoppers can easily shop across the globe for an item, say a designer bracelet by Salvatore Ferragamo, and have it delivered to them hassle-free as Farfetch takes care of currencies, foreign exchange and duty.
"We operate in real-time in the same way that you can search for reservations at restaurants that have availability at 9pm that evening on OpenTable. And then we have the logistics and the deliveries to get the food, or clothes to you, like Deliveroo,"  Neves said.
All of this as a result of the company's technology, which tracks the boutiques in its network that are selling both in store and online; this means, you as a shopper should never have to see the frustrating "sold out" message when you want to buy an item.
The Brave, New World Of Platform Businesses
Now though Macy's can boast of revenues nearly 60 times greater than those of Farfetch, it is, what Alex Moazed describes as, a "linear company". Essentially, Macy's owns the inventory that shows up on its balance sheet. Farfetch, on the other hand, has a platform-based business model, which means it creates value by connecting retailers, brands and consumers so that meaningful exchanges can be made.
"Platforms don't, to use a common phrase, own the means of production—instead, they create the means of connection," revealed Moazed,
who's the co-author of Modern Monopolies: What It Takes to Dominate the 21st Century Economy. Companies like Netflix, for example, are linear companies; they're not platform businesses. Netflix owns or licenses its content.
So, it's not at all farfetched to compare Farfetch to the Ubers, eBays and Amazons of the world that are hugely successful platform businesses themselves. Platform models create value for the entire network. And, according to Moazed such businesses perform well both in the short and long term. Platform businesses experience better return on capital, larger profit margins and faster growth.
Moazed states that by 2020, platforms will make up 5% of the overall S&P 500 (i.e. 5% of the total number of companies). He said platforms could comprise the majority of the top valuations in that list in the next five to ten years.
"Farfetch is benefitting from being at the crossroads of two extremely highly valued industries: luxury and online marketplaces," said Adrien Nussenbaum,
the CEO and co-founder of Mirakl, a retail marketplace platform.
"As a result, it's being valued at the same multiples of the Amazons and Alibabas of the world. At some point, investors will want to see profitability, but with marketplaces, investors have proven to be patient with profitability."
Interestingly, massive companies like LVMH should have been first movers in platforms, but not having embraced the idea of a platform model makes them lose out on a huge competitive advantage. For Yoox Net-a-Porter, too, that's often been pitted against Farfetch, it's been said, "Net-a-Porter risks being left behind by the industry's changes when it comes to technological advances in the industry and luxury brands' strategies."
Farfetch in a broader context
"Luxury is in the midst of a metamorphosis. While luxury once meant the most expensive or the most well known product or experience, it's now become a way of being or moving throughout the world,"
Technology's exponential growth is having an influencing impact on societal norms, cultural beliefs—and the very notions of luxury. Changing consumer values and preferences accompanied by the changes in mindsets, globalization, and the disruptive power of technology are shaping the luxury industry. The next generation of luxury customers has a much broader, multidimensional perspective on what luxury and quality can be.
"The global luxury market is evolving, driven by an accelerating shift of consumers to online discovery and purchase, the increasing importance of millennials and the growth of luxury consumption in China and other emerging markets. We connect a global consumer base to the highly fragmented supply of luxury fashion, and we have established ourselves as the innovation partner to the luxury industry," reveals Farfetch in its SEC filing.
Farfetch found itself in the unique position of working with boutiques and fashion houses that had yet to establish any kind of online commerce profile of their own. So by leveraging its scale and reach it was able to create a high-end experience for people worldwide. It tapped into this opportunity at a time when two things were happening.
First, we were witnessing the e-commerce revolution where even luxury customers wanted to shop day in, day out, and complement their physical store experience with digital shopping. Second, a number of less mature economies have been on the rise; this has created a new segment of wealthy buyers, who may not reside in urban centers that many fashion houses call their homes. In this context, Farfetch came to their rescue.
Through initiatives like 90-minute delivery, personalized recommendations, and white-glove concierge service, Farfetch is shaping the way the next generation of luxury customers shop. Its service F90, in partnership with Gucci, delivers select Gucci styles in 90 minutes and is available in 10 cities globally.
"In a lot of ways, it's the Amazon approach: Don't focus on inventory. Focus on customer experience, data capturing and perfecting the marketplace model,"

Nussenbaum added.
The company competes in the personal luxury goods market, which Bain & Company predicts will be a $446 billion market by 2025! Revenues in 2017 exceeded $386 million, and sales through the first half of 2018 are running 55% ahead of last. That's impressive.
"As of June 30, 2018, we had 1,118,047 active consumers, up from 796,297 as of June 30, 2017," the company brags—with good reason.
Strategic partnerships catapult Farfetch ahead
The company has navigated global expansion nimbly: It's inked deals with Chalhoub Group in the Middle East and JD.com in China to bolster its distribution, offerings and capabilities. Last year, Farfetch forged a new strategic partnership with Condé Nast after it acquired Style.com's trademark, intellectual property and customer database.
JD.com, China's second-largest e-commerce company after Alibaba pumped nearly $400 million into Farfetch in 2017; this strategic alliance with JD.com gave the luxury fashion platform access to JD.com's wide logistics network, social media resources (i.e. WeChat), big data and online payment and consumer microcredit tools. That's not all. It gained access to 270 million Chinese consumers who shop on JD.com plus a mind-boggling 900 million users on WeChat, owned by JD's majority shareholder Tencent.
This partnership has helped Farfetch stake its territory in China, and has fueled its ambitions of being more than just a luxury e-retailer.
The path to profitability is through technology
"If you piece it all together, Farfetch is in a position to replace wholesale, at its most ambitious," said Thomas Sineau, retail analyst at CB Insights. "It's an intermediary retailer brands can use to raise awareness and reach, as well as improve their own direct channels. To justify its valuation, you would have to believe that Farfetch is more than a luxury marketplace: that it's a company with a high level of proprietary technology. Otherwise, you run the risk of having third-party technology providers also working with a bunch of similar companies."
Farfetch's fashion marketplace is truly the tip of the iceberg. Its powerful technology offerings are propelling the future of luxury fashion. Its team of 631 engineers and data scientists is investing in the data technology, including machine learning and algorithms that inform its marketing and e-commerce decisions. This data is then fed back to brand partners so that Farfetch is positioned as an invaluable source of customer insight. It's also aggressively investing in technology that has the potential to change the way people shop both online and in stores, like augmented reality and personalization capabilities.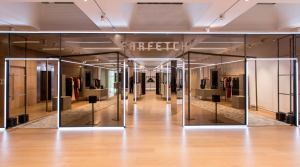 Therefore, the road to profitability for it could start with building technology solutions for other fashion companies. Its robust offerings include: Farfetch Black & White e-commerce management platform; and Farfetch Store of the Future, an in-store technology platform, which is being used most notably by Chanel. Store of the Future could prove to be one of Farfetch's most crucial moves yet. As luxury e-commerce booms, the portion of purchases that happen online is expected to rise to 25% by 2025 from about 9% in 2017. This means that for the foreseeable future, the vast majority of purchases will still take place in physical stores.
Store of the Future is a suite of technologies, which aims to improve retail productivity by capturing consumer data and enhancing interactions between shoppers and sales associates, both in store and online. The open innovation approach to its operating system means brands and retailers both can also use third-party technologies on its platform. Thus, every brand or retailer can create a customized offering keeping its in-store and online strategy intact.
In February 2018, Farfetch announced an exclusive multi-year global innovation partnership with Chanel, through which it will collaborate to develop a range of digital initiatives to deliver a superior consumer experience both online and offline.
There are a number of lessons embedded throughout Farfetch's 10-year long journey to becoming a technology company, for other luxury retailers. Farfetch's success story all began with Jose Neves wanting to transform the world through technology. It took vision, an unending hunger for innovation, and a deep view of how consumers are evolving to redefine the future of luxury fashion retail.
Thanks to companies like Farfetch, we see a future of fashion that brings together the magic of the physical store experience and the ease of online and digital shopping, underpinned by data and AI. The 2.3 million affluent shoppers Farfetch has cultivated have an appetite that extends far beyond fashion. We see great possibilities for the company in the future. Its love for technology is the key to that success.