Data as a saviour during the COVID crisis – The WROGN story

5

min read
Reading Time:
4
minutes
Data is currency. Digital adoption is fast-paced and growing in ways unprecedented. The extraction and usage of rich data have made life easier for enterprises and consumers. In retail, data can make or break your business and how it thrives.
We hosted industry leaders at REBUILD '22 recently. We heard the first-hand account of how retail data helped one of India's leading casual wear brands thrive during the pandemic. 
Anjana Reddy, the CEO of USPL, the company behind WROGN and Imara, joined the panel discussion "AI-Powered Growth Stories" where she spoke about her journey and highlighted the role that data plays in helping them stand out.
A Tale of Scale
WROGN adopted a 50:50 online-to-offline strategy, not willing to follow the suite of e-commerce websites and their unsustainable GMV strategies, which helped bring in the revenues. They tapped into retail hotspots like Shopper's Stop offline, and Myntra online to sell their products. 
WROGN signed Virat Kohli as a brand ambassador during the summer of 2014 which saw him in poor form on the field. Despite the resistance, Anjana brought Virat on board to endorse WROGN, a brand that would go on to achieve immense popularity owing to Kohli's return to form later that year, pushing him to an all-new level of stardom. "None of my campaigns focused on Virat Kohli, the cricketer. We focused on Virat, the human. What do his tattoos signify? What makes him thump his chest on the field? That is what we were curious about because that's what makes him human", Anjana remarked. Having a young icon like Virat significantly helped raise USPL and WROGN's brand value. "That is where the name 'WROGN' came from because people thought we were taking the 'wrong' decisions", Anjana added.
At REBUILD '22, Anjana spoke about how data helped them scale their business.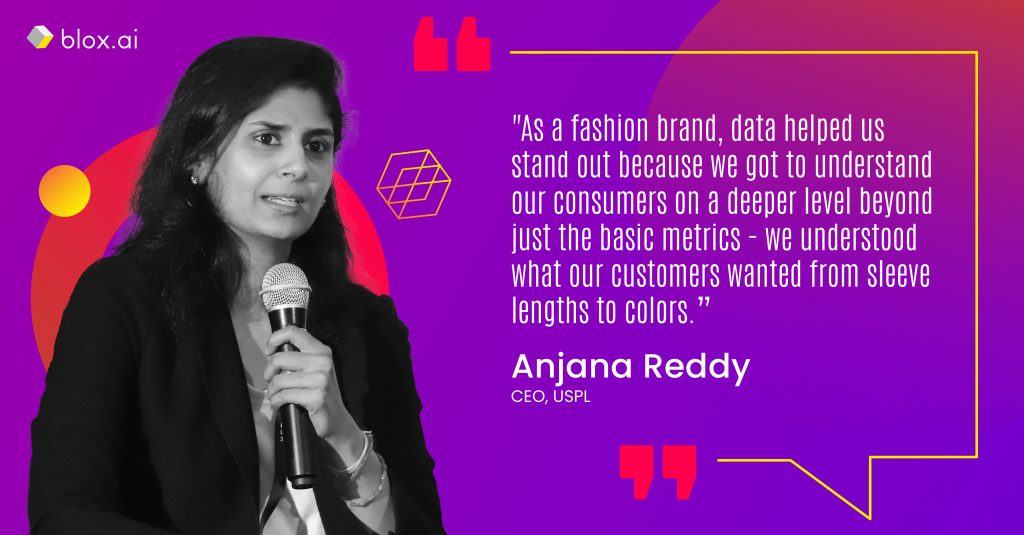 ​​Based on the data that they collect across their physical and online stores, WROGN leverages the data that they receive to build their inventory by instructing their designers on what to design based on the metrics that they have seen. 
Data plays a huge role end-to-end in their process, right from the designing of the garments to deciding in which stores the garments should be placed to get the best possible results. "What we realized is that a customer that walks into a flagship store and a customer that walks into a departmental store is very different. Data has helped us with a lot of this" she added, referring to the diverse consumer base across the different locations where they are present.
"AI is the latest kid on the block. From a data standpoint, we tell the designers what needs to be designed."
– Anjana Reddy, CEO, USPL
With efficient omnichannel operations, WROGN managed to scale up and multiply its revenue year after year since its inception in 2014, adopting a 70:30 online-to-offline strategy. The brand grew to widespread popularity thanks to endorsements from celebrities like Shraddha Kapoor and Aditya Roy Kapur in addition to Virat Kohli.
Until the COVID-19 Pandemic pushed people indoors.
Data as a saviour 
The effect that the coronavirus pandemic had on the world was on a scale that was never seen before, and some businesses continue to struggle with the aftermath of it. How did WROGN survive the storm? You know the answer – they used Data the right way. 
Physical retail was one of the worst-affected industries during the pandemic, with consumers staying indoors and switching to online alternatives. WROGN found themselves in a tough situation with their supply chain being fractured and their inventory being stuck across the 750 stores that they had in the country. 
Moving online seamlessly
Having rich and accurate data about their customers, products, and points of sale alike facilitated their digital transformation. It helped their decision-making process during the critical period when they redeployed their existing inventory to the fast-moving channels that they had identified.
With the entire world struggling to shift online, WROGN also managed to pivot to an online model accurately with quick data-backed product turnarounds. 
Merchandise Data and minimized losses
They used merchandise data effectively by tracking up to 17 attributes per style and location to help them manufacture their products, minimizing their risk of holding on to inventory and also helping them with sales and effective usage of their working capital. These turnarounds, combined with the brand value that they had created over the years with their endorsements and marketing, helped them emerge as the #1 brand on the e-commerce platform Myntra at a premium price point. 
Pricing it right!
WROGN personalized its product pricing based on user data. Powered by Vue's AI-powered pricing engine, they were able to adapt their pricing based on shopper behaviour on their site which helped them achieve better conversion rates and sales and enabled quicker movement of their inventory
WROGN wants to remain an omnichannel brand, thereby giving equal importance to both online and offline data to optimize its operations. The data that they had helped them survive and thrive in the midst of a global pandemic that saw multiple brands like theirs crash and burn.
Key takeaways for retailers from the WROGN story:
Data is essential: Harnessing user and product data can make the digital transformation of your brand seamless and efficient. The depth of the data that you collect can improve the quality of your decision-making.
Data is end-to-end: Data can impact your business on every level, from production to the final point of sale.
Your core values contribute to your Brand Value: The way you communicate the core values of your brand can significantly contribute to magnifying awareness and trust, as demonstrated by their fruitful collaboration with Virat Kohli
Why you need to care about Data as a retail business
As illustrated in the real-world example above, access to data and its effective usage can leave a huge impact on your retail operations from inventory management to supply chain management right down to deciding what products to design and sell to your customers. 
Harnessing the data you have about your customers also allows you to curate an experience that is unique to each individual that builds trust and helps with customer retention in the long run.
Get started now!