Fashion and Technology from Design To Execution

8

min read
Reading Time:
6
minutes
These are exciting times in the world of fashion as we see transformational change on so many levels. In particular, we see an increasing convergence between fashion design and technology, resulting in experimentation and innovations in fabric design, colors, movement, and aesthetics to produce trendy and futuristic fashion.
As a fashion-conscious student, Katrina Lake found it confounding to decide what to pick from a multitude of choices. She decided to leverage technology and sophisticated algorithms and matched it to what people want so that it eases their online shopping experience. She started Stitch Fix in 2011 as an online service for personal styling for women – and now, men – where customers fill out their style profiles on various parameters. A personal stylist studies customer information and handpicks pieces of clothing and accessories that match a customer's preference. This package is sent to the customer to keep or return, allowing them to try things on to buy from the convenience of their homes.
Technology has helped Lake to set up a platform and combine it with personal stylists. Customers have taken to it in a big way, and as a result, Stitch Fix is today valued at $3 billion.
Stitch Fix's successful entry into fashion backed by technology is reflective of how the industry is pushing the boundaries of possibilities of fashion design in recent years. Intuitively, this seems to be in sync with the changing times.
What is Driving Technology in Fashion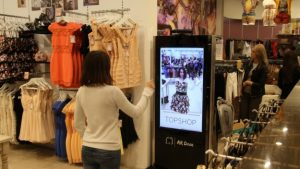 Deena Varshavskaya kept asking, "Why isn't there a place where I can go to see what my friends shop for and what stores my friends like? Why isn't it neatly organized and available to me?" Varshavskaya's questions echo the needs of customers for whom social media is a staple diet and a constant source for all things trendy.
When fashion is so ephemeral, making sense of so much information by humans is improbable without the use of technology. Companies like TrendHunter have turned to technology through big data and artificial intelligence (AI) to provide brands deep insights to pursue opportunities based on top trends.
In the last decade, online retail became the new trend in the fashion industry, changing how we shop for fashion forever. Without technology, eCommerce would not have become a reality.
Varshavskaya launched Wanelo (Want Need Love), a social shopping mall using technology and a clean, user-friendly UX in 2012. She describes her company thus: "Wanelo is all about creating relevance in shopping."
With users uploading items they want to buy or saving what others have bought, the site gives customers a really good insight into the trends. But what sets them apart from Pinterest is that if they chose to, customers can buy what is in trend from within the site through their mobile app. Monthly mobile app downloads are estimated to be at an enviable 145,361. With products curated by users from over 350,000 websites, Wanelo's estimated revenue is $3.7billion. Technology helps Wanelo harness user-generated content to inform fashion design, trends, and consumption.
Artificial Intelligence (AI) has made quick work of data analytics to make informed decisions about what customers need. Big gun retailers like Amazon and ASOS are examples of brands that use AI to give them invaluable insights about trends, customer behavior, new products to stock, use predictive analysis to grow their business.
Stitch Fix is known to deploy powerful algorithms that inform them what kind of products to bring into their inventory that customers want, but the market does not offer. "Now when something is ostensibly missing from the market, we fill it in with our own algorithmically generated designs," says Eric Carlson, their Chief Algorithm expert.
New players and big-box retailers are not the only ones leveraging technology to drive their business. Couture designers too are harnessing the power of technology to fill niche market needs as customers are willing to pay a good price for designer wear and trendy fashion.
Technology-driven Innovations in Fashion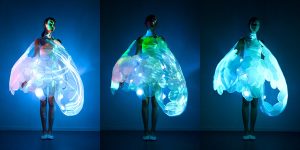 Technology's fingerprint is seen in every aspect of the fashion industry today – from designing, purchasing, manufacturing, retailing, curating to supply chain management and warehousing.
Biomaterials have seen huge advancements in fashion design. Referring to advances in fabric technology, Amanda Parks of Manufacture NY says, "That's where this materials revolution is happening: we can start to demand interactivity from textiles and fibers themselves."
With an estimated 10.5 million tons of clothing waste going into landfills in the US alone, environmental preservation has prompted innovation in materials used in fashion design through technology. Suzanne Lee of Modern Meadow is leveraging biotechnology to develop leather in the lab, giving her start-up a distinct advantage when it comes to environmental responsibility. It helps minimize waste in the production process and leaves less of a carbon footprint. Customers love brands that show responsibility to the environment.
Innovative technologies have ushered in a slew of new possibilities in fashion design through 3D printing, 3D imaging, wearables, and hybrid design. Hybrid design allows technology and data science to merge to produce fabrics, designs, functionality, and interaction.
Nike's Flyprint upper is the first fabric to be printed in 3D. The three-way partnership between Adidas, Carbon, and Stella McCartney has enabled Adidas to produce 3D printed shoes using input from the customer's running data to enhance fit, comfort, colors, etc.
ZER has been using 3D technology in sustainable manufacturing, using body scanners to customize fit and embroidery, enabling them to make only as much fabric as needed. With 3D imaging technology, design houses can hire designers from any part of the world to infuse design diversity. Likewise, customers from around the world can get a feel of how clothes and accessories will look on them.
Immersive Fashion and Conversational Commerce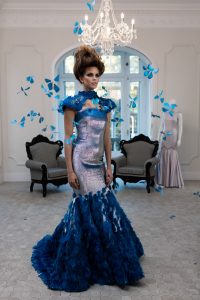 The industry is responding to customers' need to constantly connect and communicate by bringing to market the Internet of Things (IoT). "70% of retail decision makers globally are ready to adopt the Internet of Things to improve customer experiences," says Zebra in its 2017 Retail Vision Study.
For instance, the Nadi X yoga pants from Wearable X communicates through haptic vibrations via sensors placed at key joints in the body to let you know the right poses to practice and hold. Samsung Gear, Google Glasses, the Apple Watch, and Fitbit are all examples of IoT enabled fashion wearables.
Woven fabric embedded with computing capability makes clothing respond to changes in emotions, moods, movement, lighting, and temperature. Ezra and Tuba Cetin from Turkey collaborated with Intel's Edison module to create the blue butterfly dress that telegraphs what fantasy and futuristic design will look like.
Pretty, blue butterflies flap around the wearer in response to touch, movement or body heat. Distance sensors make the butterflies launch slowly into flight, or take off in profusion when they sense someone's approach. Each butterfly consists of an electronic device that responds to distance or can be activated via Bluetooth/mobile device.
Good Time to Embrace the Digital Transformation
Today, technology enables designers, manufacturers, supply chain professionals and resellers to unleash its power in limitless ways. The need for sustainable practices has brought about a convergence of imagination, innovation, conservation, and technology into a fantastic tapestry that is transforming design like never before.
Ralph Lauren's dedicated mobile app for its Polo brand's big customers, and Adidas' Glitch for exclusive customers purely by invitation, and Target's app are all examples of industry players using technology to increase engagement and loyalty.
The Rebecca Minkoff store in NYC uses interactive mirrors in the fitting rooms that allow customers to see how fashion looks on them in different lighting, settings, and angles. Smart TVs suggest styles as customers approach. The store has seen a 200% boost in sales since they have brought in these features. Dior Eyes incorporates virtual reality (VR) and augmented reality (AR) to give customers a view of what is in. We see VR and AR being adopted on the fashion ramps as well. These technologies provide the shopper with a memorable and immersive shopping experience like never before.
The fashion industry continues to conquer new frontiers through technology. It has enabled companies to experiment and innovate with tech-enabled tools like never before. The use of chatbots and incorporating 'Share', 'Like' and 'Buy' features are easily attainable ways to elevate your social media strategy. Identifying brands not found online is easily done through the use of technology, enabling you to serve a niche market.

Introducing virtual in-shop catalogs and fitting rooms are other ways of introducing an immersive fashion experience for shoppers. With ever-increasing competition and a landscape that is in a constant state of flux, technology is certainly a great enabler. Identifying ways in which technology can be integrated into the front-end and back-end helps overcome any lag and gives businesses a leg-up in boosting sales.