Building Viral Videos That Stick And Tick!

4

min read
Reading Time:
3
minutes
Launching a product or promoting your brand? The right video could put your business and product into the viral hall of fame
Video is popular. Cisco predicts that by 2021 over 75 percent of global mobile data traffic will be video, and there will be more than 11.6 billion mobile connected devices. Mobile video will increase nine fold between 2016 and 2021 (Cisco). Moreover, video is the fastest-growing ad format and now accounts for 35% of all display advertising spend. Last year, video advertising grew by 46% to become the fastest-growing ad format, according to the latest Digital Adspend report by the Internet Advertising Bureau (IAB) UK and PwC (Source: www.thedrum.com).
We tend to think that people will only share fluffy videos of animals doing cute things or people falling. However, according to a study conducted by video explainer company Wyzowl, if you create video content that your audience likes, 83% will consider sharing it with friends or family.
Successful Brand Videos That Went Viral
When it comes to creating great product or brand videos with the potential to go viral, you want to have some combination of informational, humorous, and visually and audibly beautiful content. There isn't a set framework as to what will work and potentially go viral, but if you ensure that your content is genuinely compelling, you are likely on to something. Be true to your brand, make the video visually beautiful and use a combination of some elements of humour, storytelling, music and influencers when creating a video. For inspiration, we've selected some of our favourite examples of brands that are doing great things with video be it for a product or campaign launch, or a general brand video.
Diesel – JoggJeans Made to Run Away (2.5M views)
Superdry – This is the Jacket (5M views)
Mango's Video (11M+ views) – Committed Collection Campaign
Louis Vuitton (19.8M+ views) – Masters, a collaboration with Jeff Koons
Gap – Bridging the Gap (3M views)
These videos are popular for a variety of reasons. The Diesel ad for example, cleverly used humour to engage with the audience. The  Gap ad on the other hand is both cheerful and fun; whereas the Nike ad is inspirational. In contrast, Superdry and Louis Vuitton connect through a combination of visually and audibly beautiful compelling content. While not fashion specific, there's a lot you can learn from Dollar Shave Club (Our Blades are F'king Great) and Squatty Potty  – not only are they truly funny, but they also clearly demonstrate the product benefits in a non "salesy" way. It is not surprising that both have 25M+ views a piece. 
Capitalizing On Consumer Behavior And Love Of Video
Video offers a great opportunity to connect with your audience with engaging shareable content. By providing shop now links within the video that take the consumer directly to the product, shoppable video offers a way to intelligently capitalise on video marketing spend by shortening the path to purchase. Shoppable video allows shoppers to skip any hard sales pitches or other promotions, leading to a better customer experience. If a viewer is interested in something they see, all it takes is a click to add that product to their virtual cart. The user experience is interactive, engaging and seamless. 
Denim apparel brand, Levi's, recognised this opportunity and is using shoppable video to connect with their younger audience. Over the holidays they released a shoppable video on its website for last-minute holiday gift inspiration. The video ran about one minute and 45 seconds and was packed with shoppable frames. Viewers were able to click on any of the "shop now" buttons throughout the video (shown below) to place the item in their cart for purchase.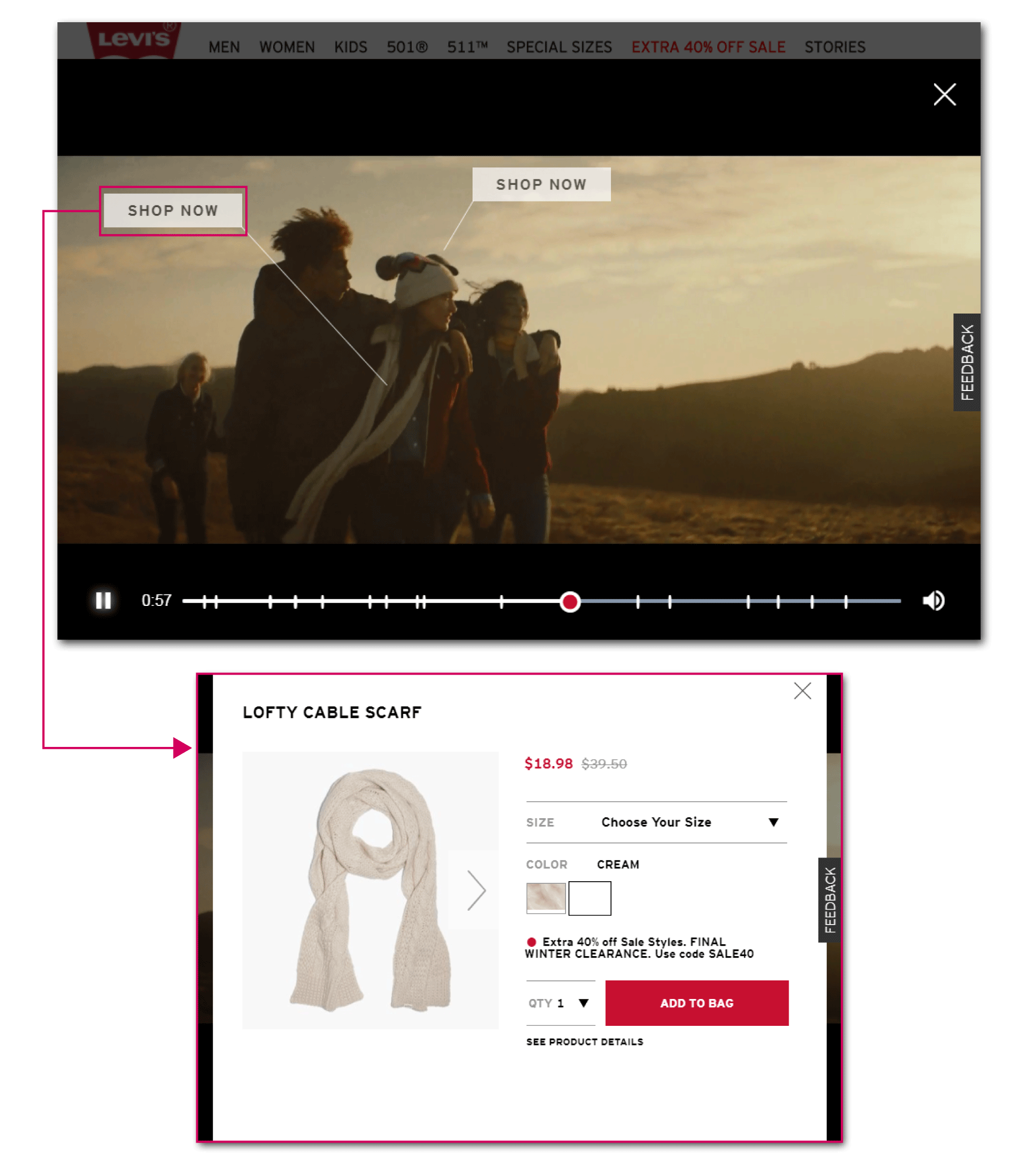 Seamless Shopper Experiences Are Key
Retailers who want to stand out from the crowd need to create story-worthy experiences that are seamless and easy to use. Customers do not want to spend time searching for a product from a video so it is imperative to make it readily available for those who are interested. Vue.ai's VueStudio is a great example of a solution that can help create visual stories and turn viewers into buyers, by adding shoppable elements to existing videos. Videos can also be customized as per the user's choice by way of templates, placement of products and layouts. With so many robust solutions available there is really no reason for retailers to miss out anymore. There's no doubt that we are quickly heading towards a future where video content will be more engaging and shoppable. Happy news for both consumers and retailers.