Bridging The Gap: Fashion Brands Innovating To Go From Discovery To Purchase

7

min read
Reading Time:
6
minutes
Consumer psyche is fast changing with shoppers today prioritizing convenience and speed above all else. Brands of the likes of Amazon, Uber, and Netflix have set the bar for consumer expectations incredibly high because of their impeccable service. So, naturally, brands that don't meet these expectations are likely to be deserted for their counterparts who provide flawless customer experiences. Many fashion brands too are grappling with the same issue, leading to the time lag between discovery and purchase being much higher than it should be.
So, what must fashion brands today do to reduce the lag and keep their customers happy?
Simplify Shopping With See Now, Buy Now And Mobile-First Experiences
Consumers today no longer rely on fashion magazines or fashion week events to stay updated on the latest trends. Instead, they take to social media where influencers, celebrities, and their peers post updates donning "what's in" at a given time. And because they're doing most of the research by themselves, shoppers want what's trending now, now – and not months after the trend is passé.
Many fashion brands are working to bridge the gap from inspiration to purchase with the see-now-buy-now model. Brands like Zara and Rebecca Minkoff have done incredibly well after implementing it in the recent past.
When Rebecca Minkoff first took to the see-now-buy-now model, the brand saw sales going up 211% in one season and 264% the next. Traditionally, shoppers would see photo blasts of the same Minkoff outfits for months after they were launched in fashion week events without being able to buy them. And by the time they were available for purchase, shoppers were no longer interested in the outfits. But with see now, buy now, they were able to buy the latest outfits right away instead of having to wait around for months.
With respect to shoppable videos, which leverage artificial intelligence to automatically recognize products showcased in a video and allow consumers to buy these products via embedded links instantly – can also increase consumer engagement considerably. Such videos can even be enhanced with computer vision technology to curate looks exclusively for every shopper based on changing preferences in real time.
Fashion brands would also do well to increase buying potential across social media (as they inspire most shoppers' buying decisions) with other features like buy buttons and product tags in photos.
With mobile browsing gaining immense popularity in recent years, mobile search is only continuing to expand as a driver of product discovery. This has gone so far that mobile commerce sales alone are likely to hit an all-time high of about $693 billion in 2019.
However, the State of Fashion 2019 report reveals that the conversion rate for apparel and jewelry on mobiles is currently at an average of 0.9%, which is considerably lower than the conversion rate on desktops of 3.2%. That is why creating an unparalleled mobile experience for users is extremely crucial for fashion brands to increase mobile conversions. Making their e-commerce platforms mobile responsive alongside providing secure payment options via mobiles are the most important tasks for fashion brands looking to do this.
Burberry is one fashion brand that gets both these aspects right, allowing for an impeccably smooth mobile shopping experience, with over half of its e-commerce traffic coming from mobile accounts alone.
Refine Site Search Functionality
Fashion retailers have known for a while now that consumers who use site search are highly likely to have an intent to buy. Such shoppers have gathered sufficient information about what they want and are now seeking product content to satisfy other motivators for purchase like price, if the product is in stock, shipping charges, and so on.
The provision of a search box itself, in fact, drives the expectation of relevant results. This is especially true in the case of fashion brands that offer a vast range of products across categories. And if this expectation is met, shoppers can easily move from searching for a product to the product page and then to checkout swiftly.
Take Fashion Nova's site search for instance. It fits consumer expectations perfectly because it clearly lists out relevant products for shoppers when they enter what they want in the search box. Try typing out "red flannel shirt" in their search box and take a look at the suggestions that show up – all relevant in terms of color, material, and type of product.
However, a study by the Baymard Institute reports that as many as 34% of ecommerce sites do not support shoppers' searches by the exact product names. This is a huge number that fashion brands, in particular, simply cannot ignore because, if today's impatient shoppers don't find what they want when they look for it, they will simply move away to a competitor's site.
So, fashion brands would do well to explore features like automated product tagging for their catalogs. Such a tool can automatically tag categories, subcategories, visual, and non-visual attributes for any product media content. Doing this will increase not only the accuracy of the product tags but also word-based site search results, allowing consumers to enjoy a smooth shopping experience.
Enable The Personal Stylist Experience For Shoppers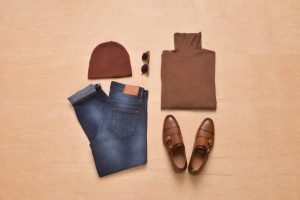 Making it easy to find products with efficient site search is certainly important. But another aspect that is proving to be extremely crucial in transitioning shoppers from inspiration to purchase is helping them visualize how an outfit might look on them. And with more shoppers today wanting a styling experience curated exclusively for them, a personal stylist almost seems like a mandate. However, many consumers may not be able to afford one as personal stylists are often considered a luxury that only celebrities enjoy.
This is where artificial intelligence is changing things in fashion. AI can now be adopted to give consumers the luxurious experience of having a personal stylist without worrying about the high costs associated with one. AI-based digital stylists can provide exclusive outfit recommendations for various occasions to each shopper while factoring in the shopper's likes and dislikes.
Some fashion brands are going the chatbot way to do this. ASOS  launched a gifting assistant chatbot on Facebook Messenger during a recent holiday season, which recommended gifts to shoppers based on relevant questions asked. However, such an application of AI does not help with visualization. This is why many fashion brands are taking to Virtual Stylists powered by AI that recommend different ways to style and pair products for different occasions based on a shopper's needs. Such stylists factor in the shopper's behavioral patterns as well as product preferences and styles to provide recommendations based on the rules of fashion.
Personalize The Shopping Journey For Every Consumer
Every consumer today wants their shopping experience to be exclusive – tailored just for them based on their preferences, which change at the drop of a hat. That said, they always know what they want and will not think twice to shop around to find it. So, fashion brands are in a constant neck-to-neck race to provide an unparalleled, personalized shopping experience to every shopper at every stage – right from web pages to promotions to product recommendations.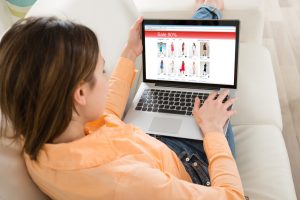 A survey of over 7000 consumers by Salesforce even revealed that 58% of consumers say personalization plays an important role in determining whether or not they will buy from a brand. And as many as 57% of them are willing to give away personal data for a personalized experience!
In an industry like fashion that has an extremely crowded market, brands need to stand out with their customer experience if they want shoppers coming back to them. And to be able to understand and cater to consumers' changing needs in real time, they need to leverage data and adopt technologies like artificial intelligence and machine learning for top-notch personalization.
Dynamic personalization that adopts AI uses every consumer action to understand consumer intent better. Not just that, the smart algorithms employed learn everything about a shopper in real time with recommendations influenced by historical data as well as every click. Such personalization can even go so far as to factor in visual attributes of outfits like color, style, sleeve length, pattern, and more through computer vision processes to get more relevant recommendations for entire ensembles!
In future, fashion brands would do well to bridge the gap between discovery and purchase with improved shoppability potential across platforms and increased efforts toward better mobile experiences. Infact, enhanced search and user experience to make shopping a breeze through personalization and better site personalized search will also go a long way with consumers and have them coming back.