Brand Insight: New York & Company – 100 Years and Growing

6

min read
Reading Time:
5
minutes
In September 2018, women's apparel and accessories brand New York & Company shared its rebranding news with the world. The American retailer that revolutionised women's 'wear to work', has placed its bets on brand overhaul to accelerate growth. An integral part of this transformation is rechristening the brand name as 'RTW Retailwinds'.
With the change in name, the specialty retailer also plans to reinvent its retailing platform, product portfolio and growth strategy. "We are at a defining moment in our corporate reinvention, with a proven track record for developing celebrity and sub-brand collections that resonate with our consumers… Our goal is to drive sales to well over $1 billion and double digit EBITDA margins," asserted Greg Scott, CEO of New York & Co.
But this isn't New York & Co.'s (NY&C) first brand reinvention. The company that has been around for 100 years has undergone several name changes and makeovers.
Let's take a look at the brand's 100 years in fashion and business.
The Journey from Lerner Shops to New York & Company
Samuel A. Lerner and Harold M. Lane were blouse makers, who in 1918 set up their first store in New York named as 'Lerner Shops'.  Within that year, they launched 18 additional stores. In 1985, the company with its 798 stores was purchased by Limited Brands, an Ohio based fashion retailer for $297 million. Limited Brands are famous for acquiring firms such as lingerie brand Victoria Secrets, luxury casual wear Abercrombie & Fitch and swanky women's specialty store Henri Bendel.
In 1992, the retailer dropped 'Shops' from its name and added 'New York' to it. And, in 1995 it was renamed as New York & Company, the name that lasted up until 2018.
The next phase of transformation in NY&C's life cycle came about in the year 2002. That's when equity firm Bear Stearns Merchant Banking, now known as Irving Place Capital, bought it from Limited Brands and made it independent. In the next three years between 2004 and 2006, the company went public, launched its first flagship store in New York and launched its ecommerce site.
However, the company took a giant leap in terms of expansion, and recognition after 2010.  
Celebrity Collaborations – The Game Changer
As a specialty store, NY&C focuses on designing clothes and accessories for women who are looking for chic and affordable office wear wardrobe. With over 500 stores & outlets along with an online shopping portal, the brand is one of the biggest retailers in the US. Over the last six years, the company added different categories to its portfolio like NY&C Beauty. The objective was to strengthen its omni-channel strategy and survive the intense competition that most specialty stores usually face.
But it was the celebrity partnerships with Hollywood bigwigs like Eva Mendes, and Gabrielle Union that changed NY&C's fortunes.
Actor Eva Mendes joined hands with NY&C in 2013 to launch 'The Eva Mendes Collection'. Gabrielle Union partnered with the brand in March 2017. And the company founders believe that these celebrity collaborations have tilted the revenue scale in the direction of profits.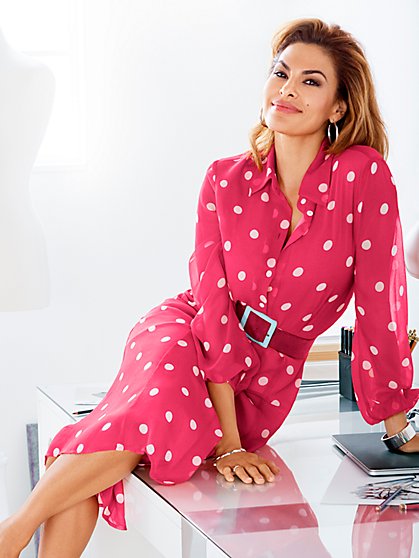 Scot revealed in one of his interviews, "Celebrity is probably our biggest game changer. We are continuing to see customers respond to our celebrity collaborations."
And it is showing in the balance sheet. In the fourth quarter of FY 2017-2018, the company earned a net profit of $4.75 million. In the same quarter a year before, the company had reported a loss of $9.9 million. The sales figure too increased, from $266.3 million to $278.7 million.
The reason why this strategy worked is because NY&C has collaborated with the celebrities in the most real and earnest way. The ideas and inputs of Union and Mendes are valued and translated into seasonal collections of the brand. For instance, Eva Mendes' Fall and Holiday 2018 collection, which was unveiled in September, featured clothes inspired by the 70s like flared skirts, wide leg pants, and snug silhouettes. Union's latest collection features everything denim!
During the launch of her NY&C Fall collection, Mendes stated, "This is a real partnership, it is a real collaboration and I am so grateful… A lot of times you go into business with a company or someone, and you feel like your ideas aren't valued. You feel like it is not a real partnership at some point, but this has been a true collaboration."
The Road Ahead – Multi-brand, Data Analytics and Loyalty
After spending 23 years with New York & Company, the retailer is ready to embrace a new identity as RTW Retailwinds. The founders believe that this is the right curve to reinvent and realign strategies that are custom-made according to today's consumers' demands. Their main goal is to create a multi-brand platform by expanding their product offerings, and categories.
The company's sales growth, gross margins, talent pool and infrastructure capabilities are at an all-time high. Statistics are also on their side with 165 million annual visits, 13 million names in the customer file, 30% digital sales, and 30 million followers (including followers of their celebrity partners) on social media platforms.  Therefore, the strategies mapped out for RTW Retailwinds are all centred around achieving profitability and $1 billion sales target.
John Howard, partner at Irving Capital averred, "I am extremely proud of the New York & Company team's ability to transform the business to be aligned with how consumers connect with brands today. RTW Retailwinds moves forward with a strengthened operating model that leverages design capabilities, sourcing expertise, digital platform, and operational foundation that will incubate new brands with a significant digital presence and strong loyalty base and deliver long term profitability."
Even with the new identity, celebrity collaborations are not going anywhere. NY&C's new strategies include more partnerships with actors in the coming years. The retailer is soon going to launch Kate Hudson's collection, besides assisting the existing labels to improve their reach.
The brand is also looking to develop their plus-size segment, which is a $21 billion apparel industry that is growing at a light speed. A proof of NY&C's foresightedness is the fact that the company acquired a plus-size fashion firm Fashion to Figure, back in November 2017.
Utilizing its huge consumer database, building a productive loyalty program and incorporating data analytics in order to provide value to customers are a few of the things that sit high on the priority list. The soon-to-be-named RTW Retailwinds would also focus on ironing out the kinks from its logistics and supply division.
Staying in business and staying relevant for 100 years is no mean feat. By filling the white spaces, catering to a new market segment in a substantial manner and leveraging technology, NY&C is marching ahead in the right direction. It would be interesting to see the results of the rebranding, as New York & Company aka RTW Retailwinds move forward into their next century!