Alibaba's "New Retail" Strategy: The Key To Surviving The Retail Apocalypse

10

min read
Reading Time:
8
minutes
It's not an easy time to be a brick-and-mortar retailer, especially in the U.S. More than 9,000 stores shut last year all across America, and another 12,000 are headed to the guillotine this year. Sales within physical stores are stagnant, while those of online retailers are racing ahead. E-commerce sales grew 10 times faster than in-store retail between 2008 and 2013. So, on one hand, e-commerce is killing traditional retail, but on the other, the future of traditional retail depends on retailers and brands developing their online channels.
While America's brands and retailers figure out whether e-commerce is friend or foe, China has already eclipsed the U.S. to become a must-play, must-win market.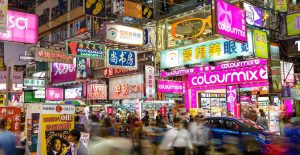 It's become the largest retail market in the world and is also the world's biggest e-commerce market with online retail sales in the first quarter of this year touching $307 billion, as per PwC's Global Consumer Insights Survey 2018 China Report. Online retail sales in the U.S. during the same period reached only $124 billion. Sheer size and scale make China a significant strategic opportunity, but it's retail innovation, which places it in a category of one.
Digitizing the value chain to reach the innovative, modern consumer
Consumers today are armed with smartphones and an entirely new set of expectations. China is home to 784 million smartphone users and now, e-commerce, mobile payments and social media have become ubiquitous components of a consumer's buying journey.
"Chinese consumers are much more willing to share data and have high expectations they will receive a personalized experience because of it," a PwC report shows. In fact, Chinese consumers are known to be at the forefront of new innovations: 44% would be open to a drone delivering their products versus 22% globally. That's impressive. Additionally, 67% of Chinese consumers expect retailers to personalize their retail experience based on the up-to-date data they have on them, versus 42% globally.
Digital is the new normal for brick-and-mortar stores
It's become crucial for retailers to reimagine and redefine their stores for the digital age. The ones who embrace this challenge are the only ones who'll survive the so-called retail apocalypse. Because the fact is that they are catering to consumers in an always-on, on-demand world. Brick-and-mortar retailers, undoubtedly, have an enormous opportunity to leverage the unique benefits offered by old-fashioned, in-person shopping. Using the power of digital they can truly enhance their interactions with customers, generate brand value, build loyalty, and optimize their in-store product offerings.
For example, Sephora uses iPads to provide customers with deep product content whether it's a particular makeup that can enhance your party look or a lotion that can cure a rash. Customers can bring their purchases to the iPad for scanning; it enables them to see more information about the product, read reviews, etc. All of these features are also available as a mobile app. Such an offering can dramatically impact sales.
Essentially, consumers experiencing a variety of interactions with digital platforms and digital media have helped rewrite the arc of the consumer decision journey.
Today, a shopper looks for choice, convenience, and accessibility. Incorporating online-only features—product reviews from other buyers, personalized recommendations, one-touch everything—enables shoppers to buy on their own terms. Hence, to compete with online-only players, traditional retailers have to successfully innovate; else they won't survive. Interestingly, the future of global retail is happening now—in China. And, Alibaba is leading the charge.
China's Internet giant Alibaba: The pioneer of New Retail
Alibaba founder Jack Ma realized that the future of retail will not be a question of offline versus online. In fact, those two can't be the only options. Enter New Retail. New retail is based on the simple premise that the future will not involve total domination of e-commerce. Instead, it'll involve digitization of all commerce.
New retail will include transforming not only consumer engagement but also the entire value chain. It's full stack digitization. Retailers will be able to develop smarter and more flexible supply chains capable of managing inventory across offline and online channels. At the same time, data will play a more important role than ever before in product development. Brands and retailers will begin to see everything through the lens of technology enablement, business impact and customer experience.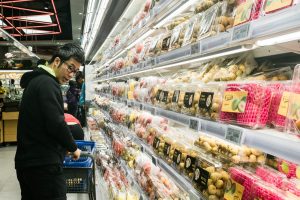 "[Alibaba] has evolved its mission in a new environment, a new era," said Alibaba chief executive Daniel Zhang, adding that it has changed from just allowing users to meet and trade on its platform, to now letting users even live and work using the company's services. "Alibaba uses big data, analytics, machine learning and artificial intelligence to create value from data, to help businesses and partners improve operations."
iResearch data indicates the consumer services market in China is estimated to be worth a whopping 25 trillion yuan by 2020. And, the on-demand food delivery market alone is expected to be worth 872 billion yuan by 2020.
"The hundreds of millions of consumers [today] don't just need physical goods. As they upgrade their lifestyles, they need more digital content, more services," Zhang added.
Alibaba operates China's largest e-commerce platforms and boasts of more than half a billion consumers shopping on its marketplaces. Online sales penetration in China is the highest globally, but brick-and-mortar retail still accounts for more than 80% of total retail sales. Still in a nascent stage, Alibaba's new retail concept is already proving to be a game-changer in the retail innovation landscape.
Alibaba's futuristic New Retail experiences
Are you one of those people that dislike trundling a shopping cart up and down the aisles, perusing the shelves and then finally settling for what the store has in stock in frustration, and also standing in long queues to pay?
Well, at Alibaba's new offline Hema supermarket chain, you have none of those hassles. Hema looks like any other supermarket: you can buy fruits, groceries, fresh seafood, and more. But it's not an ordinary store. Enjoy a smartphone-powered experience at Hema—in the store or from the comfort of your home. If you're shopping within the store, then you can scan the barcodes using your phone to get product details and even recipe ideas. Payment's cashless, too! You can do it through the Alipay platform embedded in the Hema app or via Taobao.
The best part: if you live within three kilometers of the market, then get your deliveries in as fast as 30 minutes. Every Hema store has its own warehouse and logistics center that collects, fulfills, and delivers orders as quickly as them come in, offline or online.
In the last one year, Alibaba has expanded Hema to more than 65 stores. At a few Hema stores, customers can even pay by scanning their faces at kiosks. Connected to a Hema store in Shanghai, the retail powerhouse recently introduced its new Robot.He restaurant. Inside, customers use their phone to scan a QR code at their table and to order from the menu—all using the Hema app. From there, most dishes, except for large dishes requiring a human server, are delivered to tables by robotic devices.
Take a tour of the Hema supermarket and experience the new retail concept for yourself:
"Alibaba has a very ambitious strategy of the convergence of online and offline retail," said Gil Luria, director of institutional research at financial services firm D.A. Davidson & Co. "If you think about what Amazon aspires to do with Whole Foods, you just need to go to Hema and you get a preview of that"
Alibaba believes that its Hema Supermarkets are "robust and profitable." Hema could double average profit margins of around 2%-4% at traditional supermarkets and shops, CFO Maggie Wu Wei reveals.
According to the company, because it offers a combination of online and offline shopping, the average monthly spending by customers increases. People who shopped both online and offline at Hema spent an average of 575 yuan monthly, compared to less than 300 yuan for completely online, or completely offline consumers.
Alibaba knows everything you've purchased as a customer. So it saves that information so that the next time you shop you can have those same goods delivered to your house. Getting people offline to become comfortable ordering online may be a key pillar to Alibaba's strategy. Hema, in fact, could possibly be the single best example in the world today of the next great innovation in retail—the personalized physical space.
Apart from supermarkets, Alibaba is also taking the pain out of car shopping. As part of the New Retail experience in China, you can buy a car from Alibaba's auto vending machines. You can browse makes and models within an app, choose a car you want to test drive, pick it up from a vending machine, and then drive it for up to three days. Isn't that cool? Gone are the days of spending hours with a talkative salesman, and making appointments. Make an appointment with a dealer only when you're ready to buy.
Thanks to Alibaba, mom-and-pop convenience stores have got a new retail makeover. They're the lifeblood of many communities across China, and until Alibaba's Ling Shou Tong program came along, they hadn't been upgraded in years. What Alibaba did was to build an app to digitize each store's inventory management. It connected these businesses to a central warehousing and logistics system. Ling Shou Tong's analytics platform also helps anticipate customer preferences, enabling proprietors to know what to order, when to order, and how much to order.
Another great use case of New Retail: virtual shelves. If you don't find a pair of trousers in a particular color or size in stock, you can still select the pair you want on a screen, punch in your size and color preferences, scan it with your app, and have it delivered directly to your home.
"They're betting significantly on offline and the new retail strategy," Luria added. "The stock price would probably be a lot higher right now if they stayed in online, but they're putting a lot of their profits into executing this online-to-offline strategy."
China's retail revolution powered by Alibaba and Tencent
High-tech stores, futuristic drones, sophisticated online-to-offline networks and a huge cadre of affordable manpower is fueling China's retail revolution, and at the helm are Alibaba and social media-gaming pioneer Tencent.
Alibaba, for nearly 19 years, built the backbone of China's massive e-commerce machine. It has invested heavily in everything from facial recognition AI startup SenseTime to electronics retailer Suning. Both Alibaba and Tencent are each valued at about $500 billion on public markets. They're labeled as the Berkshire Hathaway of the Chinese economy, investing in hundreds of companies at all stages. They both gain invaluable insights that drive everything from product assortment and pricing to hyper-targeted marketing and store locations.
As new retail changes from jargon to oft-used phrase, Alibaba rivals Tencent and JD.com have also thrown their hats into the ring. Following in Hema's footsteps, JD.com launched 7Fresh supermarkets, which are equipped with smart carts that help guide customers to their desired aisles. Tencent has also partnered with Wanda Commercial Management Group in a joint venture to accelerate its "smart retail" strategy.
What other retailers can learn from Alibaba's retail strategy
Things move incredibly fast in China, and vision can quickly transform into reality. There are huge opportunities to be captured in China's booming retail landscape. But in China's crowded market, retailers will have to make some hard choices: either align with Alibaba or align with Tencent to capture a slice of the retail pie.
The winners in new retail, of course, will be those brands and retailers that can integrate creativity, strategy and innovation to help achieve their value proposition. Retailers will need to focus on consumer-centric innovation, understand what the modern consumer truly wants, and then combine customer insights with design thinking to create the right products and services. Additionally, they'll also have to adopt a whole new approach to digital. This will involve up-skilling as well as embedding digital transformation across the business. New retail is certainly a work in progress. It will require brands to constantly refine and reinvent themselves to define the future of retail.