Why Businesses choose Vue.ai's Automated Document Processing Solution

8

min read
Reading Time:
6
minutes
Organisations generate and manage vast amounts of data in multiple formats across various types of documents. From contracts and invoices to forms and reports, these documents are a crucial part of how businesses operate. However, as the volume of digital documents continues to grow, the task of managing and processing to achieve the desired business, functional, and operational/tactical outcomes has become increasingly complex and time-consuming.
As per GlobeNewswire, "the core of digital transformation is business data, in which approximately 80% of the business data is present in unstructured forms like emails, images, business documents, and PDFs."
Automated document processing is an important aspect of digital business operations because it allows companies to efficiently and accurately handle large volumes of documents. This includes contracts, invoices, reports, and other types of operational documents in fully structured, semi-structured or unstructured formats.
Vue.ai offers solutions to help businesses streamline their operations, optimize costs, and process TATs in order to improve their decision-making & increase the quotient of straight-through processing (STP). In this article, we will explore what sets Vue.ai's automated document processing solution capabilities and how it can help your organization achieve its goals.
The need for an automated document processing solution
According to Gartner research, 80 – 90% of all enterprise data is unstructured. Moreover, approximately 50% of RPA projects fail. The goal of hyper-automation is to achieve a high level of automation across the organization, resulting in increased efficiency, cost optimization, and improved accuracy. Thus, to efficiently hyper-automate processes in the future, you need to go beyond just traditional rule-based solutions/ RPA.
For example: In the healthcare industry, hyper-automation can automate the intake and processing of patient records and the management of medication lists. This helps reduce errors and improve the efficiency of patient care.
Many companies claim to offer accurate, automation-driven, intelligent solutions for document processing. But there is hardly a solution that truly delivers on all three fronts. Traditional rules-based or RPA solutions are not capable of providing end-to-end automation and intelligence at scale. This makes it challenging for businesses to achieve complete digital transformation and scale their operations effectively.
There is a growing demand for solutions that automate at least 90% of manual processes, provide a clear return on investment, and offer intelligent automation capabilities to handle data variance and complexity. According to the recent IBM Global AI Adoption Index 2022, 30% of global IT professionals say employees in their organization are already saving time with new AI and automation software.
Let us see how Vue.ai and its capabilities in in intelligent/ automated document processing solution help businesses streamline their processes and workflows.
Vue.ai's Capabilities
Vue.ai's automated document processing solution leverages advanced technology such as NLP, Computer Vision and intelligent OCR. Additionally, Vue.ai's proprietary intelligence layer follows an ensemble approach which uses relevant models for specific problem statements, steps and use cases. Its AI-powered system is capable of understanding the problem and context at hand, enabling it to effectively automate and scale the data processed. 
Let's dig a little deeper into each of these capabilities and understand why Vue.ai's IDP is a standout solution.
Document preprocessing: Before the documents undergo the extraction stage, Vue.ai's IDP preprocesses the documents for a quality check (blur detection, image quality). In this crucial process, the documents pass through the advanced OCR and machine learning algorithms which evaluates the document quality, ensuring that the document extraction is of the highest quality.
Contextual search: Vue.ai's automated document solution uses advanced NLP and intelligent OCR technology to achieve high levels of accuracy and reliability. Contextual search allows you to search for information within a large volume of documents based on their context. It takes into account surrounding text, metadata, and other relevant information to provide more accurate and relevant search results.

Handles a wide range of document types: Vue.ai IDP works well with a wide range of different input document types, including scanned documents and digital documents in various formats such as invoices, receipts, contracts, forms, reports, resumes, emails, PDF files, tables, checkboxes etc.

Extensibility to multiple use cases: Vue.ai's IDP can quickly adapt and scale to different types of documents and use cases beyond its original design which helps the system to deal with documents of variance at scale.

Easy integration with other systems: Vue allows easy integration with other systems by enabling a single point of integration for all necessary tools, reducing the need for multiple vendors by 4x and resulting in fewer tools and no data silos.
Vue.ai's Automated Document Processing unique features
Custom-built intelligent workflows: Vue.ai's IDP goes beyond traditional process mining. It is flexible and allows you to create custom workflows to visualize any process you can think of, across all sorts of different fields. Plus, it comes with machine learning models ready to use, making it super easy to get started.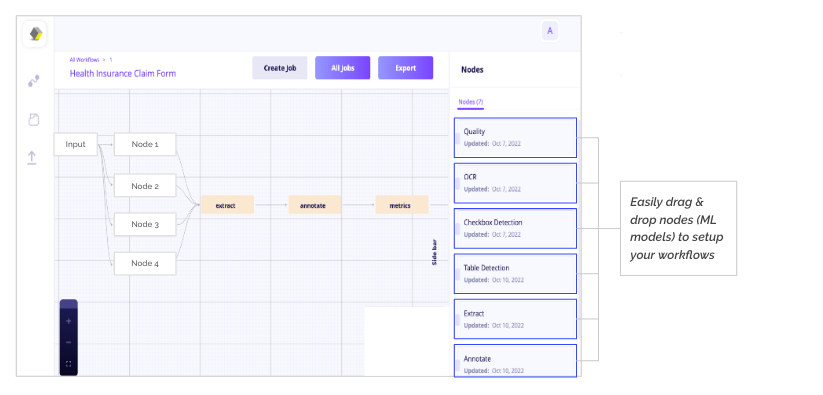 Intelligent automation: Empower non-tech teams with a no-code workflow setup to build and visualize intelligent workflows for automating processes end to end. You can even use the drag-and-drop interface to program workflows with just a few clicks. It's a great way for non-tech teams to empower themselves and streamline processes.

Active learning with Human-in-the-Loop (HITL): Active learning happens when a human is actively involved in the training process by providing input or feedback to the machine learning system as it learns. With a short-term/ active learning loop, you can train models each time you add a layer of intelligence & learning. Using active learning with HITL enhances the overall efficiency and performance of the models and helps you drive accurate results with intelligent OCR, classification & extraction.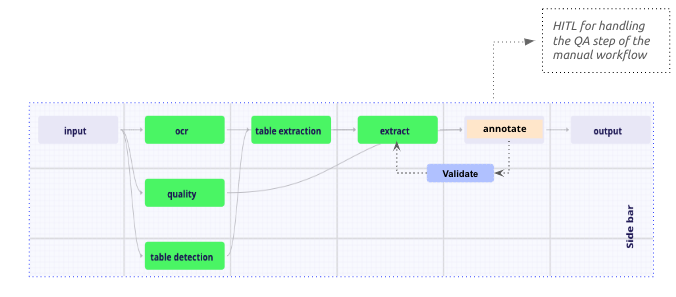 Validate, match/ reconcile: With Vue.ai's trainable models, you can easily deploy workflows that help you reduce your reliance on manual processes and scale your operations. These models are super accurate and can help you with actionable tasks like validation, matching, and reconciliation. Plus, they enable automation at every step, which makes it easy to automate and process your work and get more done in less time.

Measure & improve: With this interactive dashboard, you can easily capture all the critical details you need and evaluate if they're accurate. You can use it to monitor and measure field-level accuracy and improve your overall workflow metrics to meet your specific business needs. It's a great way to keep track of everything and check if all the workflows are running smoothly.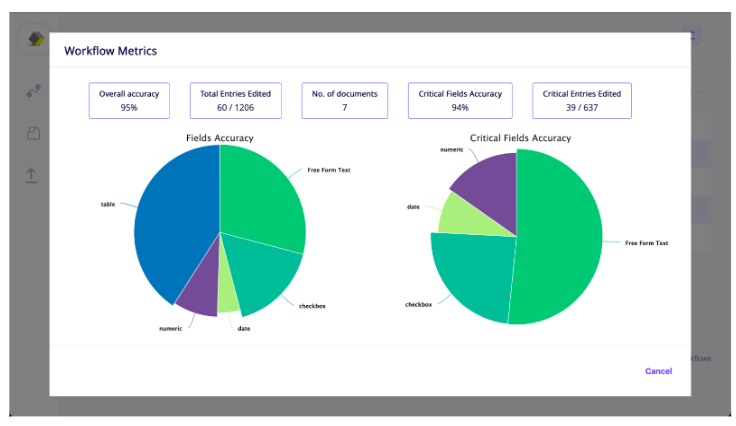 Vue.ai's automated intelligent document processing do drives your digital transformation with a system that adds intelligence to automation at every step. Be it processing semi-structured or unstructured documents, extracting tables, checkboxes, handwriting or even fixing typos. Vue.ai's intelligent AI classifies all data source types, extracts data using intelligent OCR and verifies and lets you automate each step in the process. Thus, automating your business processes end-to-end.
Case studies of businesses implementing Vue.ai's IDP Solution
A multi-billion dollar IT Services Provider saved cost & improved reconciliation, through invoice automation, for an accounts payable workflow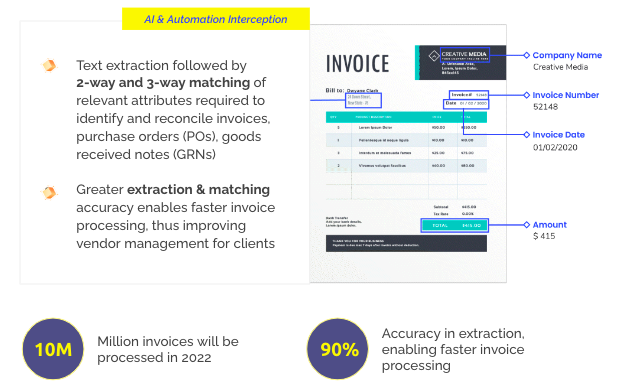 US-based leading healthcare staffing provider optimized TAT & saved Cost, through KYC document automation, across the user onboarding Workflow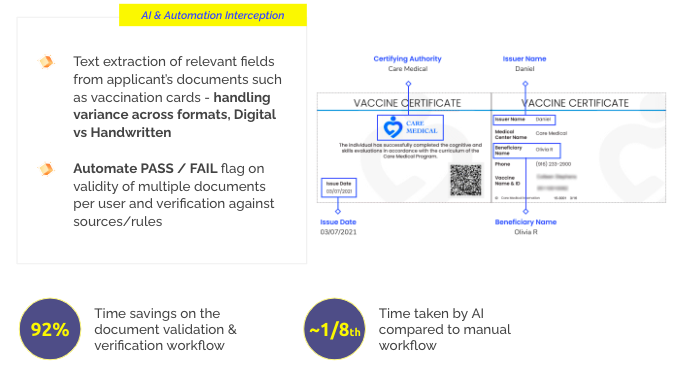 Summary
Vue.ai's IDP considers the over-the-top challenges businesses face with unstructured data. From processing any input-type document or adding a layer of intelligent automation post the data extraction step, Vue.ai is capable of handling & powering your unique business use cases in less time, resources & money. Find out how your business can leverage the power of automated document processing solution with Vue.ai.