What's Your 9-9 Style?

4

min read
Reading Time:
4
minutes
Early Morning Fashion Blues Be Like…
Trying Out Unsatisfactory Workwear Options

Dressing up for work can be #complicated. Where can you find that "on-the-go" work wear?
Enter The Label Life's Workwear Collection
The Label Life, a lifestyle brand that sells styled trend-focused, signature pieces of fashion, accessories and home decor curated by their celebrity style editors Sussanne Khan, Malaika Arora Khan and Bipasha Basu have it all figured out. They understand the working woman and bring international styles to the Indian audience.

The brand's "9-to-9 Style File" signature workwear collection is an excellent example of how clothing can be modern and elegant, but also intelligently functional. If you browse through their site, you will see phrases like "Desk-to-dinner", "Work-from-Home",  "the PFA dress", "the EOD dress" and "the SOP pants" – pointedly encouraging women to comfortably don multiple hats during the day.
You Want An Outfit That You Can Wear All Day Long
The "9-to-9 Style File" by The Label Life has a unique medley of outfits that are designed specifically for long work hours.
The dynamic Visually Similar Recommendations on their site, powered by Vue.ai, use computer vision based tags such as pattern, style, color, cut, length, sleeve, silhouette and fit to show similar products within the same category – helping the shopper easily identify and locate other pieces of workwear that are suitable for long work hours.
What does a pair of "SOP pants" look like?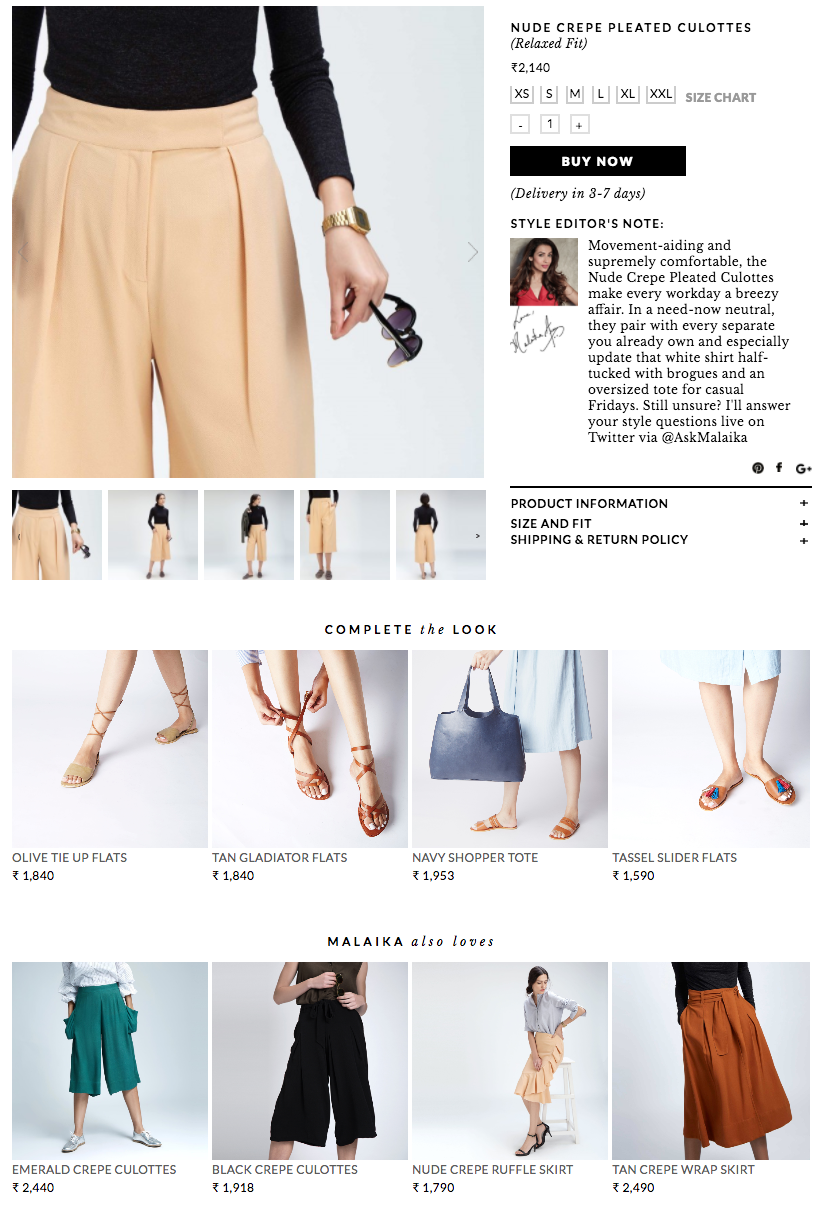 The Nude Crepe Pleated Culottes a.k.a the "Statement of Purpose pants", are designed to be
"movement-aiding and supremely comfortable"
Vue.ai's Similar Recommendations under the title "Malaika also loves" shows similar styled options that are perfect for comfort and durability.
Want something crease-free? The collection has options for that as well.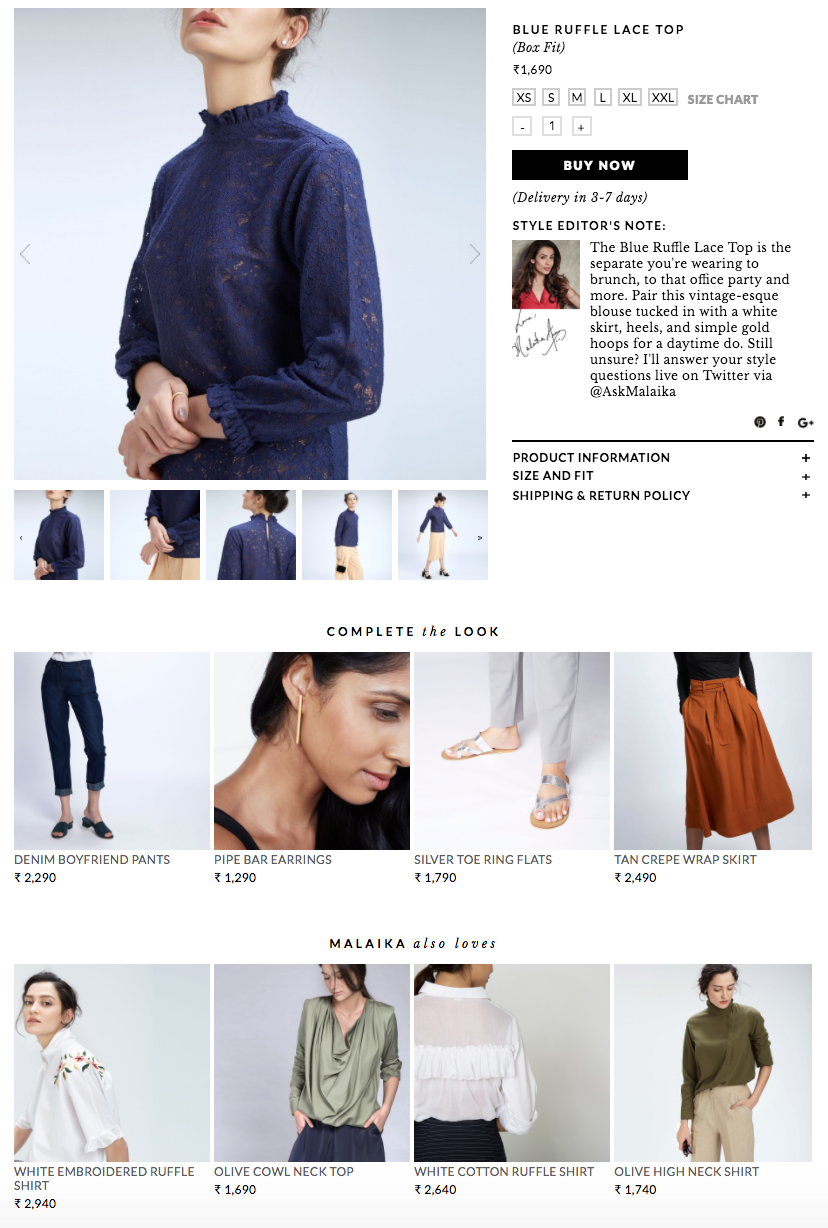 The Blue Ruffle Lace Top above, is a great option for days that require a lot of movement and travel.
The Pinstripe Jacket Dress below is described by their style editor, Malaika Arora Khan as
"The only dress you're going to reach for when that presentation needs to be shown on Monday morning"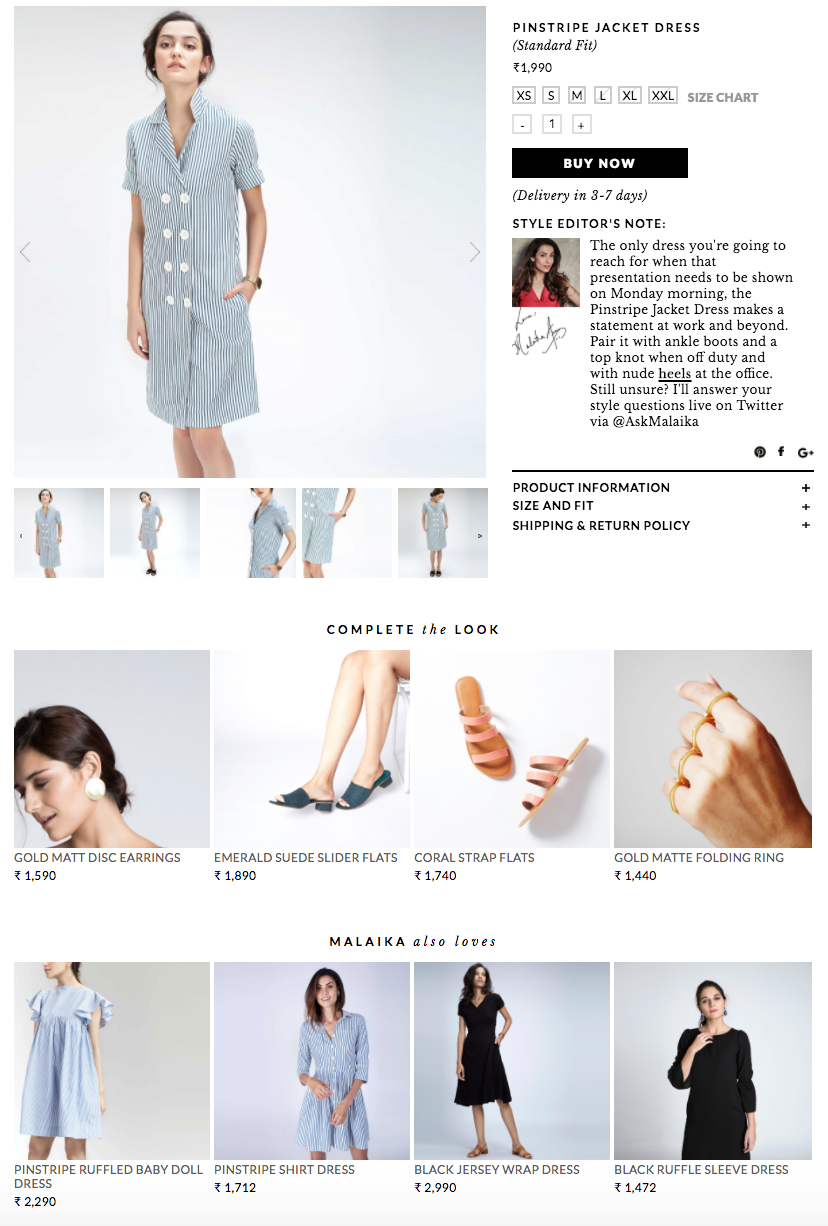 This is a dress that is designed to make a statement at "work and beyond". #likeaboss
You Want An Ensemble That Resonates With All Your Activities Through The Day
The Label Life has carefully curated styles of workwear ensembles, keeping in mind the multiple roles a woman needs to take on during the course of the day.
The site also uses Vue.ai's Complete the Look Recommendations on all product pages as well as their checkout page to generate ensembles for each shopper. 
The Seaweed Flared Pants can be worn for your board meeting as well as your post work social engagements.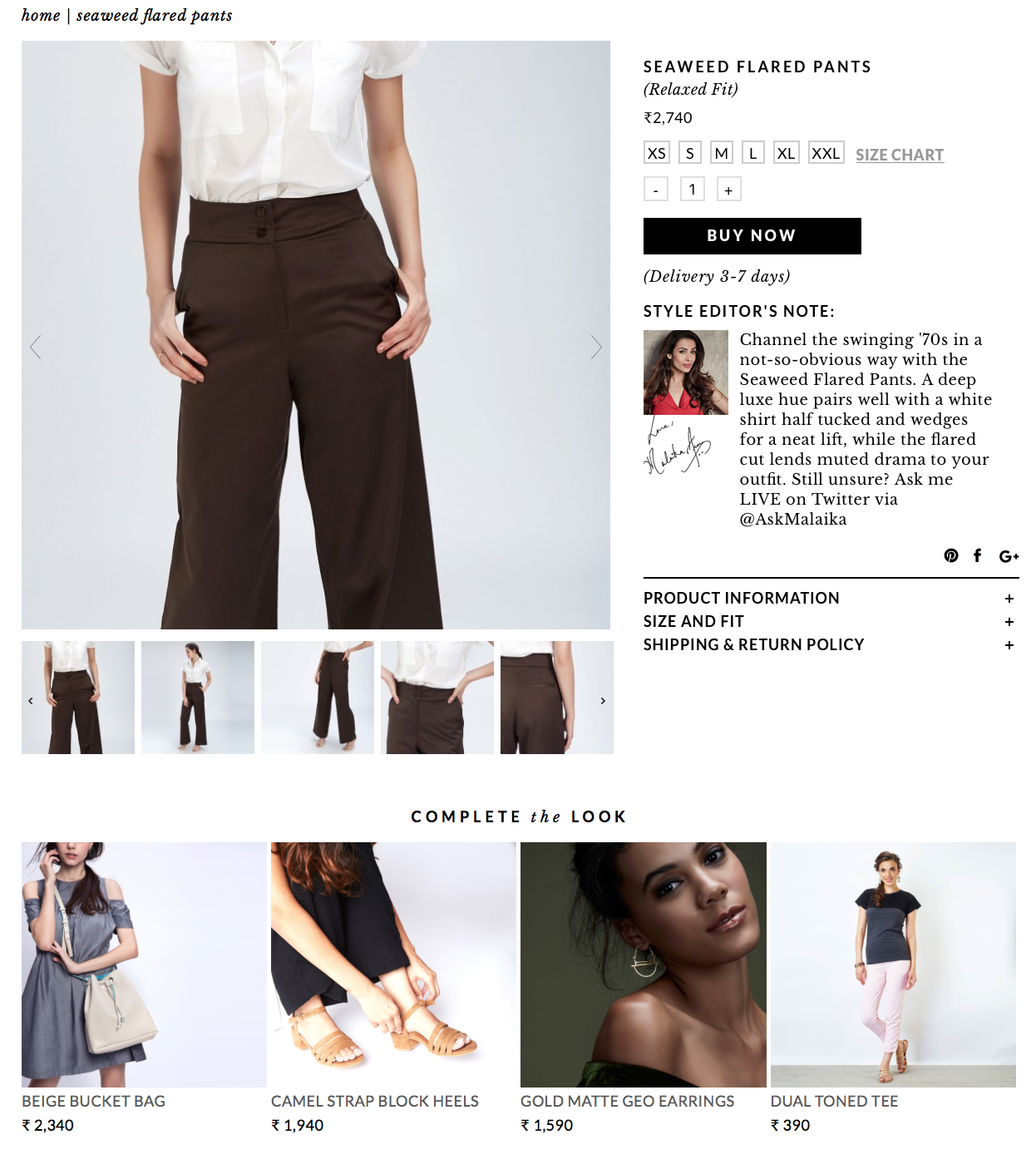 The Complete the Look Recommendations displayed below the product image are designed to work as a personal stylist for the shopper to assist in finding complementary clothing, accessories, and footwear like the ones suggested above. So what you get in effect is a celebrity stylist like Malaika provided to shoppers at scale with Vue.ai – ensuring your Monday morning blues are #handled!
The Ivory High Next Box Top shown below is something that follows a
"pairs-with-everything hue and chic style"
Super versatile, it can be worn for any occasion – be it brunch with your BFFs, or for meetings with clients at work.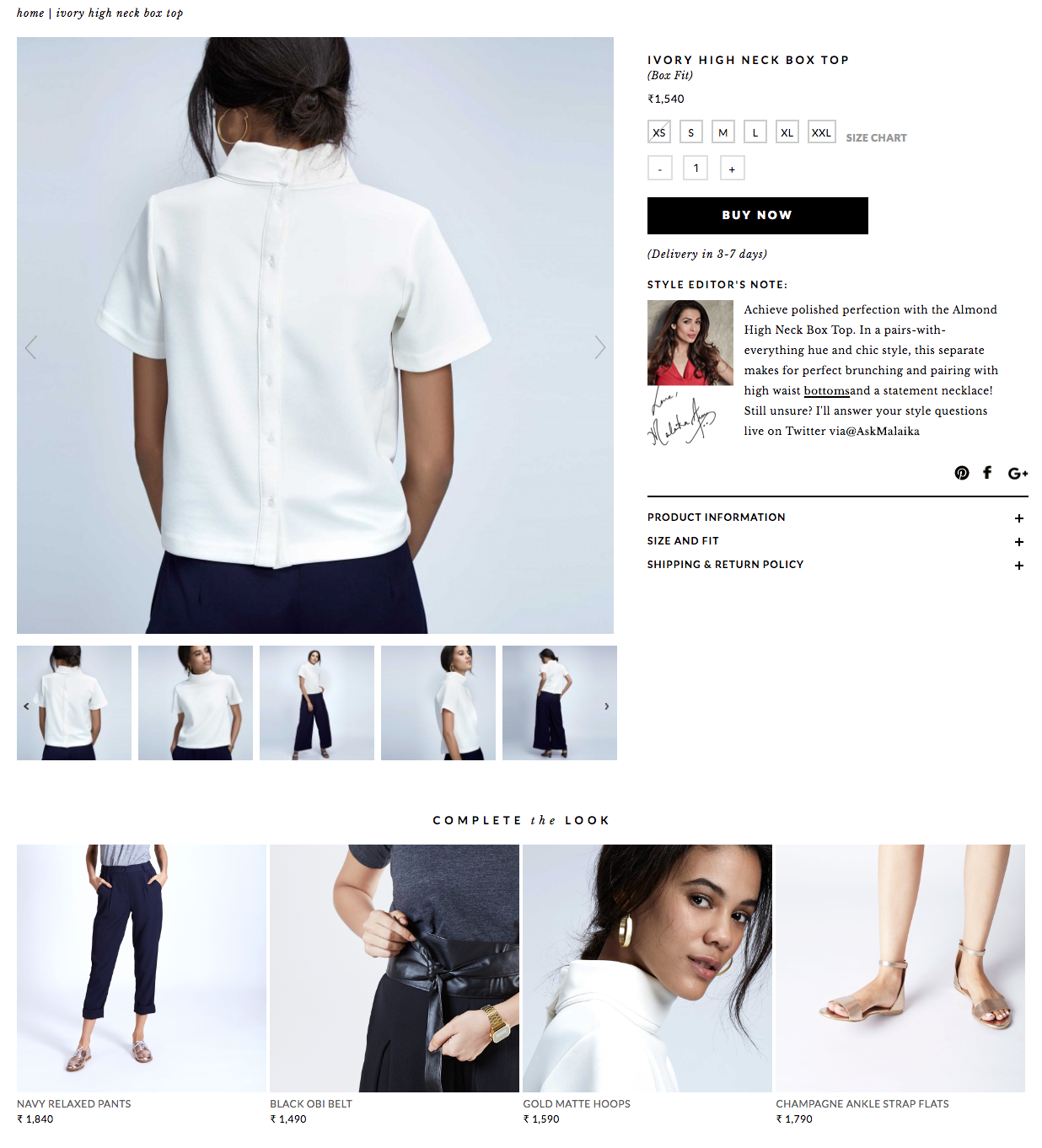 Paired with Navy Blue Pants, Champagne Ankle Strap Flats, and Gold Hoop Earings – you might just have yourself the perfect 9 to 9 look!
You Want To Be Able To Find Workwear Instantly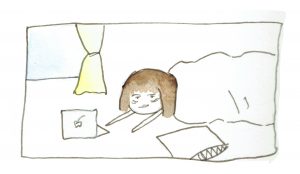 #girlonamission #findcreasfreeworkwear #thelabellife
In the midst of your busy schedule, not only do you want to find apparel that can sort out your office wear qualms, but you also want to be able to find it instantly. The Label Life uses Vue.ai's  VueFind to help shoppers discover the complete range of workwear options, across all categories and styles, with just a simple key in of the term "work wear".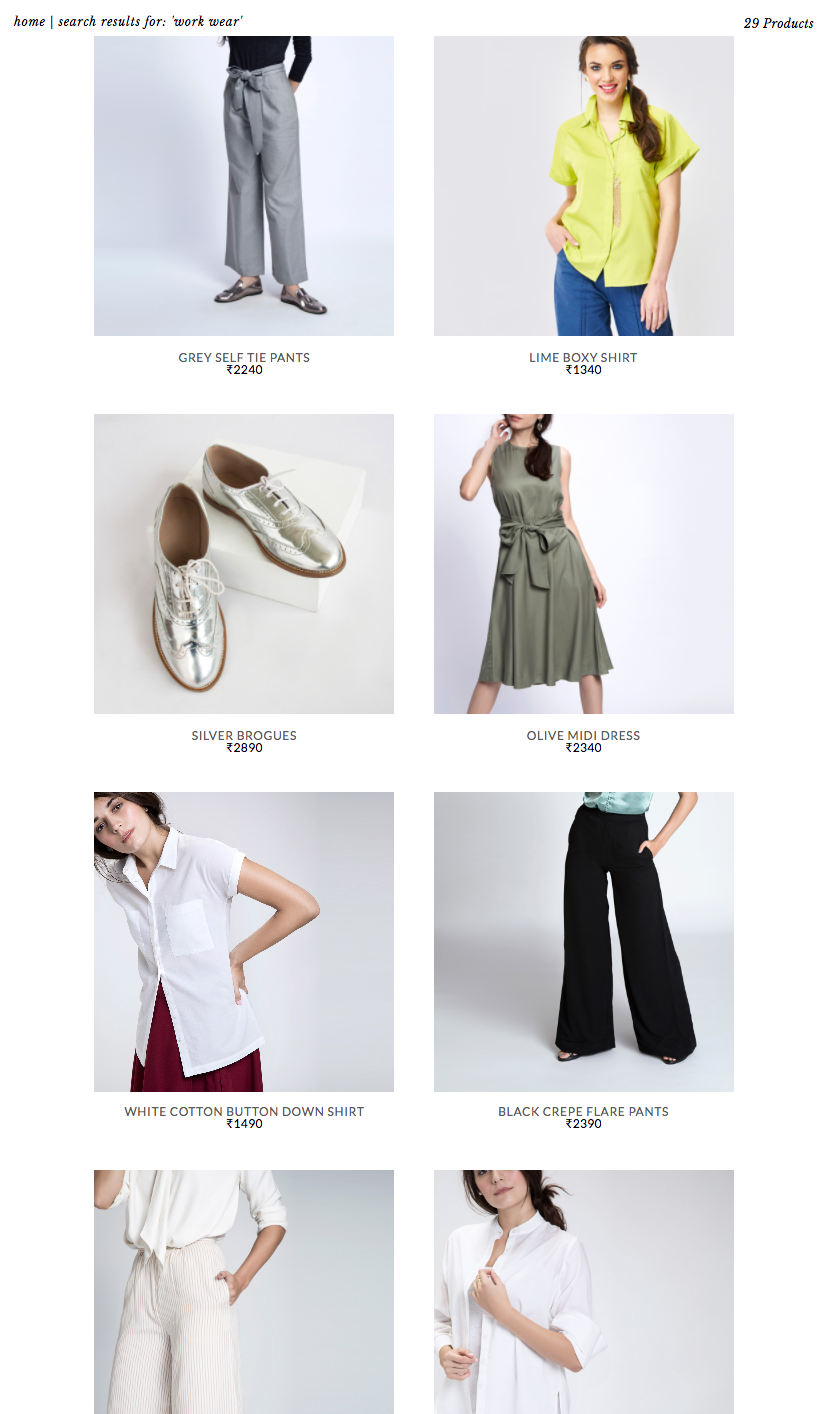 VueFind's search engine brings relevant results, at the same time, in the same place – with just one search term.
The Label Life And Vue.ai
The Label Life's  interesting assortment of workwear pieces are long lasting yet highly fashionable and can be found readily when searched for on the site. Vue.ai uses the power of artificial intelligence to showcase this unique assortment of workwear ensembles – be it on the homepage, the product page, the category page, the checkout page or even the order confirmation page.
To learn more about The Label Life, visit https://www.thelabellife.com/
To learn more about Vue.ai, visit https://vue.ai/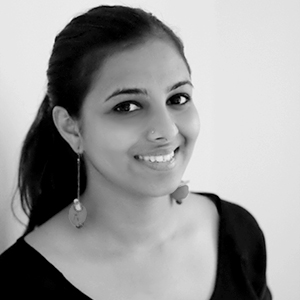 Shout out to Sandhya V for the #awesomesauce sketches!