Vue.ai Hits a Homerun @ eTail East, Boston

5

min read
Reading Time:
5
minutes
Boston was calling. The weather was glorious and the city, in great spirits. eTail East was in town and for the first time, we were a part of it. We as Vue.ai were not simply attending the event but partaking in it completely — we had a booth, and a keynote speaker slot as well.
Day 1:  Demystifying AI & all things omnichannel
Day 1 was all about the retailers with several tracks that ran in parallel. The one that we were most interested in was "Next Gen eCommerce." In general, the broad themes centered around personalization and how creating crafted experiences are key to not just growing the customer base but also keeping them engaged, thereby creating stickiness and loyalty.  
There were panels that discussed omnichannel strategies, and talks by both retailers and service providers, including one by Wayfair that demo-ed the use the of AR and VR in meaningful use cases that end users can relate to. In his talk entitled "The Robots are Coming for Your Wardrobe"- one of the first sessions of the morning – Anand Chandrasekaran, founder and CTO of Mad Street Den,  spoke about "demystifying AI" and how not all that glitters is gold, so to speak — everyone claims to be "AI-powered" but AI is not simply machine learning or feeding in a set of rules.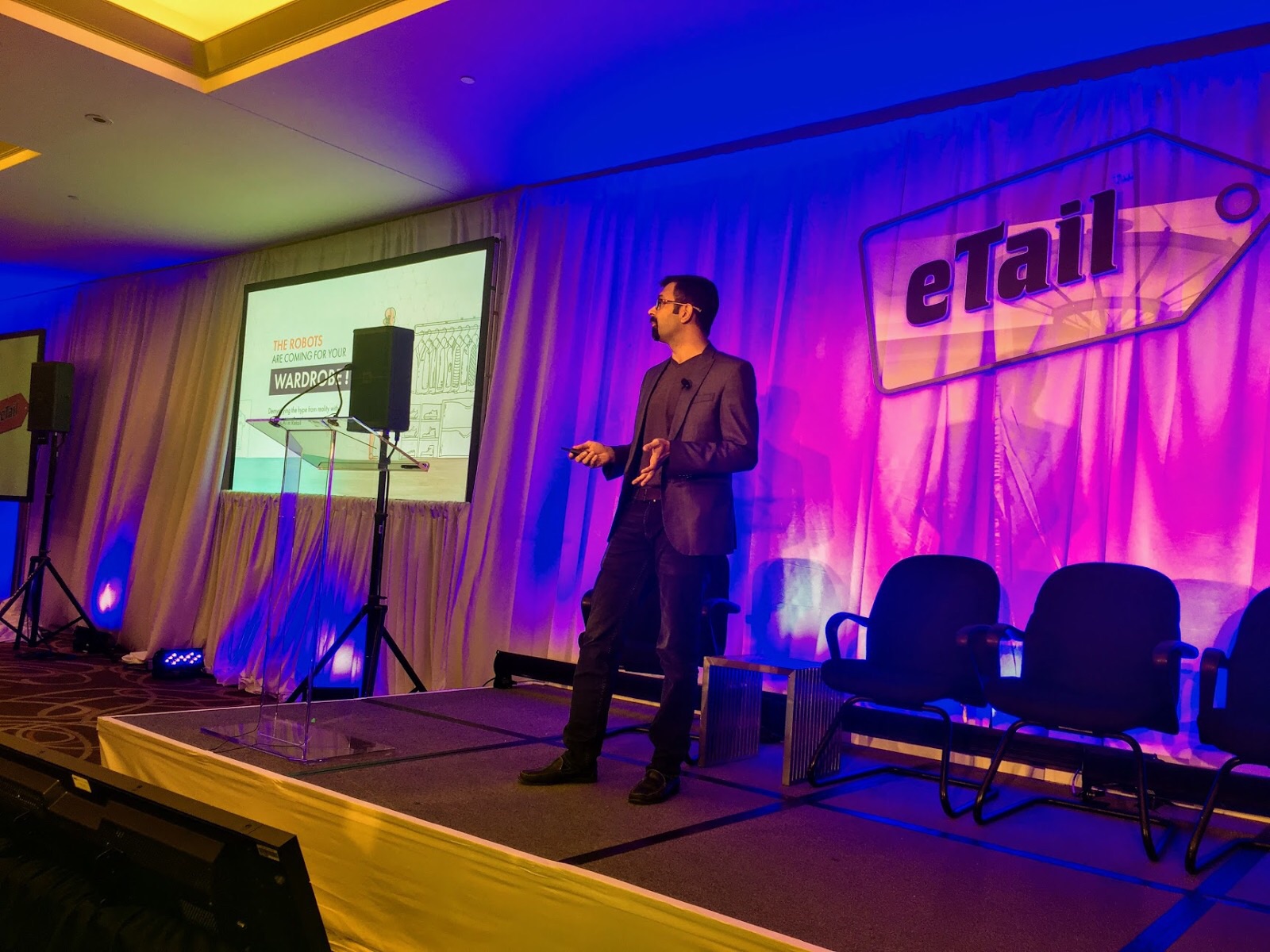 Broad themes of the day, and the conference in general, centered around the customer, and how, in today's world of the dizzying array of choices, capturing the user's attention is key.
Having omnichannel strategies in place, and analyzing customer journeys is essential to increase the various customer touch points, thereby increasing the chances of influencing a customer.
Another common theme was constantly A/B testing multiple aspects of the customer experience including messaging, and the product assortment and recommendations.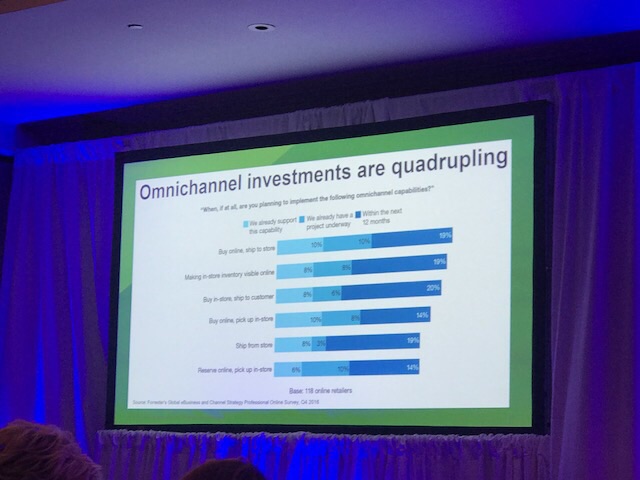 Days 2 & 3: The importance of memorable shopping experiences
Days 2 and 3 were a whirlwind of activity with sessions running in parallel to the exhibition. The exhibition hall was abuzz with activity with retailers from across the spectrum of industries looking at what the exhibitors had on offer. We got to talk to a whole host of retailers — from pure-play e-commerce retailers to brands that are establishing an online presence, even online ticketing players. From all of these discussions, the one thing that was most apparent is that each one of these retailers is most aware of the real danger that is posed by the likes of the Amazons of the world but also know that controlling the messaging and providing memorable experiences to their customers is what will, eventually, set them apart and help them not only survive, but also thrive.
What was equally interesting was seeing all the other vendors and what they were offering. There were many data companies that were providing everything from data aggregation services to data-based recommendations. There were search providers, CDN companies, content services, and even localization service providers. It was very interesting to see the approach that was taken to the booth setup itself with some going for booths were chock-a-block with stuff and others being completely sparse with nothing more than a backdrop and a couple of chairs. While props and general paraphernalia did attract eyeballs of the passers-by (cue: large walking-talking robot), they did not necessarily lead to sustained conversations. The best conversations turned out to be with those who found something compelling in what a service provider was offering, and those who asked the right questions pertaining to their pain points.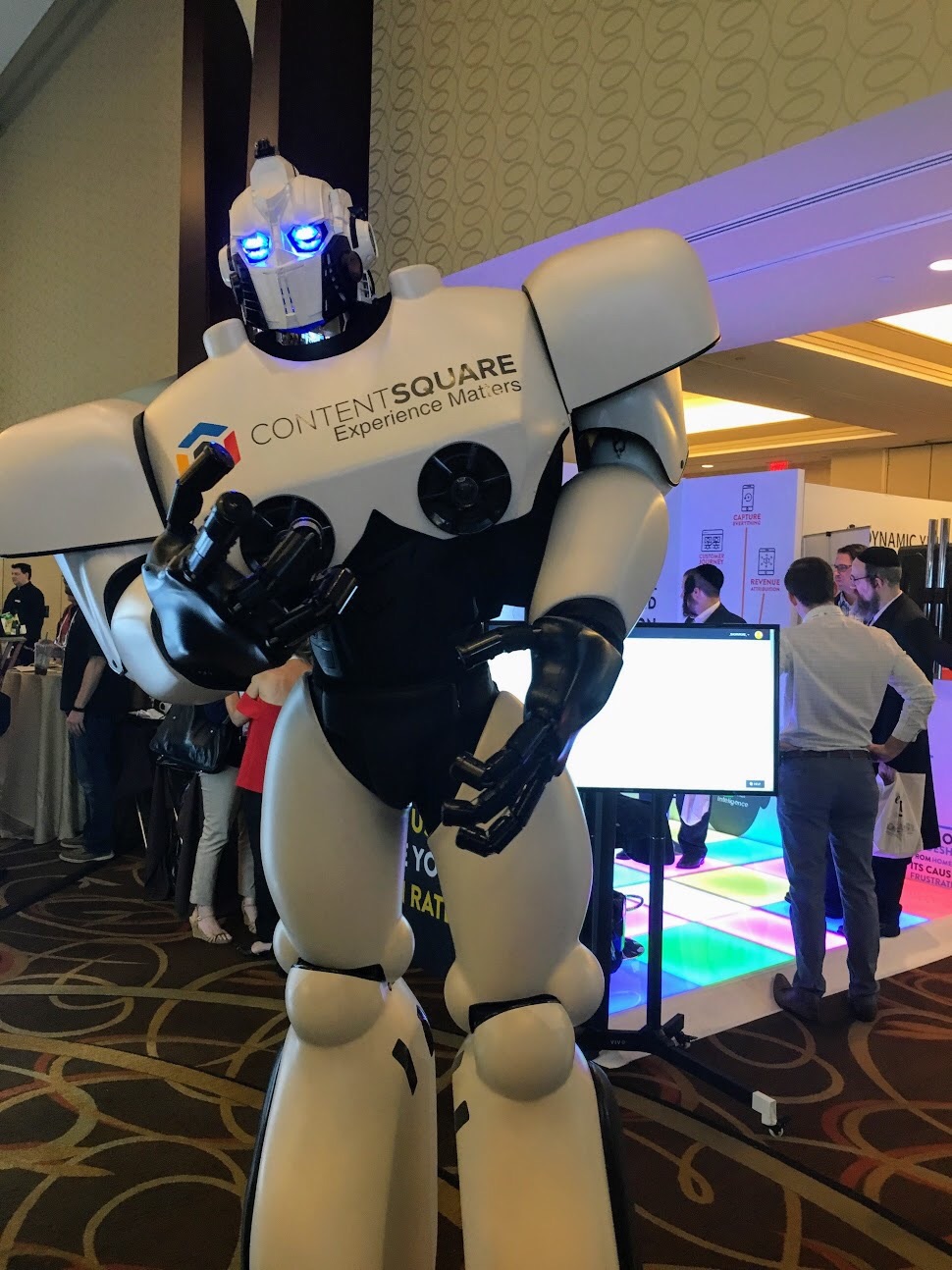 Sunset Soiree @ Revere Rooftop, Boston
One of the highlights of the event was the "Sunset Soiree" that was hosted by vue.ai.
The "Sunset Soiree", held on the beautiful rooftop of the Revere hotel in downtown Boston, provided the perfect setting for an evening of networking, some great drinks and food, and general unwinding after a long day's sessions and exhibits. Throw in some fantastic weather, and the occasion was truly a memorable one with many people — both retailers and other vendors — walking up to us the next day at the booth and thanking us for hosting the evening. Not bad for a day's worth, we would say.
Day 4: Calm after the storm
Once the booths wound down and two days of whirlwind activity came to an end, Day 4 was a bit more of the calm after the storm, with some great talks that again ranged across topics but centered more along the themes of customer experiences. One keynote of much interest was given by Brendan Witcher of Forrester who ran us through his report on where companies are looking at spending their tech dollars.
Unsurprisingly, personalization was number 1 on the priority list with in-store personalization, store digitization and analytics following.
 Internet Of Things, Self-checkout, Selling on social media, and AR/VR were on the retailers' "maybe-next-year" list whereas they were very lukewarm about digital payments, and chatbots.
In all, eTail East was absolutely fantastic. It was supremely well managed, the attendance was great, the displays from the various service providers was stellar, and, for us, the exposure was unbelievable.
P.S At the end of the event, the organizers took us to Harpoon Brewery where we were taken on a tour of one of Boston's finest breweries. The tour was superb, the tour-guide, most knowledgeable and good God was the beer epic! Not a bad end, one would have to say. Not bad at all.