Vue.ai earns 7 badges in the G2 Spring 2022 Report

10

min read
Reading Time:
7
minutes
The G2 Spring 2022 report is finally here, and the verdict is: our users love us! Vue.ai was featured in the G2 Spring 2022 Report across four unique categories, and we received seven badges, including the 'Users Love Us' and 'High Performer' badges!
Vue.ai now has a 4.5-star rating and 26 authenticated reviews from our users. We are also rated well above the industry average in the Ease of Use, Quality of Support, and Ease of Setup categories.
But first, what does G2 do?
G2 is one of the world's largest tech marketplaces where businesses can discover, review, and manage the technology they require to maximize their potential. The platform enables verified users to share experiences and feedback on the technology and software featured on it. G2 helps 60 million people every year make intelligent and better-informed software decisions based on authentic peer reviews.
Why do G2 reviews matter?
Ensuring the reviews are unbiased is their top priority. They require a LinkedIn account or a verified business email address to validate a G2 user's identity and employer. They also validate users by partnering with sellers to authenticate users securely. G2 does not allow current or former employees to review their company's products or those of their competitors.
Additionally, all reviews submitted are manually checked by the G2 team after their algorithm filters out reviews that don't meet their submission requirements. All these reviews must pass the moderation process before they are published.
G2 does not add any opinions or subjective input to the ratings. They are determined algorithmically based on data aggregated from publicly available online sources and social networks. Sellers cannot influence their ratings by spending time or money with them as they only factor in the opinions of real users and data from public sources.
G2 Spring 2022 Report and what is it?
Every quarter, G2 assesses and tracks the overall performance of companies listed on the platform and releases a comprehensive report. The Spring 2022 report that they have just released details the performance, reviews, ratings, and scores of these companies as of the 1st of March, 2022.
The Report features technologies that are high in satisfaction and market presence.
G2 Reports help users discover the right technology solutions ideal for their business needs. The Report can help you learn more about software and services, compare aggregated review scores on the technology you're evaluating, and compare solutions to find the best fit for you. You can use G2 Reports to identify the right tools for your business and provide insight into the trends in the technology categories you need to know about.
What are these badges?
G2 Badges offer users a way to showcase their product's performance relative to their competitors. Visitors who see a G2 Badge on the site are more likely to trust the product, which could then convert into a sale.
A G2 Badge is generated for a product when it is in a G2 Market Report.
One can also earn Additional Rewards, such as the Users Love Us badge, which is given after collecting 20 reviews with an average rating of 4.0+ stars.
We were on 4 Grids under the following categories. Read on to see the badges we received.
The badges we received

Users Love Us
G2 grants the 'Users Love Us' badge to organizations that have consistently received reviews with a high customer satisfaction rating. To receive this badge, one needs to index 20 reviews with a 4.0+ rating.
With 26 reviews and a 4.5-star rating, Vue.ai now has a 'Users Love Us' badge!
High Performer
One can earn the High performer badge when the organization has recorded high levels of customer satisfaction in their reviews in the respective categories. In the G2 Spring 2022 Report, Vue.ai was recognized as a high performer in these three categories that we have listed below:
Image recognition software enables businesses to use AI to help label, recognize, restore and reconstruct images to obtain desirable outcomes.
To qualify for inclusion in the Image Recognition category, a product must:
Provide a deep learning algorithm specifically for image recognition
Connect with image data pools to learn a specific solution or function
Consume the image data as an input and provide an outputted solution
Provide image recognition capabilities to other applications, processes, or services
Vue.ai's image moderation technology lets you screen vendor images with minimum human intervention using visual AI. It helps eCommerce marketplaces and vendor onboarding teams assess the quality of product images to ensure they match the website's guidelines. The AI can check for all basic eCommerce guidelines and can be trained for custom requirements. The solution works instantly and at scale for large volumes of images.
We also received an 'Easiest To Use' badge under the image recognition category.
E-commerce personalization platform creates experiences tailored to online shoppers capturing user behavior in real-time across multiple channels to provide personalized journeys at every step of the way. 
To qualify for inclusion in the E-Commerce Personalization category, a product must:
Monitor user behavior on channels such as mobile, web, or email
Provide features to create personalized messaging and product recommendations
Target visitors with custom messaging based on behavior and history
Define and implement personalization campaigns to target segments of buyers
Analyze the efficiency of personalization campaigns across multiple channels
Personalize eCommerce experiences for every shopper with Vue.ai's solutions. The personalization engine builds nuanced shopper profiles for every shopper by learning from their actions on the site and mapping them to rich product data. Using this, the AI finds and brings to the surface through the shopping journey the products in the catalog that the shopper would most likely purchase.
Personalization enhances a user's website journey by creating personalized experiences based on their preferences.
To qualify for inclusion in the Personalization category, a product must:
Monitor user behavior on channels such as mobile, web, or email
Provide features to create personalized messaging and product recommendations
Target visitors with custom messaging based on behavior and history
Provide a machine learning product that takes user recommendations and applies them to website analytics
Vue.ai's AI-powered personalized search solution uses rich product and shopper data to make search results accurate and personalized for every shopper. Vue.ai's product recommendation engine brings together product data, shopper profiles, and the unique context of each business for personalized recommendations that boost retail growth. It helps shoppers view contextually relevant products based on shoppers' preferences and current session intent, improving shopper engagement and conversions. 
Easiest To Use
You can save time by using AI to check vendor images at scale.
Vue.ai uses image recognition and automation to check, in real-time, whether eCommerce product photos comply with a retailer's guidelines. You can moderate vendor images at scale with minimum human intervention making our tool immensely easy to use.
We also received a 'High Performer' badge in this category.
Easiest To Do Business With
E-merchandising is choosing the right product or service in the right place accompanied by relevant content to enhance the impact and reflect in sales.
To qualify for inclusion in the E-Merchandising category, a product must:
Collect data on customers for future alignment of products/services to customer preferences
Apply real-time data to recommend other purchases complementary to the current product the buyer is perusing
Have a functional search bar/option
Facilitate collaboration between different departments or teams within the e-commerce business
Integrate with payment gateways
Vue.ai's end-to-end AI personalization allows retail eCommerce teams to effortlessly create unique shopper journeys that result in business growth. The platform allows a simple way of building, testing, and scaling personalization for increased revenue and improved customer lifetime value. Our AI does all the heavy lifting so that you can keep it simple.
Best Support
Digitally transforming traditional processes can be overwhelming, and that's why our team is committed to providing the necessary guidance and support every step of the way.
Breaking down the Grid Review
The G2 Grid is a product of the democratic voice of real software users rather than the subjective opinion of one analyst. G2 rates products algorithmically based on data sourced from product reviews shared by G2 users and data garnered from online sources and social networks.
Technology buyers can use the Grid to help them quickly select the best products for their businesses and find peers with similar experiences. The Grid provides benchmarks for product comparison and market trend analysis for sellers, media, investors, and analysts.
Products shown on the Grid have received a minimum of 10 reviews/ratings in data gathered by March 01, 2022. They are ranked by customer satisfaction (based on user reviews) and market presence (based on market share, seller size, and social impact) and placed into four categories on the Grid:
Leader
Products in the Leader quadrant are rated highly by G2 users and have substantial Market Presence scores.
High Performer
High Performing products have very high customer Satisfaction scores.
Contender
Contender products have relatively low customer Satisfaction scores and high Market Presence compared to the rest of the category.
Niche
Niche products have relatively low Satisfaction scores and low Market Presence compared to the rest of the category. While they may have positive reviews, they do not have enough reviews to validate those ratings.
The Scoring Methodology
Satisfaction
The Satisfaction rating is affected by the following (in order of importance):
Customer satisfaction with end user-focused product attributes based on user reviews
Popularity and statistical significance based on the number of reviews received by G2
Quality of reviews received (reviews that are more thoroughly completed will be weighted more heavily)
Age of reviews (more-recent reviews provide relevant and up-to-date information that is reflective of the current state of a product)
Customers' satisfaction with administration-specific product attributes based on user reviews
Overall customer satisfaction and Net Promoter Score® (NPS) based on ratings by G2 users
Note: The customer satisfaction score is adjusted and normalized for each Grid, meaning the scores are relative.
Market Presence
The Market Presence score is affected by the following (in order of importance):
Market presence is a combination of 15 metrics from G2's reviews, publicly available information, and third-party sources.
Both the software sellers and the individual products are measured on various criteria. The criteria are listed in order of importance. Products metric receive greater weight than seller metrics.
Each input is normalized by category and segment. This means that scores are relative to other products in the category/segment and may change from segment to segment.
The scores are then scaled from 0-100
Here's what our customers are saying about us!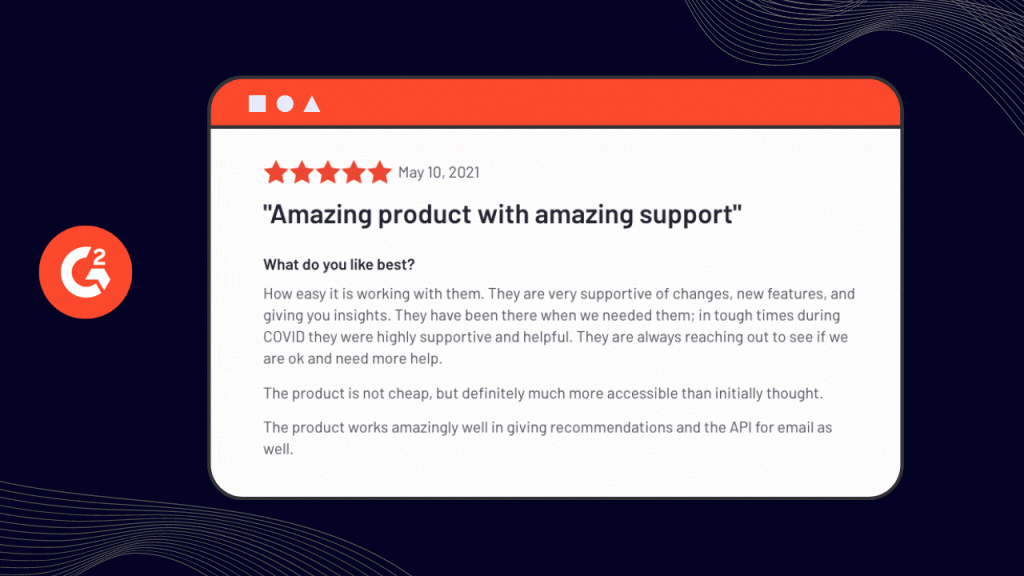 Here's what Vue.ai can do for you
Vue.ai is an AI-powered experience management suite that combines the power of product, customer, and business intelligence. Retailers use our suite to personalize and curate the customer experience and achieve end-to-end retail automation across site merchandizing, product, eCommerce & marketing operations.
With our impact-driven approach, over 150+ retailers across the globe trust our DXM as their revenue growth driver and their cost-saving engine, making us their preferred AI solution provider.
Explore the right solutions for your business here.
---