Retail Success Stories: Jolovies

4

min read
Reading Time:
4
minutes
The pandemic saw an astronomical rise in the number of eCommerce stores. While many were experimenting with the digital platforms available to them, many pioneered and creatively explored ways to reach and retain customers.
This fashion retailer based out of Greece integrated an AI-driven approach right from the time they decided to set up their business.
We hosted Alex Evangelou, Co-founder of Jolovies on The Retail Podcast by Vue.ai. He broke down the journey right from when they started their fashion retail company, how the geo-political turbulence affected business and how AI and virtual models aided them in the face of adversity.
How it all began
Alex and Joanna, this husband-wife duo decided to take Joanna's love for fashion and his background as an IT professional and embarked to start something together in 2017.
She does the selection and customizations of the clothes that she prefers and he helps her with the technological side of things. And that's how Jolovies was born in 2021.
What were the challenges?
Based out of Greece, Jolovies was put through the wringer during these trying times. Adding to the global pandemic that shook the world, the war in Ukraine further affected businesses across the region. Here are some of the hardships that they had to overcome.
The unavailability of vendors


Many businesses decided to set up their eCommerce platforms during this pandemic, which in turn made vendors who help with these services incredibly difficult to find. This led to inevitable delays in setting up.
The difficulty in photoshoots


During the pandemic, it was difficult to work with models and book meetings and do photo shoots, etc. It was also very expensive for them to continue to do so without considering virtual models.
Delays in shipments & increase in freight costs

With lockdown restrictions varying across countries at different points in time, there were several delays in shipping goods from China. In the last 12 months, they also noticed a 12% increase in freight costs.
Digital ads weren't performing

Since February, website visits decreased and ad spend on social media and search engines did not have the same effect on conversion as it used to have before the war. It caused a significant downturn in purchasing patterns and conversions.
The survival story
While they have winded through some tough times, their technology-first approach to setting up their brand has started becoming their savior. They didn't just cut costs but went on to optimize functions with a tech-first approach which enabled them to ease into these changes.
He went on to talk about how digital is all-encompassing and can be integrated into any part of the business. Digital migration has been key for them across these domains which helped them thrive.
Communication with customers
They now have the means to chat through their website & through the brand's social media
Issuing digital receipts
The receipt issuing is no longer needed to be on paper. There are legal digital receipts that can be sent to the client by email now.
Digital Marketing
So advertising is primarily now on social media and search engines and especially for ecommerce stores. That makes a lot of sense because it can be customized and you can see and track what is the ROI on the ad spend per product, per SKU level down to each color and even the size of a garment. So they can track all this data with digital marketing.
VueModel – Virtual Models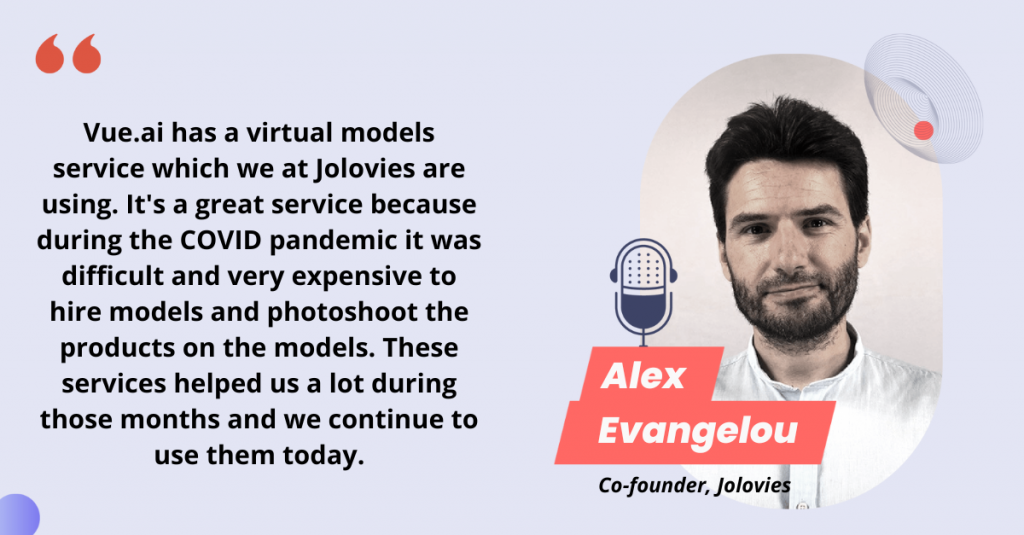 And now, the journey upward
We plan to expand the product range and have better relationships and negotiations with our suppliers, so we can get the products the customizations we need. Eventually, lower prices if we're able to sell more units. Make use of technology like virtual models, personalization, etc. so we can offer better service and higher satisfaction to our customers. Increase efficiencies as well with the use of technology. If everything goes to plan, we expand to other EU countries.
---