Using Video For A Killer Social Media Strategy

6

min read
Reading Time:
5
minutes
There are few things that we have learnt about ourselves, and one of them is this – humans are visual creatures. What we see makes up for a major part of the experience. 65% of adults are said to be visual learners. When marketers learnt this, a significant portion of strategies started leaning towards photographs, posters, and other types of eye-catching imagery. While this worked well, ways of making even more impactful campaigns were brainstormed for. The answer was simple – videos. Videos can have a tremendously lasting effect on the audience.
It has been estimated that one minute of video would be equal to 1.8 million words.
That is quite a jump from the now seemingly measly thousand words that a picture offers.
The numbers prove it
Everyone has come across some or the other statistic related to videos and their role in marketing – and these never fail to create an impact.
Almost one-third of total internet users, over one billion people, are on YouTube. That is one-seventh of the population of the entire world watching videos on the internet. 
500 million people watch Facebook videos every day. That is a figure larger than the population of US, UK, and Germany – combined!
It has been found that when video and text are both available on the same page, 72% of consumers prefer video to learn about a product or service. That translates roughly to less than 3 out of 10 audience members wanting to read what is written.
Companies that use videos in their marketing have 27% higher click-through rate and 34% higher conversion rates than those that don't. And nearly 50% of internet users look for videos related to a product or service before visiting a store.
If having an impactful visual medium wasn't enough incentive for brands to start using videos, these figures have certainly done the trick.
Winning video campaigns
With more and more marketers understanding the power of video marketing, a lot of wonderful video campaigns have done their rounds in the internet.
The Android 'Friends Furever' video (below) shows unlikely friendships among different animals in adorable situations making even the most stoic hearts go 'Aww'. This video won by stealing our hearts and putting a smile on our faces – no wonder it was the most shared video of 2015 with over 6.4 million shares.
Nike Women came up with a campaign taking the humor route – a series called 'Better For It' showing women's inner thoughts while working out. So many women related to it making it a very successful campaign for the brand.
Like humor, something else that is a sure way of making a video campaign compelling is love and care. Canadian Tire shook the internet with their ad, "Wheels". The story of a small wheelchair-bound boy and how the neighbourhood children create a basketball game for him warmed millions of hearts.
GoPro also, ditching its usual adventure sports themed ads, came up with one about a fireman saving a little kitten. This video was widely appreciated and helped GoPro widen its audience base beyond just the adrenaline enthusiasts, making it a complete win.
More and more videos are entering the internet space with varied types of brands using them. Slack, with an intent of showing that even B2B marketing can be done with videos, came up with "So yeah, we tried Slack". With its own quirky take on testimonial videos, an interesting title, and engaging storyboard – Slack sure did spike up viewers' interest.
Creating a social media campaign with video 
So what are you doing with all your existing media assets?
Once you have your campaign goals, objectives, target audience and social channels in place, the important step is the choice of content and execution. What is the content going to look like? What are you trying to convey? What are you trying to achieve through this campaign? It could be more sales, more exposure, or any other brand-specific objective.
No matter what your objective might be, today, technology advancements can be used in so many different ways to make your campaign a better experience for the audience. Shoppable videos is one such feature that is sure to take your video a notch higher and bring in several more customers. It helps connect the video directly to the products of the brand. Shoppable videos enable the customer to pick out products from the video and directly add it to their shopping cart.
Creating a video campaign does not need to be any more difficult than creating any other campaign. Assess all your marketing material to see which you can turn into videos and in turn, into a shoppable medium. This can be anything from imagery to review videos, that you can re-equip and sell directly from. Moreover, be it Facebook, Instagram, Twitter, LinkedIn or Snapchat, any and all channels that exist today are video friendly. 
For that winning touch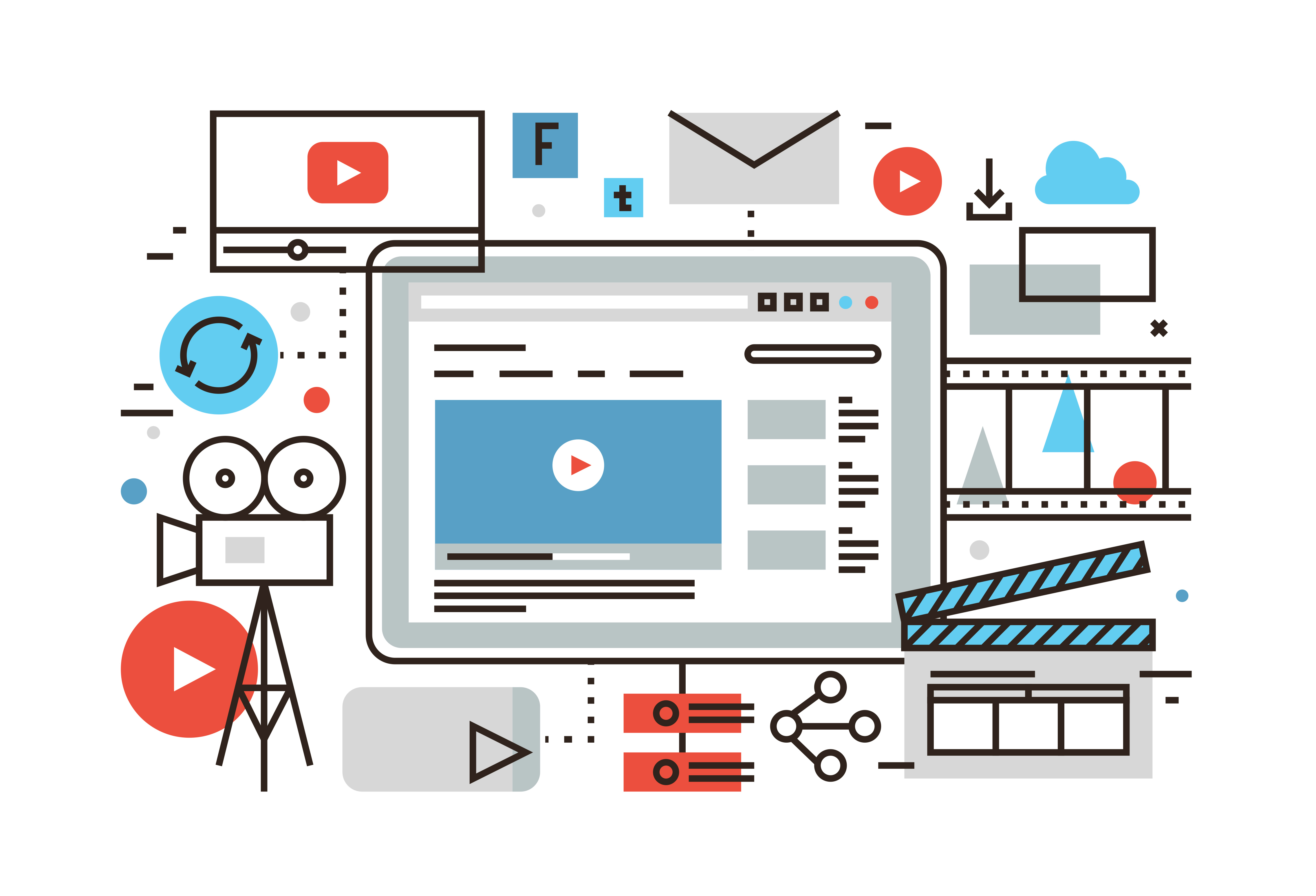 There are some tips that can boost a video from being just any other video you see to becoming a viral success. All these look at the video from the eyes of the viewer.
Read here to learn about how you can create viral video campaigns.
The first five seconds of the video is the most important part. Here is where the viewer is going to decide whether or not – the key is to make it as appealing and engrossing.
But while a viewer may have sat through the first five seconds and perhaps more, it is always a good practice to keep the video as short as possible. 95% of customers believe a video should be less than 2 minutes long, and videos less than 15 seconds are shared 37% more often. Brevity is the key. Say more in less.
Using an attention-grabbing still as the thumbnail of the video helps loads. Before a viewer even starts playing the video, they need to want to. An interesting thumbnail, an eye-catching description are all ways of doing that.
Understanding the audience cannot be emphasized enough. Know who they are, what they want to see, what is going on in their lives, and what is the story you want them to hear. Understanding the audience will help translate your content into something they connect with.
With VueStudio, it's easy to make your assets shoppable 
VueStudio in five simple steps help you make your video shoppable – make it your growth story. It helps create visual stories and turn viewers into buyers, by adding shoppable elements to existing videos. Videos can also be customized as per the user's choice by way of templates, placement of products and layouts. VueStudio enables you use the power of shoppable video to stay ahead of the competition – with an easy to use tool that keeps you in control, without dependency on your tech team.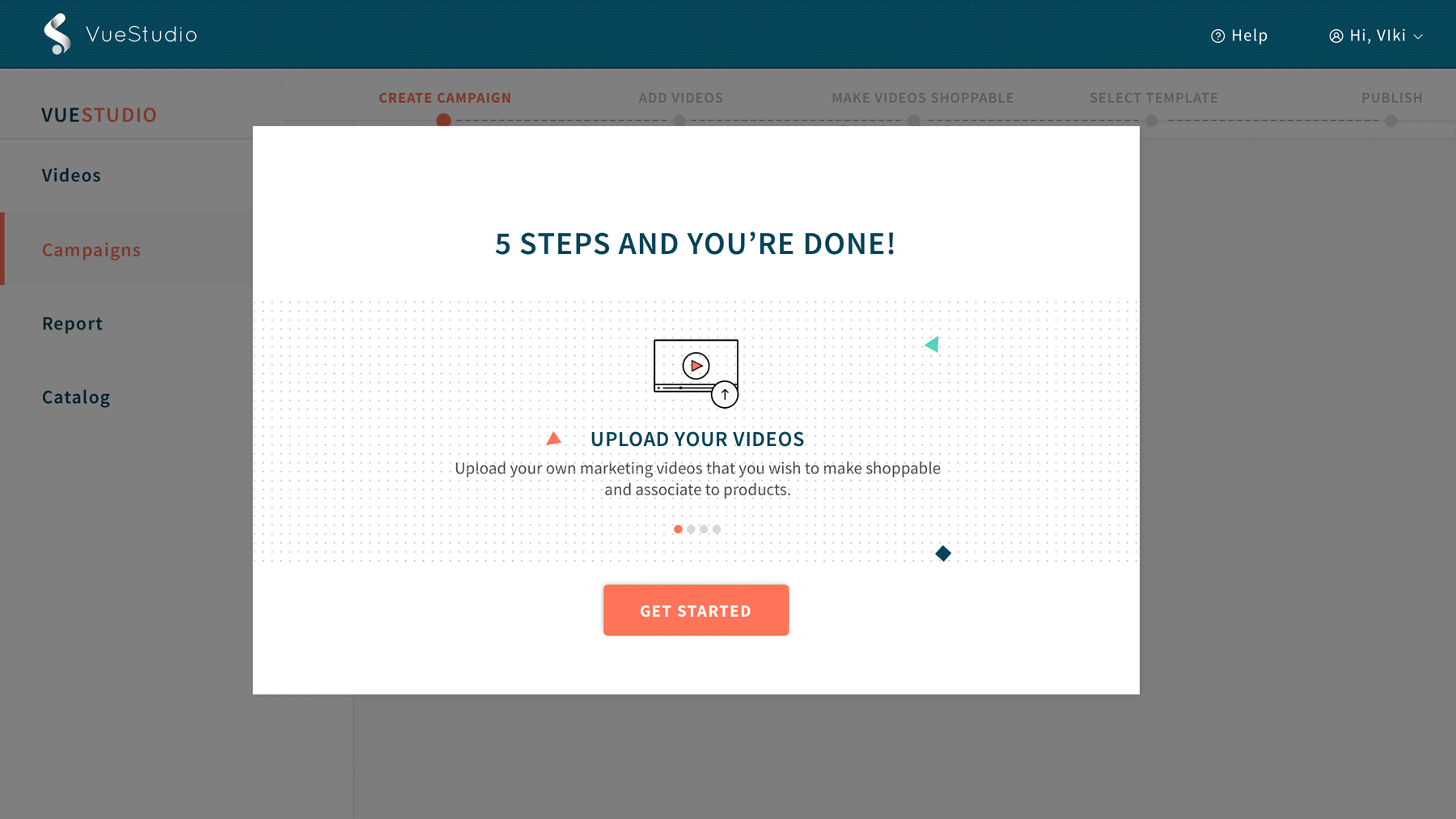 Videos are here to stay – and shoppable videos will help you stay ahead of the curve.
SIGN UP FOR A FREE TRIAL HERE