Here's How The Resale Market Can Become Bigger Than Ever

9

min read
Reading Time:
7
minutes
Secondhand apparel is projected to grow 2X the size of fast fashion by 2029, led by the resale market.
Before the pandemic hit, the resale market was on track to double. Now, this growth may very well accelerate.

Business of Fashion
In May, thredUp saw a whopping 31% increase in time spent on site, registering around 2.2M hours within that month, the highest ever on the portal. Economic uncertainty is nudging shoppers to actively choose resale over retail, and members of the Gen Z and millennial community are leading this charge. According to the report, 52% of consumers plan to navigate economic uncertainty by spending more on secondhand in the next 5 years.
What Impact Will The Resale Market Have On Traditional Retail?
Traditional brands and luxury labels acknowledge this shift in consumer behavior. Brands like Gap, Abercrombie & Fitch, Madewell, and J.C. Penney have partnered with thredup to expand their reach. While luxury labels like The RealReal or Adidas are dropping products on StockX as a way of clearing inventory. Brands realize that to appeal to these consumers who value sustainability, they need to adapt to the post-COVID order. Depop is even building a wholesale platform for traditional retail brands to sell directly to Depop sellers.
Why Gen Z & Millennials' Lean Towards The Resale Market
The story of the resale market is at its core, a narrative of how millennials and Gen Z will be shaping the retail story in the coming decade. In 2019, 40% Gen Z band 30% of Gen Y bought pre-loved apparel, footwear, or accessories, compared to 20% of Gen X.
A study by First Insight Inc of 1000 US respondents showed that sustainability is becoming more important in consumer choices overall. Generation Z is generation green. "With every generation, sustainability is becoming further embedded in purchase decisions." Greg Petro, Chief Executive Officer at First Insight.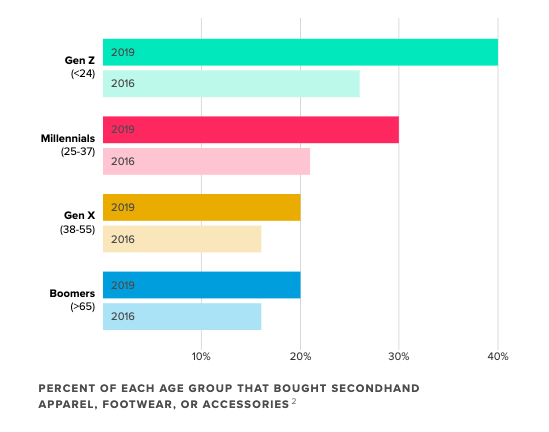 While Gen Z's values revolve around sustainability, they've also become extremely aware of finances. Resale, while being sustainable, offers the Instagram generation fashionable apparel at affordable prices. The quarantine period is seeing a huge spike in the closet cleanout trend. thredUp's Resale Report states that 2 in 3 people who have never sold their clothes are now open to it. The #1 reason is to make money.
Additionally, Gen Z values ownership more than millenials which is why they prefer resale to rental. "I see the environmental benefits of rental but I want to own my clothes, I like the emotional connection.", said Liam Baines, 20, Manchester in a conversation with Vogue. Gen Z consumers cited a lack of one-of-a-kind assortment, the barrier of subscription payments, and the total absence of ownership as reasons to stick to resale over rental. This is partly why the resale market is booming and is expected to grow 5x in 5 years.
Okay, so the resale market is a clear hit among the younger cohorts. But is that enough? We live in a world where shoppers favor convenience and experience more than anything else. So how can the fashion and the resale industry reinvent the retail experience for the incoming shopper? The answer lies in personalization.
Providing Personalized Experiences
64% of Gen Z shoppers and 72% of millennial shoppers think ecommerce websites should provide a personalized experience. It is no longer sufficient to just show the products to shoppers. It is absolutely essential to show shoppers products that are relevant to them and only them.
In R-Vue London, Remo Gettini, CTO of Depop spoke about the importance of community and why data usage and applications should be used in a way that touches the consumer and the consumer's lifestyle directly. "It is pivotal to use and manifest data to increase customer engagement—as opposed to just collecting data for operational procedures—to offer a hyper-personalized shopping experience to each customer!" he said.
Consider this: 44% of Gen Z would stop visiting a website if it doesn't anticipate what they need, like, or want.
A brand's ability to personalize the online journey—even if it means using 3D sampling so a customer can do a trial online—will be a game-changer in the years to come because customer loyalty is closely linked to the website's potential to show them exactly what they are looking to purchase!

Katie Baron, the Head of Retail at Stylus
She spoke about all the ways that AI is being implemented across retail as well as the numerous technology trends that are currently present in the retail landscape. She emphasized on how AI can be used to give consumers a complete picture, which will be essential in the resale market— that AI would be the best possible tool for consumer engagement, over anything else.
The resale industry must personalize aggressively, and in a way that brings together its data in an intelligent way. Secondhand markets need to actively adopt strategies using AI-powered solutions to attract, convert, and retain their shoppers.
Segmentation Is Not Personalization
Technology has made it easier for businesses to adjust their strategy to satiate customer needs. Retailers have adopted AI-based technology at various touch-points for better customer engagement and retention, and to increase average order values.
This has included the use of chatbots, segment focused recommendations on product pages, email recommendations, and notifications.
However, retailers frequently mistake segmentation for personalization. Segmentation by way of demographics, customer lifetime value, or clustering of shoppers based on various attributes is static and shallow. It will not deliver the kind of retail experiences that have become table stakes today. In fact, it has also become a severely overused, misunderstood way of delivering personalization for shoppers.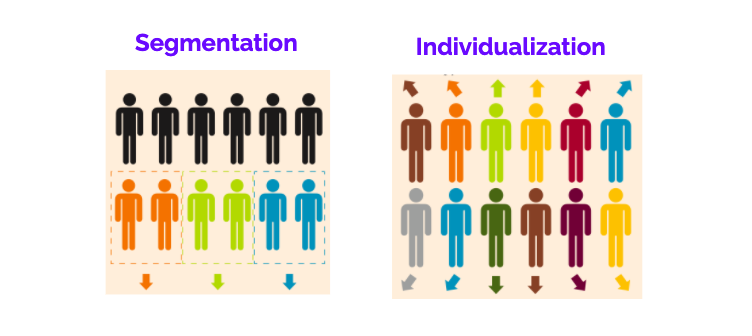 Here's how to find out if you are segmenting or personalizing for your shoppers:
Is your site able to understand each shoppers' intent with every click they make on your site?
Is your entire catalog getting discovered?
Can you track your shopper across their journey on your channel?
Are your shoppers able to get recommendations tailored in real-time to their profile and intent?
Are these recommendations available across the channels that they choose to shop on?
Can your discover brands they like and have shown a preference for on your site?
If you have answered no to even one of the questions, your e-commerce site is segmenting your shoppers, not personalizing.
91% of shoppers are more likely to shop with brands that offer personalized offers and recommendations.

Forbes
Shoppers are increasingly looking for personalization where N=1, and not segmentation. Therefore, the typical "people who bought this, also bought" kind of recommendation does not cut it anymore! Especially for resale marketplaces like thredUp, which has more than 2M unique items in inventory. This is where Vue.ai's automation and personalization help them uncover the "needle-in-a-haystack" item for each shopper. Vue.ai matches each shopper's style profile to the available inventory, ensuring products are curated and matched with shopper intent. Information is pulled from a shopper's visual style preferences, brand affinities, price sensitivities, and more.
Delivering Personalization for Circular Fashion Industry
This report takes a deep-dive into the challenges two of the biggest US and Latin American resale fashion marketplaces faced. The resale marketplaces struggled with personalization since pairing customer data with content was an added challenge when personalizing where inventory = 1. Surfacing recommendations through the shopper's journey with products similar to the shopper's visual style preferences and intent was a challenge.
In serving our customers, the big challenge that comes with that is just the scale of the number of items that are there to be shopped. As you are browsing the site, you can filter down, and do searches, but there are still thousands and thousands of items. You can receive emails from us, but there are thousands and thousands of items. Having to sift through that, it does not make sense for everybody. Some people love the hunt, but very few people love hundreds of thousands of items hunt. And so, even if you love the hunt and want to see a lot, there is still some tailoring that technology can bring us, that personalization can bring. And if you don't love the hunt and you want to be shown exactly what you want, we can offer that with the technology as well.

– Chris Homer, CTO, thredUp
Both the marketplaces employed Vue.ai's personalization solution that engaged shoppers at every stage of the buyer journey. Shoppers were shown recommendations based on each of their style preferences. This included the type of product, attributes on that product the shopper prefers like color, style, pattern, and purchase intent. This is personalization that truly knows the shopper.
Using Vue.ai's 'Recommended for You' solution, that uses shopper browsing history, the marketplaces surfaced recommendations that are the most relevant for that shopper in that particular moment. These strategies were implemented across pages that saw the highest traffic: the Home Page, Shopper's personal page, and the Cart Page.
Visually similar product recommendations were deployed on the product page. The solution works at both the brand and attribute level – colors, patterns, styles, etc. This ensures that shoppers are always shown the most relevant products despite the limitations of inventory.
Emails with compelling content helped improve click rates, increase engagement, and conversion. Personalized content that understands user behavior through data signals, ensures email content most relevant to each shopper was surfaced. They contained dynamic content individualized for each user at the moment when the email is opened.
Marketplaces saw 7.7% lift in user engagement rate, 16.5% uplift in AOV, 3x conversion rate, 2x re-visits on their site. Learn how our personalization solution can benefit your business here.
Related Articles:
7 Things We Learned From The ThredUP 2020 Resale Report
Moving Online: How Fashion Can Thrive In The Post-Covid World