3 Product Data Problems Retailers Are Facing During The Pandemic

4

min read
Reading Time:
3
minutes
The COVID-19 crisis has impacted retail and e-commerce globally with consequences that will drive long term changes. With physical store shutdowns, supply chain disruptions, and consumer behavior shifts all around the world, the very activity of shopping is undergoing a dramatic change. Retailers, consequently, have to radically restructure operating models and more importantly, change how they perceive product data to offer consumers great shopping experience, especially in these uncertain times.
Consumer behavior when it comes to physical stores is changing rapidly — we're already seeing enhanced in-store experiences in effect with brands like Gentle Monster, an eyewear brand that has museum-like installations in its London store. As for logistics fulfillment, brands like Best Buy in the US have kept their businesses up and running smoothly with contactless curbside pickup. They encourage their shoppers to place purchases through the website or app, post which supplies are delivered to the trunks of their vehicles by Best Buy employees.
Interestingly, a whopping 79% of consumers agree that their shopping behavior has changed due to the pandemic. There's no mistaking that consumers are now predominantly online.
So how do retailers get into the same space and provide a good online experience that will result in conversions?
The answer — building a robust online retail presence. A key component of building that experience is via product data, and automation and technology will play a pivotal role in making this possible.
The Product Data Problems Retailers Face Today
Retailers have been facing these pain points specific to product data because of the pandemic:
Long, hands-on processes in onboarding products, has become even harder now, due to budget cuts and teams working remotely
Dealing with large inventory is a problem for marketplaces. Marketplaces require an automated, faster digitizing process to deal with endless inventory.
Being agile and making informed decisions to meet customer demands. Retailers have to make more informed decisions to offer essential items for the current times, to meet the demand of customers.
High-quality product data can solve these problems. Retailers can maximize productivity and efficiency by automating the catalog digitizing and product data creation processes. This also saves a lot of time and operational costs involved in the process. In fact, a number of leading retailers are already looking at AI as an investment.
AI can not only help brands and retailers transition online rapidly but also become smarter about their assortment mix. The quality of data this technology delivers enables digital teams to extract and analyze metadata to drive insights. Juniper Research predicts retailers will spend $7.3 billion dollars on AI by 2022, compared with the $2 billion dollars spent in 2018.
Generally, good quality product data allows retailers to make better business decisions. It is paramount for data to be streamlined, especially when working with an assortment of data collected from multiple sources. When the underlying metadata is clean, consistent, and enriched with tags, the returns downstream are manifold.
How AI Can Help Solve Data Problems
Most businesses today rely heavily on manual ways of creating product information. The process involves conducting photoshoots, processing these images, and uploading them. These are then manually tagged with product attributes, making the whole process extremely long and complex.
Using computer vision and deep learning models, retailers can completely automate this process — saving up to 30 hours of manual labor on an average, per person, per week and up to 90% of operational costs.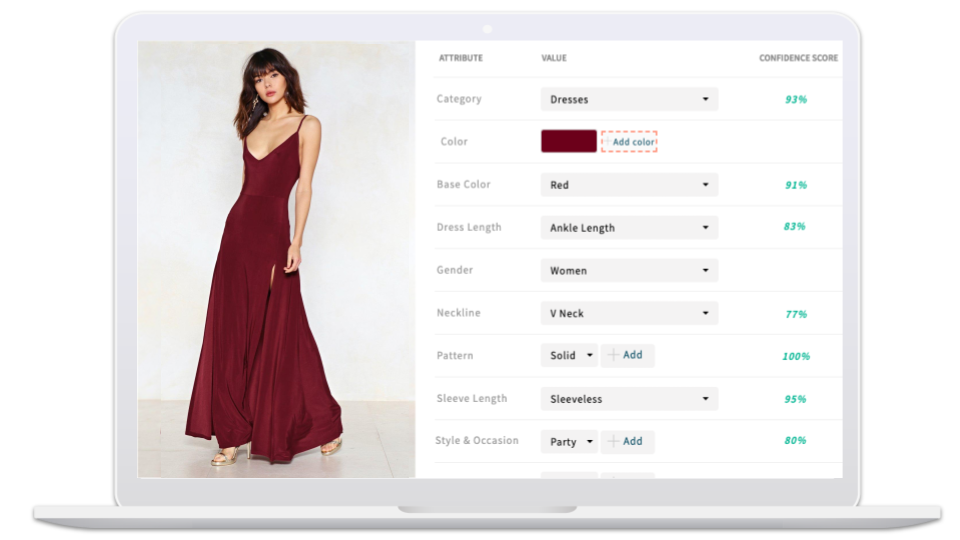 Vue.ai's Product Tagging tool employs data extraction and image recognition systems to generate quality metadata. This can feed into diverse use cases across different functions of an online retail business.
By generating rich product attributes with the help of NLP techniques and Computer Vision-based algorithms, retailers can then fill in the data gaps with data cues from predictions based on historical data. This eventually feeds into the database.
Automated product tagging enables faster item setup. This is how retailers can save up to 30 hours of manual labor on average / person / week and up to 90% operational costs.
Related articles:
Exciting New Categories Emerge During Lockdown
How Can Brands With Large Inventory Transition Online Seamlessly
Everything You Need To Know About On-Model Imagery
7 Use Cases of Artificial Intelligence (AI) in Retail for 2020
Retail Personalization – Ultimate Guide