Creating and Enhancing E-Commerce Product Data Management with A.I.

4

min read
Reading Time:
3
minutes
It's 2020, fashion brands are growing, functions are becoming more complex by the day and most retail teams are looking for efffient ways of creating and enhancing their product data. Excel spreadsheet formulas are easy tools to create basic data handling processes with several complex concepts like VLOOKUP or pivot tables. But is Excel the only option for product data handling? Or is there a better, faster, more efficient way\?

There's a clear trend among fashion brands of switching to Excel alternatives to  their Product Data Management after losing money and time due to continued errors.  For a multi-channel seller, managing product information requires information changes and updates in multiple places and channels. Retailers must format product data with extra information in order to make it customer-ready. 
For retailers using Excel, there is a folder filled with numerous sheets that, taken together, have the brand's entire product catalog information. Elsewhere, there is another folder containing unclassified images that have been left on the back burner for the next available retail team to sort through and tag. For tech-savvy businesses, despite having completely digitized catalogs, chances are that they still are in need of a small army to sort through, cleanse, and standardize product data.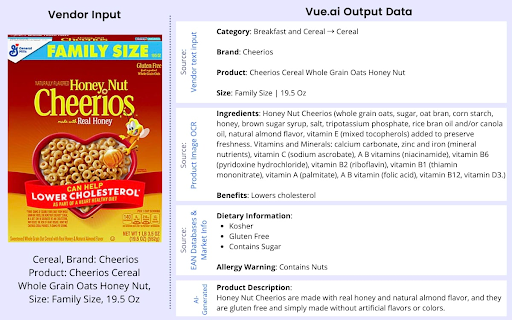 Why retailers need to Product Data Management efficiently
Standardized product data is indispensable to retail businesses. From optimizing assortment, to on-site search, to SEO friendly product pages, the quality of product information molds the journey for a shopper to discover products they like on the site. Unclassified products never find their way to the store's front end, rendering them undiscoverable. Even the ones that do make it would have gone through hours and hours of manual attribution, and might still have subpar product metadata. Shoppers often drop off since they are unable to locate their preferred products, which results in increased bounce rates and lost opportunities- leaving retailers with significant untapped revenue.
Why Excel is not efficient in handling product data
Excel spreadsheets can be used, but are they the best option for handling product data? Here's when Excel is beneficial for a brand:
When accuracy of the data is not critical
If the catalog is small and formulas are not extremely complicated
If there is no need for real-time collaboration and don't need a scalable solution. This means solutions by Microsoft and Google cap out unless retailers have a team of 30/ 100 concurrent users in teams
When optimizing user experience and the interface is not important
Major changes are shaping and reshaping the business landscape, so when a brand isn't fast enough to adapt to such changes, it could easily be left behind or impede efficiency.
The AI Answer
AI-powered product data enrichment​ is a simple solution for businesses to manage, organize and enhance the quality of product data. With automation tools like Vue.ai's Product Tagging tool, teams across categories, products and functions can collaborate on the same platforms, while allowing team leads to follow individual product edit/ review history across these categories. However, current experience shows that AI initiatives fall short due to the lack of appropriate data or low data quality. This means that if retailers wish to update retail efforts with any AI-enabled tools, they need to ensure that fundamentals, i.e. product data is in shape to accommodate demanding applications and functionality.
But evolving from Excel methods does not mean that your teams have to relinquish raw, spreadsheet data altogether. If teams prefer to work with the raw numbers, Vue.ai's Product Tagging tool enables easy to export, user-ready product data into an Excel spreadsheet, CSV format. Without any additional integration effort, teams can use the Vue.ai's Product Tagging tool dashboard following the 3-step process (as illustrated below) to download the ready-to-plug-in product data in the form of meta tags, to use across functions and use-cases.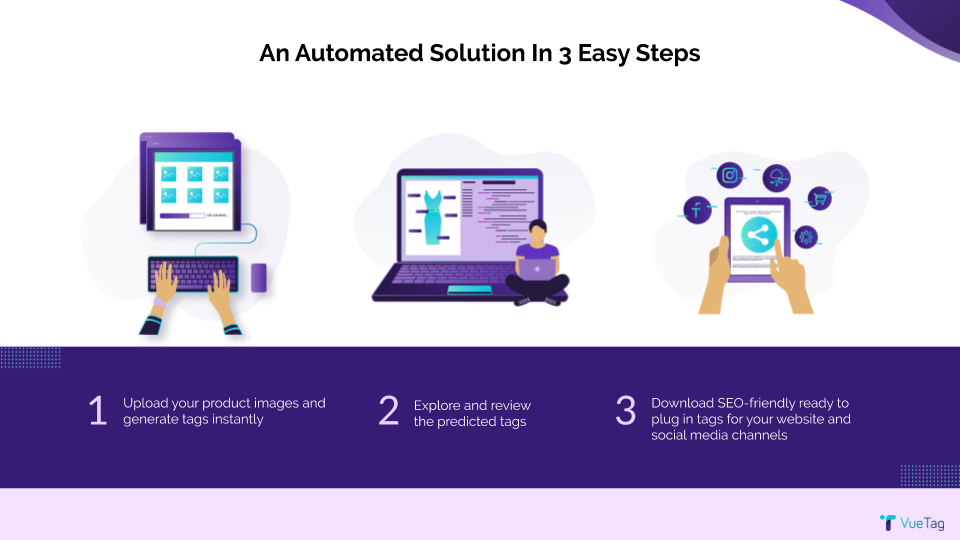 Vue.ai's Product Tagging tool also allows easy data transfer between teams by providing multiple digestion-friendly options, allowing functions across the organization to easily model and visualize data more efficiently. With the Artificial Intelligence advantage, Vue.ai powers product tagging contextually, allowing teams to only spend time on qualitative functions and improved decision making.
Read more related articles here:
Here's the Secret to Increasing Revenue per Visitor by 180%
A Retailer's Guide to Efficient Product Imagery
Easy Ways To Increase Your Retail Team's Productivity
Read More About Automated Catalog Management Solution