Dynamic Personalization: Tailor Shopper Journeys With Personalized Product Recommendations

8

min read
Reading Time:
6
minutes
Dynamic personalization is effortless and gives you more bang for your buck – ensuring you don't end up leaving money on the table. If there's one thing that I've learned about shopping, it's that it's an extremely visceral experience. Whether you're trying to compete with offline retail, or simply augmenting your existing offline stores with an online presence – the one thing that you'll have to agree to is the fact that we've stripped our websites and apps with the experience of going to a store. Just to give you a mental picture: the personalized product recommendation provide the experience of having someone guiding shoppers, showing them options in the colors they like, the styles they like, or simply the brands they like (in their preferred price range).
To make matters more complicated, shoppers today are an impatient lot. More often than not, all you've got is about 30 seconds to grab their attention. Even if the intent to purchase is high, 30 minutes is the maximum time allotted by them to any shopping escapade. So how do you get their attention in the shortest time possible? More importantly, how do you ensure that they don't abandon your site?
With the restriction on screen sizes and the lack of real estate, we don't blame you for wondering what you can do to make sure that each shopper on your site feels special. And that special treatment cannot be restricted to offers and discounts because if you want to maximize your customer lifetime value (CLTV), you need to show them intelligent recommendations that are tailored specifically to their preferences.
Tailor Shopper Journeys With Personalized Product Recommendations
Vue.ai's Dynamic Personalization ensures that you personalize every step of your shoppers' journey. Our proprietary AI tech is able to use every shopper action to uncover shopper intent, ensuring that the retail journey is tailor-made for individual needs. What makes our personalization more dynamic? Our dynamic algorithms deliver real-time personalization, and the intelligent recommendations are shown for a specific user evolve within that very same visit, based on their immediate last few clicks, in addition to their historical data.
While most personalization approaches are data-driven, taking only segment or shopper cohorts; Vue.ai's algorithms take into account the visual preferences of your shoppers in addition to clickstream data that is commonly derived from every interaction of the shopper with the site, or app. A combination of inputs, as shown in the image below, is fed into our personalization engines, and they continue to evolve and learn dynamically as feedback and new data points are gathered.
In essence, you see personalized product recommendations for each shopper on the same site. Pretty cool stuff, right? Dynamic personalization works not only for your homepage but also the product pages, category listing pages, checkout and order confirmation pages.
As for the bottom line – higher conversions and click-through rates, a win for everyone!
The Vue.Ai Dynamic Personalization At Work
Taking a closer look into how the engine works, it captures every single shopper's retail path – simultaneously and real-time. The inputs that go into developing the personalization models (as shown in the image below) come in several flavours.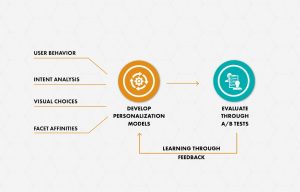 1. User Behavior & Shopper Intent
By taking into account shoppers' habits and their online behavior, the dynamic personalization is able to leverage this information to allow your shoppers to engage with your brand better. How? By offering them something they might be interested in versus something that they have no idea of. So what you get, is personalized product recommendations and category listing on steroids! This makes your brand or marketplace more relatable to your shoppers – as well as allowing you to nurture and attract a larger and more loyal customer base. As customers engage with the recommendations, their feedback pipes into the engine making this a constantly evolving loop.
Leveraging computer vision-based technology, our models are easily able to uncover shopper intent. Each click on a product allows the algorithms to clarify a shopper's specific attribute preferences as well. When this is combined with historical behavioral patterns logged by the engine, it becomes possible for the engine to accurately map to shopper intent, highlighting the most relevant products using real-time personalization.
2. Understanding Visual Preferences
Here is where Vue.ai's Dynamic Personalization truly makes a difference. Built on industry-leading Computer Vision algorithms, the engine understands all the visual cues your shoppers are leaving behind as they browse through your catalog.
Our Computer vision technology can identify three broad visual preferences, broken down in further detail below.
a. Shape Driven Shopper Journey
When a shopper identifies a particular shape or style that suits their body type, our algorithms are able to carefully identify the selected type of silhouette. For example, if a shopper likes long dresses, that particular silhouette is identified and maximized upon as the shopper progresses through that particular category.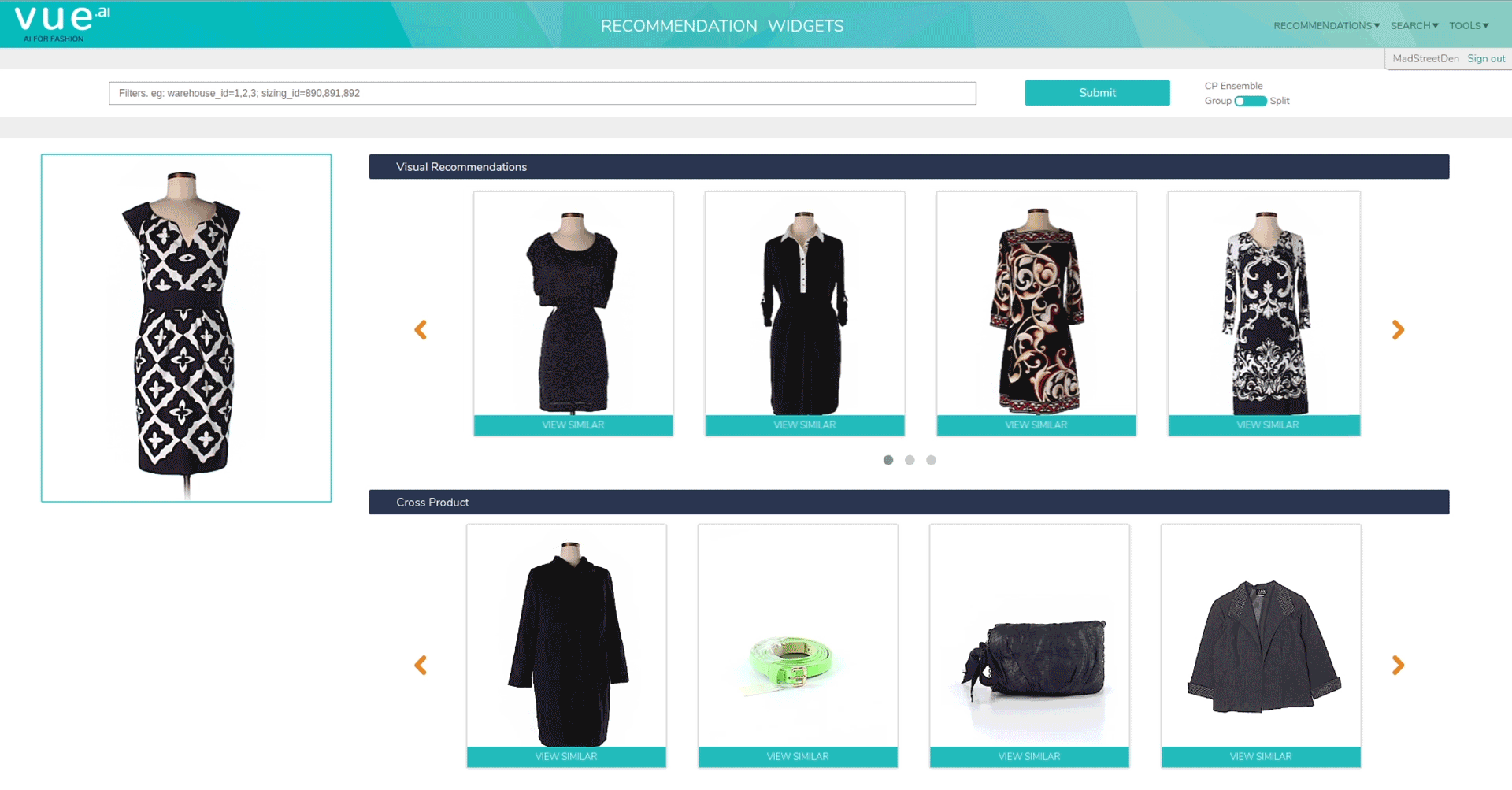 As demonstrated in the visual above, the shopper is clearly looking at a medium length dresses, both long and short-sleeved, which might not be the same color or pattern as the one which the shopper started the journey with. Our algorithms are able to pick up those specific cues – tailoring a real-time personalization journey that highlights dresses that fall under similar silhouettes.
b. Color-Driven Shopper Journey
Similar to the shape-driven shopper journey, the color-driven journey is one where the shopper clearly spells out an intent to look for a particular color. The algorithms are able to understand the shopper's affinity for a particular color, making sure that color is given a higher weightage than all the other parameters.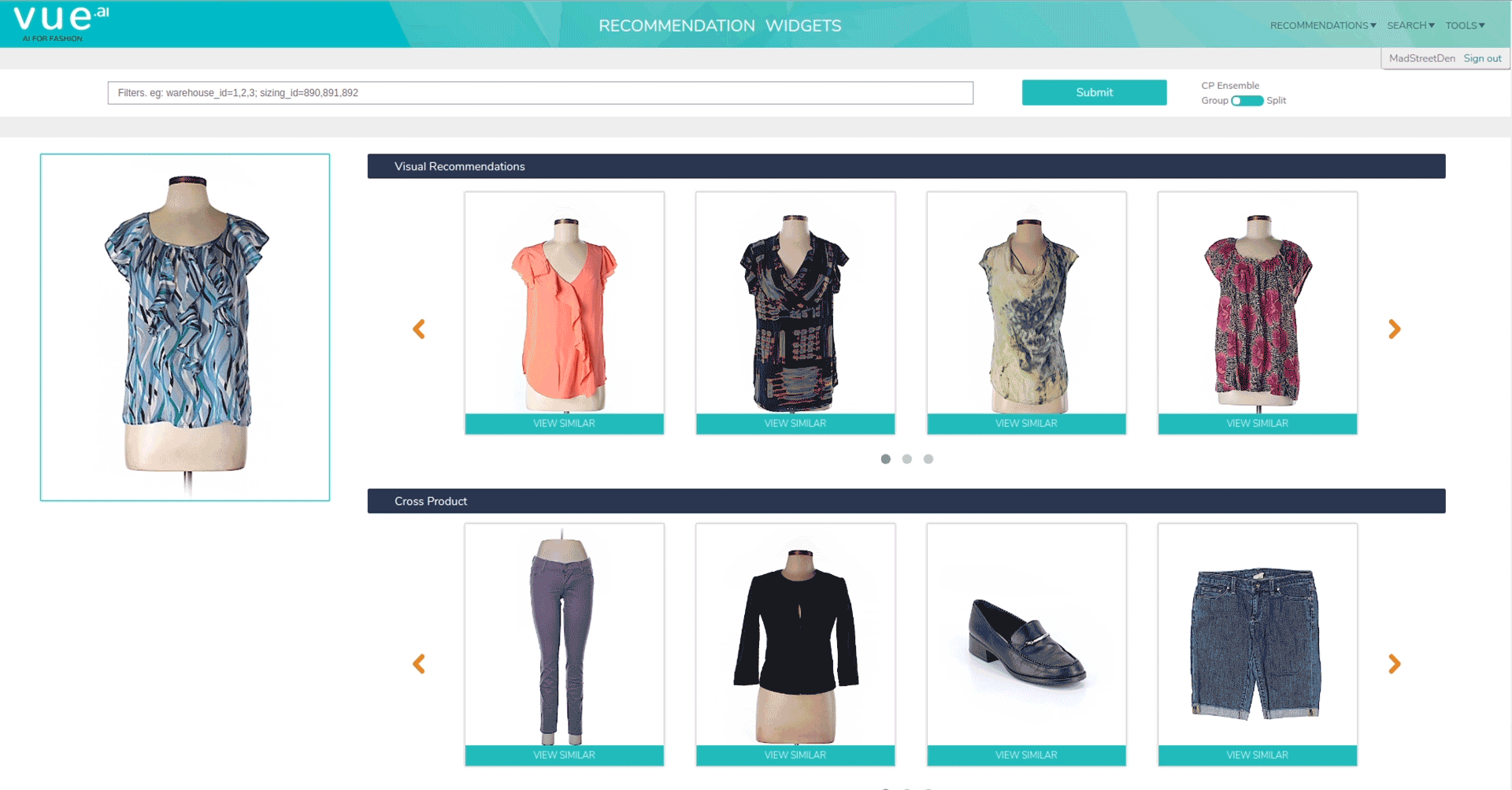 For example, in the image shown above, the shopper exhibited an intent to purchase a blue colored top. It is clear that our tech is making sure that the color blue is given a higher weightage than all the other variables in consideration.
c. Pattern-Driven Shopper Journey
To show solids, or to show prints? So if it's patterns that the shopper likes – it's patterned they get! And this is augmented by the Computer Vision technology that can differentiate between Madras, Gingham, Polka dots, Aztec print, or even Paisley!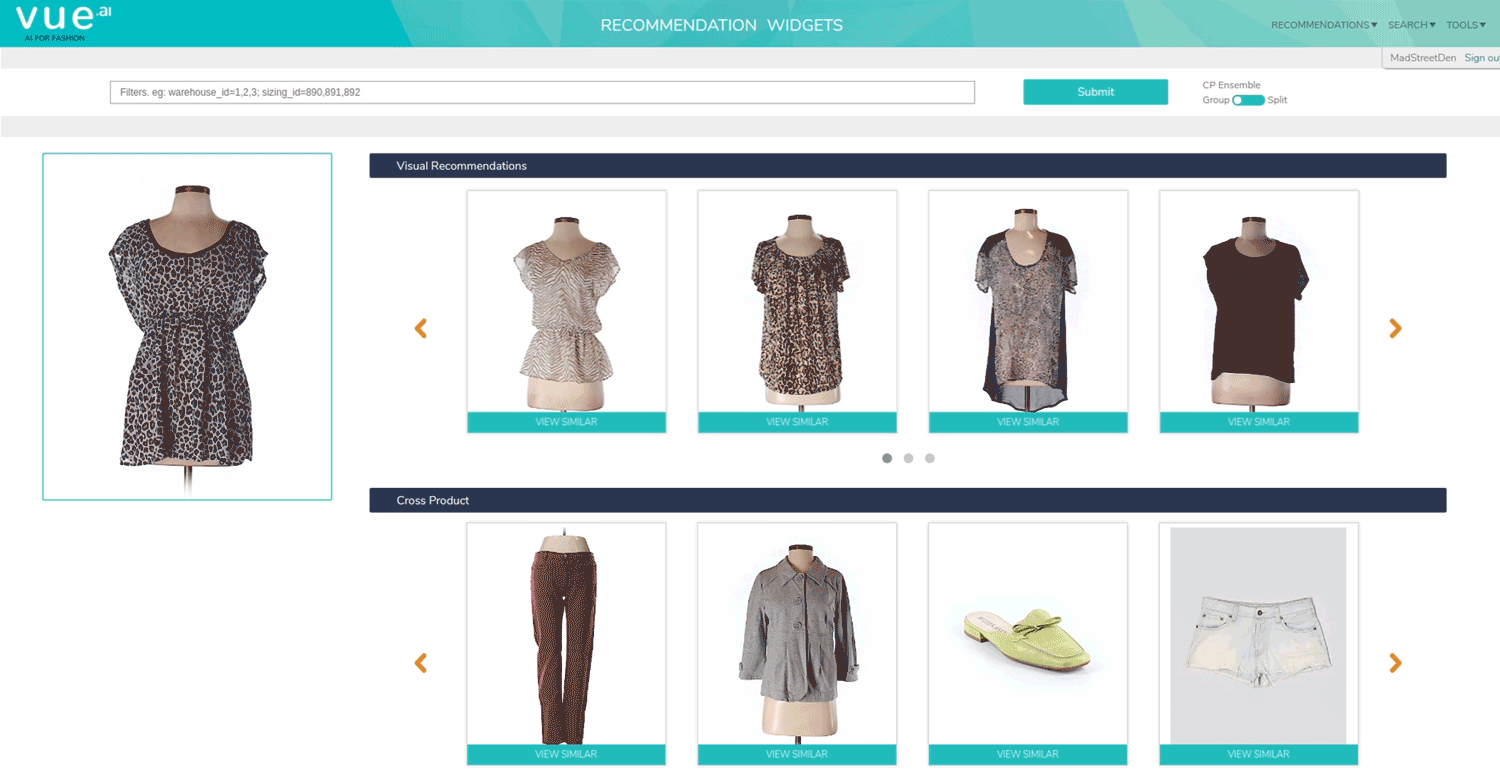 It even understands animal prints, as is demonstrated in the following image – the shopper is clicking through results that have leopard prints in them, which allows for the experience to be tailored towards showcasing personalized product recommendations that have visually similar prints.
Other Facet Affinities & The Feedback Cycle
Apart from these specific visual cues, there are a lot of other variables – both visual and non-visual, that are taken into account. Materials and fabric types – whether it's cotton, silk, or chiffon – we've got them all covered! In addition, attributes such as brand affinities are also added to the mix. Our algorithms are constantly tracking each interaction too, looking for cues to fine-tune exactly what attributes the shopper has an affinity towards.
How It All Comes Together
All these factors are key inputs to the personalization model. The models are trained and retrained continuously in order to make our recommendations dynamic in nature. Continuous optimization of these models is sustained through the feedback loop that happens as recommendations are clicked on, all in real-time. In many instances, A/B tests are performed, wherein a set of users are shown recommendations with certain affinities boosted more than others, to evaluate the performance of different affinity boosts, the results of which are used to retrain the model. Experimentation is key to ensuring that optimal weights are given to the relevant user affinities.
Do I REALLY Need Dynamic Personalization?
So what is all this personalization ramble about, and why is more important now, more than ever, to focus on it? Well, for starters, the fact that no two shopper personas are the same. And while you might have multiple shoppers looking at red dresses, there are many more variables at play than just the category and the color. Dynamic personalization allows you to decipher the mindset of your shoppers, understanding their shopping needs versus wants, driving sustained engagement on your site. Therefore, converting the window shoppers into buyers.
One of the key elements of personalization that has been overlooked thus far has been the ability to respond to shoppers' intent in real-time. With Vue.ai's Dynamic Personalization, it has become much easier for you to find out your shoppers' sweet spot. Thus helping you focus right where you need to while ensuring higher conversions by providing real-time personalization to every shopper.
Dynamic personalization is effortless and gives you more bang for your buck – ensuring you don't end up leaving money on the table. Pretty simple, if you ask me. If you still need convincing, drop a comment to schedule a quick, 1:1 demo. We're sure you'll like what you'll see!