Moving Online: How Fashion Can Thrive In The Post-Covid World

4

min read
Reading Time:
3
minutes
The world has been moving online steadily for the last decade. The Coronavirus pandemic is accelerating this move, and is aggressively pushing people to transition from offline to online — to digitize manual processes to minimize risk and maximize conversion. This has become evident globally, with most employees working from home on their laptops, and all forms of communication and entertainment happening virtually.
Studies show that the United States has experienced a 56% increase in online orders year-over-year from March 22 to April 4. This increase is not a glitch, but an indicator of things to come.
Interestingly, industry leader Ankiti Bose, CEO and Co-founder of Zilingo, one of Asia's largest marketplaces, pointed out that there's no going back to a pre-COVID world at our digital summit. And there's more than a grain of truth to that.
All the clues point to digitization. In these uncertain times, it is important for industry leaders and retailers to transition online seamlessly.
Now comes the question — what does moving online mean for huge retail brands with a chain of massive physical stores and endless inventory? The answer — retail personalization while transitioning online.
Reports reveal that a whopping 80% of consumers are more likely to purchase from a brand that personalizes the shopper experience and 71% of shoppers end up feeling frustrated when their shopping experience is impersonal.
So why has personalization become table stakes in e-commerce, and what does a retailer gain from personalizing their site?
Legacy recommendation systems that earned customer loyalty a decade or two back don't cut it anymore. With over 5M brands in the world, and with ~80% of retailers looking at options to personalize their site, there is a need to make e-commerce sites memorable to establish a connection with shoppers.
Data based 1:1 personalization is the starting point.
Data holds the key to personalization — the data that goes into building robust Inventory Intelligence and data derived from shopping habits, and intent analysis that contribute towards Customer Intelligence.
Product Intelligence: The First Step to a Great Shopper Experience
It all starts with having the right data—meaningful data. Knowing inventory in and out with rich metadata is the first step to personalization.
Vue.ai does this with automated, deep tagging of products using text and vision, to be able to classify them and make meaningful connections between them. Organized data is everything a retailer needs to understand the nuances of shopper preferences.
Customer Intelligence: 1:1 Personalization for Every Shopper
Did you know? 70% of millennials are willing to let retailers track their browsing and shopping behaviors in exchange for a better shopping experience (source).
Vue.ai's algorithms use every shopper's behavioral, transactional, demographic data to understand their affinities to visual attributes of the products they interact with (like color, pattern, shape, etc.) and also non-visual attributes like brand, category, price band. This goes into building a shopper's Style Profile, that is unique to them, and keeps getting richer over time. These profiles power personalized product recommendations, personalized sorting, and even personalization in emails.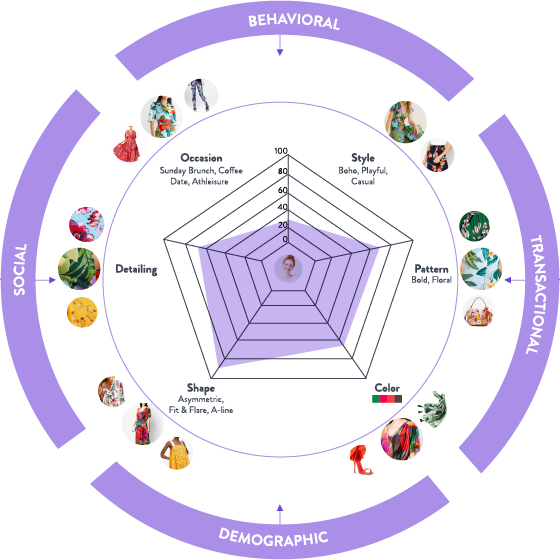 Now is the time to upgrade antique recommendation techniques. Now is the time to switch to Vue.ai's personalization solutions.
Shoppers are at home and online. They are browsing, adding products to carts, wandering through recommendation carousels, making their choices for now, for a week from now or some point down the line. Whatever their intent, whatever their choices, Vue.ai will help retailers create that connection with the consumer and ensure they find what they are looking for every time.