Investing in E-merchandising: How Your Online Brand Perception Matters

4

min read
Reading Time:
4
minutes
E-commerce merchandising has become one of the most important tools that every retailer must know how to wield in order to be successful. In this digital world, every brand's presence is reflected through its E-merchandising style. Merchandising helps you take control of how your brand is perceived and guides your customer through the buyer's journey.

It starts with how your website looks and feels to the customer. Are you sending out the right vibe? Are you setting the right mood for the brand? Does the website reflect what your products stand for? Skullcandy is a good example of E-merchandising.
With the right colours, and innovative designs, it sets the tone of the brand, describes its products, how it works and why customers should buy them leading to better-informed decision making by the customer. Every brand must have a strong and clear image online for their customers to identify with and purchase.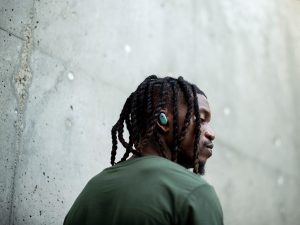 For any retailer, their end goal would be to achieve revenue growth through increased Average Order Value and customer retention. Employing interactive tools and improving the search function can ensure maximum retention of customers on-site. One other key factor to take into consideration would be the Call-To-Action button. This button would direct the customers to your purchasing page, your shopping cart page or your payment page.
Make Your Product Customer Ready
Any product that is up in a retailer's website must be rich in description, metadata, categories and tags. Why? Because that is how you grab your customer's attention. Any viewer who searches for a product using tags must be led to a page with proper and appropriate search results for them to stay on your site. It should also be replete with an accurate product title and description for the customer to compare and make their purchase.

If you are a retailer with 3000 products for the upcoming season and you want to make certain that all of them are up for customer viewing in less than 10 days, you might then need to invest in a lot of manpower to tag, categorise and describe each product. Manually adding content under a tight deadline can result in too much pressure on the people, incorrect tagging, and skipping out on valuable data. To combat these issues and to make the digitization process faster, tools like VueTag can be utilized. VueTag is an automation tool that tags your fashion catalog with 35+ apparels and accessories product types like dresses, skirts, tops, shirts, sweaters, etc leading to better product discovery.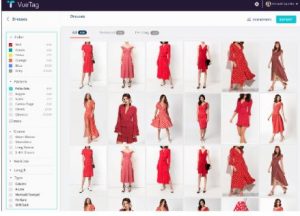 Aside from that, it also creates an apt product title from the product attributes extracted and also records a product description which is available for your review along with the product tags and categories.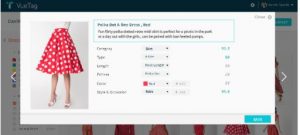 Site Abandonment 
Incorrect tagging of products will lead to site abandonment, which is the worst thing that can happen to a retailer. If a search result for "polka-dotted skirts" leads to a page with products of "striped skirts" or "tops with polka dots", it will lead to frustration and disappointment on the customer's side who will immediately abandon the site. Similarly, if the checkout process takes a long time or involves too many steps, it might cause last minute site abandonment. Including a progress bar on the checkout page and breaking down the process into 3 or 4 steps helps solve this.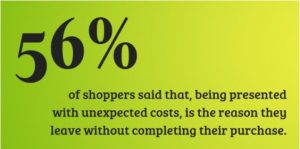 Checkout experiences can be made seamless for your customers by offering them multiple payment options, including strong return and money-back policies and posting shipping costs upfront.
Part Of A Whole
E-merchandising is a complex process. In this fiercely competitive world, every retailer must create a branded journey for his customers which is reflective of what his brand is trying to convey. Having a strong visual merchandising will help overcome competition, drive more traffic and help in successful conversions. Understanding different customers and customizing their buyer's journey accordingly, delivering the right product in personalized search results, providing personalized styling suggestions are all little steps that ultimately lead to a better shopping experience for the customers, and increased revenue growth for the retailers.
Check Our shopping cart abandonment latest blog