Inbound Marketing And Fashion Retail – A How-to Guide

8

min read
Reading Time:
6
minutes
In today's technology-driven world, every customer is just a few clicks away from their next fashion purchase. Inbound marketing, when done right, allows fashion brands to make shopping a seamless experience for customers – right from getting to know them, to popularizing the latest styles.
According to Hubspot, there are three stages to inbound marketing- attract, engage, delight. Attracting people is the domain of paid ads on various media, as well as influencer outreach. Engagement, on the other hand, involves email marketing as a huge component.
People giving out their email addresses is only next to them giving out their phone numbers. So, tapping the market of people who are willingly leaving their email addresses behind, without a doubt, means doing a significant component of inbound marketing right.
Read on to know how to create email marketing as a tool to attract rather than push because let's face it, many fashion brands cannot wait to get people through the door!
Did You Know That Emails Reportedly Have An Average ROI Of 122%, Which Is Over 4 Times Higher Than Social Media And Paid Search?
What's more? Email marketing is far lower in cost as compared to any other form of digital advertising. With such high returns, brands must strive to prioritize marketing via emails over all other channels.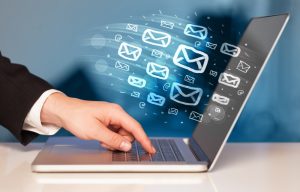 Transforming Marketing With Effective Emails
There is no doubt that consumers are more informed today than ever before. Naturally, they seek brands that give them what they want – both in terms of products and information.
So, to capitalize on these informed consumers, fashion brands need to up their marketing game. Imposing purchases is not going to work anymore, but listening to what customers want, definitely will. The era of consumer-centric marketing is here, and it goes by the name "inbound marketing."
Inbound email marketing reportedly has had a 20% impact on retail revenues this year. "This is bound to keep rising as the number of people using emails is becoming significantly higher every day and is likely to hit 3 billion by the year 2020!", says, The Radicati Group, Inc. Unlike social media – which comes with restrictions on character count or the extent of interactive element incorporation, emails allow you to engage potential customers with personalized and interactive information.
Inbound marketing, in the end, also needs to tie in with the brand's overall strategy. ASOS, for example, has no reference to a newsletter made on the site's first impressions. Instead, everyone visiting ASOS is headed straight for the products. This is probably in line with the fact that ASOS already has a large, dedicated following of people who are looking for good products at great prices.
But for brands that need emails to kick off inbound efforts, how do you gather this information?
Potential customers who are browsing your website with the intention to buy are likely to voluntarily sign up for your newsletter, thus providing you access to their email addresses. Naturally, reaching out to these shoppers via email is more likely to lead to a purchase than spamming mass-gathered email addresses.
British fashion brand Topshop provides a sign-up box for its newsletters on every page of its website, prompting shoppers to sign up ever so subtly. Not just that, it even incentivizes registration with a 10% discount on the first order. This not only gets potential customers to register with Topshop but also gets them to purchase on its website.
Doing Inbound Email Marketing Right
1. Get The Email Frequency Right
A fine line exists between just enough and too many emails. Sending an email every day of the week with all of them talking about the same thing over and over again isn't going to do anything for your conversions. But, sending that many emails with each one providing varying content might just win your audience over.
Chicago-based apparel designer Threadless manages to get this perfectly right! After a customer signs up for its newsletter, the company sends them a welcome email followed by about 3–4 emails over a week – each of which talks about a different event or style on the website, getting the consumer more interested in the brand gradually.
Verifying email addresses provided by consumers is also just as important. Very few brands like Zara actually use features like double opt-in to verify if the email address provided is legitimate.
2. Use Effective Subject lines
No brand is stranger to the fact that subject lines need to call out to potential customers for conversion. However, simply using words like "free," "save," and "discounts" doesn't always work. Words like "treat inside" might be a better bet instead. Also, with millennials making up a fair section of today's shoppers, using Emoji in email subject lines like British fashion retailer New Look often does is also a great idea.
Simplicity when combined with relevance and a compelling call to action works surprisingly well most of the time. Just explain the contents of an email crisply in the subject line. While this won't guarantee a 100% open rate, it will be opened by those people who are much more likely to make a purchase.
Japanese casual wear brand Uniqlo uses simple subject lines like "Welcome to Uniqlo – VIP treats inside" for its welcome emails, which is actually enough to prompt a shopper to open it.
3. Put Together Great Content
Getting to know subscribers, segmenting them into groups based on preferences, and then creating personalized emails for each group is sure to guarantee marketing success. A plus for fashion retailers is that because the visuals are attractive, there's a lot of scope for great visual content as well.
During one of its campaigns, New Look sent out emails to its subscribers with an out-of-the-box idea. It used a countdown timer that worked real-time with the headline "All good things must come to an end!"
Promoting such campaigns on social media first with lines like "sign up for the newsletter to find out more" is a good way to address the 'Attract' component of inbound marketing and add more people to your subscriber list.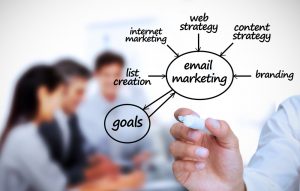 Special Case Scenarios
1. Abandoned Cart Emails
More often than not, shoppers almost make it through purchase decisions but give up at the last minute and leave their carts abandoned because of cumbersome checkouts, unsafe payment options, or simply because they found a better price elsewhere. Sometimes, it is also possible that getting to check out takes so long that people actually have a chance to think through the purchase, and not go ahead with it.
Shopping cart abandonment reportedly accounts for a whopping $18 billion revenue loss for e-commerce companies. That's a pretty huge number, making it important to tackle the issue via abandonment emails.
A quick link to checking out the abandoned product directly, clearly specifying the trusted payment options provided like PayPal, and incentives like free shipping/delivery or a nominal discount can drive the shopper to complete the purchase. 72% of customers who shop from abandoned cart emails are likely to convert in the first 24 hours. So, sending the email in that time frame will almost certainly lead to a sale
Anthropologie sends a cart abandonment email out the same day reminding the customer about the abandoned cart. If the customer doesn't make a purchase after, the retailer follows up after a couple of days with a reminder email containing a direct link to the checkout with personalized recommendations for more items to buy. Sounds like just the thing that would prompt a purchase, right?
The other clincher would be if your cart abandonment email could be personalized for every shopper and AI-powered email marketing allows you to do just that. Imagine if you could send the shopper the cart abandonment email with additional recommendations based on that shopper's visual style preferences. This significantly impacts the chance of the shopper returning to your site. Relevant visually similar recommendations also ensure that you never leave your shopper with an out-of-stock option, which is the biggest reason for a shopper bounce from your site.
2. Birthday Emails
Which customer doesn't love spending extravagantly to look stunning on their special day, especially when the brand they love is treating them to a discount or a freebie?
But here's a shocker: A surprisingly huge number of brands don't send out birthday emails to customers even while having the info they need! Fashion brands need to capitalize on customer birthdays with personalized birthday emails as they almost certainly warrant a purchase.
If you're wondering how to go about this, send out birthday emails at the beginning of the birthday month to give customers enough time to make the purchase. Following this up with a reminder email after a few days and then one before the offer expires is likely to prompt a purchase too. You could even give active subscribers a substantial discount with "$X" off also to increase the chances of them buying something rather than point-based or free-shipping gifts.
The Inbound Marketing Action Plan
So, as a fashion retailer, your action plan for inbound marketing should include:
Reaching out to customers who have themselves expressed an interest in your brand instead of selling yourself to them forcefully.

Giving customers the information they need in your marketing emails and social media communication instead of trying to sell products directly. The key is to get them to convert on their own instead of thrusting a purchase on them.

Engaging with customers on their birthdays and anniversaries.

Sending out thank you emails and customer satisfaction surveys via email to keep customers happy and have them coming back to you.
Irrespective of the nature of communication, customers are increasingly seeking individualization at every touchpoint and email marketing is a very critical one, at that. It is now imperative to enable personalization across all your must-have email communication – transactional emails, cart abandonment emails and even your promotional emails. AI and automation enables you to do exactly this – learn more!