Improving Conversions from All 3 Shopper Segments During the Holiday Season

3

min read
Reading Time:
3
minutes
There are two predictions retail experts are making about this holiday season, based on sales data from the previous quarters. The first— there will be an increase in digital traffic, over the 40% jump in new shoppers that we saw in 2020. The second— this is not going to result in a proportionate increase in total sales value.
In other words, there are going to be more shoppers online, looking for very specific things. In this scenario, what separates the winners from the losers is the ease of product discovery. We've put together a simple guide for retailers to improve conversions for different shopper segments and maximize their revenues during this holiday season.
Here are 3 simple things retailers can do today:
Personalised journeys for anonymous users
As marketing campaigns kick-off, most retailers are going to see an increase in first-time and anonymous visitors to their site. This segment historically has a lower rate of conversion than returning visitors.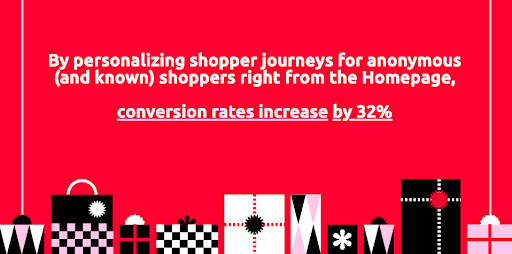 But how do you personalise an experience for someone that you know nothing about? That's where our powerful AI algorithms come in.
Our retail customers can personalise product recommendations, banners, and even the order in which products will appear for the anonymous and known shoppers— from the very first click.
Engage and retain past customers
Returning customers spend 68% more than first-time visitors. Far too many retailers concentrate on customer acquisition at the cost of retention. There is enough data out there that proves that the only way retailers can achieve sustained growth is through customer retention. Take this one from Bain & Co for example that says a 5% increase in customer retention can increase a company's profitability by 75%!
Personalised emails are one of the most effective ways to re-engage with customers and keep them coming back.
When the products you show on an email are 'picked' for that individual who is opening it, click-to-open rates increase by 44%.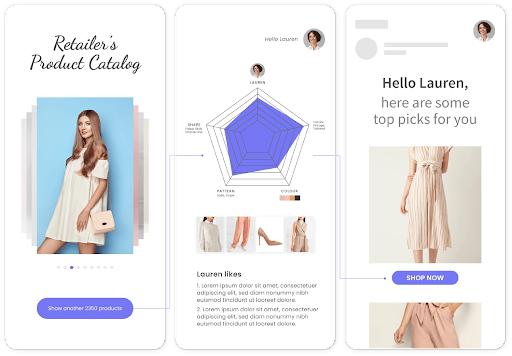 Our customers successfully use personalised emails to re-engage with lapsed customers, rescue abandoned carts, increase cross-sell and upsell. While marketers create unique email strategies for each customer segment, the AI picks the right product to show each shopper, in real-time. As content is rendered at the time of opening of the email, the recommendations are always up to date and based on current inventory positions.
Invest in converting high-intent shoppers
There is nothing that shows greater intent to purchase than text search on a retail store. Shoppers that use text search convert at 3X to 5X the rate of others.
In order to improve conversion through text search, retailers need to sort search results based on individual preferences. With personalised sorting of pages, every shopper finds the products they are most likely to engage with on top, thereby reducing bounce rates and increasing conversion and engagement.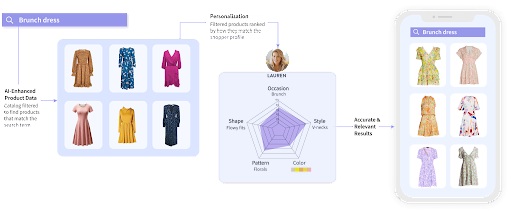 Enhanced product tagging and taxonomy mapping ensure that no matter what combinations of words a shopper uses, the personalized search tool always throws up all relevant matches.
---
Related Articles:
Read More about Virtual dressing room
Read more about personalization platform