How to Improve ROI ?- 5 Ways To Improve ROI In 2023

6

min read
Reading Time:
5
minutes
Here are 5 ways to improve your ROI  in 2023! By early 2021 it was clear that the way most eCommerce businesses were looking at growth was simply not sustainable. Too many retailers had focused on customer acquisition as their primary strategy for growth. This had led to spiraling Customer Acquisition Costs (CAC) and by mid 2020, the inevitable happened: CAC started outpacing Customer Lifetime Value (CLV). 
eCommerce retailers were now spending more on acquiring customers than what they could ever hope to make back in revenue.
New customers spent 67% less than returning customers, and on an average only 25-30% of them returned. The numbers just did not add up.
This led to a renewed commitment to customer retention and building brand loyalty. Online customer experiences became a priority for retailers. According to BCG, leading retailers invested close to 1% of their revenues into building personalized experiences for their shoppers.
Building personalized customer experiences finally had organizational buy-in.
So why did Gartner Inc publish a report in December 2019, stating that 80% of all ecommerce personalization efforts will fail by 2025 due to lack of ROI?
Over the last 4 years, Vue.ai has worked with over a hundred of the largest and most innovative retailers from across the globe and across formats, helping them focus on building online customer experiences and optimize their personalization strategies. We have played the role of consultant to many more. And the results speak for themselves – We have consistently seen a significant uplift in revenues within months of implementing ecommerce personalization. But in order for retailers to taste success, they must adhere to a few basic principles.
Here's what retailers must do to ensure their ecommerce personalization strategies are successful:
Here Are 5 Ways to Improve Your ROI in 2023
1. Fix Your Data
Too many ecommerce personalization solutions simply use data that is provided by a retailer. If the data is bad, any personalization is going to be ineffective. Too many personalization engine are little more than CRM solutions. Robust AI solutions enhance and generate data about a retailer's products as well as customers.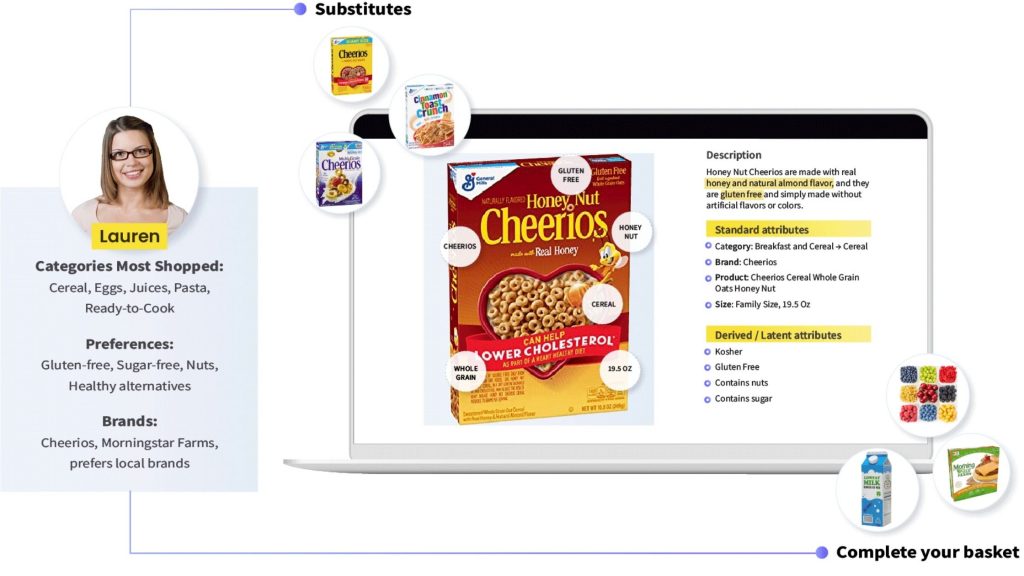 The above illustrations depict how Vue.ai improves product data and builds detailed customer profiles. All a retailer needs to begin seeing ROI from building personalized customer experiences is a product catalog.
2. Understand That Segmentation Is Not Personalization
Every customer is looking for a shopping experience that is relevant to them. There is enough data that points to this. When personalization efforts are limited to creating customer segments and forcing them down pre-decided journeys, they will do little to impact business. This is one of the reasons collaborative filtering is ineffective. For ecommerce personalization to work, retailers need to be able to identify every individual shopper's preferences for a range of attributes and show them content that they will love. Personalization must have context. Retailers need to be able to alter content, based on every individual shopper's preferences and intent, real-time.

The above graph shows the lift in engagement and conversion a Vue.ai customer saw within one month of implementing personalized content recommendations that were dynamically personalized to every individual shopper.
3. Forget Transactions & Focus On Journeys
For personalization to show a significant uplift in revenues, retailers need to go beyond transactions and look at the entire journey of a shopper. Personalized content needs to match purchase intent. Content shown needs to encourage a purchase and not distract them from making one. Similarly identifying stages at which shoppers drop off and placing personalized content at those touchpoints is very powerful.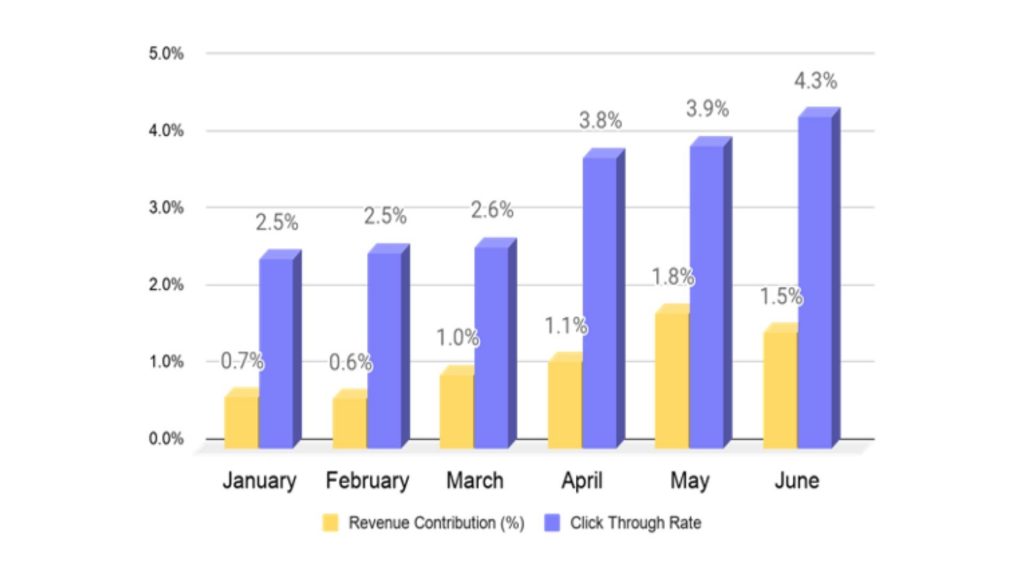 The above graph shows the benefit a Vue.ai customer got from placing personalized recommendations at a touchpoint where shoppers were dropping off- the search results page.
4. Put Business At The Centre
Generic out-of-the-box retail personalization solutions that don't allow a company to add business rules and customizations to reflect their business models and brand story do not have sustained impact. At the end of the day, iconic brands are made from the stories they tell and the connections they make that are unique to them.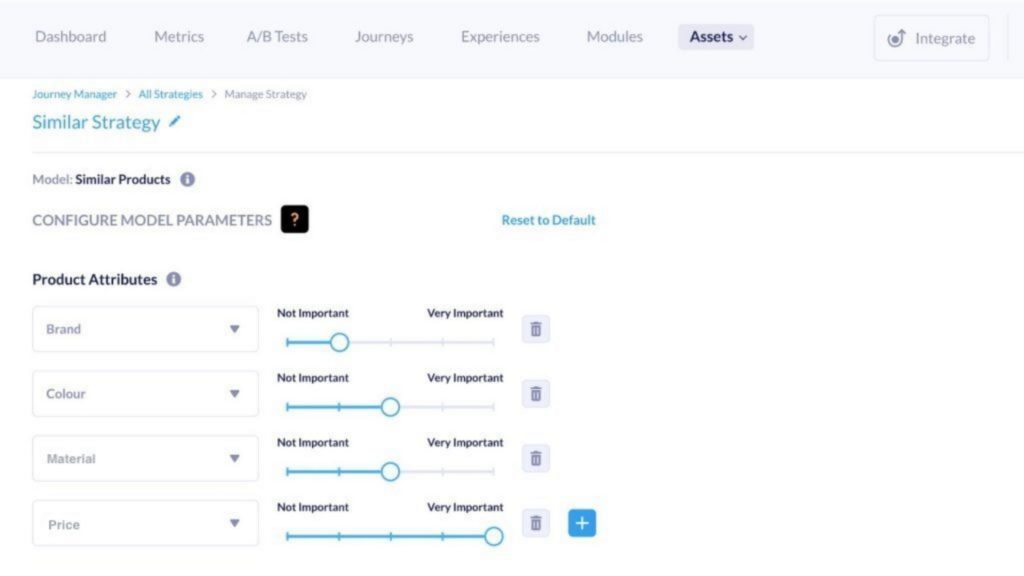 Vue.ai allows retailers to adjust weightage on algorithms based on their business model and add business filters. So if a retailer has more solid color products than patterned ones, they can adjust the weightage of color and reduce the weightage for pattern. They can also increase the weightage of brand and use the business filter to prioritize their brand.
5. Test And Learn
Retailers that have the greatest impact from personalization are those that have built a culture of innovation. Personalization solutions need to allow retailers to easily create and test journeys till they find ones that work.
The above graph shows the consistent increase in conversion a Vue.ai customer saw from running continuous A/B tests on journeys. Vue.ai's customer success teams work closely with retailers to design A/B tests based on best practices and their knowledge of the customer's business and goals.
The Making of Vue.ai's Personalization Solution: The Greatest Wingman eCommerce Has Ever Seen
Our newest product, that is, personalization solution  is designed to be a single powerful tool to help retailers tap into AI to perform the superhuman task of balancing customer expectations with business realities. 
Personalization enhances and generates data around products and customers. Retailers only need product data to begin creating immersive personalized experiences. 

Vue.ai enables dynamic 1:1 personalization. While retailers focus on marketing strategies for different customer segments, personalization ensures every individual shopper continues to get content that matches their preferences and intent. 

Personalization makes it easy for retailers to build immersive personalized customer experiences. Through a single powerful tool, retailers can manage all aspects of a shopper's journey, across touchpoints. No code needed.

Vue.ai enables retailers to run A/B tests that identify high performing journeys. Our customer success teams work closely with customers to design these tests and ensure there is a sustained lift in ROI. 

Vue.ai's Personalization solution is customizable and allows retailers to make the AI their own. Retailers can adjust weightages on algorithms and set business rules to bring their business strategies to life.
Vue.ai helps retailers harness the power of Visual AI to allow them to go beyond transactions and build immersive customer experiences that are so remarkable, they define the brand. 
Are you ready to improve ROI for your brand in 2023?
We are so confident of the impact ecommerce personalization has on businesses that we put it right on the dashboard!
---
Related Article Virtual dressing room
Read More Ecommerce challenges
Read More About Automated Catalog Management Solution