4 Ways To Rack Up That Basket Size: Start With Home Page Personalization

4

min read
Reading Time:
4
minutes
From Diwali to Halloween, to Thanksgiving that's just around the corner, to Christmas and New Year's not so far away, celebrations are underway in all parts of the world.  Consumers are getting ready to splurge, travel plans are being firmed up,  online and offline deals are beginning to take shape, and bucket lists are being checked off slowly but surely!
Retailers can't wait to get in on the madness and ensure that everyone is walking away with more than what they bargained for. There are just way too many attractive deals out there, sometimes from the most unexpected stores, so what are YOU doing to increase your market share this season?
Here are #4 things you need to be doing, including home page personalization, to make sure your customers leave your store with more in their shopping bags!
1. Don't Let Your Shoppers Get Lost In The Madness, Keep Things Personal!
You are lucky to get more than 10 seconds of your shopper's attention.  Did you know that 60%* of consumers generally stick to the same category that they first click on in the homepage? Use home page personalization to shape your shoppers' journey right from their point of entry into your site by showing them what they want based on their browsing and purchase history, you are ensuring they stick around long enough to find something that they can check off their shopping list. For example, as the image below shows, maybe your shopper is into red this Christmas?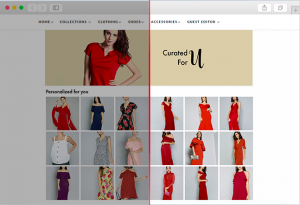 Make sure you maintain a personal connect with your consumers by personalizing every interaction they have with your brand and providing them with a seamless shopping experience.
2. Timing Is Everything. Help People Find Their Favorite Products Quickly!
Know who your shoppers are and minimize the time they take to sift through your website, in search of complete ensembles, be it fashion, home decor, accessories, gifts or anything else they might be interested in.  Show them trendy lookbooks, complementary items and outfits that they prefer, on any page on your site including on the cart. You want to make sure they are able to find the products they want, add items to cart with the least possible effort and complete their purchase on your site seamlessly. In particular, interaction with Vue.ai's Style It recommendations have seen a 1.5x increase in the average order value*.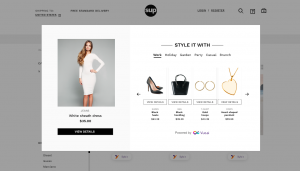 3. Shoppers That Use Your Search Engine Are Precious
Consumers that use site search (personalized search)are known to be the focused ones. They know what they want and will search for it directly without wasting too much time, and also tend to purchase faster once they find what they like. It is crucial that you clean up your catalog and feed in the appropriate holiday- specific key search words to ensure it is robust. You want the null result pages kept to the minimum. Going one step further, consider personalizing your search results page by arranging the product recommendations shown in order of what the user likes, based on his/her browsing patterns and visual preferences, and shorten the path to checkout.
4. Invest Some Time In Creating A Clutter Free Online Shopping Experience
Festive season buyers are a distracted bunch. While their shopping lists are carefully curated with their budget thought out well beforehand, the barrage of discounts are sure to distract. Your shoppers can't get to the cart quick enough if they need to navigate through irrelevant content. They will soon reach a point of decision fatigue after which you can be sure that they've left your site. Moreover, they are less likely to recommend your brand to their friends and family.  For example, make sure that your discount banners are placed on top of the page, and does not obscure home page personalization which can shape your shopper's journey. 
Take care when placing your 'Complete the Look', 'Recently Browsed' or 'View Similar' recommendations on your product or cart pages and use creative ways to ensure they appear without being too much of a hindrance to the overall shopping experience. To learn more about placement, read here.
These hacks can do wonders in keeping your customers focused, and getting them to find  everything they need from your store, quickly and effectively.  To learn more about Retail personalization, read here.
*Vue.ai's internal studies