Global Corporation Improves Sell-Through with Existing Buyers

2

min read
Reading Time:
2
minutes
An American clothing company realizes improved recovery and decreased transaction times on multi-category inventory.
Company Profile
A global corporation that houses several iconic fashion brands worked with Vue.ai to improve margin and sell-through on off-price inventory. As one of the world's largest multinational apparel companies, this corporation does business in more than 25 countries and sees $9 Billion in revenue annually. This company is a designer, marketer, retailer, and wholesaler of women's, men's, and children's branded apparel, accessories, cosmetics, and furnishings. By partnering with Vue.ai, the corporation saw significant margin enhancement on multi-category inventory with its existing retailers.
Challenge
Vue.ai collaborated with the company to solve three problems with its liquidation strategy:
Unable to provide complete product information and images to buyers, resulting in lower perceived inventory value as well as longer transaction periods—buyers took weeks to negotiate deals and submit purchase orders.
Order entry and reconciliation processes were manual and error-prone for both the brand and buyers.
Limited transaction data was captured during negotiations, leaving the company with minimal analytics for business assessments.
Solution
Taking these challenges into account, Vue.ai's excess inventory solution INTURN helped the corporation overcome these hurdles and optimize its off-price process:
Displayed products with INTURN's automated content-rich offer view, creating an e-commerce-like experience for buyers.
Leveraged INTURN's negotiation capabilities, enabling users to easily track products and categories, view negotiation history and calculate optimal offer pricing. This ultimately led to business insights and improved decision-making.
Utilized INTURN's customized PO export format, which allows for bulk order entry and eliminates the manual entry process.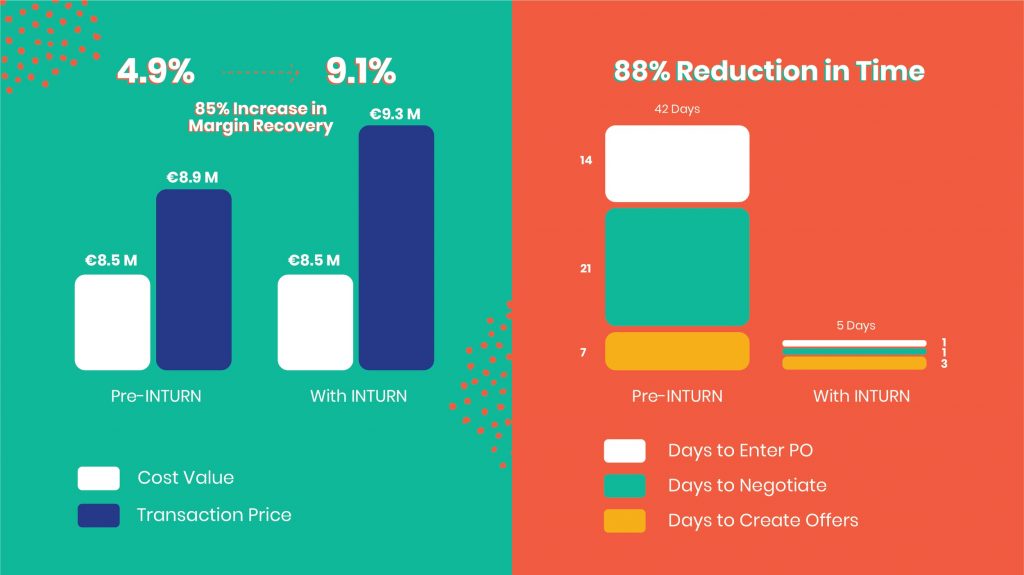 Results
These solutions led to two impressive results that improved the company's off-price business performance:
Recovery Enhancement: More products bought at the best margin.
Of the company's existing buyers, the buyer offering the highest price purchased 25% more units than what was historically bought due to better product information and images. Product margins went from 4.9% to 9.1%—an 85% increase!

Efficiency: Duration of transactions greatly reduced.
The overall transaction time was reduced by 88% due to INTURN's automated data upload, offer exports, and negotiation tools. This also decreased other related costs, including warehousing and financing costs.
Want to learn how your company can improve business metrics and speed up transaction periods with your existing partners? Get in touch here.