Fashion Product Tagging: Here's Why You Need it Today!

8

min read
Reading Time:
6
minutes
Fashion Product Tagging! Your shoppers are in the driver's seat, clearly. They are well-informed and exposed to social media and other digital platforms at the palm of their hands. And because they are knowledgeable, they are much more selective and cautious about what they buy. They don't simply browse and shop online. Nor do they only see and compare products. Today's millennial shopper demands an effortless and the best fashion omnichannel experience. Understanding your shoppers, their personal preferences and affinities toward a certain brand, style, dress, color, pattern, etc. have become an integral part of shopping behaviour or insights for retailers. It is not an exaggeration to say that in today's times, customer satisfaction is directly proportional to convenience and customer experience. Read on to know how can fashion product tagging can cover all this for you.

"82% of shoppers are more likely to do business if the experience involved is personalized", Epsilon and GBH Insights.

A prominent challenge for retailers today is providing an incredible shopping experience for their customers. Shoppers have remarkably evolved and so have their needs. For retailers to not lose their competitive edge, they need to address the pain points in a customer's shopping journey and intervene immediately to make a significant impact.
Have you read our article about The Top 5 Catalog Management Challenges for Fashion Retailers?
Customers' positive experiences are linked to convenience and satisfaction. This happens when they're able to find what they are looking for. Sounds easy, right? It's not that simple. For a customer to find items that are closest to their preference, they need to have a catalog that is rich and accurate in information including product descriptions, titles, categories and more specific data like color, size, fit, sleeve and length. When these details aren't specified, the chances of locating the right product is difficult. The likelihood of a disillusioned shopper returning to a brand after this kind of a negative experience is rather low.
How can it be made simple? Automated tagging is the answer to a retailer's catalog management woes as it helps brands unify their end-to-end retail process, and provide satisfying shopping experiences to their customers.
Automated Product Tagging, as the name suggests, is a tool that can "automatically" tag categories, subcategories, visual and non-visual attributes from any given image or media content.  It decreases the time taken to tag catalogs, improves the accuracy of both the tags and search engine results on sites. Upload your catalog, review the tags, title and description the tool automatically creates, export to preferred formats.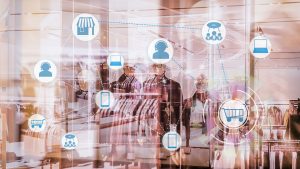 Here are the 7 key benefits of integrating automated tagging into your retail business:
1. Save Time And Go-to-Market Faster
Does your product team have multiple folders with countless images waiting to be sorted by someone? You're not alone. This unclassified data never makes it to your live product catalogs because it is forgotten in sheets and most often found in a category called 'miscellaneous'. Automated tagging can help you tag over thousands of products within minutes, thus making the process much faster than manual tagging. By using computer vision and image recognition, a retailer can save time and go-to-market faster and launch their products with accurate product information in their catalogs. With the ability to tag products in a fraction of the time at a significantly lower cost, automated Fashion Product Tagging enables retailers to prioritize brand growth and spend less time on manual processes.  
2. High-quality Tagged Products 
Several retailers use crowdsourcing platforms to tag their products manually on catalogs. Unfortunately, many retail teams work in silos without getting a unified view of the 'correct' product information. Even when knowledge is adequate, just the fatigue of tagging each individual product can lead to products labelled poorly with incorrect, irrelevant, or even missing information. Asking a person to judge whether a particular dress' color is closer to purple, violet, or blue may is subjective to their perception of the shade. Tagging algorithms, however, would have specific rules for each shade of the color.
This ambiguity is solved with image recognition based auto-tagging. Computer Vision-based tagging can "automatically" detect objects, colors, patterns and other detailed product attributes and tag categories, subcategories, visual from any given image accurately. On top of that, Natural Language Processing capabilities have evolved to allow text extraction from any other media content or messages you or your team may have created for each product. With a combination of Image Recognition and NLP, watch the quality of tagging and as a result, all the benefits help your business exponentially.
3. Rich And Consistent Metadata
When browsing on a website, product catalogs are the first touchpoint for customers. Product descriptions that accurately labelled, properly categorized and provide ample details of its visual attributes are the definition of rich metadata. For instance, the color yellow should always be spelled as "Yellow" and not "YLW" or "YELOW" for all yellow products across selling channels. More importantly, all apparel in the catalog should have defined categories like tops, dresses, skirts, trousers, pants, etc. Products must have the ability to be found again via browsing or searching. The advantage of adding rich metadata like a pattern, neckline, style, sleeve length, style or occasion highlights all possible visual features and makes search results more accurate (personalized search) for customers, thus helping them narrow down their search to their specific preferences and increasing chances of conversions. A rich product catalog with high-quality metadata helps retailers build smooth fashion omnichannel experiences for their brands.
4. Significantly Better Control Over Inventory And Response To Trends
Every year, excess inventory contributes heavily to total lost retail revenue. Keeping track of the granular details of all products in the inventory helps retail teams gauge their products better, interpret trends and buying behavior better, all while learning key findings of their stock. Accurately tagged items also help you detect early signs of trends, allowing you to influence merchandising, sales, discounts, marketing strategies.
Retail teams can market thematic ensembles and collections that are most appropriate to their shoppers, with insights that are generated through product data. A better view of their inventory helps retailers make smarter buying, merchandising, and marketing decisions. This, in turn, can be key for businesses to forecast demand and stock up accordingly. Retailers can prepare for seasonal spikes in demand for products based on the inventory data, thereby helping them optimize sales and marketing campaigns for these periods.
5. Improved Searched Results And Enhanced Product Discovery
More often than not, e-commerce site searches are an overlooked element of online sales. Despite its importance, most sites don't support the functionality of onsite searches as much as they should. As Baymard highlights, "16% of the top 50 US e-commerce sites do not support that users search by product names" (which appear on the product page). Poor site search also has a direct impact on the percentage of your catalog getting discovered.
While a poor search result is the fastest way to lose a customer, turning it around to serve up relevant search results can lead to both faster and higher conversions. For instance, if a shopper is searching for a button-down mustard skirt and your search is powered to show an exact match, the chance of an add-to-cart is extremely high.
6. Increased Brand Visibility And Customer Stickiness
At any point, there is always a "better deal" waiting for the customer elsewhere, to distract them from your e-commerce site. One way to build brand loyalty is to consistently provide a superior shopping experience. Fashion Product Tagging ensures that both products that show up in search results, as well as overall product discovery, are accurate and relevant. When you are able to deliver relevant search results every time the customer is browsing your site, it has a direct impact on the customer's confidence in the brand, thus building brand loyalty.
For example, if the customer is repeatedly shown a specific brand's products because of rich and relevant tags, then the chance that the customer will seek the brand out on the website is rather high. It also encourages the customer to make repeat visits to the marketplace itself. This builds stickiness at both a brand as well as marketplace level.
7. Seamless Omnichannel Experience
Automated Fashion Product Tagging helps unify product information across channels and helps understand the status of each item and category of items across channels.  Brands benefit highly from this as inventory management gets easier with consistent tags across channels. Keeping track of stock is a breeze too. At any point, retailers have access to the number of items in a particular style, color, or category. This also assists in making metrics measurement a smoother process – tracking the type of items that are more in demand or the type of items that have been stagnant for a while. With this, overall inventory management, matching demand and supply and predicting trends become a hassle-free affair.
Conclusion
Keeping track of growing catalog sizes can be a daunting task. Auditing hundreds of catalogs and products, categorizing them in a structured way, managing products across selling channels and keeping a tab on other facets of your retail business require a lot of effort, resources, and dedication. Image recognition based tagging is an integral part of the catalog management process. A well-labelled catalog can help you tie all these loose ends – right from saving costs with automated processes, to generating high-quality product data, to categorizing product better resulting in product discovery and accurate searches on your website and search engines.
Click here to sign up for a free trial!