A Beginner's Guide To Email Personalisation

5

min read
Reading Time:
3
minutes
A whopping 320 billion emails are estimated to be sent each day this year. Email marketing has transitioned from being a basic communication channel to one that can actively connect, coax, and convert shoppers to buy something. The numbers paint quite a picture – email generates $42 for every $1 spent. These statistics make the case for retailers to focus on email marketing, and then again, prove that if the strategy isn't accurate, promotional emails would simply get lost in a sea of other emails! And this is why email personalisation is highly relevant:
These numbers are critical for understanding where, how, and what can ensure shoppers return to the site and new shoppers convert faster. Shoppers connect to some better than others. And personalization is the key to standing out in a flooded inbox. With the wave of email personalisation cresting, customers aren't pleasantly surprised to receive personalized product recommendations anymore, they expect it.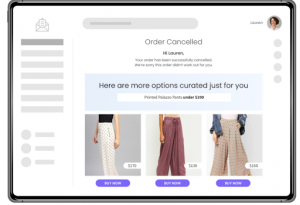 Successful email personalisation
Every email that a retailer sends to a shopper needs to fulfill one of three goals:
Lure shoppers to the site and explore the products

Bring back shoppers who have abandoned their carts and make them complete the purchase

Cross-sell products to shoppers based on their purchase patterns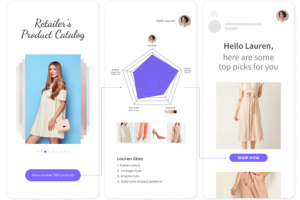 To strike a chord with shoppers, retailers must know shoppers and their behavior on-site on a 1:1 basis. And highly personalized product recommendations that are unique to every shopper is the solution.
65% of email marketers say dynamic content is their most effective personalization tactic. With the right kind of AI-powered personalization platform, fulfilling these goals while delivering a stellar experience off-site for shoppers is possible.
Vue.ai's AI-driven solution for personalized emails
Vue.ai built the world's first AI-powered, dynamically personalized product recommendation solution for emails. This allows retailers to follow shoppers right into their mailbox and engage with them there. The solution understands behavioral triggers and attributes affinities of shoppers to provide highly relevant product recommendations through email. It integrates with all major email platforms retailers use today.
Vue.ai's personalization engine, which can power 1:1 personalization across channels, takes into account every shopper's attribute preferences by mapping their actions to rich product data. The algorithms create a nuanced profile for every shopper. The email personalisation solution uses these shopper profiles to personalize product recommendations in emails.
It enables retailers to personalize their emails to every single shopper individually – and not as segments. Email content, especially product recommendations personalized for every individual shopper, can help engage and bring shoppers back to the site.

The recommendations are generated dynamically at the time of open. It excludes out-of-stock and unavailable items in the catalog. This ensures that the products shown in the mail are all available when the shopper sees them.
For a fashion resale marketplace based in the United States, 5% of the site's total visits come in through Vue.ai's email recommendations.
How retailers can use AI-powered email personalisation
1. Rescue abandoned shopping carts
Lead shoppers back to the website by reminding them to complete their purchase through personalised email. With Vue.ai, retailers can show each shopper:
different ways to style the fashion products in their cart

products they can use along with the ones they bought (complementary products)

and

other products that are similar to it

(

in case they are not very convinced with their choices
2. Cross-sell in order confirmation emails
The shopper journey doesn't stop with a buy. Retailers can uplift their revenue by showing the shoppers outfit recommendations for the products they just bought or products frequently bundled with them.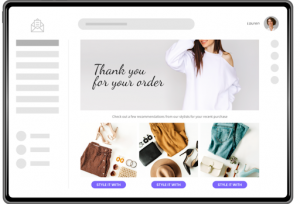 3. Re-engage in order cancellation emails
Reconnect with shoppers who have canceled an order with products similar to what they have liked in the past. Bring them back to the site, understand their intent, and get them closer to what they were looking for.
4. Personalize promotional emails
Boost brand loyalty and engagement by sending shoppers curated collections based on their individual tastes and preferences. Launch new collections and nurture the user community with exclusive content for each shopper.
Click here to learn more about Vue.ai's email personalization solution and how retailers can start with improved email marketing that dramatically increases ROI through true visual personalization – email personalisation that's ahead of the curve.