VueFind: 4 Things You Need To Know About Visual Search

4

min read
Reading Time:
3
minutes
Visual Search Engine! In 2017, more than a trillion images (BI) were captured through phone cameras, and smartphones have taken over our day to day lives, to an extent that there are now 8 times as many picture takers worldwide than there were 10 years ago (Petapixel)! Site personalized search is used by over 33% of shoppers for product discovery. These shoppers show 2-3x higher intent to buy. With mind-boggling figures like this, there is an increasing need for effective visual search engines that can cater to a variety of different visual contexts to enable retailers to capitalize on the thriving smartphone generation and convert those camera clicks into dollars.
Enter VueFind, Vue.ai's personalized image and text search solution that is re-imagining how your shoppers discover products. It is a holistic search engine that lets your customers choose their preferred way of product discovery – be it clicking a picture of something they see interesting, or typing in what is on their mind. With its core of Computer Vision and powerful NLP engines, VueFind goes beyond a traditional text search engine, understands customers' preferred visual cues, marries it with the right catalog information and provides highly personalized contextual, personalized search results.
Here are some things you can expect from VueFind:
1. Enriched Catalog Through Computer Vision And NLP Generated Product Information
An incoming catalog goes through Vue.ai's image recognition and automated tagging process, where visual product information like color, pattern, style, occasion, length, fit amongst several others, are extracted using Computer Vision technology. This is then combined with Natural Language Processing engines to generate product titles and descriptions to create cleaner and richer product and catalog classifications. As the user inputs either an image or a textual search query, the engines are able to spread a wider net and the results are more comprehensive, exposing a larger portion of the catalog.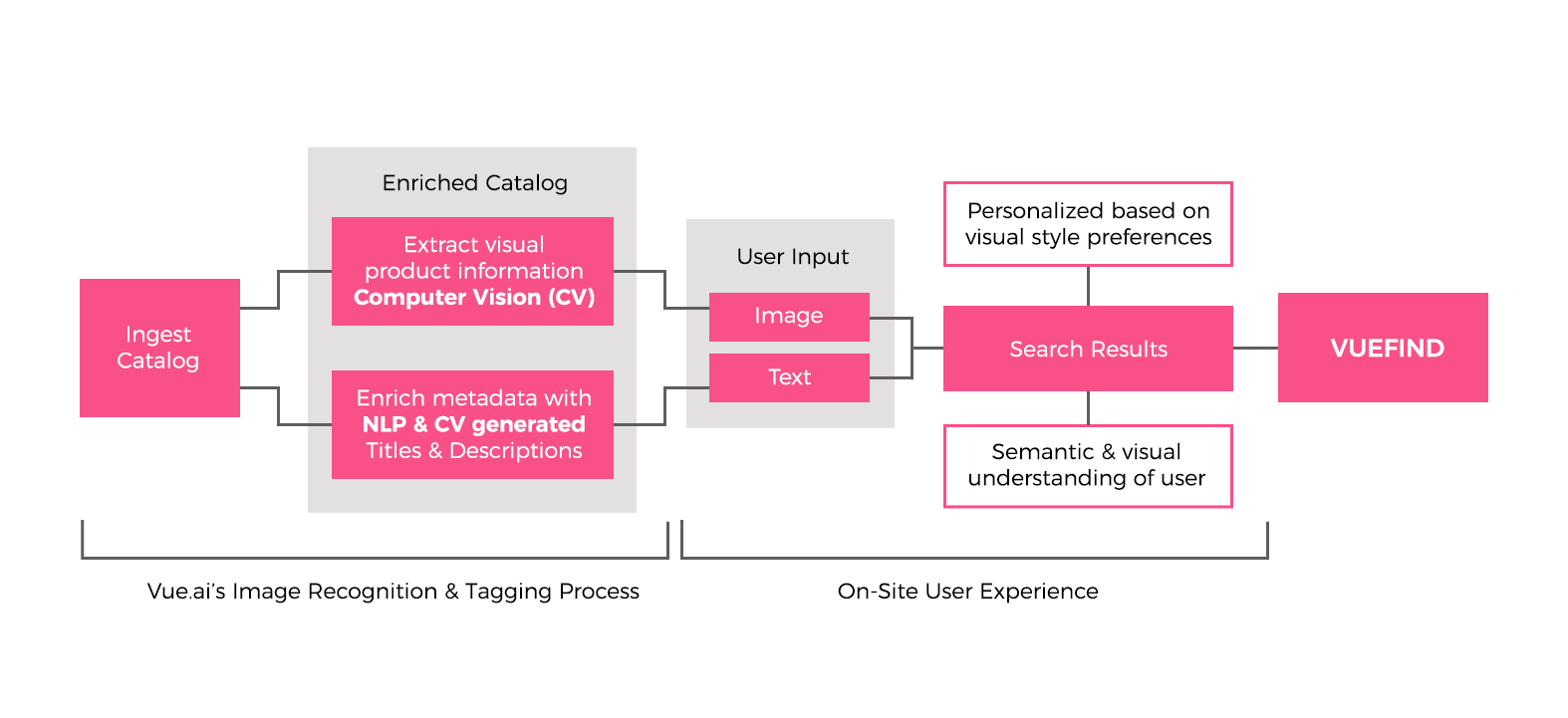 2. Product Discovery Maximized Through Both Image And Text Search
Sometimes a picture is worth a thousand words and not everything that you see can be articulated. VueFind lets you choose how you want to find what you are looking for. The beauty of having a search engine that can work with both images and text as user inputs, is that it provides multiple ways in which a user can interact with your brand and discover a larger chunk of your catalog. Vue.ai's visual tags, as shown below, is augmented with the existing textual tags available in a standard catalog (image below) allowing for more precision and relevance in the search results.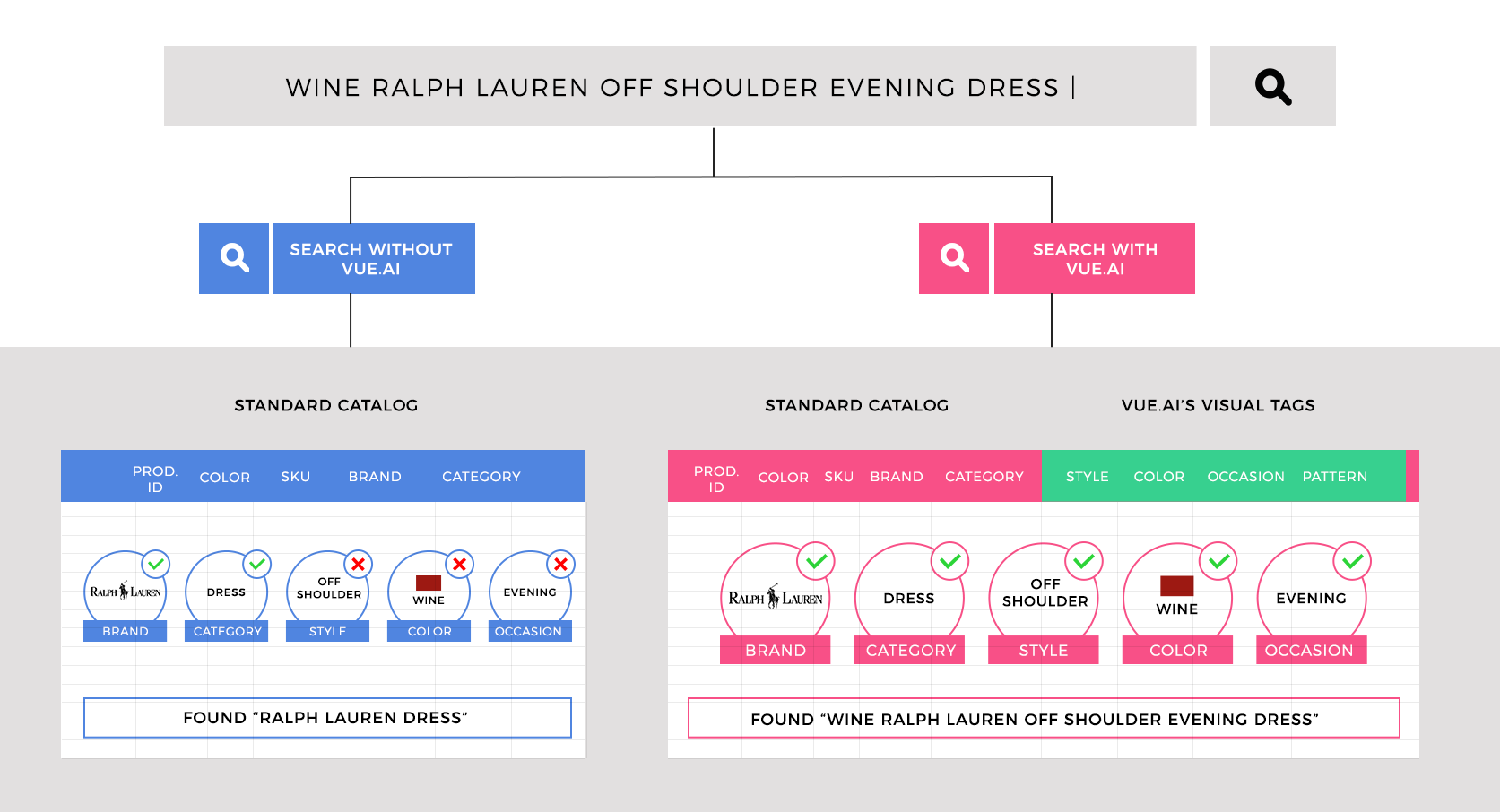 3. No Two People Have The Same Search Results
The power of personalization engine is in full effect. Using behavioural and contextual insights of each user through proprietary Computer Vision, NLP and data-driven engines, VueFind is able to tweak the search results based on an individual's age, gender and visual preferences. As shown in image below, when the term searched for is "Wine Ralph Lauren Off Shoulder Evening Dress", 30-year-old Becky, who has a higher brand affinity is shown a variety of similar-looking Ralph Lauren dresses compared to 16-year-old Lauren who is more brand agnostic but is specific about the colour she prefers. Based on her behavioural patterns, Lauren is shown Wine coloured dresses that are not necessarily entirely from the Ralph Lauren collection.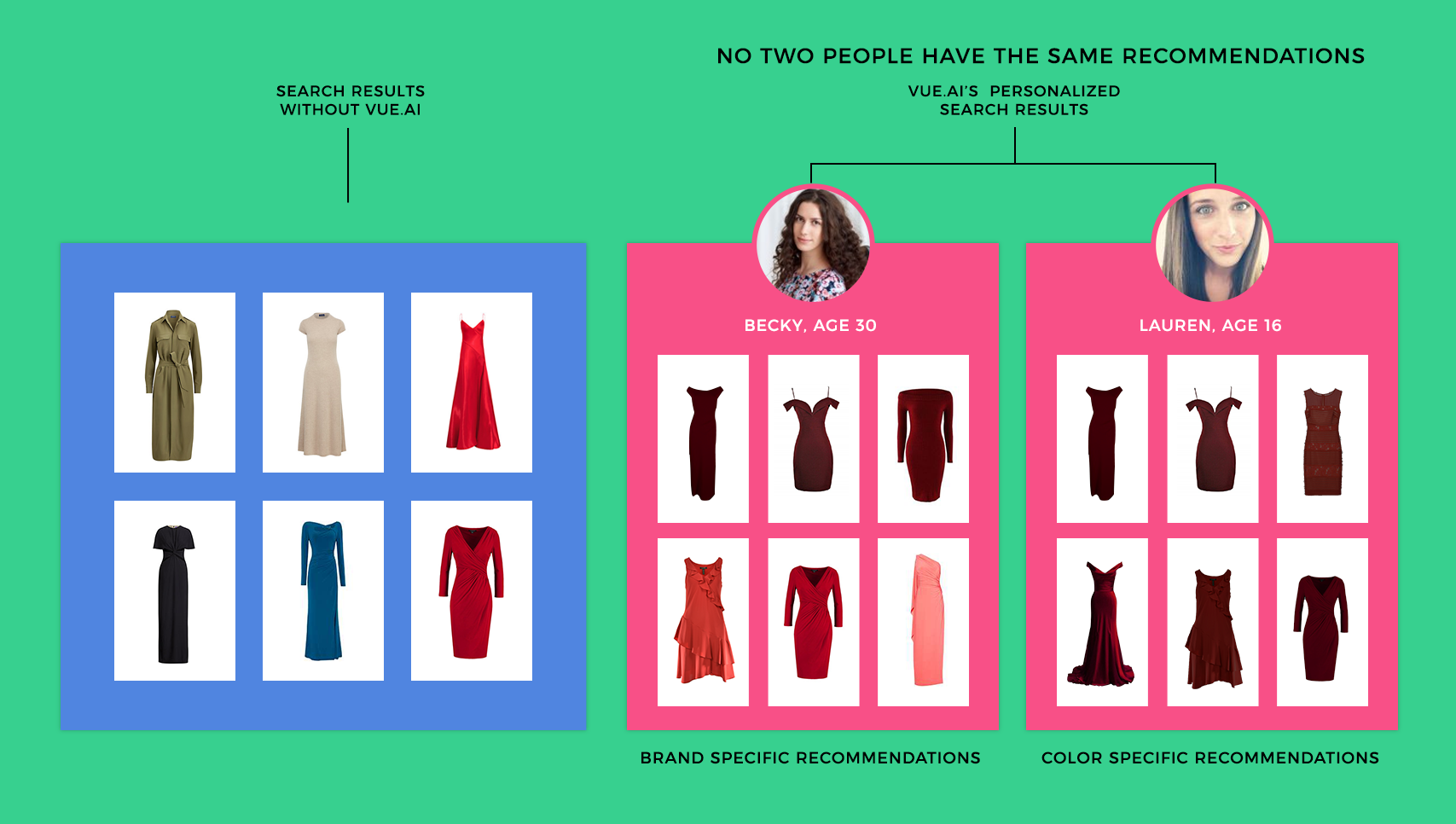 4. Enhanced SEO For Greater Catalog Visibility
Studies suggest that over 30% shoppers start any product search on Google. VueFind helps you improve product discovery not only on your site, but on external search engines as well. Its algorithms understand product data, catalog data, as well as customer data – what customers are looking for and all the ways they are discovering these products. This optimizes search for long-tail queries, enriching your site's existing content and improving catalog ontology and link structure to make sure your shoppers find your products wherever they are, whichever way they want to.
To read more about this, click here.
Read More About Automated Catalog Management Solution