Ecommerce Visual Merchandising Checklist Every Retailer Should Have

10

min read
Reading Time:
8
minutes
Humans are visual creatures. A lot of research has gone into learning this and there is a lot of data discussing this. 90% of the information absorbed by the brain is visual. In the online world where everything is consumed through a screen, visuals determine everything. And when you are selling something online, it determines your revenue.
Did you know that 38% of people will leave a website if they find the layout unattractive? Visitors take about 50 milliseconds to decide whether they like a site or not – to put that in perspective, a single blink of the eye takes about 300 milliseconds.
As a retailer, a visitor not liking your website directly translates to them not becoming a shopper – and you aren't granted with much time to prove yourself. This is where visual merchandising comes in. Merchandising helps you decide how you are seen in your shoppers' eyes.
What is Visual Merchandising?
Visual Merchandising refers to the display of products for sale in such a way that it sparks interests in shoppers and pushes them to make a purchase.
With industrialisation early last century, visual merchandising started becoming a much-spoken about an aspect of retail stores. Soon, it became a crucial part of building stores – courses were brought in to teach just this and specialists were sought-after. Then with the retail eCommerce boom, visual merchandising found its space online too, as site merchandising.
What is eCommerce Visual Merchandising?
eCommerce Visual merchandising refers to the strategic display of products on the website in such a way that attracts the customers and make them engage with our website. Ecommerce visual merchandising, or site merchandising for retail sites, is a critical component in building the experience your shoppers have on your website. You can transform your online retail business with the right kind of merchandising – both in terms of differentiation from competitors and boosting revenue.
Your eCommerce visual merchandising strategy should cover all the basic requirements that customers expect from your site – but also something extra that will help differentiate you from the thousands of other similar eCommerce websites they can go to. The look and feel of your website, your homepage, the site search, product data, and product recommendations are the essentials. Getting a little creative and smart with product recommendations can help you offer your customers something different from your competitors.
Here's is the eCommerce Visual Merchandising Checklist every retailer should have
1. Site Merchandising Staples: Design, Layout, And Structure
It is no secret that the internet thrives on visually appealing content. There are millions of designers across the globe making the internet a more attractive place, one brand at a time. Why the aesthetic trend that has taken over Instagram proves enough. Everyone is trying to make their Instagram feed more aesthetically pleasing. That is what sells, that is what will gain more likes and followers. The same is also true of your eCommerce website – except a more appealing site will lead to increased sales and revenue.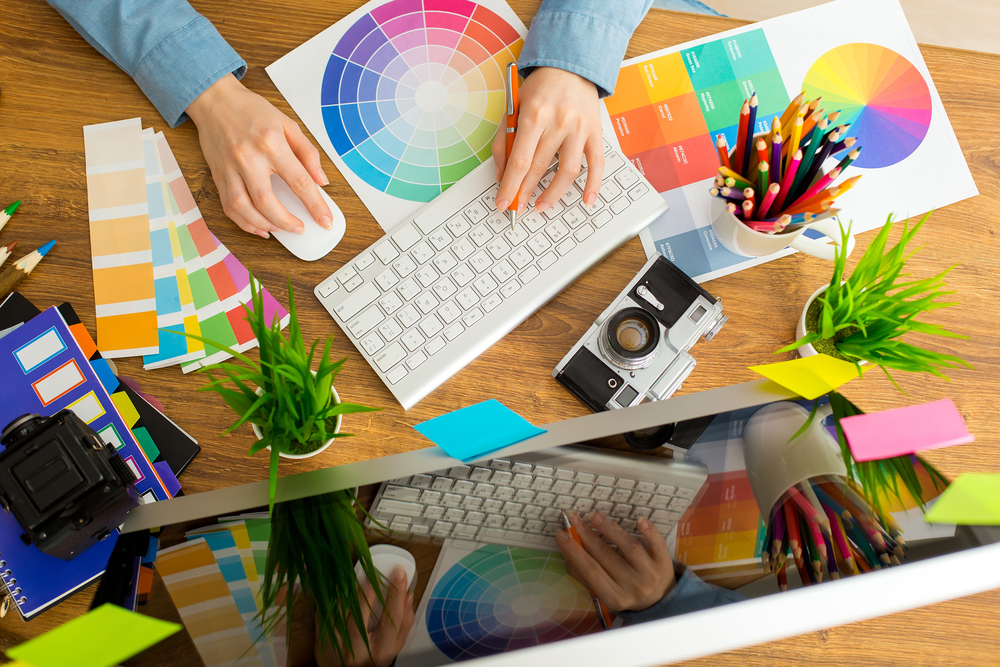 The design, layout and structure of your website make up the look and feel of your website. 46% of consumers base their decisions on the credibility of websites on their visual appeal and aesthetics. As trivial as it may seem, the colours, fonts, and design elements in your website can be the factors based on which you gain or lose a customer.
First impressions are 94% design-related. Your design decisions have to appeal, while also illustrating who you are as a brand. Design and website visuals are the best way of bringing out your brand personality – something that makes you more human and pulls people towards your brand.
Going beyond the surface appeal, your website must also be easy for the user to navigate through. Moving from one page to another must not be exhausting. The structure of the website should be simple and something that even a first-time visitor is able to understand easily.
Finally, all this – the design, layout and structure, should be mobile responsive. 85% of adults think that a company's website, when viewed on a mobile device, should be as good or better than its desktop website. Considering 79% of customers make orders through their mobile phones, having a non-responsive page is not even an option.
2. Website Homepage: The First Online Merchandising Touchpoint
Your website homepage is often where your shoppers land first. It will also be most likely to be the page with maximum traffic. All your chances of creating a good first impression lie in how your homepage looks. It is the page which makes your visitors decide whether they want to shop from you or not.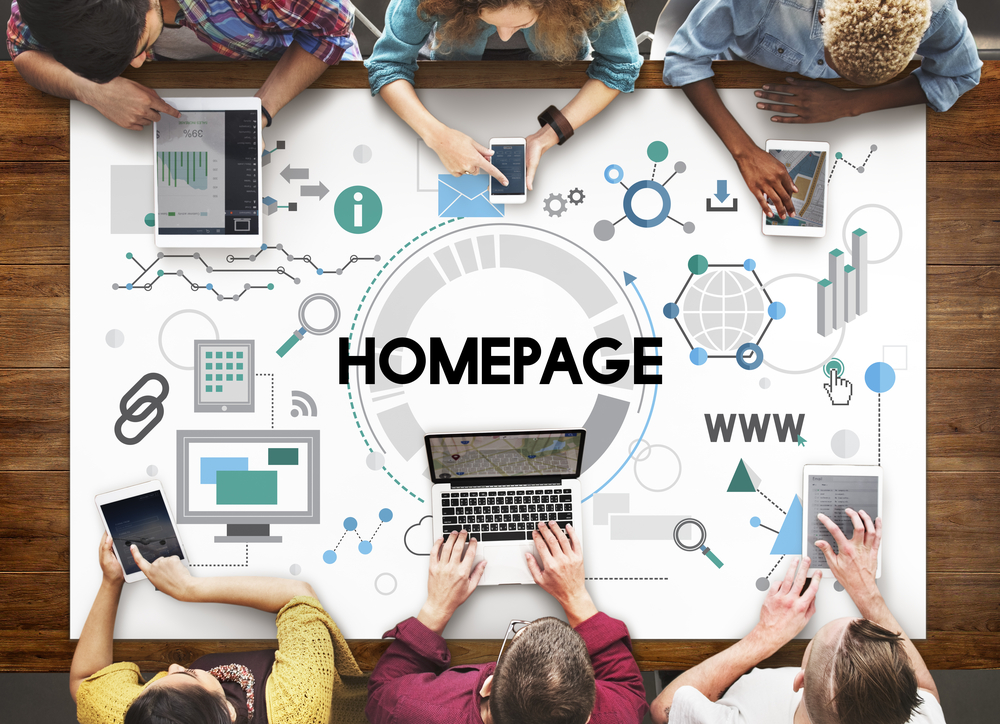 It takes 2.6 seconds for a user's eyes to land on the area of a website that most influences their first impression. It is on you to design the page in such a way that they aren't confused when they enter your website – and also that the main focus on your homepage makes them want to stay and shop. The page must be both informative and intriguing. Who you are as a brand, what kind of products you sell, what value you have to offer and an easy way of navigating through your website must all be clear on the homepage.
The information should also not overwhelm your visitors. It should hit the sweet spot of being just enough information to help them understand without confusing them. Like the shopper behaviour expert Paco Underhill says in his book – Why We Buy: The Science of Shopping, "If you tell too much too soon, you'll overload them and they'll give up. If you confuse them, they'll ignore the message altogether."
This page is also the first chance you get to prove yourself as a user-friendly website. Apart from being appealing and easy to navigate, other aspects like the page load time should also be taken into account. 39% of people will leave a site if it doesn't load quickly, and often, the homepage is where you will have to prove speed first.
3. Smooth Site Sailing: Site search
When visitors search for a product, they are 1.8 times more likely to convert. This is because when a visitor is searching for something in the site search, they have a very clear intent. Your shopper, let's call her Sarah, may have an event coming up for which she is looking for a dress. She gets on your site and searches for a dress she'd want – 'fit and flare blue dress'. Now, Sarah fully intends to buy a product that fits her description.
But it often happens that the site results don't show accurate results – which leads to Sarah or any shopper abandoning the site. 72% of sites fail eCommerce site search expectations. This is very surprising as search is the one tool with which retailers are highly likely to convert shoppers.
Site search is the eCommerce equivalent of asking for a store assistant's help. One would expect shop assistants to know the answers to where to find something, similarly, your shoppers expect your site's search results to show exactly what they asked for.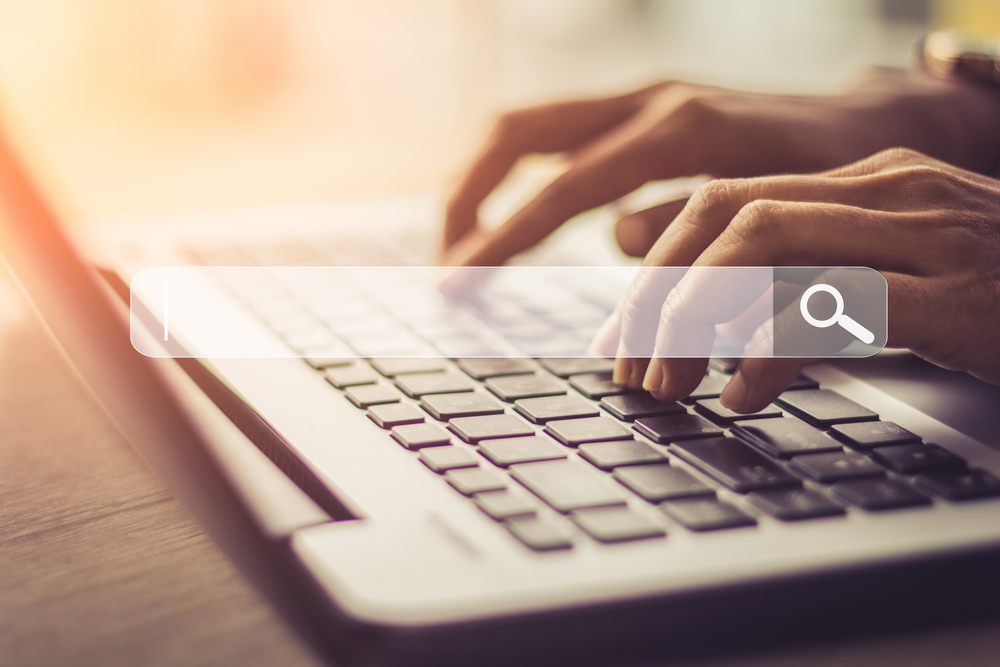 The basic need for good site personalized search is a clean catalog with rich product attributes. When your tags are in place and cover all attributes of the product, it makes it much easier to find it through site search. Automated product tagging can help efficiently tag products without missing out any aspect.
Going beyond the basics, you can also help improve chances of conversion by personalizing search results. If Sarah is shown blue fit-and-flare dresses with the kind of sleeves and length she usually buys, she is much more likely to purchase something than if she were shown a random assortment of blue dresses.
4. Merchandising The Hero Right: Product Data
A shopper came to your website, liked the look and feel of the site, got interested to explore more from the homepage, searched and found something they want. Now they have reached the product page. They are currently at the highest intent level they have been at till now. If they like what they see on this product page, they are likely to buy the product. This page should have photos of the product, a description, and clear CTAs as the bare minimum.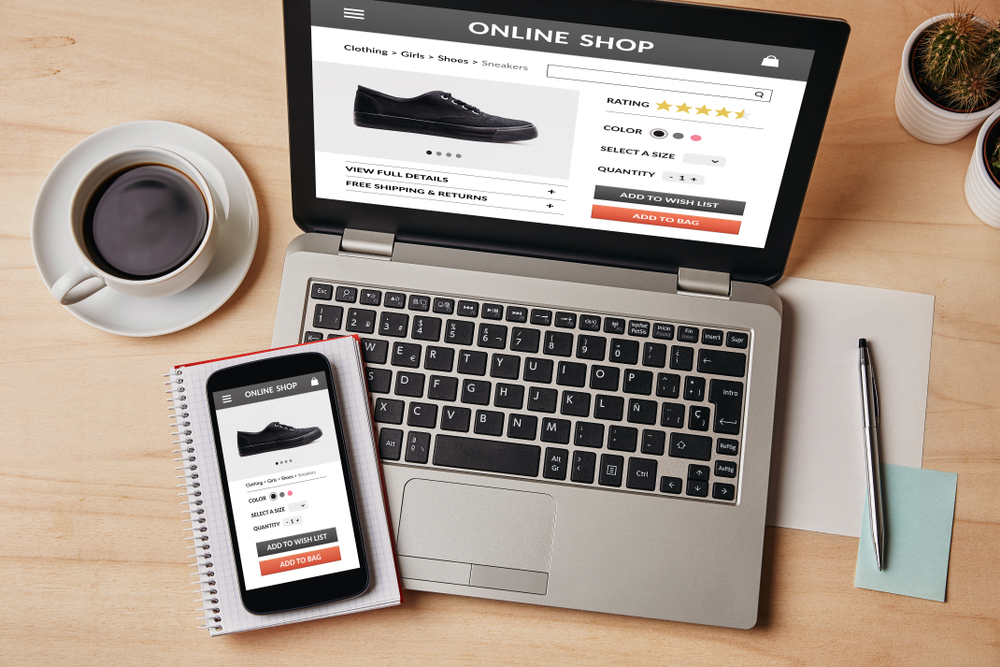 Users spend an average of 5.94 seconds looking at a website page's main image. The product image is the main focus of this page and what the shoppers make their decisions based on – it should be something that accurately depicts the product. Different photos from various angles help shoppers understand the product better. Videos work even better. Being able to visualize the product in a video removes a lot of hesitation that some shoppers may have about shopping online.
Apart from the images, a description that talks about all the product attributes brings the shopper more clarity about the product. 88% of shoppers characterize detailed product content as being extremely important to their purchasing decisions.
An attractive and informative product page increases the chances of a shopper converting there.
5. The Secret To Merchandising Online: Product Recommendations
Ecommerce visual merchandising is a lot about creating an experience in such a way that your website's visitors will want to buy from you. It is also about helping shoppers explore your site and discover new products that they'd like without much effort.
Product recommendations are a great way of doing this. Showing other products on one product page helps shoppers discover products they may have not chanced upon otherwise. There are different ways of doing this – you could show other products that look similar to the product, products that people who bought this one purchased, and other products that will go with it. Personalizing these recommendations improve your customers' experience. After all, 44% of consumers say that they will likely become repeat buyers after a personalised shopping experience.
You can also get a little creative with ways of recommending products from homepage to checkout with Vue.ai®'s – VueCommerce product recommendations.
Recommended For You – Product recommendations based on the shopper's preferences.
Complete Your Purchase – Products that complement and can be worn with the chosen product.
Trending Products – Top-selling products (at category level if the shopper shows affinity to categories).
You May Also Like  – Products that are visually similar to the chosen product.
Style It (Complete the look) – Personalized styling recommendations for different occasions.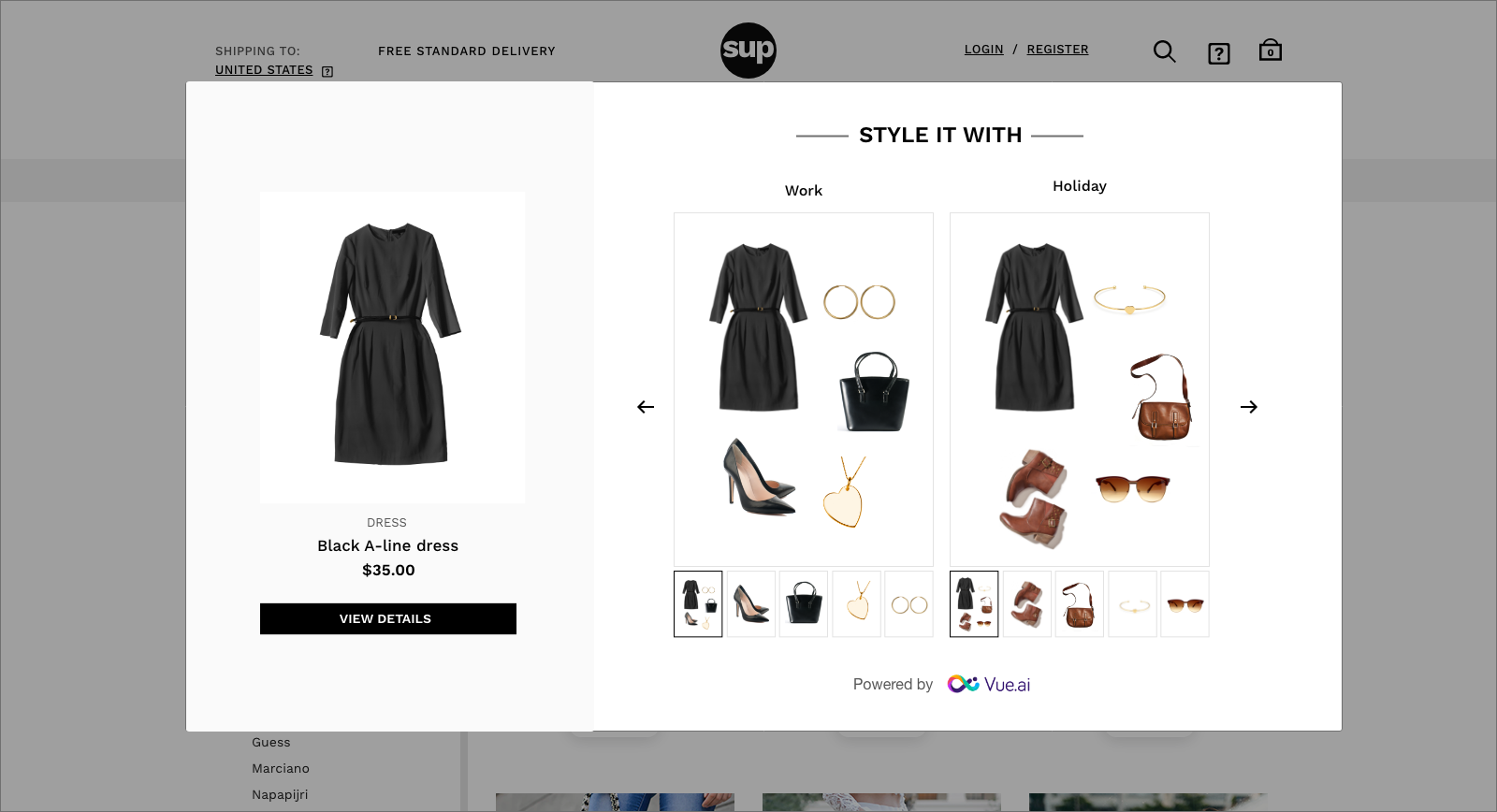 Giving styling recommendations helps your shoppers see the product they picked styled with other products that would like. Showing this for different occasions also helps you illustrate the versatility of the product, providing more reasons for them to buy it. You can also create your own themes and customise the type of styling outfits that are recommended.
The 'Style It' button can follow your shopper across their journey on your website – you can be your shoppers' destination for fashion inspiration. This especially helps when shoppers are in the dilemma of buying a product because of a lack of ideas of ways of wearing it. Studies prove likewise – 64% of women say that seeing images of products in context positively influences their purchasing decisions.
A Multi-Win eCommerce Visual Merchandising Solution
Simply put, the end goal of site merchandising is increasing sales. Vue.ai®'s site merchandising solution, Vuestyle, is an AI Styling Assistant and the perfect aide to your retail teams to boost merchandising productivity and efficiency. VueStyle's Style Curation Tool is an AI-powered solution to make your products and outfits collection curation processes far simpler. When you upload a mood board, the tool understands the theme and picks corresponding products and outfits from your catalog.
You can review and add these to your collection. The tool understands what you are looking for and shows better results with every click. Improve your seasonal merchandising with theme-based collections in your homepage – create pastel and floral product & outfit collections for spring and watch sales boom. For every new trend taking the fashion world by storm, create collections of products in your catalog that match it. Level it up by showing your shoppers how they can wear it with outfit suggestions.
To learn all that VueStyle can do for you, click here.
Read more about Outfit Recommendation Solution