3 Tips To Have Great Ecommerce Product Attributes

6

min read
Reading Time:
5
minutes
What is a Product Attribute?
Product attributes are a set of characteristics that define a particular product. Attributes include size, color, product type, price and other features relevant to the product. These e-commerce product attributes majorly influence the purchase decision of the consumers.
How important is the eCommerce product attributes for your business?
An ecommerce study by Nielsen Norman Group says,  20% of purchase failures are potentially a result of missing or unclear ecommerce product attributes or information.
Ask yourself, would you buy a shirt with well-laid out information that tells you a thing about the color, pattern, occasion, etc. about that shirt, or would you prefer to buy a shirt by just looking at an image of it?
While the product title is the second thing a shopper may see on your website (after the product image, of course!), the product description is how shoppers converse with you. A bad product description may cost you a potential sale.
Is There a Good or Bad Product Description?
YES!
Your product information does not need to have too much detail, fancy words or long sentences. A good product description should be able to convey what your product is, a brief of its features, qualities, any details on relevance for a given occasion and why one should buy it.
The aim is to write a product description that quickly answers everything your shopper wants to know about your product. An inadequate product title and description stand incomplete and do not give shoppers enough data to help increase the chance of converting them.
3 Tips for better Ecommerce Product Attributes
1. Include Features and E-commerce Attributes 
A product description that resonates with your shoppers' needs, is what will influence their purchase. For instance, if your shopper searches for a 'Blue Casual Dress" on your website. Generally, they should get search results (personalized search) with a blue casual dress. But search results show a blue skirt, or something totally unrelated, like say a blacktop!
Today, shoppers want high-quality product attributes or information that gives them enough detail to make a purchase decision. So, how do you ensure you are giving your shoppers what they are looking for (that your competitor isn't)?
Let's see how:
Identify two or three top features for your product

–

Blue Casual Dress

List attributes against the top features

–

Scoop-neck Fit and Flare Dress

Describe the product with a value proposition for your shopper

–

This casual dress is designed with versatility in mind. Wear it for a fun Sunday brunch, a movie with friends or to work. It has a flattering scoop-neck with a whimsical touch of cute object prints. Complete the look with statement earrings and a watch.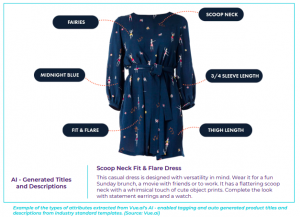 Retailers are increasingly gravitating toward catalog intelligence to help them generate metadata that is clean, standardized, brand-language compliant, and consistent.
By using Computer Vision and Image Recognition technology, tagging engines extract product e-commerce attributes that go beyond just color or pattern. They even include category, gender, pattern, dress length, sleeve length, and neckline amongst others, from images automatically.
2. Optimize Content for Search Engines
Title descriptions include keywords relevant to the content on the website they are listed at. These keywords help search engines understand the content of the page and list the website accordingly for relevant phrases. It also gives shoppers a sneak peek into the content of your website and helps them filter information relevant to their search or query.  
Shoppers use this metadata to decide which search result to click on, which makes it all the more important to use high-quality and relevant titles to optimize your website.
NLP or Natural Language Processing and CV or Computer Vision processes have now made it possible to automatically generate titles and descriptions using retail-conformed templates and enrich metadata and SEO-friendly pages. This auto-generated rich metadata is not only consistent and unique but also corresponds to the style and brand language of the brand.
Consistent product information can work both ways for your retail business:
SEO and better search listing improve product discovery on search engines (Google, Bing, etc.) and across selling platforms.
Cleaner and more consistent metadata, including titles and descriptions translate into rich data for search indexes

Reduced bounce rates on-site due to relevant results on pointed searches

Ensure a better RoI on ad spend
Clean Catalogs Result In Better Navigation:
Standardized category information improves the quality of metadata that is fed into indexing the webpage content

Improved navigation due to clear product classification helps shoppers to find what they are looking for,

effortlessly
Let's take the example of Seller A, Seller B, and Seller C.
All three are sellers in the same marketplace selling the same product (refer to the image below) in their catalog. However, their product description is either inconsistent or has missing ecommerce product attributes.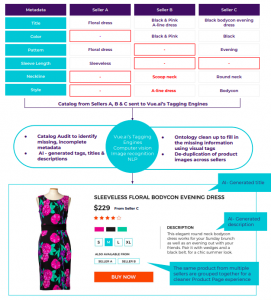 At a categorization level, most retailers decide between 3 and 4-level hierarchies that generally take the form.
Gender > Category > Sub-category > Sub-sub-category
However, AI-powered algorithms can classify products based on multiple levels, keeping in retailers' style guidelines. For instance, in the example above, you can see that the auto-tagging engines have classified the same dress with detailed visual attributes, occasion, and style.
The above taxonomy clean-up is possible with Image Recognition which can identify duplicate product images across Seller A, B, and C who are selling the same product in a marketplace by compiling product information, and auto-generating title and description on one product page.
3. Automate to Avoid Errors and Save Cost
Did you know that manual tagging consumes more than 30 hours in a week to tag only 200-300 products per day? Manual labelling is erroneous, time-consuming and lacks uniformity.
In e-commerce, the process of manually identifying and labelling product attributes is prone to human errors like missing details, spelling mistakes, incorrect category mapping, duplication of information and ambiguous product titles.
Managing a catalog like classifying products into categories, identifying attributes and creating titles and descriptions can be a tedious process if done manually, requiring substantial resources and time and causes human fatigue – which can cost your business dearly.
The good news is that automated product tagging gives you 10x faster product digitization. You get to save significant operational costs with AI-generated tags, titles, and descriptions with enriched and consistent product data. Retailers get standardized product information on websites and across selling platforms. Upload, review tags, publish and you're done! Go online to offline in 3 easy steps.
Here's What You Need!
For apparel retailers who spend weeks creating, compiling, and publishing product data, Vue.ai's Product Taggin tool is an AI-powered solution that instantly generates rich, accurate product data at scale. Unlike manually creating product data, product tagging automates the process by identifying and extracting ecommerce product attributes to generate high-quality and deep fashion tags.
Automated tagging means no manual intervention, 10x faster product digitization and significant cost savings. With better data, you can unify product information across channels, improve product discovery multi-fold and make informed buying and merchandising decisions. Get better insights into your inventory and shoppers with clean and accurate product data.
Want to see how Vue.ai's Product Tagging tool can help your fashion brand? Sign-up for a free trial today!
Read More About Automated Catalog Management Solution