Dressing Room by Vue.ai – A Deep Dive

5

min read
Reading Time:
4
minutes
Dressing Room by Vue.ai is an AI style visualization tool that enables fashion eCommerce brands to showcase collections on diverse models that look just like their shoppers.
Shoppers can mix & match looks and visualize them on models that are most relevant to their body type, size, and ethnicity, making for an extremely personalized and inclusive dressing room experience in real time.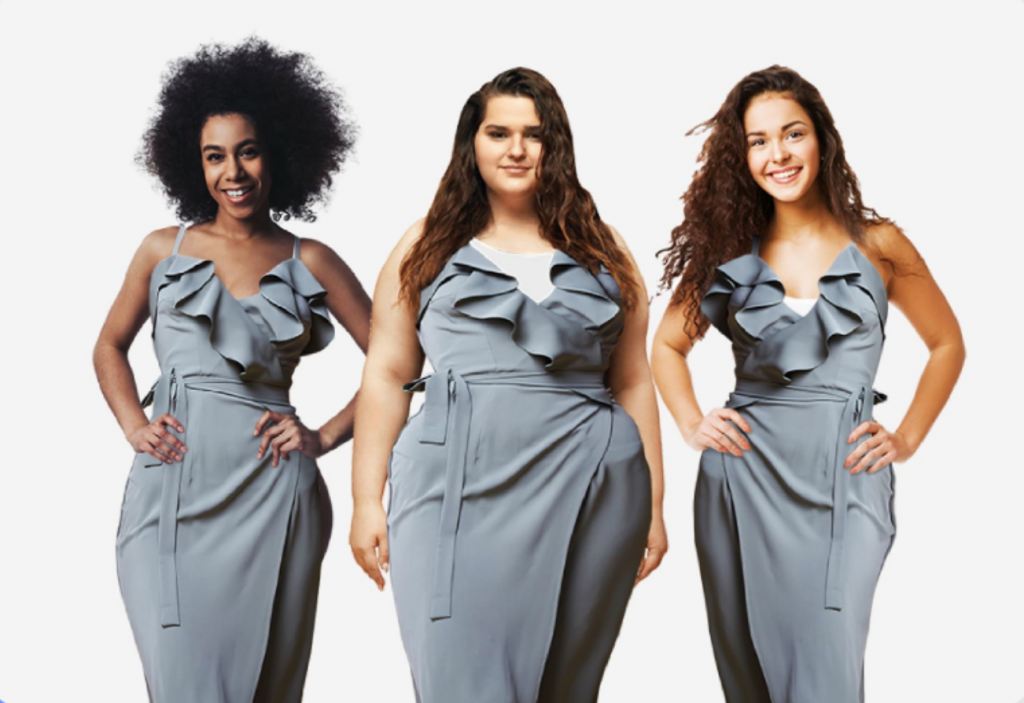 Why introduce Dressing Room on your site?
"Shoppers are 3x more likely to buy products that are shown on models their size. "- Forbes
"22% of returns occur because the product looks different in person." – Adobe
"Shoppers who use dressing rooms are 7 times more likely to make a purchase than browsers who do not." – Alerttech
What story do these numbers tell us?
The reason why trial rooms are so popular in offline stores is that it allows the shopper to try and see how exactly a product looks on them. This gives them the confidence and the assurance needed to go ahead with the purchase. That confidence is what a shopper looks for online as well. Shoppers want to look at the products on models who look like them.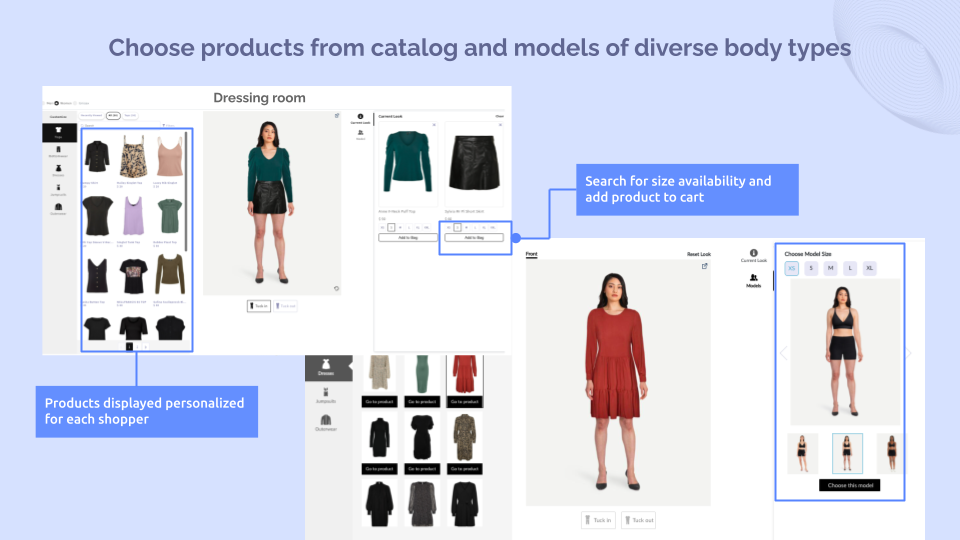 This is what Vue.ai's Dressing Room does – it mimics offline trial purchase behavior as much as possible to ensure higher conversions and fewer returns. Shoppers are able to choose models that resemble them the most, discover and try on outfits in real time. They are emboldened to make faster decisions since they see outfits on a model closer to their size, and are able to discover more products from the brand.
How Vue.ai's Dressing Room works
Dressing Room uses a class of A.I. machine learning frameworks called Generative Adversarial Networks (GAN) to create realistic images of products on models.
The neural network understands:
the features that represent a garment – silhouette, the type of sleeve, neckline, design elements, patterns, etc
the features that represent the model – body parts, shape, musculature and skin tone, etc
and learns to construct the garment fitted on the model with all the morphings that different parts of the garment undergo naturally while worn by a human
Why Vue.ai's Dressing Room?
Multiple model size support: We can support models of multiple sizes and any body type. We also offer our own professionally shot real model library to choose models from
Real-time styling: Provide shoppers the ability to mix and match products and to curate their own outfits all in real-time on models similar to them.
High resolution & clarity of garments in output images: Our advanced generation capabilities allow for our output photos in Dressing Room to be of high resolution (up to around 1000 px).
Flexible inputs: We support on-mannequin input photos and 2D images of models with any body type.
Consistent quality outputs: We have specifically trained systems on garment interaction on real models, thus being able to represent the finer details of the product.
Easy integration & performance tracking: We provide retailers with an easy way to customize and publish Dressing Room across their site and track the performance of the module via Vue.ai's in-house dashboard interface.
What benefit does it bring a retailer?
Increase Average Order Value
The styling offered by our Virtual Dressing Room tool can enable retailers to sell entire styles, as opposed to just individual products. This means that eCommerce retailers can improve Average Order Value by cross-selling, promoting new collections, and even exciting new drops or collaborations. One of our customers saw a 1.5x Uplift in add-to-cart in sessions engaging with Dressing Room and a 2x Uplift in time spent on the site for shoppers engaging with Dressing Room.
Reduce Returns
eCommerce retailers must empower their shoppers to make informed purchase decisions with not only accurate product information and the ability to visualize garments on models that look like them. With Virtual Dressing Rooms, retailers can lower returns by helping shoppers make informed purchases. This will ensure that shoppers buy precisely what they want, thereby minimizing the need to return an item.
Improve Brand Loyalty
Equipping a shopper with their own virtual dressing room, with the ability to try on clothes on a model of their body type, size, and ethnicity, all in real-time is the epitome of a personalized experience. Our virtual dressing room tool is a surefire way to improve brand loyalty by offering an improved and personalized experience online.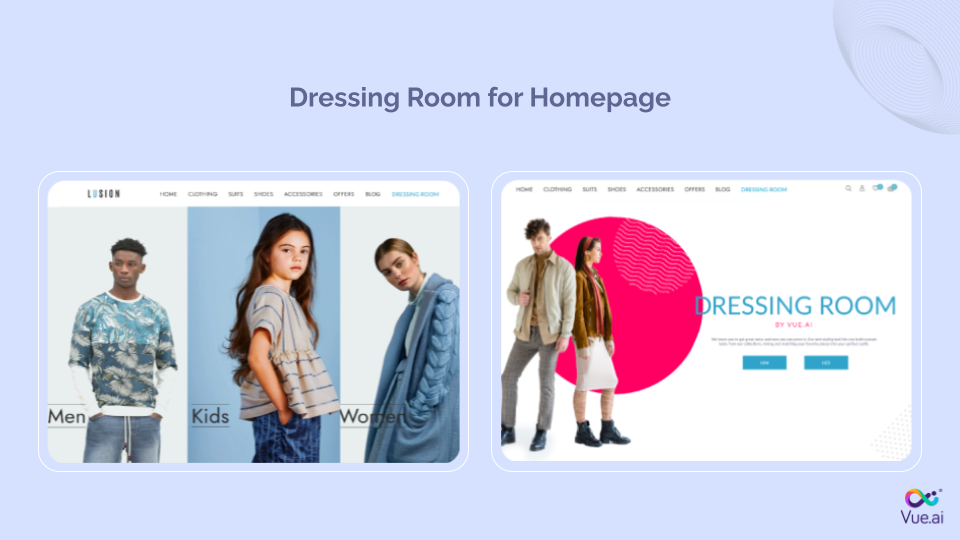 If you would like to see a quick live demo of the tool or learn more about the virtual dressing room tool, please sign up here.