6 ways to customer retention without giving discounts this holiday season with AI

6

min read
Reading Time:
5
minutes
The eCommerce industry is booming with a revenue of $538 billion in the US alone in 2022. With over 2.1 million eCommerce retailers operating in the US, this is a highly competitive landscape where both behemoths and newer players thrive. 
With so many companies competing for the mind space of the shopper, customer acquisition costs have continued to rise over the years. It is now up roughly 60% compared to five years ago. Retailers need to make sure that every customer they acquire has a high lifetime value. Ideally, the ratio between LTV and CAC should be 3:1.
With the cost of customer acquisition being 5 times that of customer retention, this holiday season, retailers should focus on increasing the average order value and frequency of purchases by existing customers rather than acquiring new customers through offers and ads.
A homegrown D2C healthcare brand saw a 42% lift in repeat purchase rate and improved customer retention rate by introducing past purchase recommendation modules on their home page. This was an experiment we ran after understanding that pages that showed shoppers recommendations of products they had bought, browsed earlier, or trending led to increased click-through rates.
44% of companies have a greater focus on customer acquisition vs. 18% that focus on Customer retention. This can make any effort taken to enhance the shopper experience really stand out among the competition. Looking at it from a revenue perspective, it makes sense as The probability of selling to an existing customer is 60 to 70%, while the probability of selling to a new prospect is 5-20%. An existing customer already knows the brand and its products making it far easier to sell to them. In fact, Existing customers are 50% more likely to try new products and spend 31% more, when compared to new customers.
In a recent study, our customers were able to achieve a 70% uplift in Average order value by using AI-powered recommendations.
Here are 6 ways a retailer can do customer retention to increase their AOV and frequency of purchases.
Recommendations – Global and trending
These recommendations are based on global trends and insights. This is especially useful for new visitors landing on the site for the first time. It also helps shoppers find new products and categories which they haven't explored before. As this strategy usually isn't based on personalized data, it's especially useful for new shoppers or for low intent shoppers who are just browsing around the site.

The recommendations used in this type are:

Most popular:
This recommendation is used to showcase products that are the most popular on the site. This is found by assigning a weight to every interaction on a product, like buys, clicks, add to cart, etc. The products are then ranked and the top products are displayed. Another variant of this is the Most popular in category.

Trending now:
This recommendation is used to push products that are currently popular rather than based on historical data. More weight is given to purchases made in the recent past rather than those made a long time ago.

New products:
This recommendation displays the products that have been launched most recently. New products tend to get lost in the noise as they don't get recommended due to a lack of historical data. This widget promotes the newest products allowing shoppers (both old and new) to discover them.

Personalized visually similar recommendations
These are recommendations of products that are visually similar to the product that the user is looking at. This is based on colors, patterns, and other attributes like sleeve lengths, neck types, etc.

A shopper lands on a product detail page because they like a specific product or at least the attributes of that product. If the shopper likes a few attributes of that product, visually similar products can be recommended which are personalized based on the style profile of the shopper.

Personalized Cross Product recommendations
Products are described based on various visual and non-visual attributes like style, color, pattern, material, category, etc. Categories are then mapped to each other based on rules. For example, shirts are mapped with pants. Attributes are then mapped with each other. For example, the color black is paired with the color grey, or a busy pattern is mapped with a solid color.

Based on these affinities, and the shopper's style profile, the most relevant products that "complete the look" are displayed to the shopper, increasing the AOV.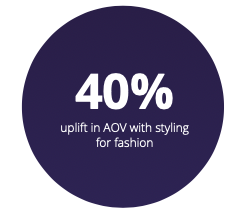 Virtual dressing rooms
Shoppers are often hesitant to purchase products because they are uncertain about how it would look on their body type or skin colour. Or they might not be sure how to style that product with what they already have in their wardrobe. A retailer can solve all these problems with a virtual dressing room tool.

Virtual Dressing room by Vuemodel has models of a variety of models of different ethnicities and body types allowing the shopper to interactively "try" the outfit on these models. The AI also enables shoppers to mix and match products, curate their own outfits and view it on models similar to them in real-time. They can even customize the look by visualizing the outfit exactly how they would wear it. For example, they could tuck in a shirt or roll up the sleeves, see the model in a certain pose and so on.

The tool's dashboard allows retailers to easily find key insights like most selected models, outfit styles, engagement rate, and assisted conversion rate.

Personalized email & notification recommendations
Shoppers are used to seeing hundreds of emails from ecommerce retailers every month about offers, promotions, and products they neither want nor need. Instead of pushing products they want to sell, retailers can change the game by showing shoppers relevant product recommendations in emails and notifications to bring more people back to the site.

Personalized recommendations of products which are visually similar to the ones they looked at, and of products that can be paired with the ones they have already bought can increase click through rates of emails which in turn leads to increase in frequency of purchases by existing customers.

Cart abandonment emails
Emails can also be used to rescue abandoned carts. Retailers can use personalized cart abandonment emails to lead shoppers back to their website and remind them to complete their purchase. They can show other products similar to the ones they have picked, if they are hesitant about their choices, or show ways of pairing the products they picked with others in the catalog if they need to be more convinced to make the purchase
AI-powered emails see over a 58% increase in the click-to-open ratio for emails as compared to an industry average of 18.39%, that's a massive difference.
Conclusion
A leading Indian fashion company saw a 19% increase in user engagement rate when more recommendation modules such as Recently Viewed, Top Picks for You, and Inspired by Your Browsing History were added to the Home, Search, and Cart Pages. This also resulted in a 36% increase in contribution to direct revenue.
Examples like the one right above show us that there is a lot of value in investing in customer retention strategies in 2023. Retailers can do a lot more with existing customers than spend on acquiring new ones. This can create an army of shoppers loyal to the brand because of the superior customer experience, instead of ones loyal to offers.
Read More about Virtual dressing room