Creating The First Mover Advantage With Advanced Shoppable Videos

6

min read
Reading Time:
5
minutes
Video is gaining popularity with each day, it engages an audience more than any other channel.
Both businesses and consumers alike, are embracing videos' unique form of rich content that combines visuals, sound and movement and speaks to consumers on more of an emotional level, allowing them to connect with people in a way that isn't available with other channels.
According to Wyzowl's State of Video Marketing Survey, 81% of businesses use video as a marketing tool — up from 63% in 2017. 97% of marketers say video has helped increase user understanding of their product or service, 76% say it helped them increase sales and 85% of people say they'd like to see more video from brands in 2018 (Hubspot).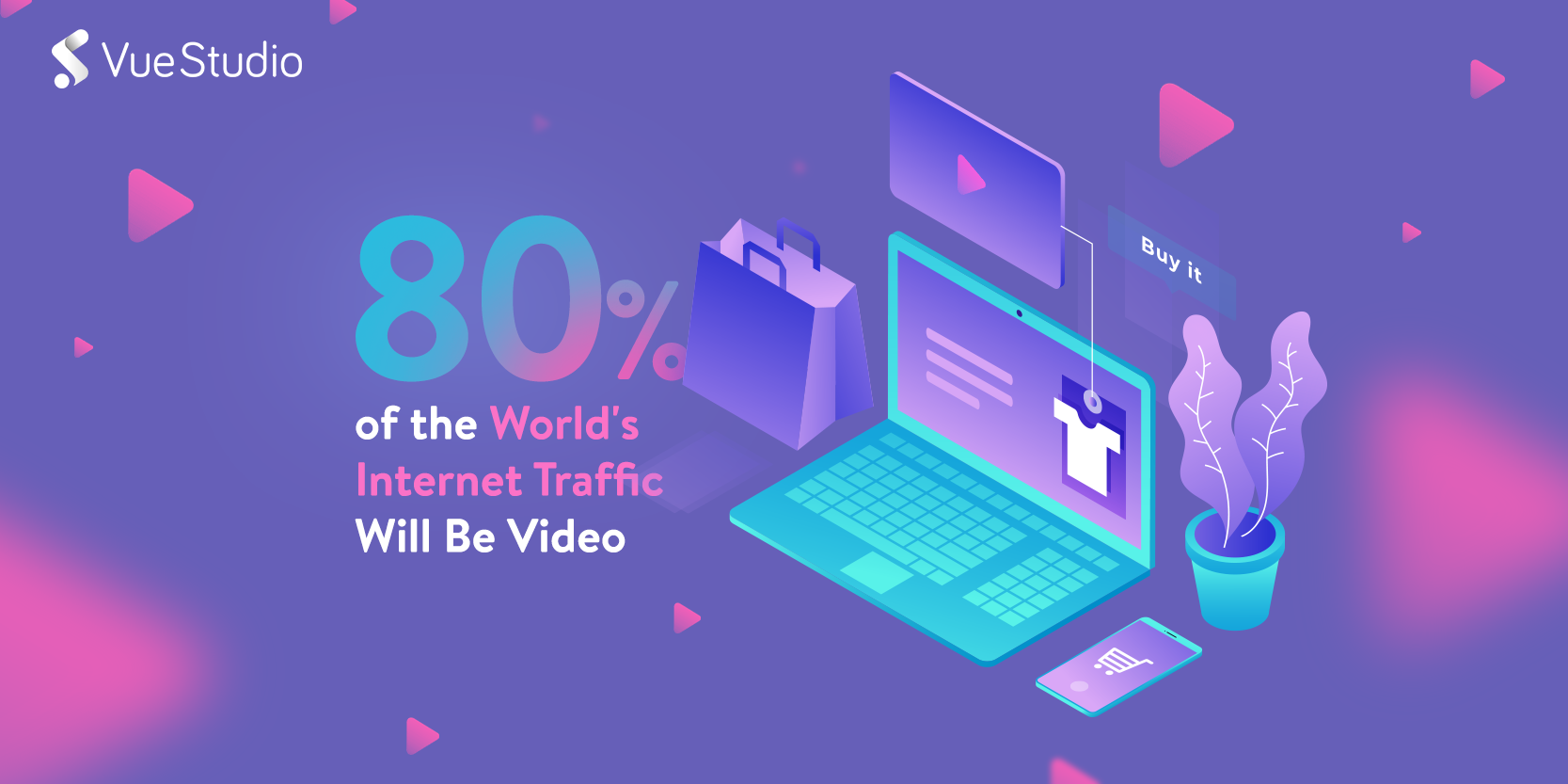 Furthermore, Consumers are over 27 times more likely to click on an online video ad than a standard banner ad and just using the word "video" in an email subject line boosts open rates by 19% and clickthrough rates by 65% (Forbes). In addition, video generates 1200% more shares than text and images combined.
Marketing agency, KISSmetrics, found that a call-to-action with a video produces 380% more clicks than a non-video sidebar call-to-action. Basically, video increases a user's likelihood of taking action on what they see.
On top of that, video produces the best search engine results. Back in 2009, Forrester conducted a study and found that website pages that include videos are 45 times more likely to rank on the first page of Google than pages without videos.
Today 51.9% of marketers across the world say videos have the best ROI, and that shoppers who view a video in the pre-purchase stages are 1.81 times more likely to make a purchase than non-viewers (Forbes).
Creating A New Revenue Stream With Your Existing Media Assets
To remain competitive today, companies must add video to their marketing strategies. And just adding video alone is not enough – videos must be innovative, engaging, and delivering value. Monetizing videos by making them shoppable allows retailers to provide better customer experiences, increase revenue and engagement and position themselves as innovative, a quality that is important amongst millennials (Forbes).
Vue.ai's shoppable video tool – VueStudio, is built around computer vision and artificial intelligence technology that teach computers to look at images and all forms of media and extract detailed attributes, like color, pattern, and style, the way that humans would (more on computer vision). The technology can detect keyframes in videos and then automatically identify the most similar products (or products that complement the look) from a retailer's product catalog to show relevant product recommendations instantly without navigating away from the video. Our shoppable video solution goes one step further – a layer of personalization is added to the equation. By tracking consumer behavior (only on site), we ensure that the product recommendations that are shown to customers are personalized to their individual tastes based on their past browsing and purchase history (more on dynamic personalization).
The process is user-friendly too. Retailers also have control of the UX design and interface and can override product recommendations of the video before publishing it on site. Plus, we connect to inventory in real-time so retailers never have to show an out of stock product again. If a product is out of stock, the technology detects the most visually similar products in stock. The shoppable video will never be obsolete.
Five Steps To Shoppable Videos
Upload your videos


Upload your videos. Sit back while the tech works its magic.

Create a campaign


Choose the videos that are a part of your video campaign and give your campaign a catchy name. Curate the latest collections, or run event-based and season-based video marketing campaigns.

Make a video shoppable


VueStudio automatically links your products to the video by analyzing each frame and pixel. Using the feature rich editor, highlight products of choice, choose from automatically detected frames & products or pick your own frames and corresponding products from your catalog.

Customize & publish

Choose from a range of styles, layouts and publishing options for the channel you'd want to market your videos on. You can either publish on a self-hosted landing page, use an embed code to put the shoppable widgets on your website or use our feature-rich and light-weight SDK for complete customizability of the shoppable videos on your site and app. You can also customize the front-end experience for the user by choosing from a variety of templates, interactions and colors to match your brand language.

Go live!


Share with your audience, measure engagement and track usage.
And this is not all. Wondering how you will track ROI on all your video spend? VueStudio's inbuilt live analytics tracking dashboard will make sure that you are on top of all the metrics you need to track performance.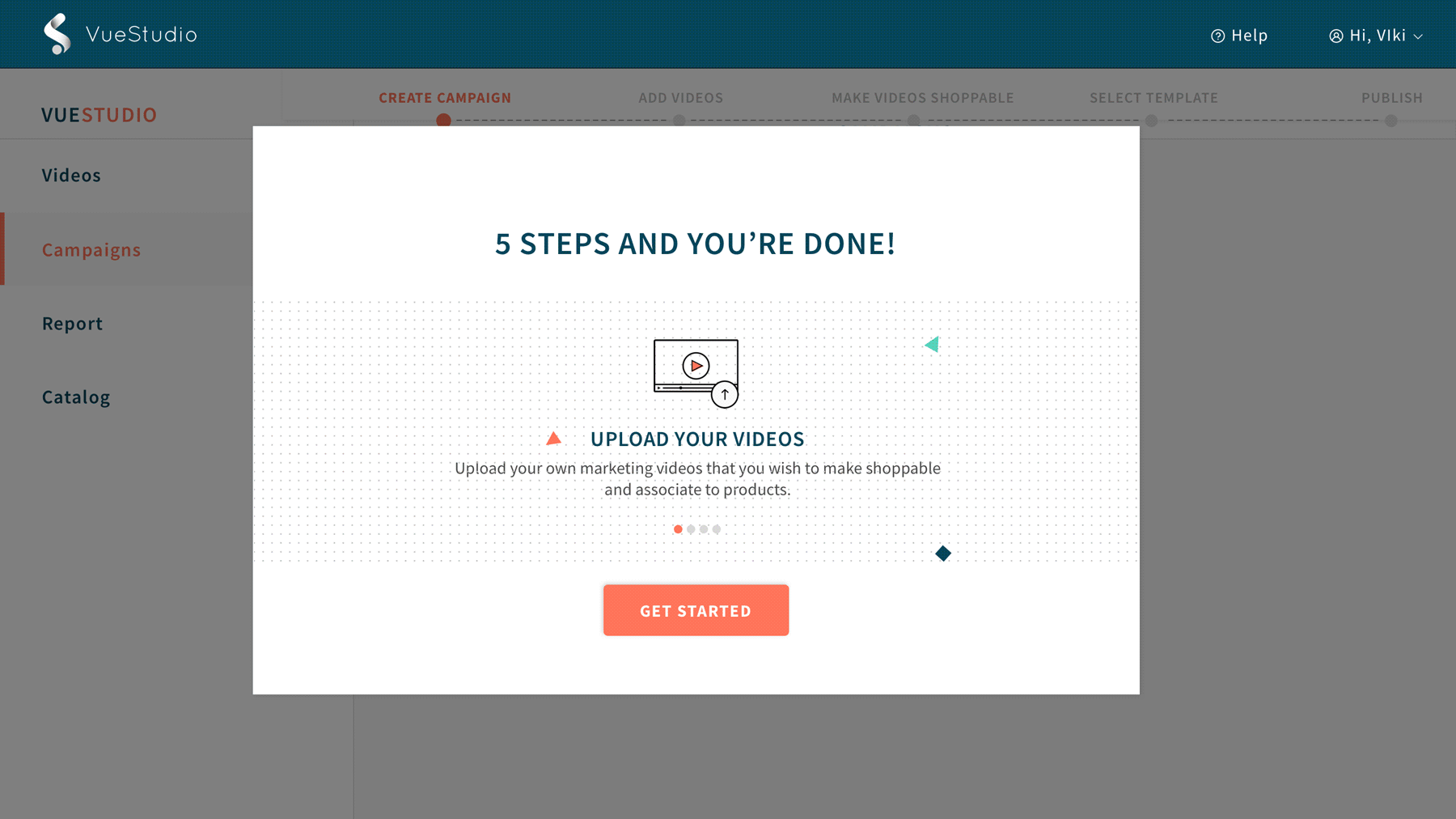 Maximising Video Success For Your Marketing Strategy
All social media stats show video as a necessity:
Videos are the clear winner in being a content marketing medium that truly gets people's attention. And with each marketing platform doubling down on its efforts to integrate and capitalize on video, now is a perfect time to take a closer look at how you can use videos to drive engagement, create a loyal following, and turn it into a growth story.
These are some tips to follow to give your video campaign that winning edge:
Use video as a differentiating medium

Make video marketing relatable

Let your 'Fans' speak for you

Shorten the path to purchase with video that's interactive, actionable, and shoppable!

Let your product be your 'Star'

Keep your videos 'In Vogue' and 'As they would like It'
The Perfect Combination
The beginning and end of video marketing complexity lies in finding that precarious balance between engagement and compelling relevance. It's a competitive world, and the only brands that can survive are the ones which will be able to not only create and curate content that is contextually relevant but will also thrive across platforms, keeping consumers engaged and loyal.
Tools like VueStudio are a step forward in getting to that conjunction.
You can learn more about VueStudio here.
Click here to get started with a free trial.
Read More About Automated Catalog Management Solution