Chasing After An Elusive Metric: Doing Customer Satisfaction Right

8

min read
Reading Time:
6
minutes
There's a story-within-a-story in Alice In Wonderland. The people in the Red Queen's race need to keep running just to continue staying in the same place. "Now, here, you see, it takes all the running you can do, to keep in the same place. If you want to get somewhere else, you must run at least twice as fast as that!", says the Red Queen in response to Alice's surprise over such a predicament.
Lewis Carroll was not given to writing superficially, and that race is a great metaphor for change, including in fashion retail. To maintain the status-quo, one must keep evolving, or keep running. Customers today have access to literally everything they need to make a choice – they have information, they have other experiences to compare with, and they have definitive ideas about what their purchase needs to look and feel like. A consumer today can get same-day deliveries from Amazon, similar products from a trusted neighborhood store, a pleasant buying experience from any major brand, niche products from a boutique store and the latest options from fast fashion labels. Given this, what will make a customer stick to a specific brand or marketplace – customer satisfaction is the one metric which can keep customers coming back to you. The challenge however is that it goes hand-in-hand with customer experience, making it not only tough to quantify but also, imperative to constantly keep improving.
Understanding Customer Satisfaction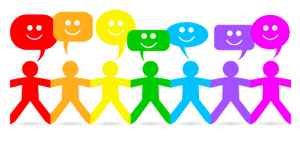 The baseline for an enjoyable shopping experience has improved significantly. Pureplay marketing and advertising is expected to blend seamlessly with digital communication to help the customer make a sound purchase decision. In the context of online retail, customer satisfaction spans the spectrum from advertising and awareness about product availability, all the way till product return in the event of a poor fit or choice. This becomes even more critical in categories such as apparel and brands and retailers are constantly innovating to raise the bar on customer satisfaction.
For example, Miss Selfridge and H&M have a very flexible returns policy. Whatever one buys from these stores, the products can be returned anytime within the next month. The scope for misuse is enormous here – customers buying for an event can simply use the product and return it, even without the bill in some cases.
So, what are these brands betting on?
They're betting on simple psychology, actually. Someone bypassing the system in this manner still knows and appreciates the ease of interacting with the brand. The quality and range of products that the brand offers is fairly unparalleled, as well. Therefore, they are more likely to come back at some point, make a purchase and not return the item. Building customer satisfaction through a shopper-friendly returns policy, coupled with a superior shopper experience, enables these brands to retain shoppers and build brand loyalty.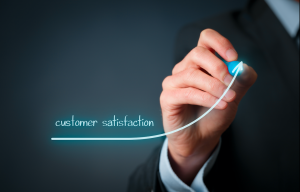 In Vue.ai®'s webinar The New Retail Imperative featuring Forrester, Brendan Witcher, Principal Analyst at Forrester talks about how critical customer satisfaction is and states that 61% of customers will never return to an online store if they didn't have a satisfactory experience the first time around. He goes on to highlight that satisfaction is the word that scares him the most, and that's because for each of us, satisfactory means something different.
This notion provides both a problem and a solution. The challenge is for businesses to understand and tailor customer satisfaction accordingly and there is the equal risk of asking customers for too much information, which they may or may not be willing to share. This is one of the reasons why, when designing experiences for real people, businesses tend to think of people in cohorts or segments.
The solution, however, is sometimes as basic as consistently tracking customer satisfaction after every interaction with the brand while figuring out ways to do it less intrusively and being able to map it to the same customer, omnichannel.
Customer satisfaction surveys are everywhere today, and sometimes in fairly intuitive ways that we don't often think of as taking a survey. Most service providers nowadays have a rating system in place which allows consumers to share their opinion specific to that interaction, apart from overall satisfaction scores. This becomes important in order to leverage the service delivery paradox, where even in the event of a poor experience, immediate course correction or efforts to improve the customer's satisfaction can go a long way with respect to customer retention and loyalty. That is not to say that customers will put up with shoddy products and services repeatedly. However, it does give brands an opportunity to track customer satisfaction real-time and stay agile.
We also see this with online clothing buys. When a purchase is made on ASOS.com and delivered to the customer, an email immediately goes out to the customer asking them to rate their buying experience, that specific time around. Some retailers also choose to incentivize filling out feedback, with the use of discount coupons.
Customization 2.0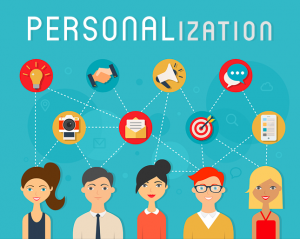 Segmenting customers based on cohorts and customization based on that is no longer what customers want or need. In fact, given how aware customers are with respect to choices available to them and given the explosion of supply in the eCommerce marketplace, it has become important that brands are able to understand individual customers and cater to their choices accordingly. Increasingly, brands and retailers are looking to partner with services that helps make customer profiles individually, and in as much detail as their Facebook profile.
For retailers, this is a boon because as opposed to segmenting based on age, gender, and area of residence, retailers can now profile people based on past buying history across channels, service interactions, their personal pain points and their individual motivation to buy. This individualization, which is customization 2.0, is the future.
In the same webinar, Brendan talks about how consumers now expect brands to understand them. We know all too well that no two people are exactly alike, not even in shopping preferences. So, buying a greeting card during Christmas is one piece of information about a customer, and assuming that they will buy gift supplies through the year is, therefore, a mistake.
To succeed at individualization, retailers need to understand their customers from several different perspectives, based on all of the data available about them.
Customization At Scale
The problem with individualized experiences is singular. While it does have a far greater chance of satisfying customers, the challenge is to be able to deliver it at scale. However, AI-powered technology powers businesses to bring change, across various points in the chain, at scale. With the availability of NLP and machines that understand the nuances of human language, it is possible to feed in all of the data about a customer to a machine and ensure 1-1 personalization at every step.
However, while bringing in automation, there is a need to understand what is the impact on customer experience and hence, satisfaction. For example, one can simply click a picture of a Neiman Marcus product and upload it on the app to find the exact same product. While this enables product discovery, how will this lead to purchase? What other visualizations will give shoppers that nudge from discovery to purchase are all questions worth exploring.
On the other hand, at the new Nike store, shoppers can design their own Nike shoe and customize it on a digital medium. The product then goes into production and is then delivered to the customer once they make a purchase. This takes customer engagement to a new level because it allows them to directly influence product design and delivers customization. This, however, assumes that the customer knows the design/detailing that they want and is able to articulate this, in order for them to move to the next stage of purchase. There may be a case to be made for default customizations which are possible to choose from, if the customer does not know or does not want to get into the details of design themselves.
Deciding what purpose to use automation for is the first step in gathering and feeding the system with the right data. As the scale of the business begins to grow, the system takes care of catering to the individual needs of each customer. This, along with feedback loops into an AI system which constantly learns and improves, ensures that there is consistent increase in customer satisfaction, while allowing for experiments.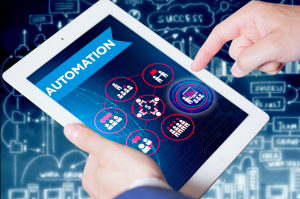 With the retail landscape getting more complex, and retailers are geared up to cater to customers at scale, but with the same level of individual attention as one would expect to find at the friendly neighborhood store. Omnichannel retail is being discussed widely, and for those looking to adapt, this is a good starting point. What tools and resources, and what customer data, do we need to cater to a whole host of people while also treating them as individuals?
Businesses that answer that question will be able to deliver omnichannel personalization and break new ground in terms of customer experience. From real-life success (and failure) stories to stats seen in a new light, this Vue.ai® webinar with Forrester's Principal Analyst Brendan Witcher provides insights into how customers think and what can be done to cater to them in every single retail interaction.