AI in Retail : Building Data Moats

7

min read
Reading Time:
5
minutes
Shifting Retail Goalposts
Over the past few years, the retail sector has undergone some rather significant changes. Because of the unpredictability of these changes, contradicting trends, and consumer demands, retailers have been forced to constantly reevaluate their entire business paradigm to meet their ROI goals.
The customer-obsession part of it, however, has remained constant. Retailers have been trying to experiment and focus on delivering exceptional customer experience. And we see them turning to AI for retail.
The retail industry is accelerating the rate of technology adoption to a point where 80% of employees expect their businesses to adopt AI by 2027. Early adopters of artificial intelligence in retail will now enjoy a lot more ROI from their AI investments by improving customer experiences, creating efficient processes, saving costs, and boosting revenue.
For retail today, there seem to be five primary areas of focus.
Meeting Conversion Goals with AI
To improve conversion, the task is simple – give shoppers what they are looking for. Personalized experiences go a long way online.
Personalizing eCommerce Experiences – The Right Way
Personalization is another AI retail solution that helps eCommerce retailers reach a little closer to achieving their experience objectives and also improve returns exponentially by organically combining consumer and product data.
However, a large number of personalization engine available today focus on perseverance rather than persuading the shopper to travel further along their journey by showing the products that best match their intent at that time.
With Vue.ai's personalisation platform each buyer's path is unique and to achieve that Vue.ai leverages both product intelligence and customer information in real-time for Dynamic 1:1 personalization
With Vue.ai's personalization platform, retailers have seen:
5x Higher revenue per visitor
80% Uplift in conversion rate
40% Increase in Average Order Value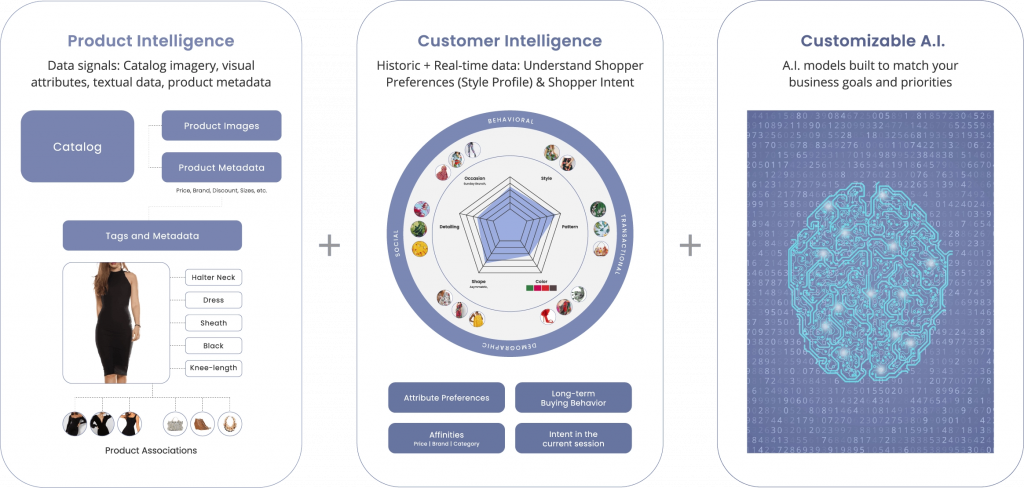 Virtual Dressing Rooms – Make Your Site Come Alive
Virtual dressing rooms allow shoppers to view products and outfits on models that look similar to them.
Shoppers are 3x more likely to buy products that are shown on models their size as it helps them visualize a variety of styles on a form that resembles them the closest, making a truly inclusive and immersive dressing room experience online which encourages the shoppers to buy complete outfits over individual products.
Shoppers who use dressing rooms are 7 times more likely to make a purchase than browsers who do not as 22% of returns account for products looking different in person.
AI helps retailers fix exactly that. Dressing Room by VueModel helps retailers deliver personalized, inclusive dressing room experiences in their eCommerce stores. Shoppers can mix & match looks, and visualize how they fit on models that most resemble them.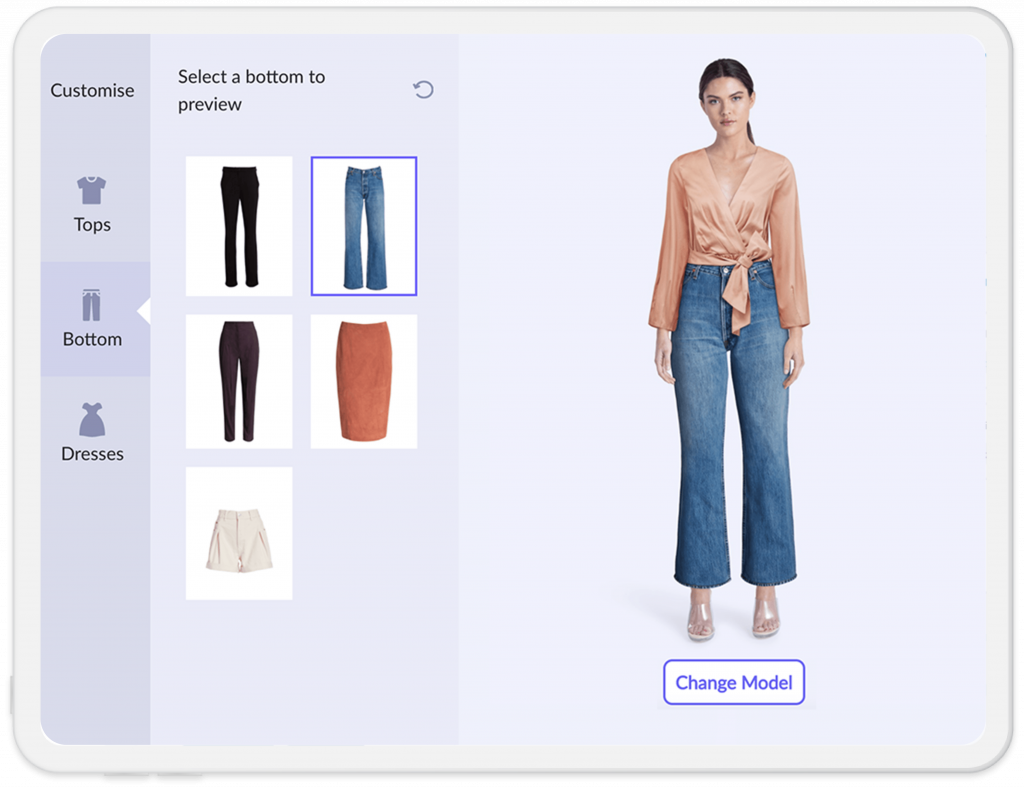 AI Assistants For Improved Efficiency
One of the biggest shifts that AI in retail can provide retailers is the ability to have better insight into their data, and use machine learning tools to successfully extract, enhance, and elevate their understanding of their products. AI-powered automated tagging, for example, results in faster, cleaner, and better quality data.
With Vue.ai's automated tagging solution, VueTag; products can be tagged in real time using enriched data, helping retailers boost productivity. It also yields consistent and highly accurate tags, improving product discovery.
With AI-powered product tagging, retailers have seen:
50% decrease in personnel requirement
85% reduced time to market
40% increase in conversion rate
Informed Inventory Decision-Making With AI
With AI, retailers can repackage their unstructured data into actionable insights like why a shopper is purchasing a specific product at a specific time period which can help businesses evolve and respond well to a situation.

Two AI solutions for retail by Vue.ai are helping retailers across the globe be more sustainable and smart with their inventory & assortment decisions
Efficient Customer Demand Testing With AI-Powered Product Photos
Since photoshoots might be too elaborate for a product in the testing stages, AI can help with creating high-quality, on-model photos at a fraction of the time and cost.
Vue.ai's product photo solution, VueModel, helps retailers create high-quality on-model product photos at scale. This solution helps improve eCommerce engagement and conversions at 1/4th the cost and 5 times the speed of traditional photoshoots.
Catalog Insights with AI Tagging
The dedicated dashboard in Vue.ai's tagging tool gives a holistic view of the catalog assortment at the category, attribute, and batch levels allowing retailers to prepare for the upcoming seasons and trends with data.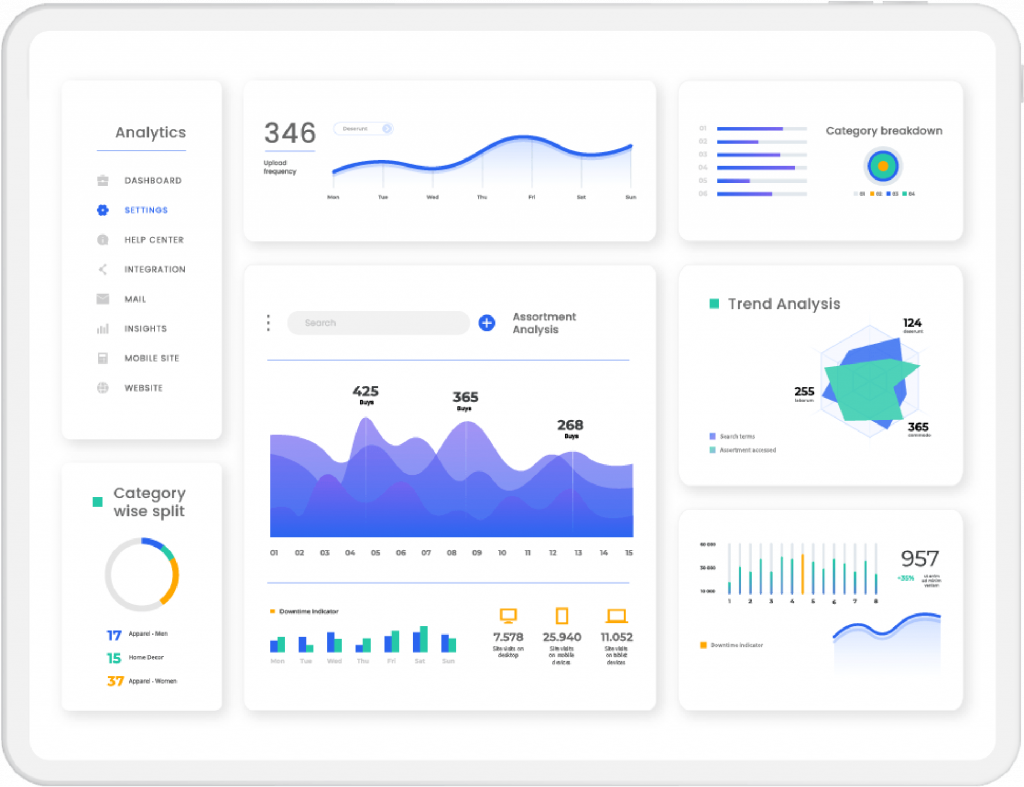 Brand Credibility With Product Imagery
The one, high-yielding, proven technique to improve brand credibility that shoppers look for is – clean, consistent, high-quality product imagery. There are two ways to ensure product imagery grabs user attention and tells the story the retailer wants to say on the site.
High-Quality Product Photos
Vue.ai's image moderation solution helps eCommerce marketplaces automate the assessment of product photos submitted by sellers or users. The AI can check for all basic eCommerce guidelines and can be trained for custom requirements in real-time from feedback.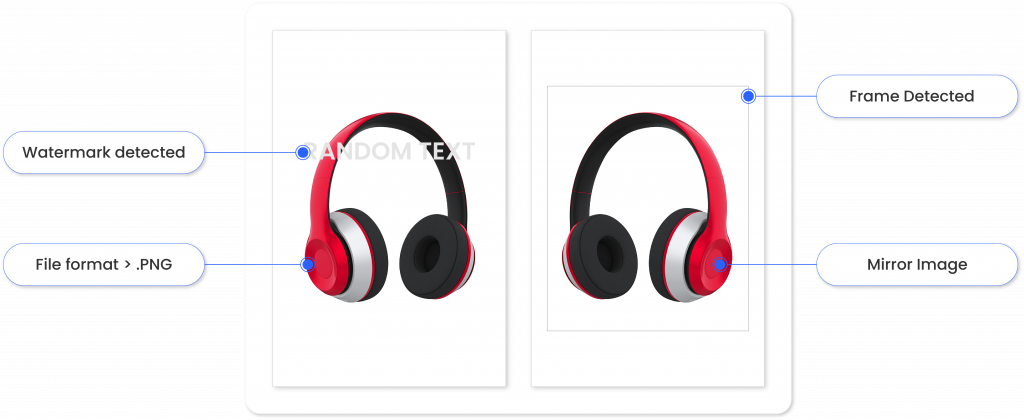 Clean And Relatable Product Photos With Automated On–Model Imagery
Vue.ai's on-model product photo solution uses AI to create high-quality on-model product imagery from basic product shots. By visualizing exactly how the products look on models, shopper engagement and conversions increase while product returns drop.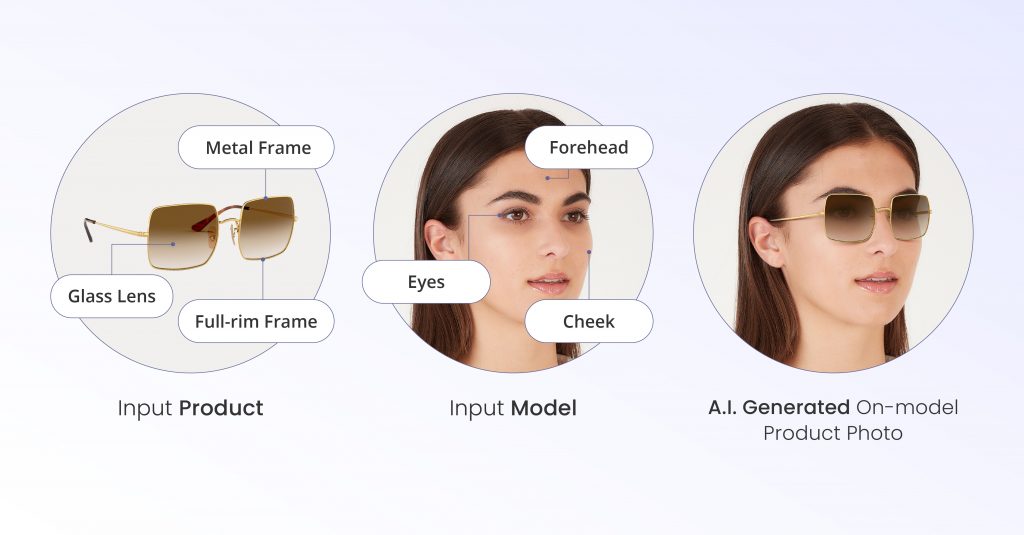 Building Data Moats To Stand Out From The Crowd
Retailers own and store a lot of data. And this data is the goldmine that businesses can tap into to showcase their unique strengths. Data moats refer to how businesses use their own data for a competitive advantage.
There are broadly three types of data that retailers own and can optimize:
Product Data
AI can automate moderating and building rich and accurate product data which boosts team productivity, shopper engagement, and business efficiency.
2. Customer Data
AI maps shopper data to give insights and improve experiences at both the micro and macro levels for the individual shopper and overall segments
3. Channel Data
AI and data insights can help optimize the strategies on each channel (email, notifications, etc) to meet its goals faster and more efficiently.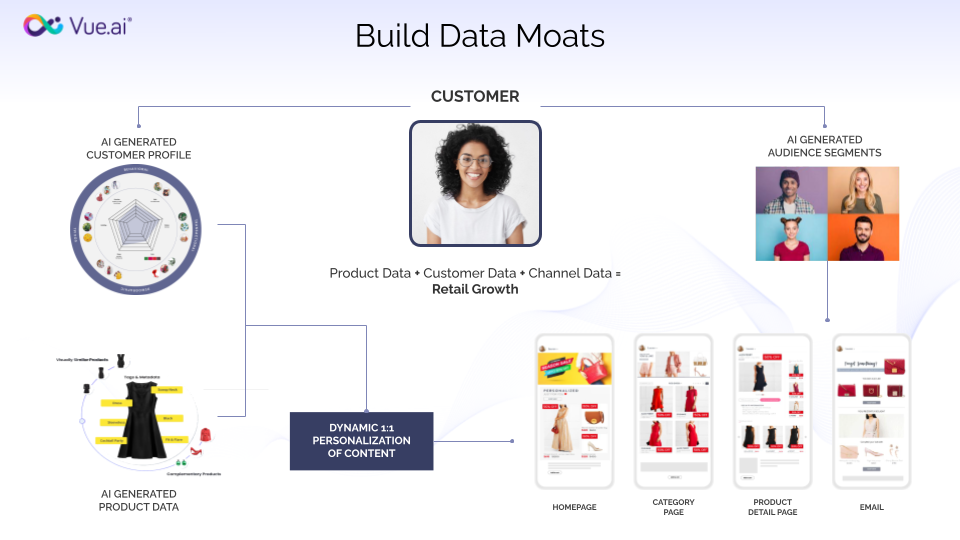 Setting Ambitious Goals With AI
In this post-pandemic world, retailers are encouraged to think of new ways to engage shoppers and deliver enhanced shopping experiences. Success is no longer product-centric or dependent on inventory alone but has shifted to become customer-centric and focused on creating engaging experiences. And retailers need technology to manage this shift. With AI, businesses can achieve what may otherwise seem like daunting, ambitious goals.
Businesses that recognize the benefits of investing in artificial intelligence and becoming AI-native change how they view competition and the advantages of being able to process data at scale, automate feedback loops globally, enhance customer experience, and accelerate process improvements at a rate that gives them an edge.